How To Add Social Media Feeds To WordPress Websites?
2022-04-21==================================2022-04-21========================April 21, 2022
Social media has become ingrained in our everyday routines with over 4 billion individuals actively using social media.
Looking at the statistics, there is a large quantity, indicating that it is a powerful platform for growing your business online. But how can you use social media to help your brand? The best solution is to add social media feed to WordPress website.
Here's a guide to lead you through the complete process of embedding social media feeds to WordPress, so you complete the process with ease.
Without any further ado, let's get started!
A Few Popular Social Media Feed Sources
Before we get into the process of embedding, it's vital to first understand a few important content aggregation channels that are highly effective for your website's growth and performance.
In this part, we'll go through the different aggregation sources that may be utilized with Tagembed to aggregate content:-
Why Should Brands Use Social Media Feed On The WordPress Website?
As mentioned above, Social media platforms are ideal for connecting with your target audience because they are used by millions of people every day.
But why limit it to your social media accounts?
You can delight website visitors with social media content, increase your followers, and secure more potential customers by integrating social media platforms with WordPress. That's not all, though.
You're enhancing your brand visibility with social feeds that feature your real-time updates and social media postings, rather than adding easy-to-miss social icons.
Visitors may see the social media postings you publish on each platform immediately on your website if you show all of your feeds in one location.
Displaying social network feeds with user-generated content encourages people to buy from you and helps businesses grow.
The use of social media feeds that can present social evidence for your company, such as reviews and testimonials, is ideal.
Now that you know why it's crucial to have social media feeds on your WordPress website, let's look at how to accomplish it.
Add Social Media Feed To WordPress Website
Collect, moderate, and Embed Social Media Feeds on WordPress Website
Try For Free
Two Best Options To Add Social Media Feed To WordPress Website Using Tagembed
Since you are well acquainted with everything related to social media feeds and their significance, let's move on and talk about the process of embedding social media feeds on your WordPress website.
You can easily create and embed social media widgets on WordPress websites using a social media aggregator like Tagembed. It is a popular social media aggregator application that allows users to choose and embed social media content from a variety of social media networks.
The tool allows users to personalize the social media widget with a variety of styling options, and it comes with a multitude of advanced features. A content moderation panel for censoring content, custom CSS, automated content updates, comprehensive analytics, and strong 24×7 back support help are some of the other features.
Continue reading and take the instructions outlined below. We'll show you how to use Tagembed to add social media feed to WordPress in two different ways!
#Option1 – Add Social Media Feed Using By Tagembed WordPress Plugin
#Option2 – Add Social Media Feed To WordPress Using by Tagembed Tool
Option 1 – Add Social Media Feed Using by Tagembed WordPress Plugin
Follow the steps mentioned below if you want to easily display social media feeds using the WordPress Plugin By Tagembed.
Step 1. Install And Activate The WP Plugin
a). Search for and install the Tagembed Social Media Feeds Plugin, then enable it.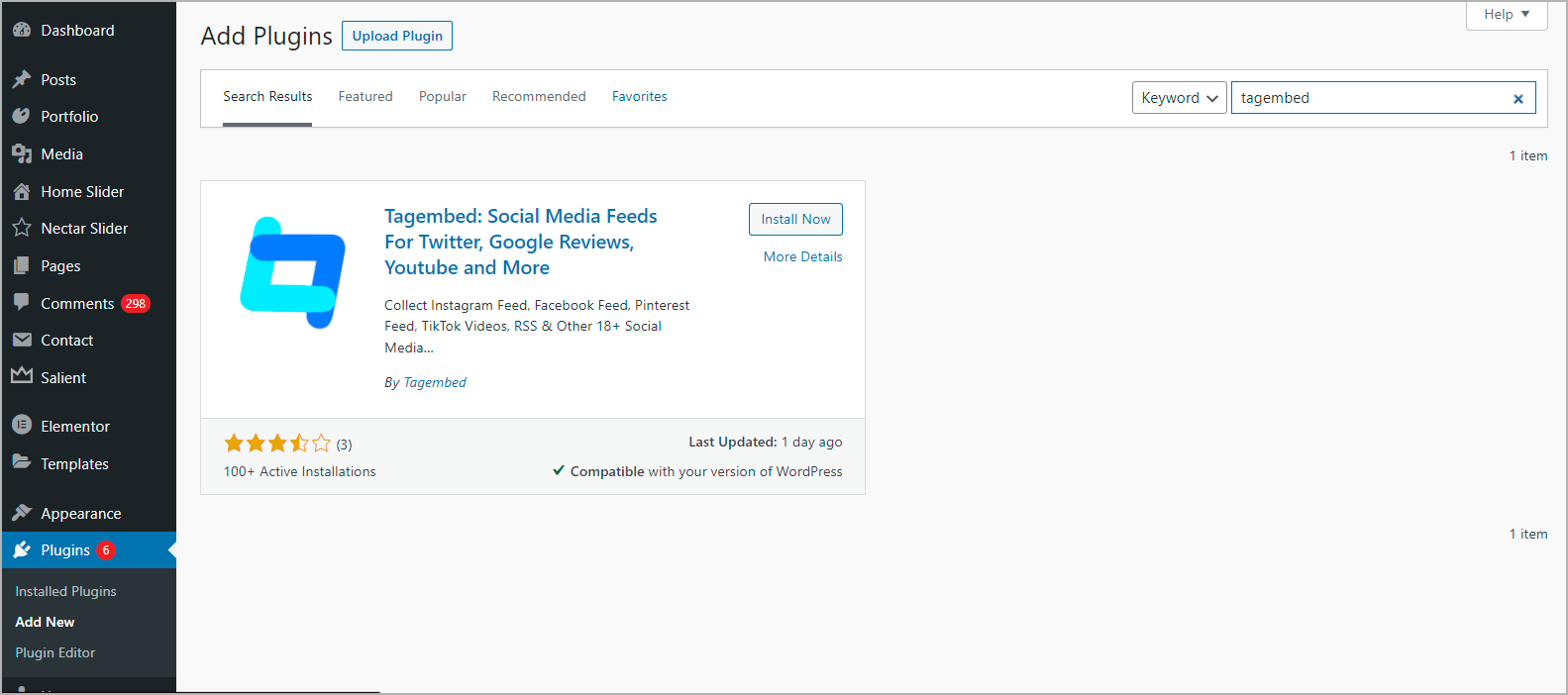 b). The second approach is to save the Tagembed plugin zip file to your WordPress directory or upload the zip file and activate the plugin.
Step 2. Add Social Media Feeds
a). Log into your WordPress account and scroll down to the Tagembed widget plugin. You may sign up for a new account or log into your existing account.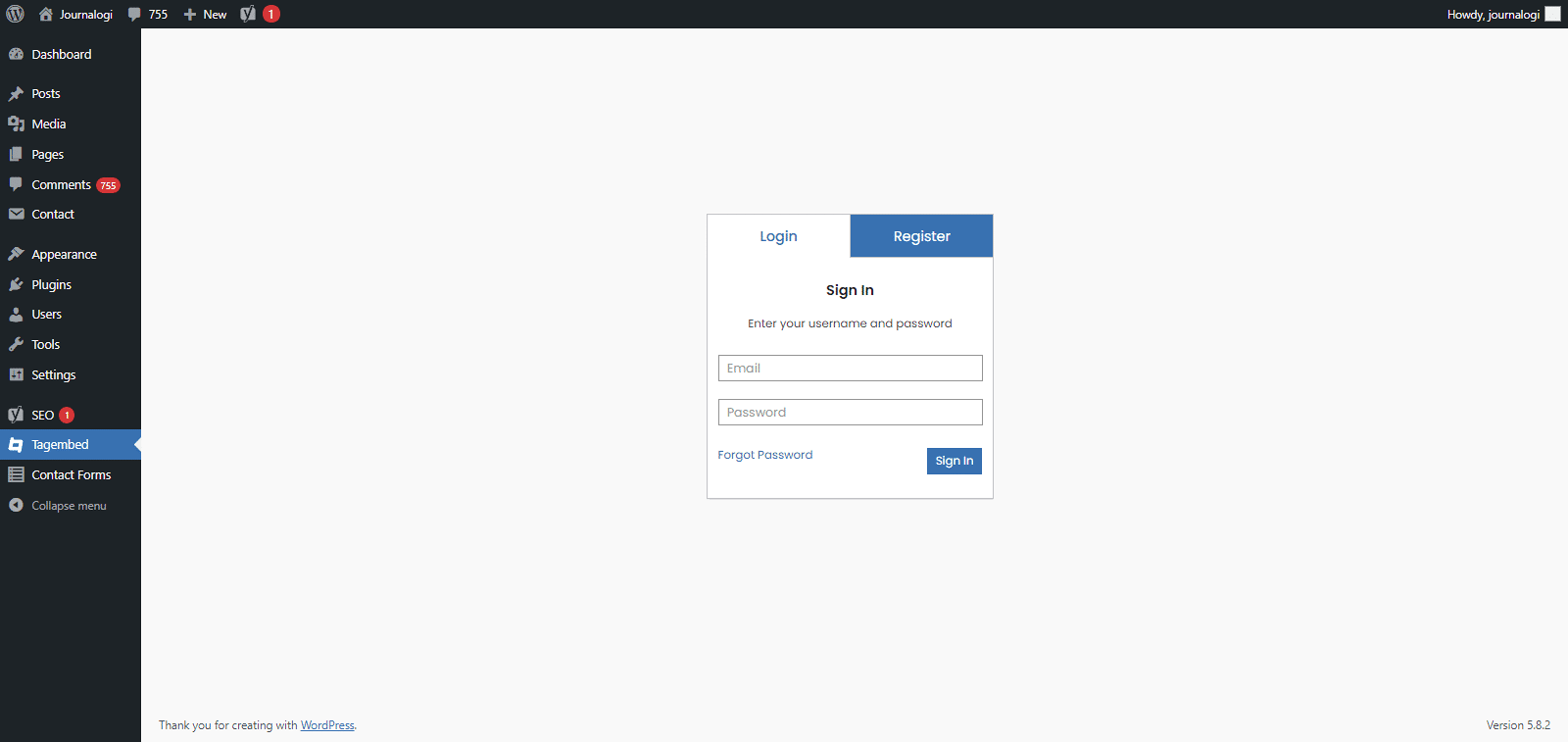 b). Go to Widgets and make a new one.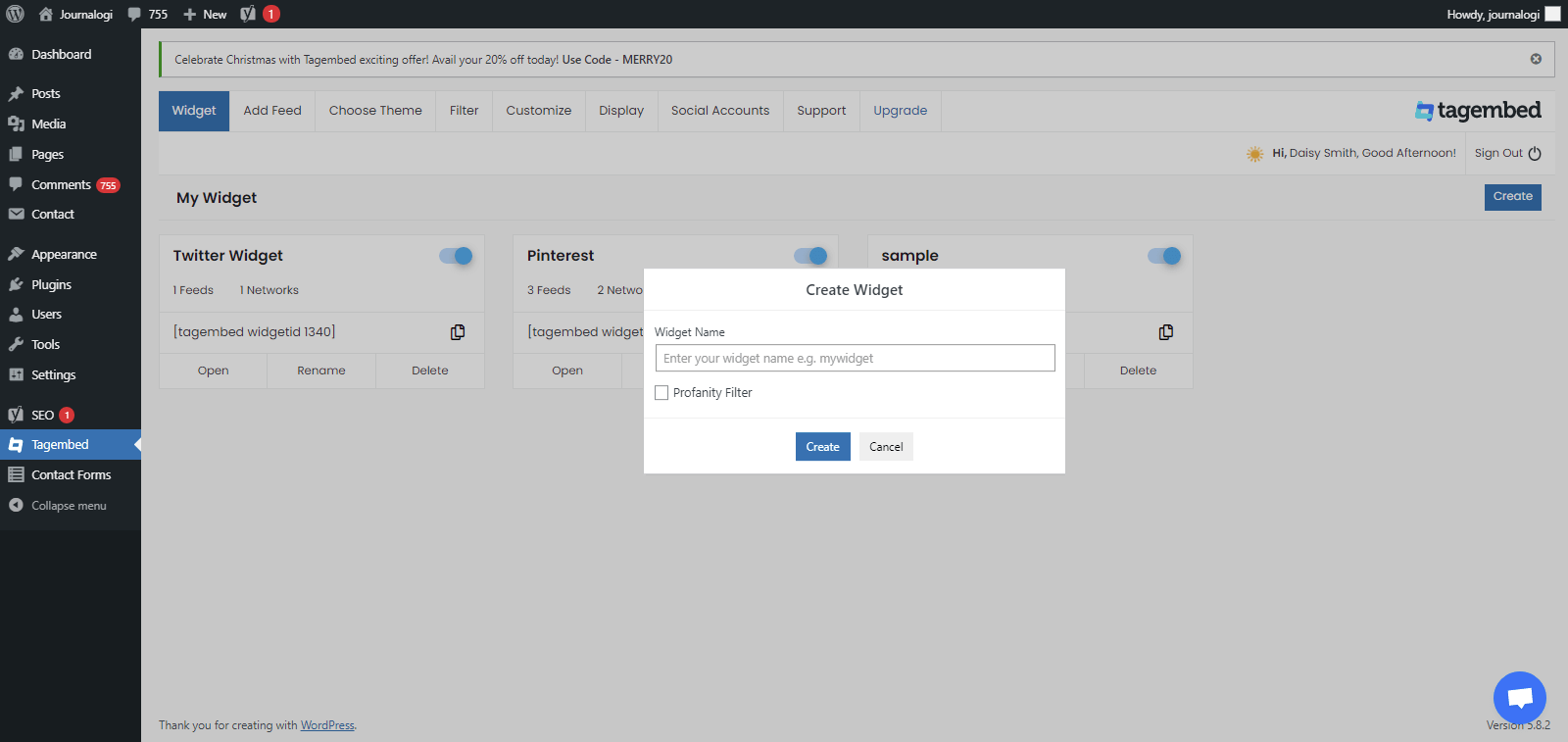 c). Select your preferred social media network.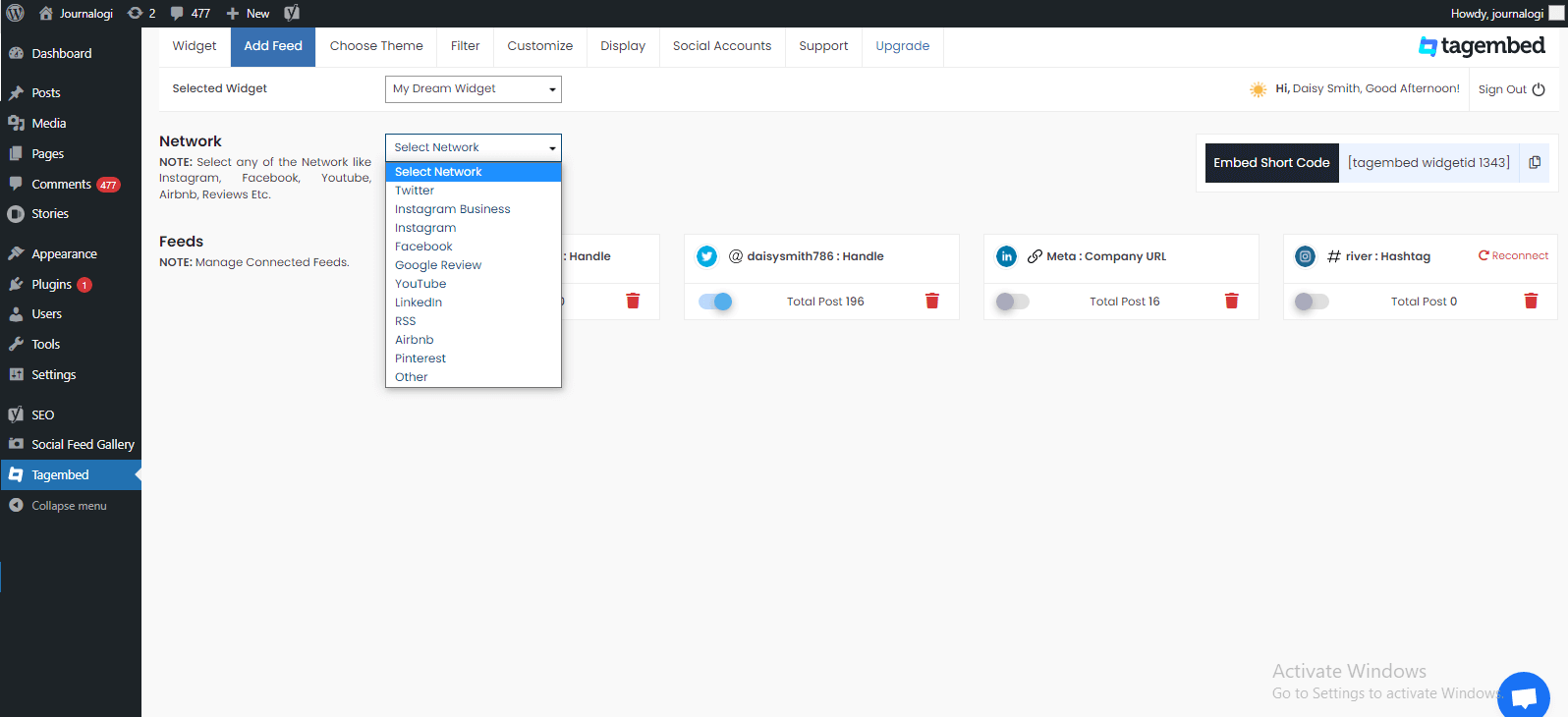 d). And then for example you choose Twitter and select your connection type or collect the feeds.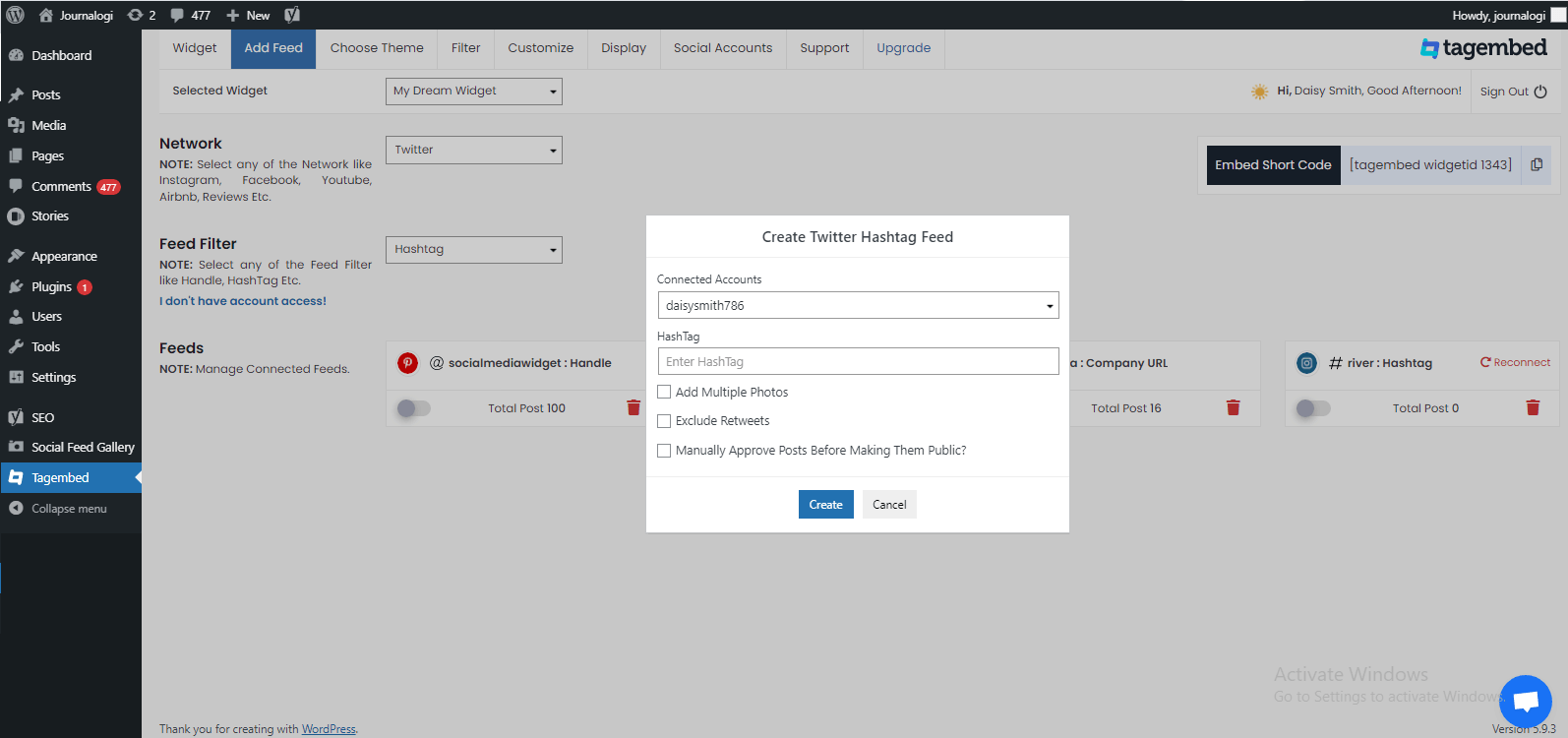 e). Then, to customize the widget, click on Choose Theme widget. Here, you may choose the layout that best matches your style.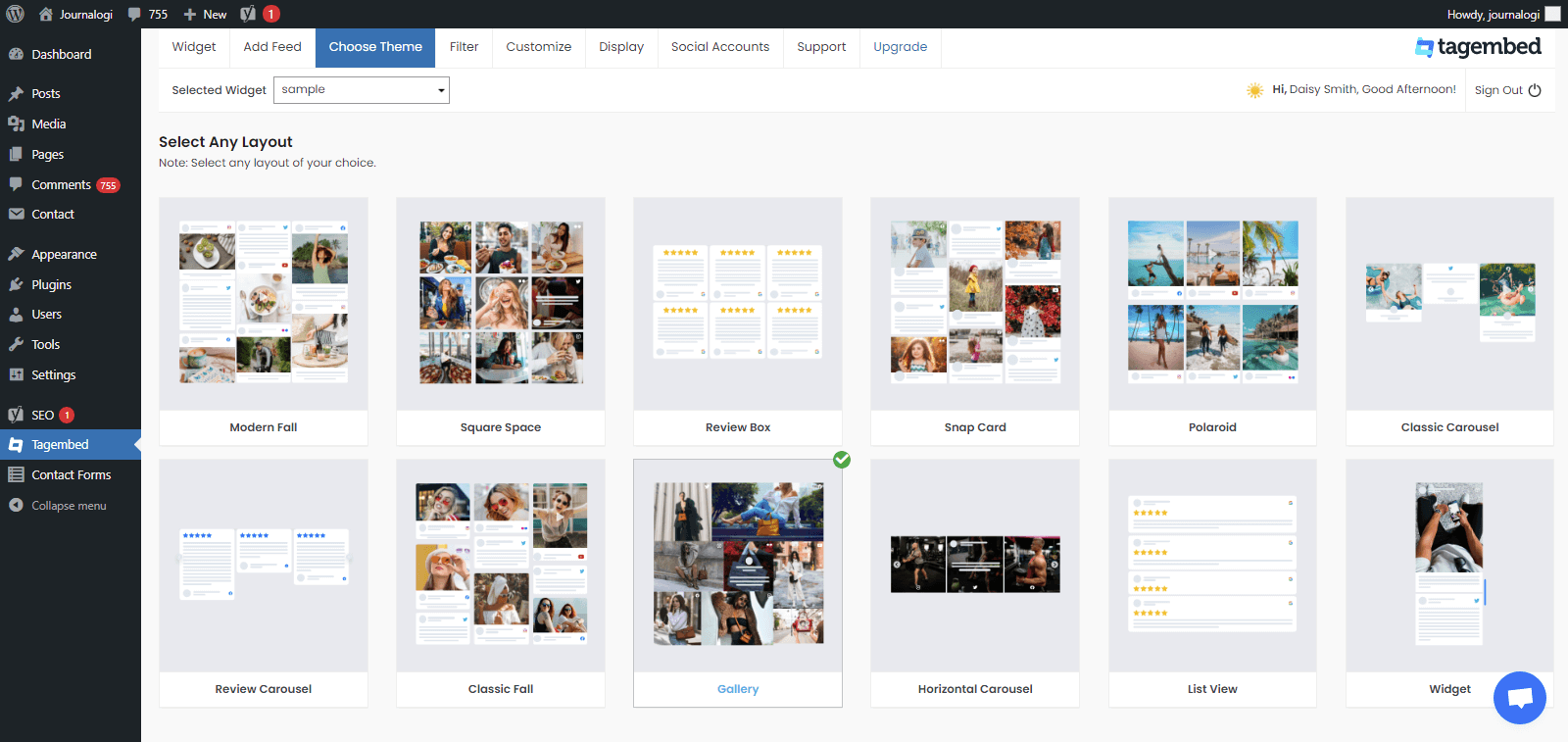 f). Go to the Filter tab and delete any content that you don't want to appear in your feed.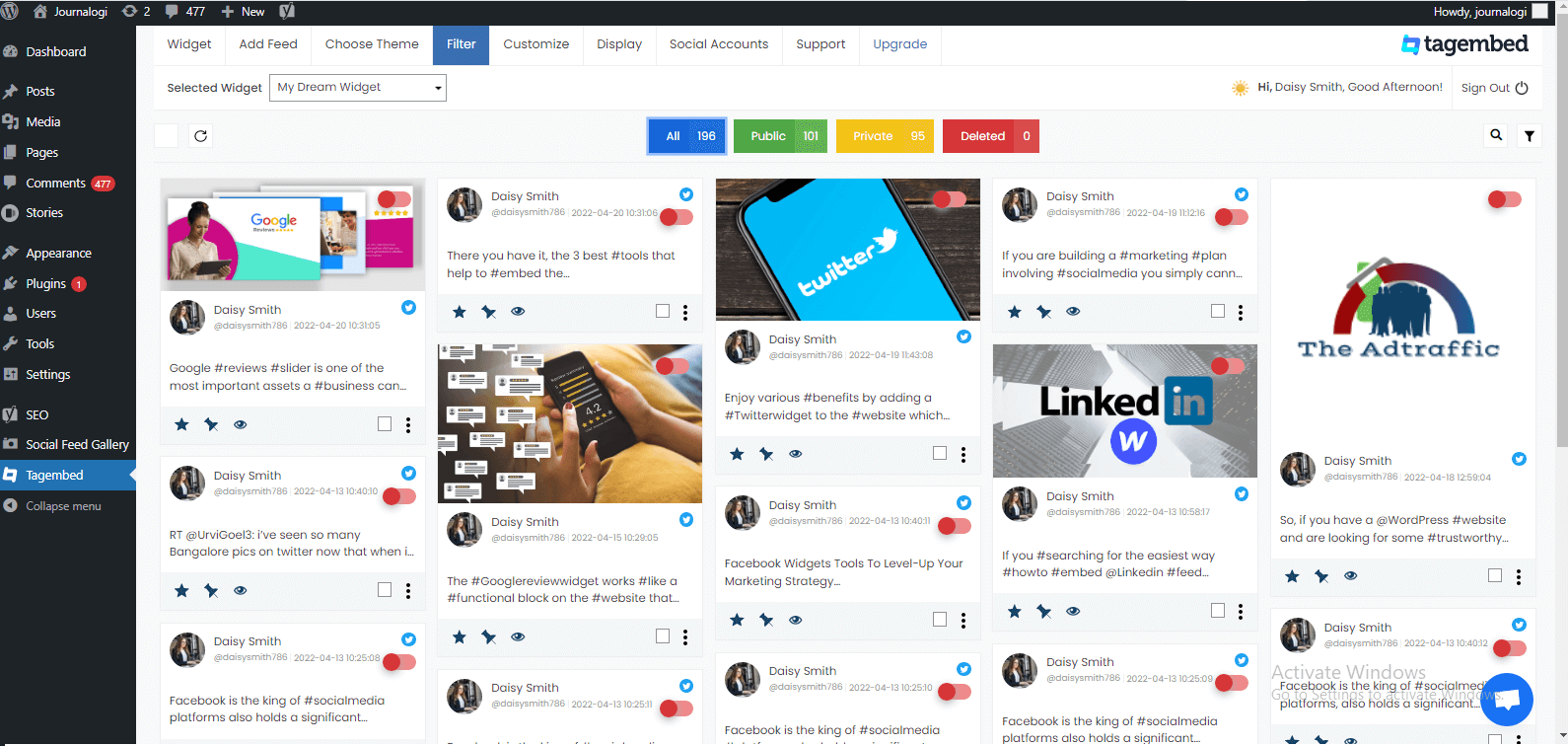 g). Finally, go to the Display tab and copy the shortcode supplied, then paste it into your WordPress editor.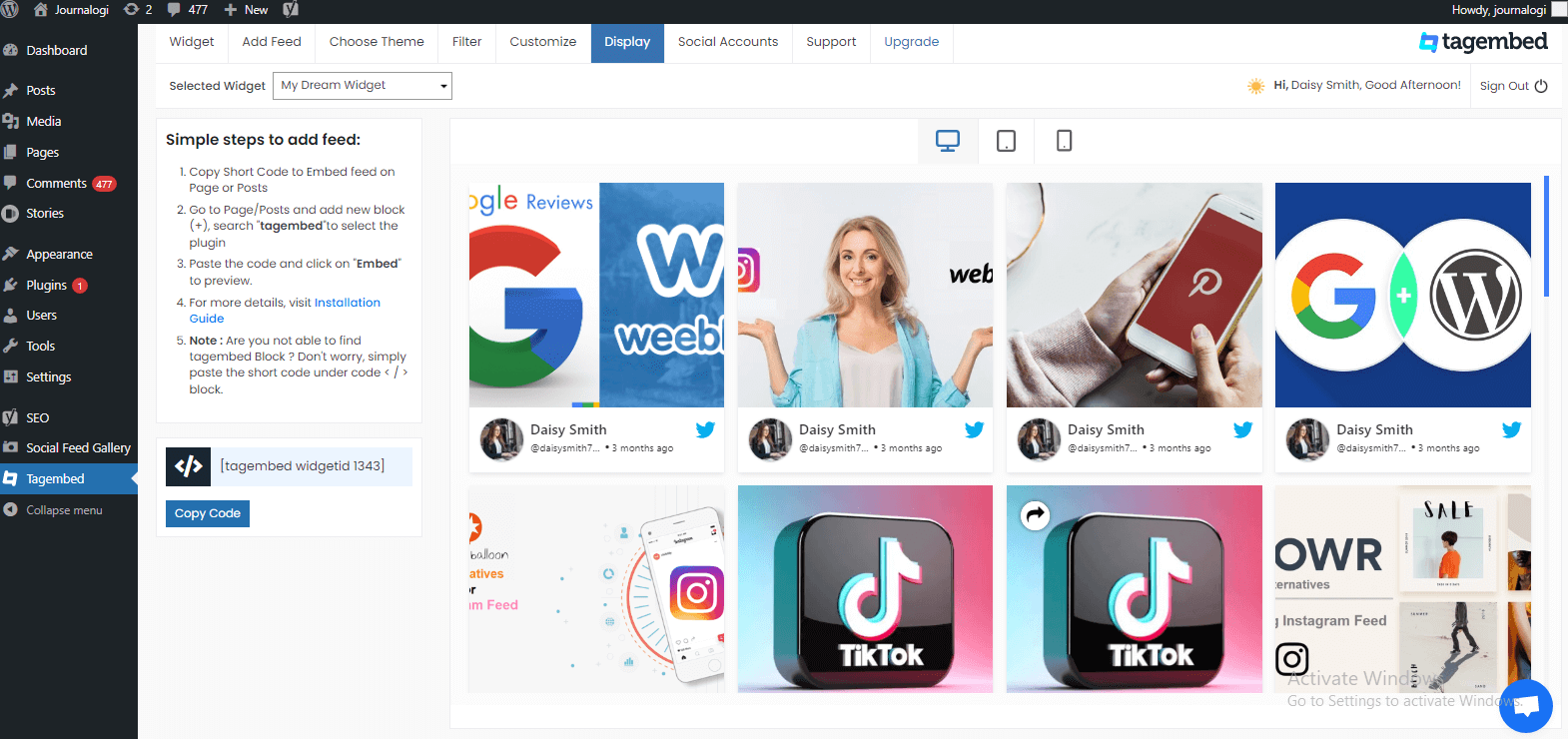 Voila! You will have added the best social media feeds plugin on WordPress website.
Add Social Media Feed To WordPress Website
Collect, moderate, and Embed Social Media Feeds on WordPress Website
Try For Free
Option 2 – Add Social Media Feed To WordPress Using by Tagembed WebApp
Step 1. Create An Account & Add Social Media Feeds to WordPress
a). Sign up for a free account on Tagembed. Alternatively, if you already have a Tagembed account, log in.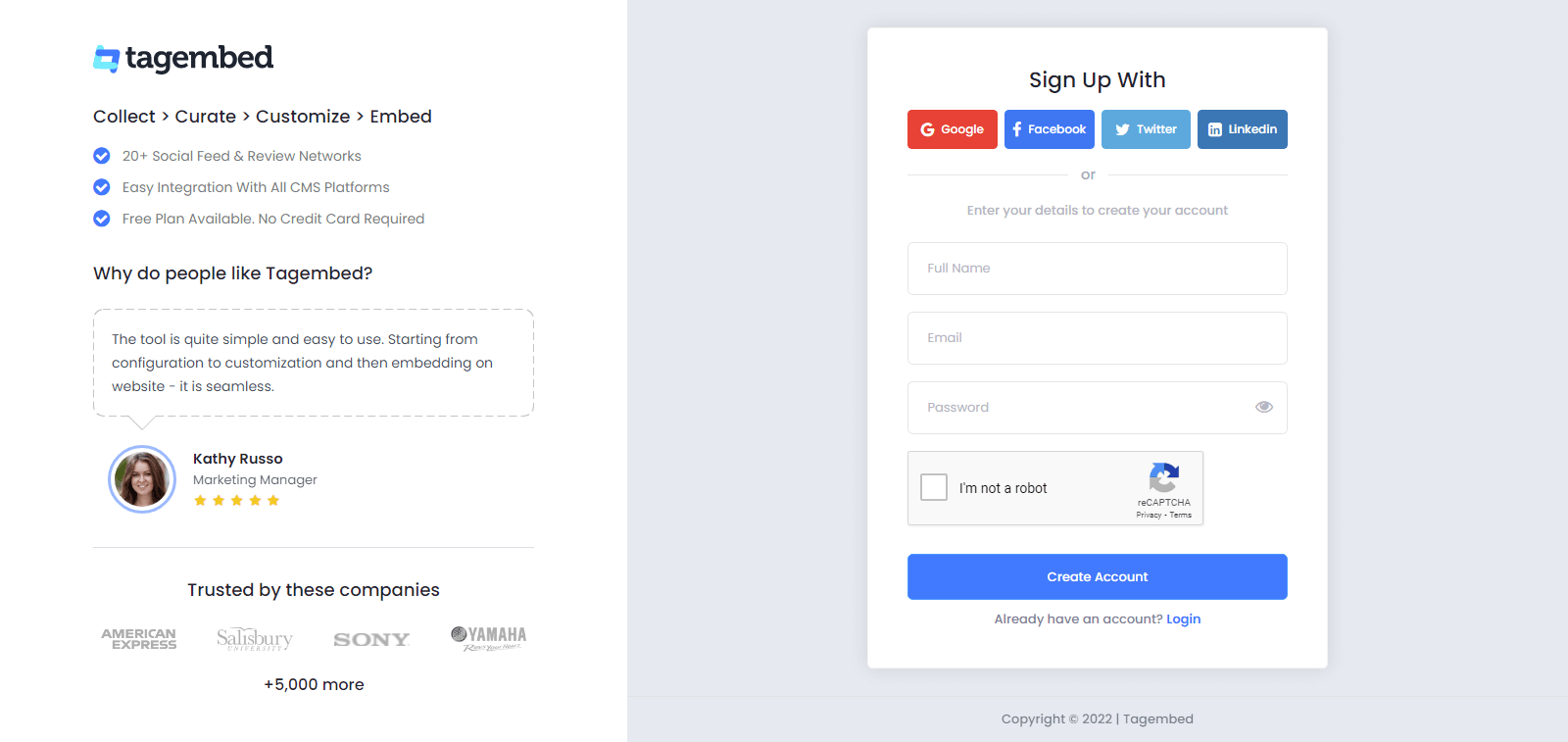 b). You will be sent to the tool's dashboard area. There will be two alternatives here. If you're a first-time user, you'll be all set to start the aggregation process by hitting the Open button.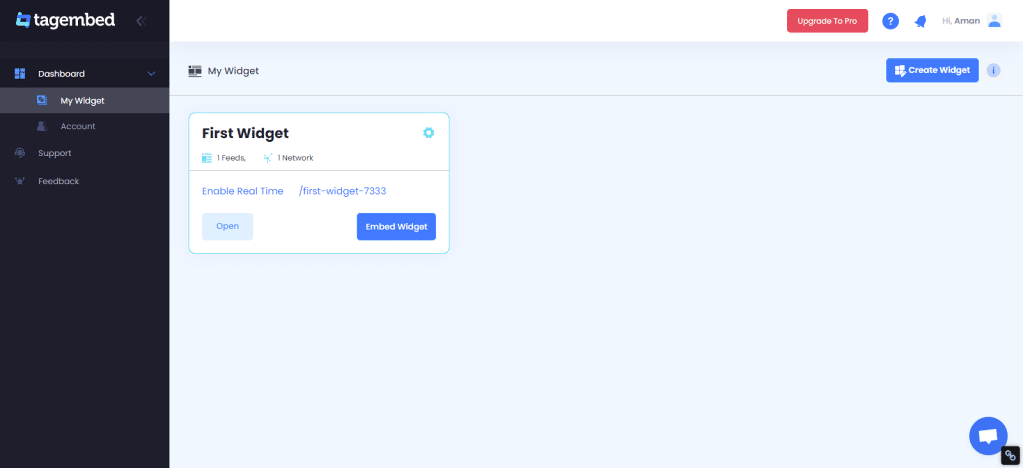 c). If you already have an account, you'll need to create a widget by going to the top right corner and hitting the Create widget button.
d). You'll see a pop-up menu appear. You must choose the platform from which you want to get the feeds. You may pull material from more than 20+ different social media networks, including Instagram, Facebook, Twitter, LinkedIn, Google Reviews, and many more.
e). After that, type in your account credentials and select the Create Feed option, and you'll be able to collect social feeds in the widget editor in a matter of minutes. (For example, choose the Instagram)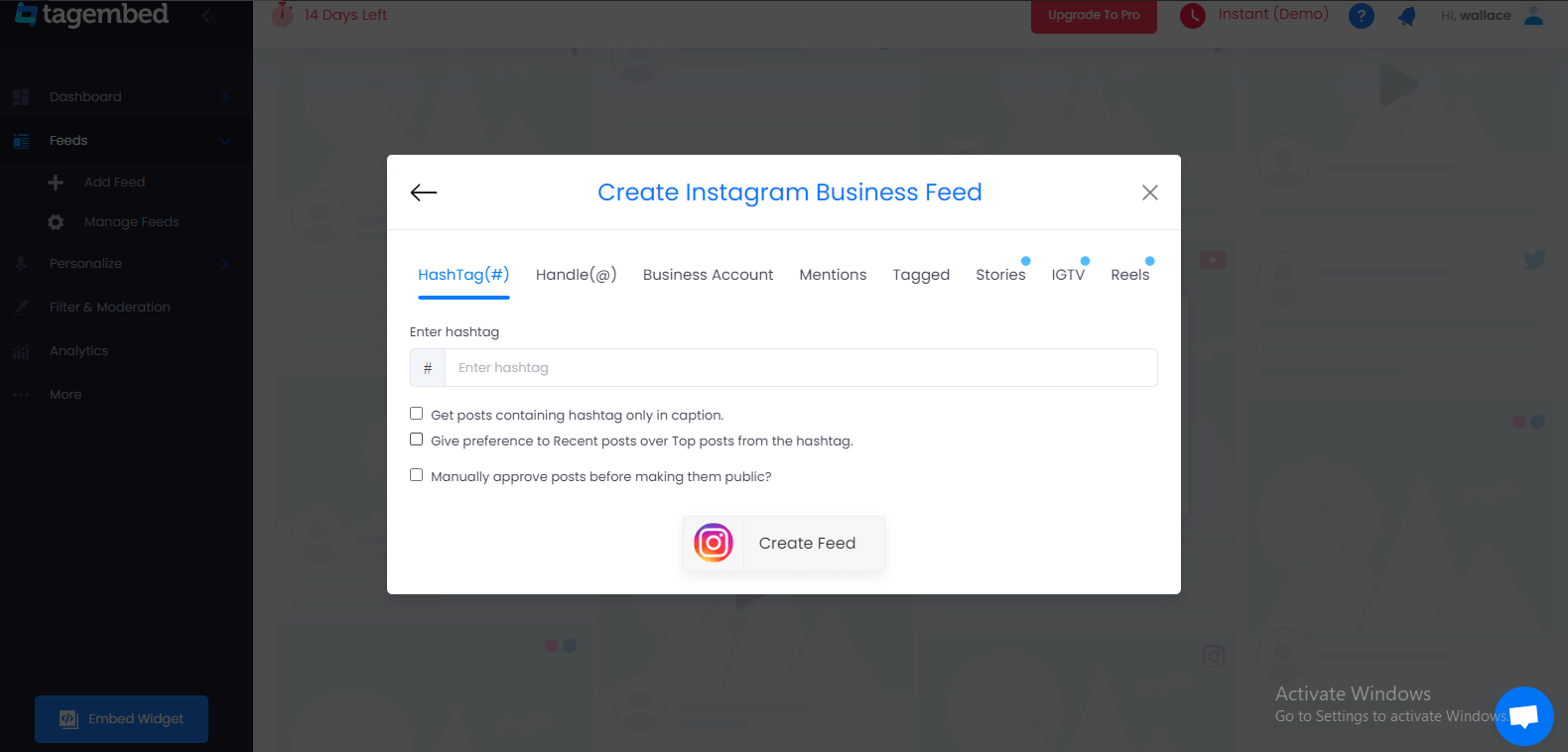 Step 2. Copy The Embed Code
a). Click on the Embed Widget option after you are done with customizing the social media widget. And choose the website-building platform where you want the social feeds to appear. Select WordPress in this case.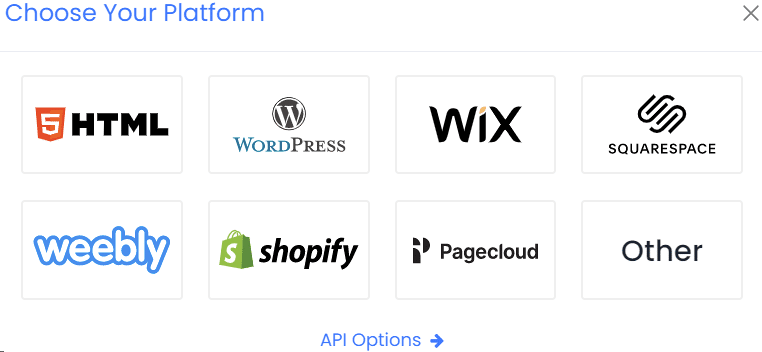 b). Now change the width and height of your widget from 'Auto' to 'Fixed' according to your needs. Select Get Code.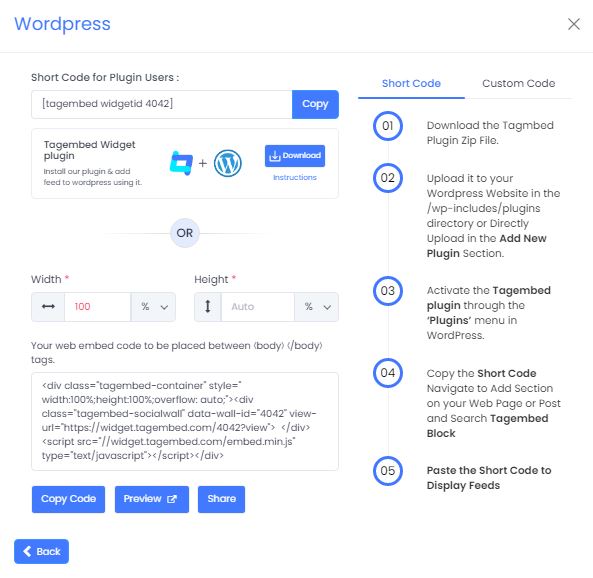 d). Lastly, copy the embed code into the clipboard.
Step 3: Embed The Social Media Feed On WordPress
a). Begin by logging in and going to the page on your WordPress website where you wish to add social media feed to WordPress.
b). Now seek the Visual and Text Option on the right-hand side of the screen.
c). Select the Text mode from the drop-down menu. The Embed Code should then be pasted where you want your social media feeds to appear.
d). To save the changes, click Update at the end of this process.
Add Social Media Feed To WordPress Website
Collect, moderate, and Embed Social Media Feeds on WordPress Website
Try For Free
Major Advantages Of Embedding Social Media Feeds On Your WordPress Website
Still apprehensive about leveraging this strategy into your business? Make your way to the end of this section to understand more.
1. A Chance To Display Dynamic Content From Different Platforms
One of the best aspects of embedding social feeds on WordPress websites is that it allows you to present many feeds under one roof.
This is accomplished with the use of a social media aggregator application like 'Tagembed,' which allows you to simultaneously monitor and manage all of your social media networks.
2. Develop Social Trust and Loyalty
User-generated content is regarded to be the most trustworthy type of content. When you integrate it into your website, you could show off your brand's social proof.
This will help you build trust with your potential customers reviews examples and hence increase their loyalty to your business.
3. Decrease your website's bounce rate
The amount of time visitors spend on your website has a significant impact on its success.
You may successfully lower the bounce rate by embedding new, dynamic, and lively information on your website in the form of a social media feed.
Simply put, the more time people spend on your site, the better the results will be. This happens since the higher the bounce rate will be, the more it will negatively affect the performance of your website.
4. Boost Participation Of Website Visitors
In comparison to other types of information, social media feeds are a very dynamic and engaging type of content.
When you display social media feed on WordPress website, it encourages users to remain longer and explore the site more thoroughly, resulting in an increase in total visitor engagement.
5. Conversion Rates are Boosted
The use of social media content connects the point of inspiration and the point of sale. You may display social feeds on WordPress in a professionally designed website template.
As a result, user-generated content encourages site visitors to become consumers by allowing them to make an instant purchase choice.
Calling It A Wrap!
Social media marketing is a crucial part of promoting your business and selling your services on the internet.
However, because client trust is so important in internet marketing, it is driving away a lot of customers.
We are calling it a wrap and you got to know about the various ways in which you can not only gain the trust of your customers but also boost the overall efficiency of your business website.
Get going now, add social media feed to WordPress website and we are certain that you will be amazed at the results!
Free Social Media Aggregator
Embed social feed from Facebook, YouTube, Instagram, Twitter on your website, like a PRO
No Credit Card Required