YouTube Video Plugins To Supercharge Your WordPress Website 
2023-09-20==================================2023-09-20========================September 20, 2023
If you are in business, we are sure you might be looking for ways to engage your audience on your WordPress website. Considering that, we have listed down some of the best YouTube video plugins for WordPress website. Follow this blog to know more.
In this world where content creation is everything, the power of videos cannot be overstated. YouTube, with its treasure trove of captivating content, has become the go-to platform for sharing videos.
YouTube videos are engaging, and have the uncanny ability to transport us to different worlds with the simple click of a play button. Let's say, you create YouTube videos for your business and you are stuck limiting the YouTube videos to the platform itself like all the other business owners.
How about bringing those magical videos to your WordPress website? This amalgamation will not only bring website engagement but also adorn your website with visually appealing content.
And when it comes to seamlessly integrating the magic of YouTube videos into your WordPress website, the key lies in the plugins you choose. So if you are struggling with what WordPress YouTube playlist plugin to prioritize, you have landed in the right place.
Take a walk with us to learn the top YouTube video plugins for WordPress website.
Add Youtube Videos on WordPress Website
Why You Embed YouTube Videos On Website Using WordPress Plugin
As per the report by Demand Sage, YouTube has more than 2.70 billion active users as of 2023.
If you are still struggling with the valid reasons to embed YouTube Videos on WordPress website, let's take a look at the benefits all at once. 
Engaging Content: Videos can make your website more engaging and visually appealing, helping to retain visitors' attention.
Multimedia Integration: Videos allow you to incorporate multimedia content seamlessly into your posts or pages.
Diverse Content: You can showcase a wide range of content, such as tutorials, product demos, vlogs, and more, by embedding YouTube videos.
User Experience: YouTube provides a user-friendly video player with playback controls, making it easy for visitors to watch and interact with your videos.
Best Free WordPress YouTube Video Plugins For Your Website
A YouTube plugin can benefit you in so many ways: Brand awareness, audience engagement, etc. There are dozens of WordPress YouTube channel plugins available on WordPress directory. Finding the right one for your website can be a tough job.
Look at a refined list of created for improving your WordPress Website functionality.
1. Tagembed WordPress Plugin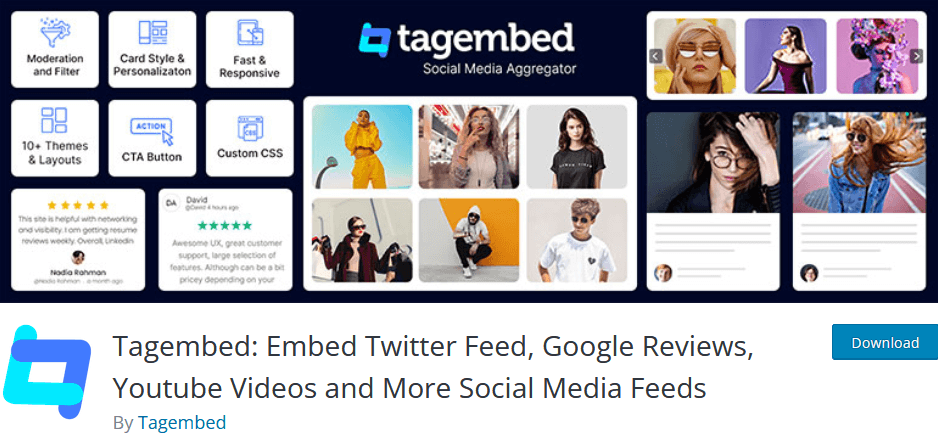 Tagembed WordPress YouTube plugin is a convenient plugin that website owners and business owners can use to showcase the YouTube Feed plugin WordPress website. This easy-to-install YouTube video plugin for WordPress website helps users showcase their YouTube videos on the website without any coding. This means that, anyone without any technical knowledge. Tagembed WordPress Plugin allows users to showcase four types of Channel URLs, playlists, Keywords, and YouTube short Videos. This means that if you want to showcase a YouTube playlist, you do not have to find a separate WordPress YouTube playlist plugin.
What is more interesting about Tagembed is the customization features. This includes changing the themes and layouts, using which one can easily match the vibe of the YouTube widget to the website. Besides that, you can also change the fonts, their size and color, and card styles.
What more you can expect from Tagembed is their amazing moderation panel. Using this feature, as a user, one can easily make the relevant content disappear on the widget. 
Best For: Codeless embedding process, super customizable YouTube widget.
Pricing Plans: Plus plan at $59 per month
2. YouTube Embed Plus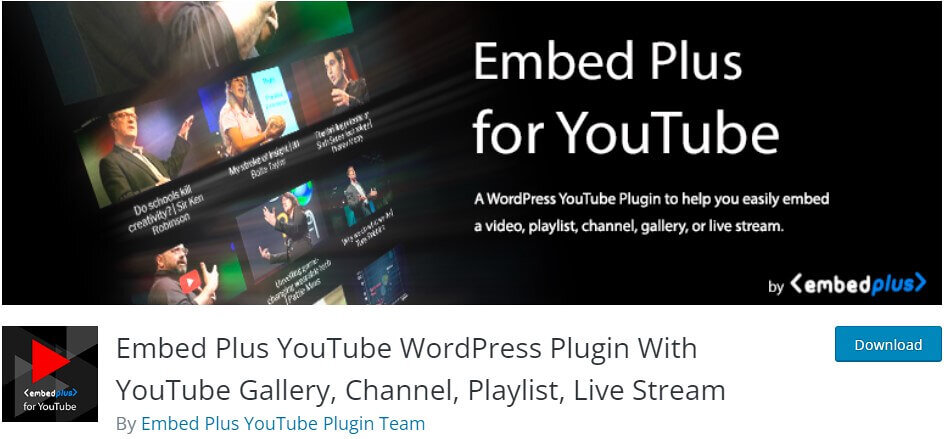 This versatile plugin allows you to embed YouTube videos, playlists, and live streams effortlessly. It offers customization options like player size, video information display, and responsive design, making it an excellent choice for content creators. This plugin offers a user-friendly interface to embed YouTube videos, playlists, and live streams. You can customize the player size, choose to show or hide video information and ensure your videos are responsive, adapting to different screen sizes.
Best For: Faster Page loads 
Pricing Plans: $49 per year
3. ELEX WordPress Video Gallery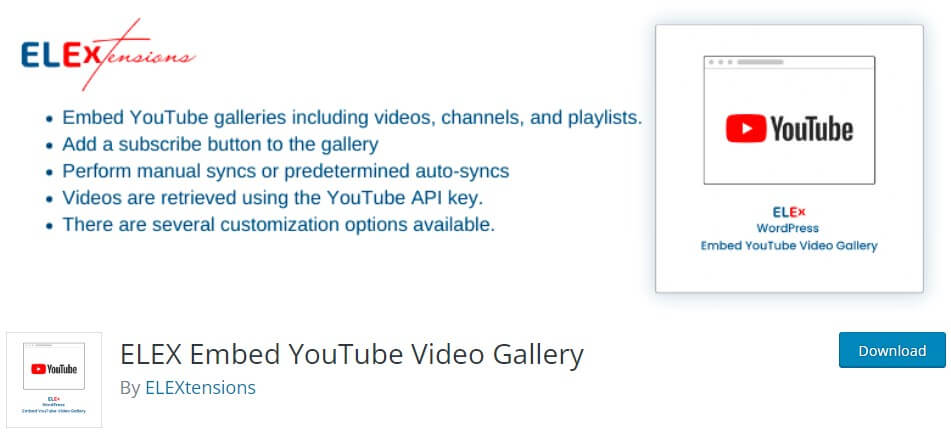 The ELEX WordPress, the YouTube Video plugin, offers a versatile solution for enhancing your website with multiple YouTube galleries. Whether you want to showcase entire channels, playlists, or individual videos, this plugin provides a performance-driven design that leverages the YouTube API. This design allows for extensive customization, such as automatic synchronization and pagination. All aimed at optimizing the visual appeal and loading speed of your galleries.
By embedding your YouTube videos directly onto your web pages, you can effectively boost your channel's subscriber count and keep visitors engaged with your content for longer periods. Furthermore, the YouTube video plugins empowers you to include a convenient subscribe button within each gallery, offering visitors a seamless path to your YouTube channel. When you upload a new video, the plugin facilitates both manual synchronization of your channel or specific playlists and the setup of automatic syncing at daily, weekly, bi-weekly, or monthly intervals.
Best For : Tailored Customization Option for Widget
Pricing Plans:  $79 per year
4. ARVE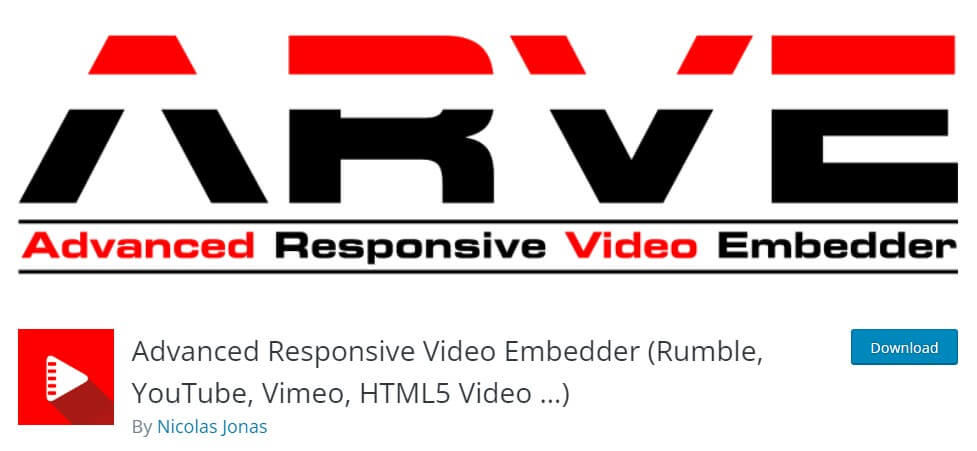 ARVE is the acronym for Advanced Responsive Video Embedder. This plugin offers extensive customization options, including lazy loading, and compatibility with various video platforms, not just YouTube. It's perfect for those who want full control over their video embeds. ARVE claims to magically align with the dimensions of the website.
One standout feature of ARVE is its support for lazy loading, a technique that significantly improves your website's loading speed by deferring the loading of videos until they're actually visible to the user. This not only enhances user experience but also positively impacts your site's performance.
What sets ARVE apart is its compatibility with a wide range of video platforms, extending beyond just YouTube. Whether you're embedding videos from Vimeo, Dailymotion, or other sources, ARVE seamlessly integrates with them all, ensuring your content remains accessible and visually appealing, regardless of the platform.
Best For: Compatibility on all types of platforms
Pricing Plans:  $40 per year
5. Video Gallery – YouTube Gallery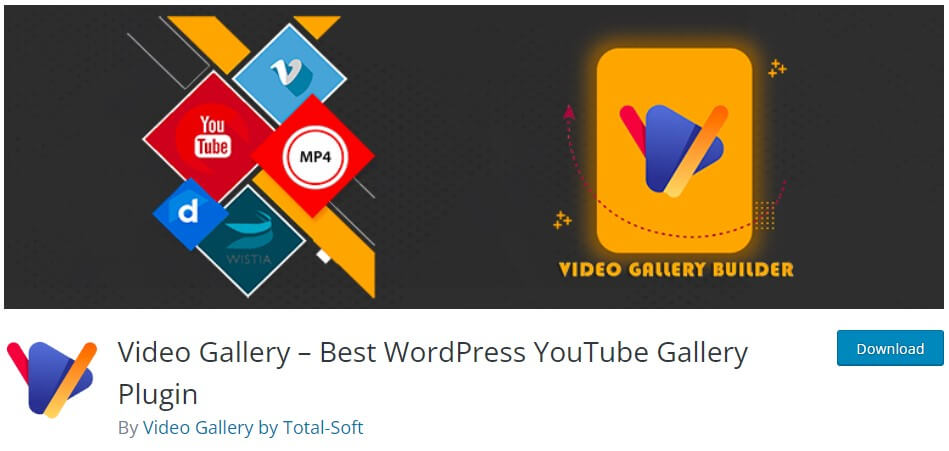 This plugin is ideal for creating video galleries on your WordPress site. It allows you to display YouTube videos in an organized and visually appealing way, perfect for showcasing a collection of videos. Talking about the features of the Video Gallery, this plugin is claimed to provide a user-friendly editor.
This plugin also helps you with a nice and sleek lightbox.  While you are using this plugin, you can also expect Video Galleries themes, you can lay your hands on 16 free versions. Apart from that you can also expect features like the hover effect. 
Best For: User-Friendly Editor
Pricing Plans: $21 one-time fee
6. YourChannel- YouTube Channel on Your Website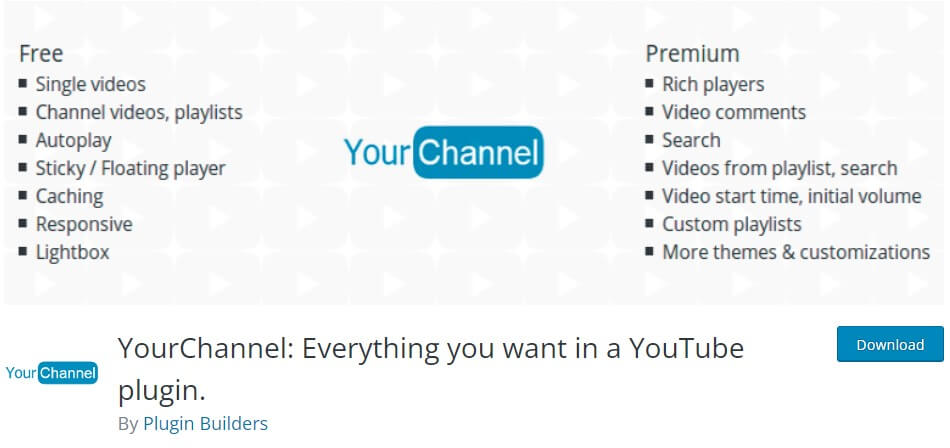 If you want to showcase your entire YouTube channel on your website, YourChannel is the way to go. It seamlessly integrates your YouTube videos, playlists, and live streams into your site, giving your visitors easy access to your channel's content.
With the help of this YouTube video plugin, you can showcase the Total videos and views. If you want to showcase only one video, this plugin will also help you with that. All of the above are optional. You can choose what to display.
Best For: showcasing the total views 
Pricing Plans: $69 per year
7. Easy Video Player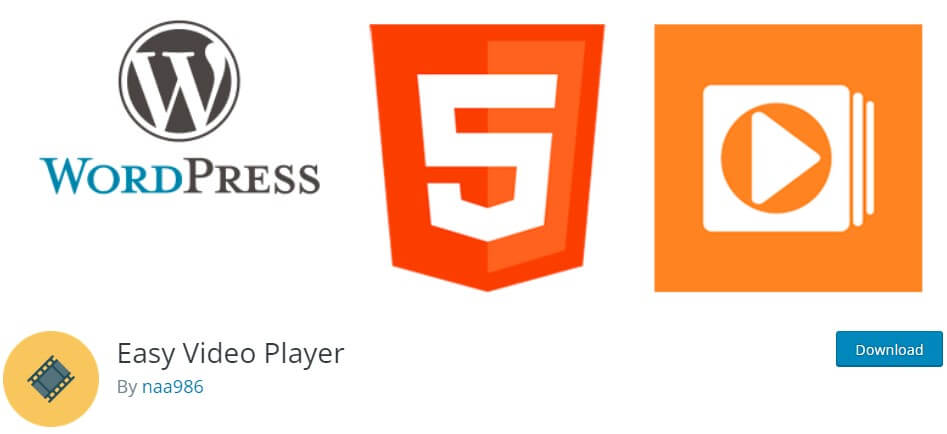 Easy Video Player is an excellent choice if you want a player that can handle both self-hosted videos and YouTube embeds. It's designed with simplicity in mind, making it accessible to users of all skill levels. You can also style the player to match your website's aesthetics.
This plugin lets the user help embed responsive video for a better user experience while viewing from a mobile device. You can also showcase your YouTube video on the widget on the website.
What more you can expect from this plugin is the mute enabled. 
Best For: Responsive widget 
Pricing Plans: Free
8. Widget Responsive For YouTube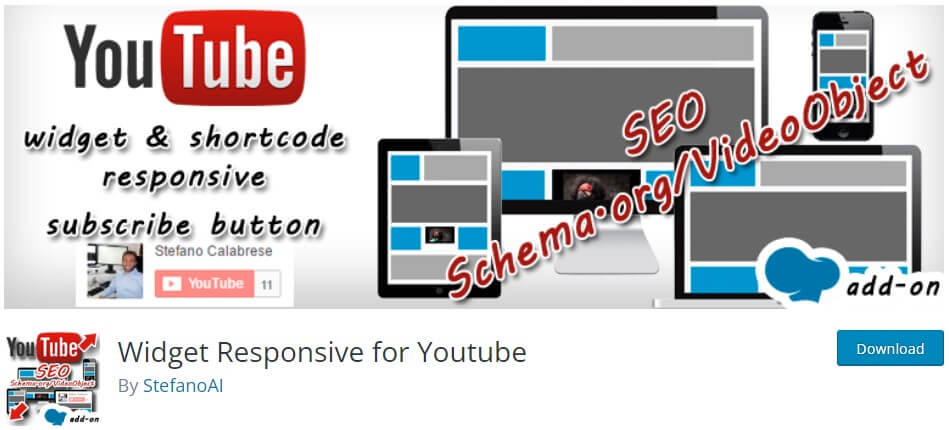 If you're looking for a straightforward widget to display YouTube videos in your sidebar or footer, this plugin does the job effectively. It's a no-fuss solution for adding video content to your site's widget areas. Talking about the notable features of the plugin, it helps you choose minutes and seconds of the start and end of the video. Apart from that you can also use the automatic on or off the subtitles.
What other features you can expect from this plugin is that you can also choose to mute and unmute the YouTube video on the widget. You can also  Hide the YouTube logo.
Best For: automatic on and off subtitle
Pricing Plans: Works On the voluntary donation 
9. Feed Them Social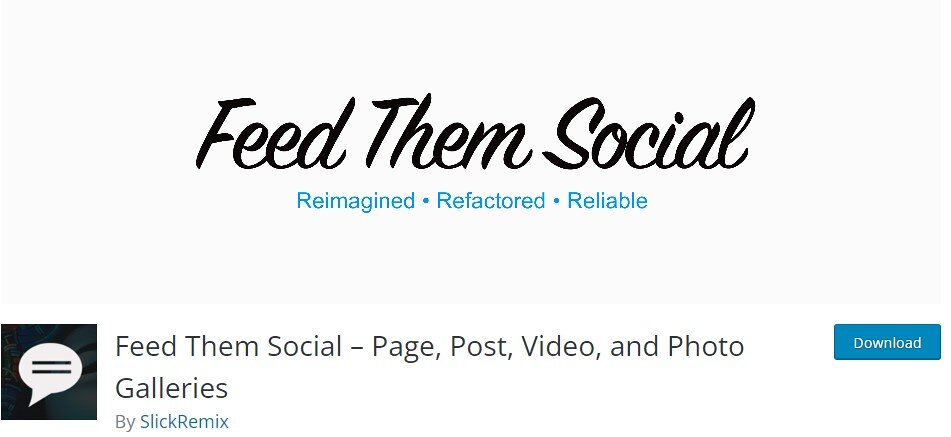 Another versatile YouTube video plugin we have on our list is Feed Them Social. This plugin is quick and easy to install on your WordPress website. With the help of this plugin, you can create as many YouTube feeds as you want. Feed Them Social helps its users showcase the YouTube widget in the location they want. For example, users can display their YouTube widget on their sidebar, post, or any page. 
Talking about the customization feature, Feed Them Social helps the user to change the color of their fonts. Apart from that you can also expect Share buttons for Instagram, Facebook, Twitter, and YouTube Feeds. This plugin is highly compatible with any type of WordPress theme.
Best For: Seamless integration
Pricing: $50 per year.
Add YouTube Video On WordPress Website
Collect, Moderate, and Display YouTube Feed on WordPress Website
Try For Free
The Final Word
YouTube channel plugin for website can be a game changer for your business. A good YouTube video plugins will not only help you mark your YouTube presence on the WordPress website but will also allow you to customize the overall look of the widget. This will eventually help you to enhance your business website engagement with the help of the YouTube Feed plugin WordPress website.
And to make things easier for you, we have mentioned all the splendid plugins. So take this leap of faith and choose the best plugin after reading all the features.
Free Social Media Aggregator
Embed social feed from Facebook, YouTube, Instagram, Twitter on your website, like a PRO
No Credit Card Required