How To Embed Google Reviews On WordPress Website?
2022-01-20==================================2022-01-20========================January 20, 2022
Trust is the foundation of every relationship including the relationship between brands and their customers. Customers believe what they see and trust the recommendations of other customers more than the promotional content of a brand. This is where embedding Google reviews comes in and works miraculously to instill trust in potential customers.
Brands and marketers have begun to embed Google reviews on WordPress websites and it has grown to become one of the most result-driven and highly used strategies for businesses!
If this excites you enough, then make your way to the end of this post as we will be telling you more about Tagembed and the easy steps using which you will be able to add Google reviews to WordPress website.
Let's get started!
Embed Google Reviews on WordPress Website
Collect, Moderate, and Add Google Reviews on WordPress Website
Try For Free
You've got a killer website, your content is on point, and your products or services are top-notch. You're ready to dazzle the online world.
But something is missing – that extra dash of credibility and trust that only customer reviews can bring.
Well, fret not! We have a little secret sauce for you today that'll take your WordPress site from good to mind-blowing.
We're talking about the magic of embedding Google Reviews on WordPress.
88% of all reviews come from only the top four review sites. It includes Facebook, AliExpress, Amazon and Tripadvisor. 
It's astonishing, to say the least!
So, whether you're a tech wizard or just starting with WordPress, we're here to guide you toward online greatness.
How To Add Google Reviews To WordPress Website Using Tagembed (Two Easiest Methods)
Before getting started with the steps, here's all you need to know about Tagembed.
Tagembed is a super responsive and leading social media aggregator tool that enables users to curate and embed social media content from various social media networks including Google from two different sources i.e.- Google places or Google My Business Page. 
Offering a plethora of advanced features, the tool enables users to customize the Google review widget with a variety of styling options. Other features include a content moderation panel for filtering content, custom CSS, automatic content updates, advanced analytics, and robust 24×7 back support assistance.
Keep reading and follow the steps mentioned below. We shall be guiding you through two main methods of embedding Google reviews using Tagembed!
A. Tagembed Google Reviews WordPress Plugin To Add Reviews
B. Tagembed Widget Tool To Add Google Reviews
Method A – Tagembed Google Reviews WordPress Plugin To Add Reviews
Follow the steps mentioned below if you want to easily display Google reviews using the Tagembed Google Reviews WordPress Plugin.
Step1 – Install & Activate The WP Plugin
a). Search and install the Tagembed Google Reviews Plugin from the plugin section and activate the Tagembed plugin.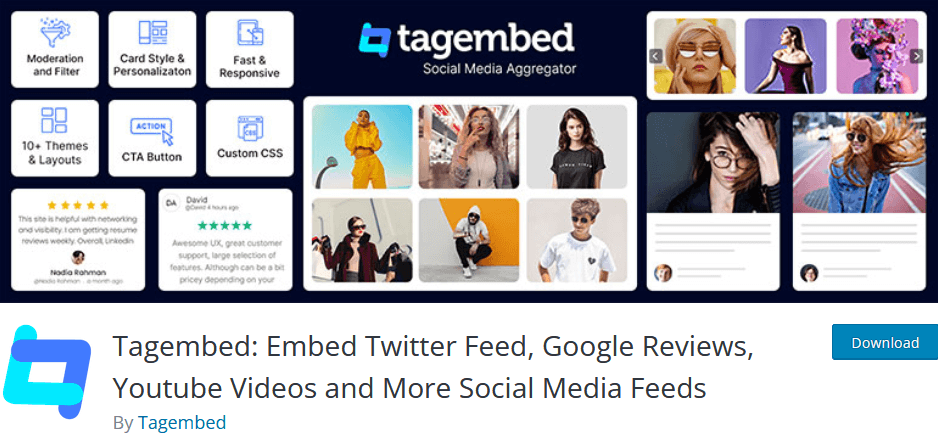 b). The second option is to download the Tagembed plugin zip on your WordPress directory or upload the zip and activate the plugin functionality.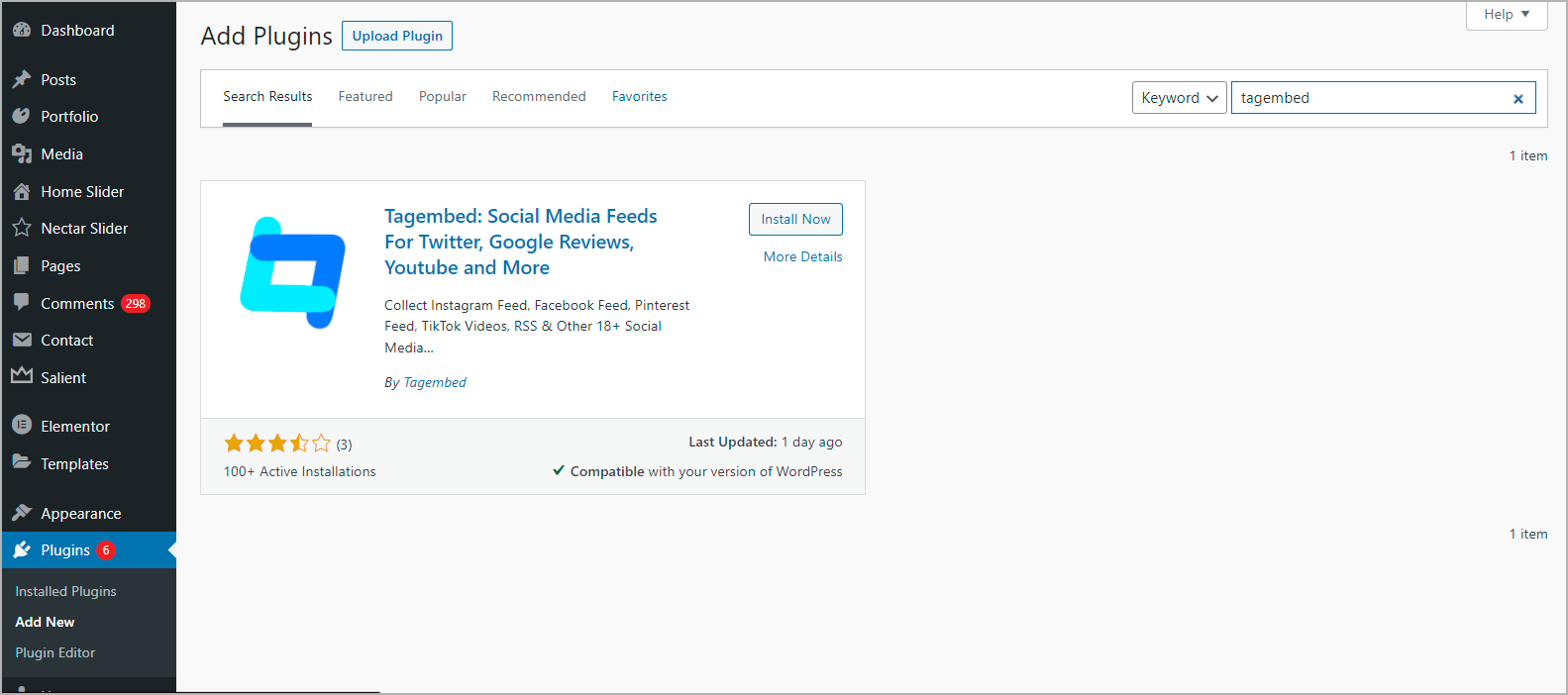 Step2 – Integrate Google Reviews From Google My Business Pages
a). Start by logging into your WordPress account, scroll down to the Tagembed widget plugin, and click on Sign up or log into your existing account.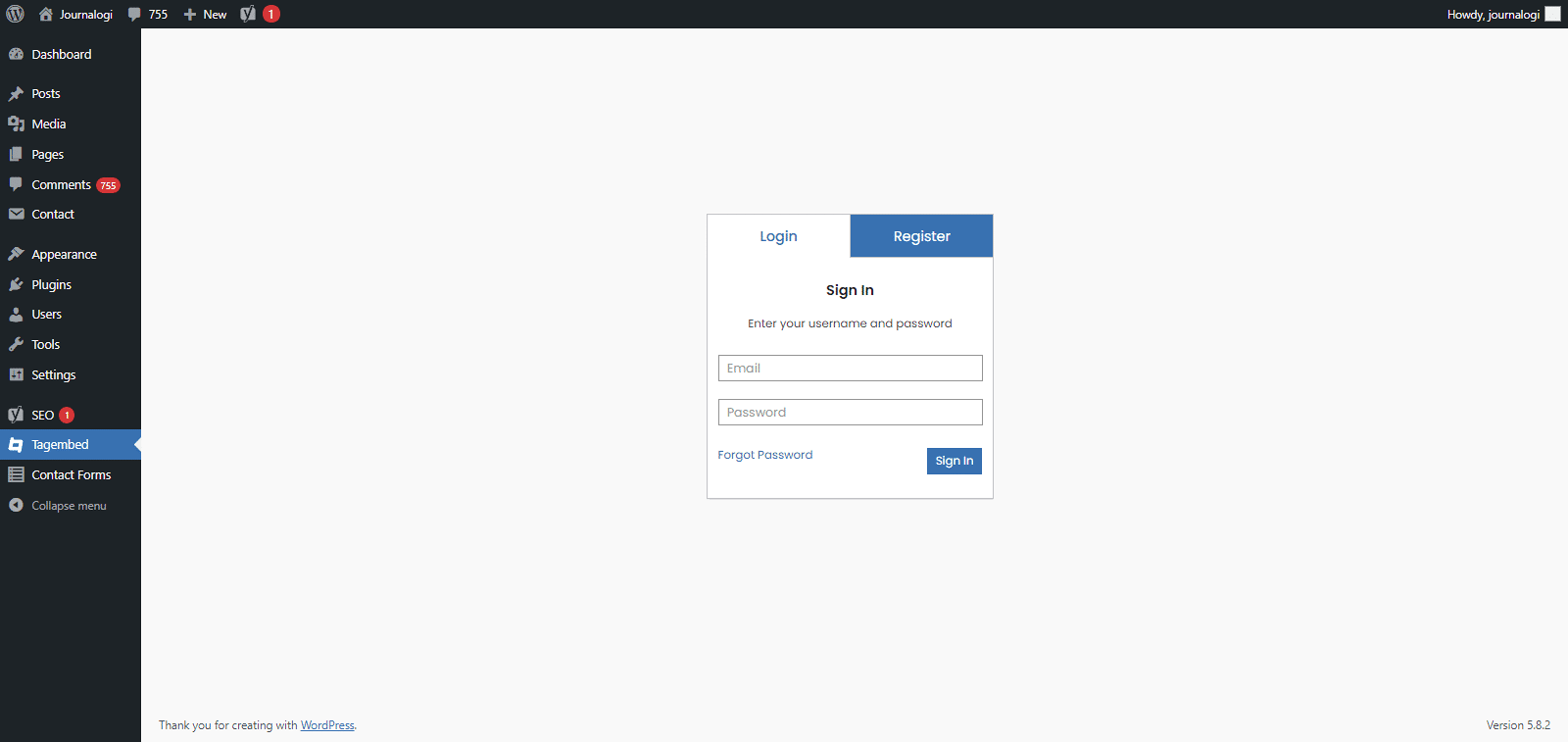 b). Go to Widget and create a new widget.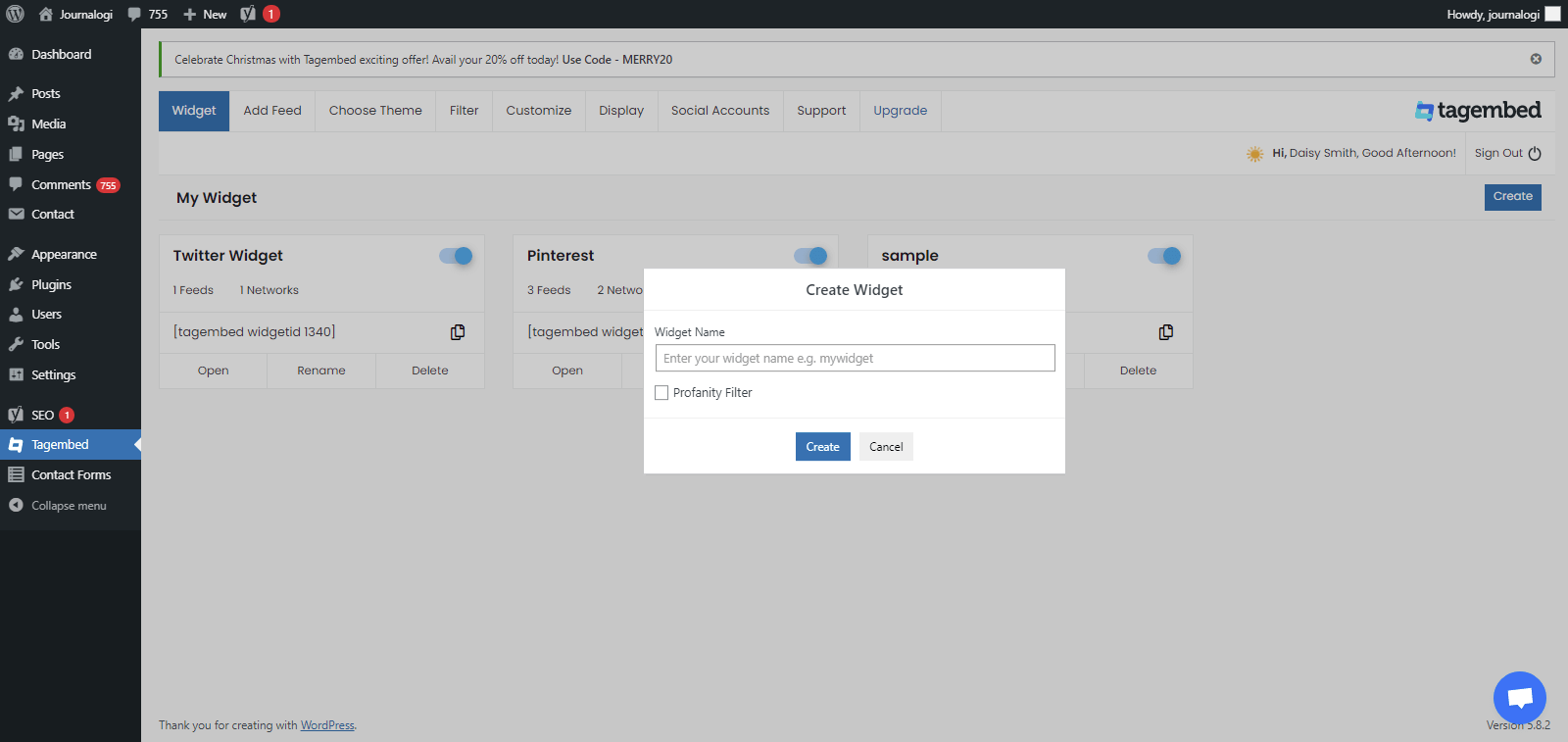 c). Click on the Add Feeds option to select Google and aggregate the Google reviews for the GMB page.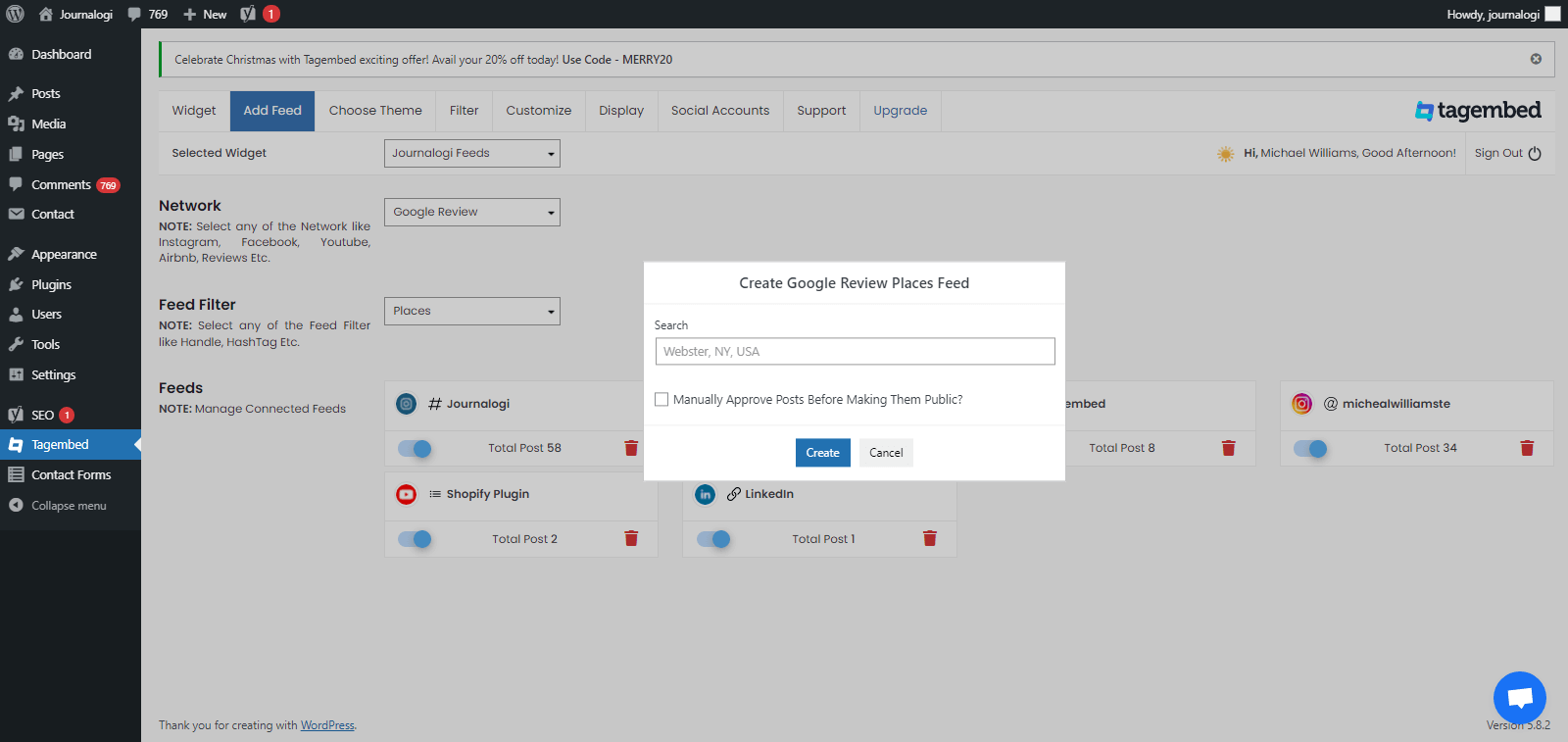 d). Next, click on Choose Theme widget to personalize the widget as per your choice, here you can select the layout that best suits your style.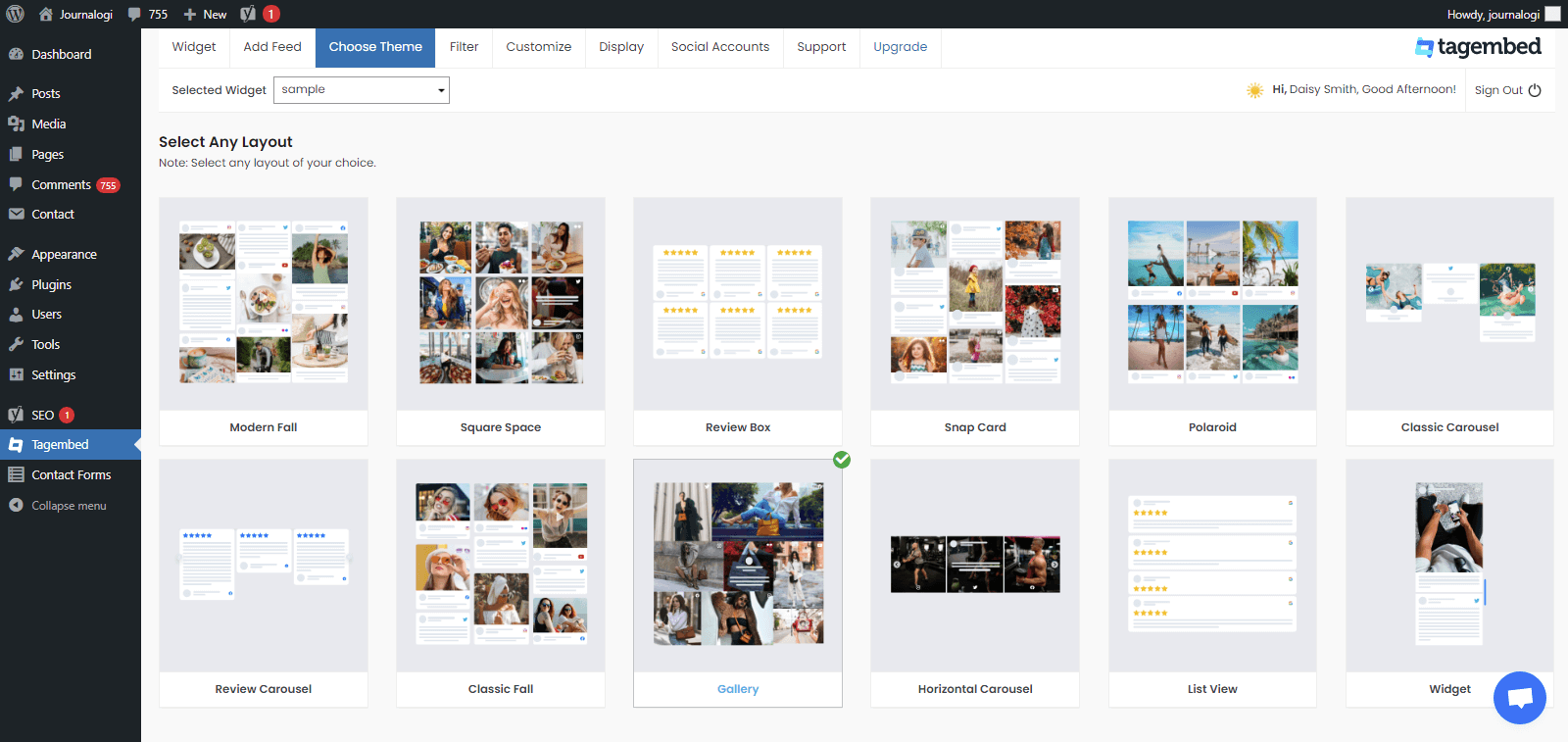 e). Click on the Filter tab, here you can remove the content that you don't want to display Google reviews feed on WordPress.
f). Finally, click on the Display tab, copy the provided shortcode, and paste it into your WordPress editor.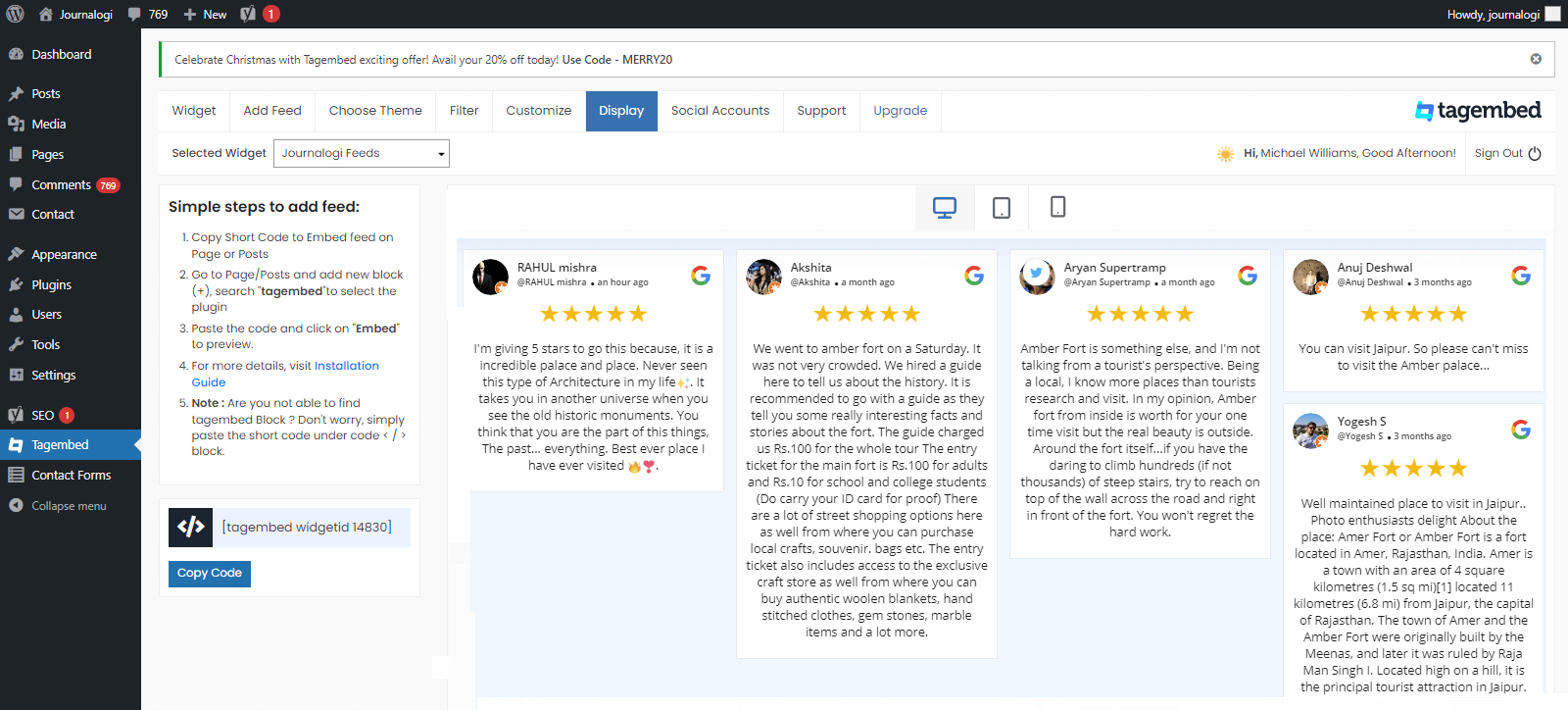 Voila! You will have added reviews with the help of the best Google Reviews WordPress Plugin.
Method B – Tagembed Widget Tool To Add Google Reviews
Step 1. Aggregate The Google Reviews
a). Start by logging into your Tagembed account. If you do not already have an account, then you can sign up for a Free Tagembed account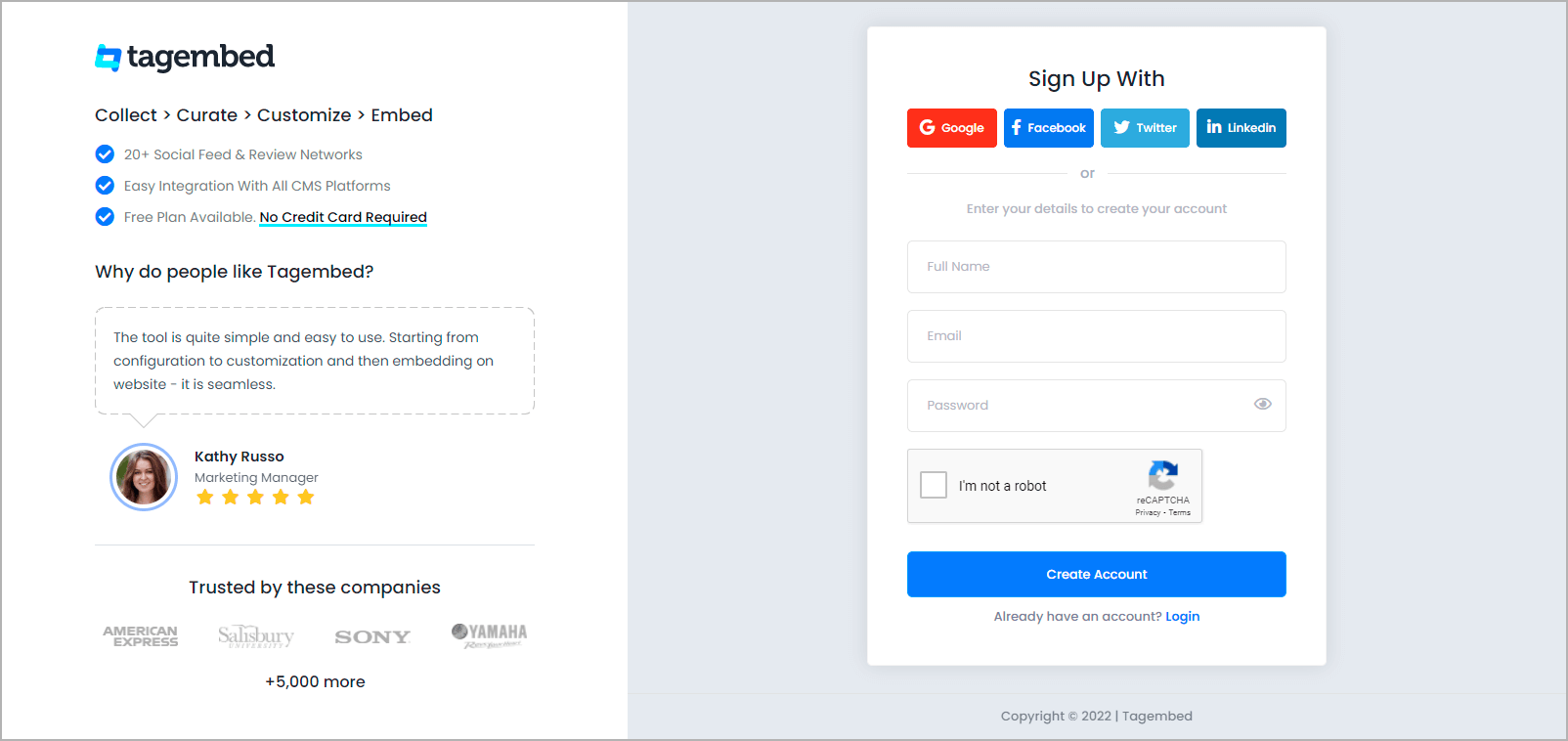 b). Once you are logged in, you will reach the Tagembed dashboard section. Here there will be two options. If you are a new user, you will be set to go ahead to the next step by clicking on the Open option.
However, if you have an existing account, then you will be required to click on the Create widget button in the top right corner.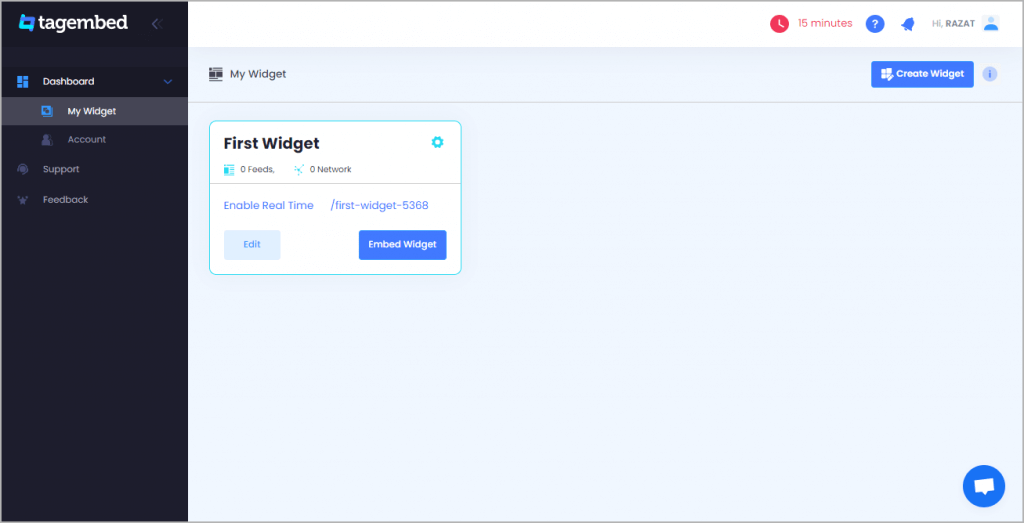 c). Once done, you need to click on the Add Google review feeds option. From the pop-up menu, click on the Google option.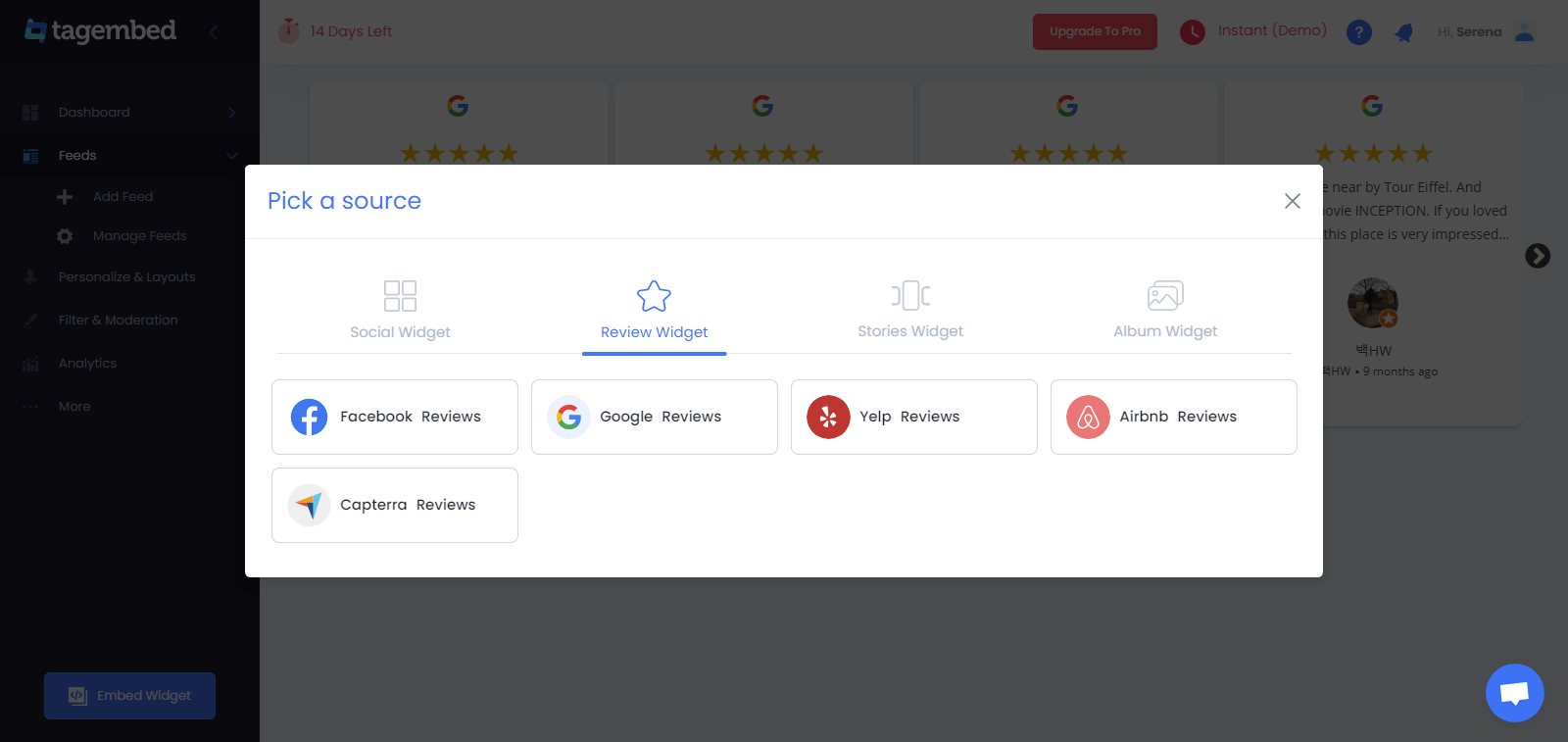 d). You will get two options. You can either aggregate the content from places or my places. By selecting my places, you will be able to collect content, especially from your Google My Business account.

Select My Places Tab to Display Google Reviews in the original Language and to get all of your Google reviews, not just the 5 most helpful!.
e). Click on the Connect Google option. You will be able to see the aggregated reviews in the widget editor in a couple of minutes.

Step 2. Customize & Generate Embed Code
a). Once you are done customizing your widget ecstasy how you want, you need to click on the Embed Widget button on the bottom left corner of the widget editor. From the pop-up menu, select WordPress as your preferred website-building platform.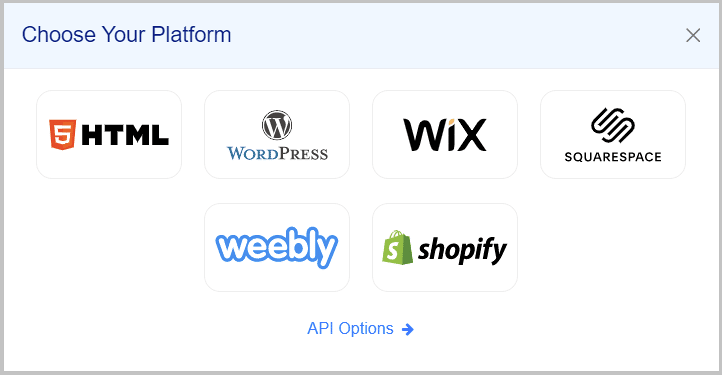 b). You will be given the option to adjust the width and height of the Google reviews widget if you want.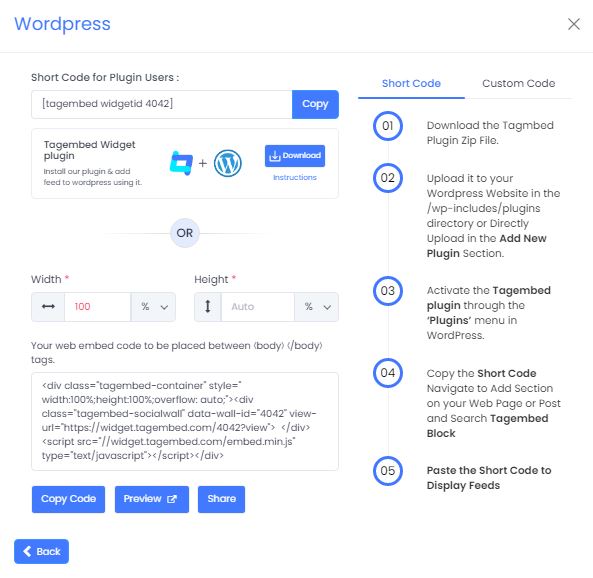 e). Click on the Get Code option to generate the code and copy the embed code on the clipboard.
Add Google Reviews on WordPress Website
Collect, Moderate, and Display Google Reviews on WordPress Website
Try For Free
Step 3. Add Google Reviews On WordPress Versions
A). Display Google Reviews On the WordPress Classic Version
After selecting WordPress as an option, log into your WordPress account and visit the webpage where you want to display Google reviews
Select the text mode on the right side of the page
Paste the copied embed code in the section where you wish to showcase your Google reviews
Complete the process by clicking on the Publish button
B). Add Google Reviews On WordPress Editor 5.0 Version
Select WordPress as your CMS platform and begin the process by logging into your WordPress account
Navigate to the section where you wish to embed Google reviews
Choose the Add Block option
Select the formatting option & choose Custom HTML
Paste the generated and copied embed code
Click on the publish button to complete the embedding process

Amazing Benefits Of Adding Google Reviews On WordPress Website:
We are one section before calling it a wrap and if you are thinking of how displaying Google reviews widget on the WordPress website would help your business, then go through the key benefits of this process mentioned below. Embedding Google reviews on the WordPress website is a great strategy if you wish to:
1. Bring more credibility to your brand –
Customers trust other customers, and this trust factor is invaluable. Over 80% of potential buyers rely on User-Generated Content (UGC) during their purchase journey.
By displaying Google Reviews on the WordPress website, you're letting satisfied customers do the talking for you. 
Their positive experiences and feedback add a layer of authenticity and credibility to your brand that can't be achieved through self-promotion alone.
2. Boost your website visitors' engagement –
Visitors visiting your website and seeing what other customers say about your brand and products pique their interest.
They're more likely to spend time exploring your content, products, and services.
91% of individuals aged 18 to 34 trust online reviews as much as personal recommendations.
Reviews create a sense of community and trust, encouraging visitors to engage with your site by reading, sharing, or leaving their own reviews.
3. Convert visitors into loyal brand ambassadors –
When customers see their reviews prominently featured on your website, it fosters a deeper connection with your brand.
They feel valued and heard, which can lead to stronger brand loyalty. Satisfied customers are more likely to become advocates for your brand, sharing their positive experiences with friends and family and even on social media.
These brand ambassadors can significantly expand your reach and influence.
4. Display a social proof of your brand –
Social proof is a powerful psychological trigger for decision-making.
43% of consumers prefer products with more than 100 reviews.
By showcasing Google Reviews on the WordPress website, you're offering tangible evidence that real people are satisfied and enthusiastic about your brand and products. 
This social proof is persuasive, as it shows that others have already chosen to engage with your brand, making it easier for new visitors to trust and choose your offerings.
5. Reduced bounce rate –
Visitors are likelier to stick around when your website has engaging content like Google Reviews.
They'll spend more time reading reviews, exploring your products or services, and getting to know your brand better.
This increased dwell time reduces the bounce rate – the percentage of visitors who navigate away from your site after viewing only one page.
A lower bounce rate indicates that visitors find value and stay engaged, which is excellent for SEO and overall user experience.
Why Embed Google Reviews On WordPress Using Tagembed?
Embedding Google Reviews on WordPress website using a tool like Tagembed can offer numerous benefits. Here's why you might consider using Tagembed for this purpose:
a). Ease of Integration
Tagembed simplifies the process of embedding Google Reviews on WordPress site. It provides user-friendly features and a seamless integration process, making it accessible to users of all technical backgrounds.
b). Diverse Content Sources
Tagembed is not limited to Google Reviews alone. It can aggregate content from multiple sources, including various social media platforms, customer feedback sites, and user-generated content from across the web. This means you can comprehensively view your brand's online reputation.
c). Customization Options
With Tagembed, you can control the widget's appearance. You can customize it on your own to match your website's design and branding, ensuring that the Google Reviews seamlessly integrate with your site's aesthetics.
d). Real-Time Updates
Tagembed provides real-time updates, ensuring that the reviews displayed on your WordPress website are always current. This is crucial for maintaining trust with your audience and accurately reflecting your brand's reputation.
e). Improved Engagement
Interactive widgets from Tagembed can enhance visitor engagement on your website. Users can read, like, share, or even leave their own reviews directly through the widget, increasing interaction with your brand.
f). Mobile Responsiveness
Tagembed widgets are often designed to be mobile-responsive, ensuring that your Google Reviews look great and function smoothly on various devices, including smartphones and tablets.
g). Enhanced Trust and Credibility
The presence of genuine Google Reviews on WordPress websites can significantly boost your brand's credibility and trustworthiness. Potential customers are more likely to trust the opinions of real users, and by displaying these reviews, you're building confidence in your products or services.
Wrapping It Up
In conclusion, the art of embedding Google Reviews on your WordPress website is more than just a technical endeavor; it's a strategic move to boost your online presence and reputation.
By bringing the voice of your satisfied customers directly to your site, you can instill trust, engage your audience, and convert visitors into loyal brand advocates.
The benefits are undeniable – increased credibility, better engagement, loyal customers turned ambassadors, solid social proof, and even a reduced bounce rate. It's a win-win for both you and your audience.
So, take the leap, follow our outlined steps, and start reaping the rewards of embedding Google Reviews. Your WordPress website will become a hub of authenticity, trust, and customer connection that sets you apart in the digital landscape.
Frequently Asked Questions
Free Social Media Aggregator
Embed social feed from Facebook, YouTube, Instagram, Twitter on your website, like a PRO
No Credit Card Required