How to Add Instagram Reels to Shopify Store? & Why 
2022-03-04==================================2022-03-04========================March 4, 2022
Visual platforms like Instagram have pretty much changed the narrative of social media marketing for brands. It would not be incorrect to say that Instagram is amongst the fastest-growing social media platforms worldwide, with a user base of more than 500 million daily active users.
Thanks to the features of Instagram, it enables users to create and post highly engaging content. The platform's massive user base and following have converted this social media giant into a vast pool of various content. Instagram reels have made their place become the most popular and favourite feature for creating engaging videos ranging up to 60 seconds.
Add Instagram Reels to Shopify
Collect, Moderate, Customize and Add Instagram Reels on Shopify Store
Install app
Taking this as a perfect opportunity, innovative brands and marketers have begun to add Instagram Reels to Shopify stores to increase the overall performance of their Shopify store. This post will guide you through the steps to add Instagram Reels to Shopify Stores and tell you about its benefits.
Let's get started!
Different Methods To Add Instagram Reels to Shopify Store Using Tagembed
Before we get into the embedding process, here's a little introduction to Tagembed.
Tagembed is a leading social media aggregator that enables users to embed social media content into their websites.
Before publishing the content, users of the tool can leverage the platform's advanced features to make the content more appealing. Users can fetch content from over 15+ social media platforms and sources, including Instagram. Tagembed offers a customization panel to style the widget as per their preference. They can select from various fonts, colours, themes, etc.
Add Instagram Reels to Shopify
Collect, Moderate, Customize and Add Instagram Reels on Shopify Store
Install app
Additionally, the users can use the content moderation panel to remove inappropriate content to ensure top-quality content. Other features include advanced analytics, automatic updates, and 24×7 assistance by Tagembed back support.
Overall, Tagembed is a comprehensive tool with power-packed features that makes it a perfect fit for new and experienced marketers.
Now that you are acquainted with the tool, mentioned below are 2 methods that can be used to seamlessly add Instagram Reels to the Shopify website.
Method 1: Using Shopify App
Method 2: Using Social Media Aggregator Tool
#Method 1: Using Shopify App By Tagembed
Tagembed offers a unique dedicated app to Shopify users for this process. The users can easily download the app from the Shopify store by searching for the Shopify Instagram feed app by Tagembed.
Add Instagram Reels to Shopify
Collect, Moderate, Customize and Add Instagram Reels on Shopify Store
Install app
The app is straightforward and comes with a no-complex structure that makes it handy to download and install. Moreover, users can easily collect, curate, and customize the app's Instagram feed. Have a look at the steps below.
Step 1 – Install The Tagembed Shopify App
1. Redirect to the Shopify app store and search for the term "Tagembed".

2. Click on it to open the app page and click on the Add App button to install the free Tagembed Shopify App.

Step 2 – Collect & Embed Instagram Reels
1. After successful installation, you'll be redirected to Tagembed Instagram Feed Shopify App. Select Instagram as your source to collect Reels feed.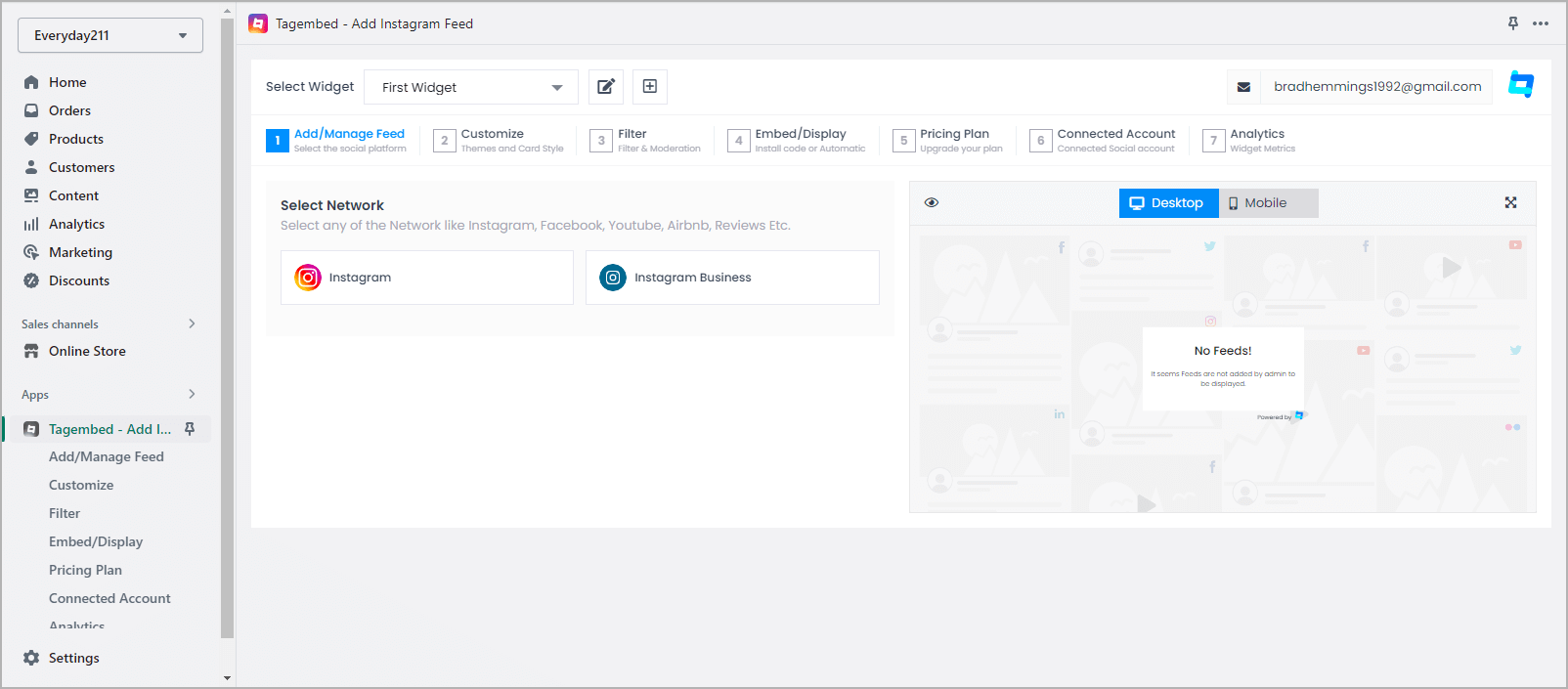 2. In the feed type drop-down, choose Reels and connect your Instagram account to collect Reels feed.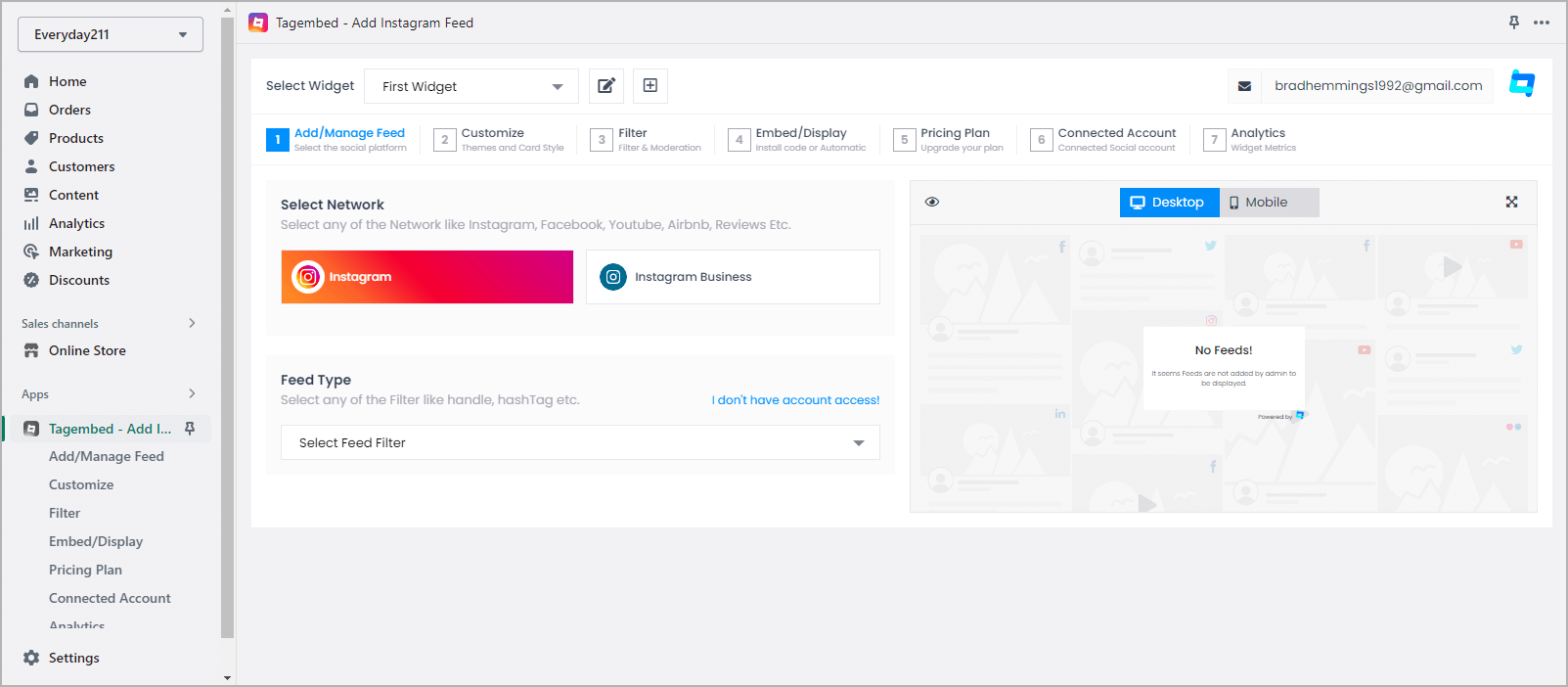 5. Finally, in some seconds your reels will be collected into the editor which you can then customize as per your needs.
6. Go to the Customize tab to personalize the created Instagram Widget using different themes, banners, card styles, theme settings, etc.
Tip: If you think some feeds are not cool to display then you can use the Filter feature by Tagembed to customize widget content Manually or Automatically.
7. Now choose the Embed option from the below three and select the page where you want to add Instagram reels to Shopify.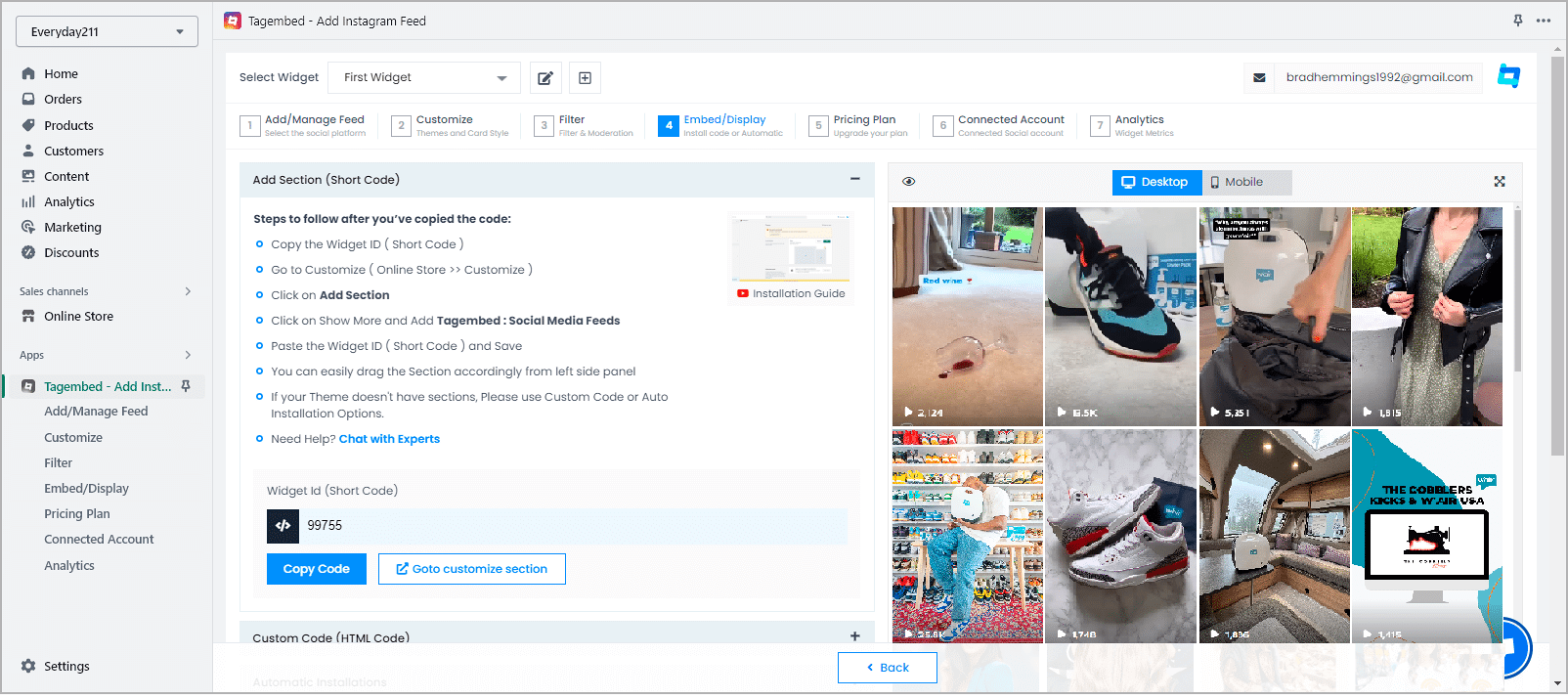 #Method 2: Using Tagembed Social Media Aggregator Tool
Apart from the Shopify App, you can also embed Instagram reels to Shopify using the Tagembed social media aggregator tool. Follow the following steps mentioned below to effectively use the Tagembed tool for the embedding process.
Add Instagram Reels to Shopify
Collect, Moderate, Customize and Add Instagram Reels on Shopify Store
Try For Free
Step 1 – Login & Collect Instagram Reels
After logging in, you will reach the dashboard section of the tool. If you are a new user, you simply need to click on the Open option to begin the process. However, if you are an existing user, you need to create a new widget by clicking on the Create widget button.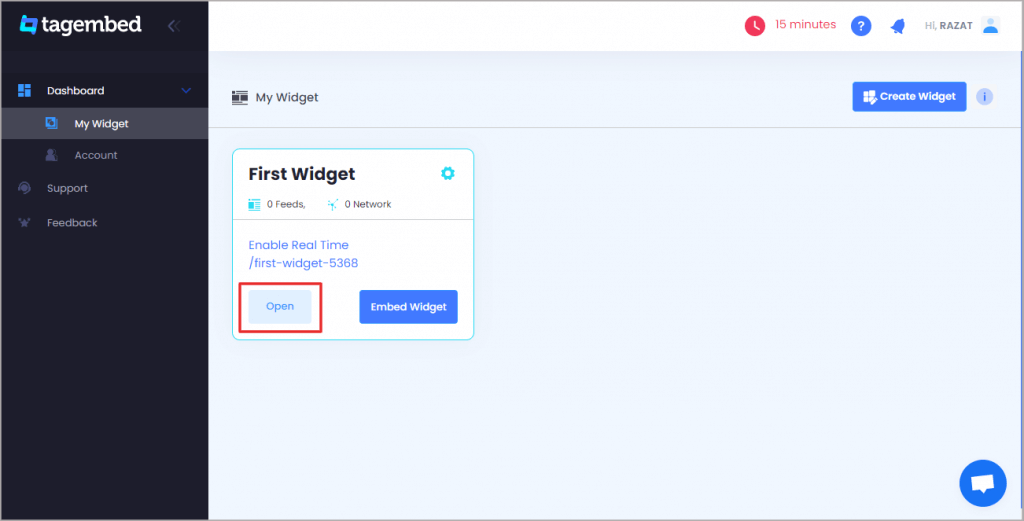 Next, select Instagram as your preferred aggregation source from the pick a source pop up.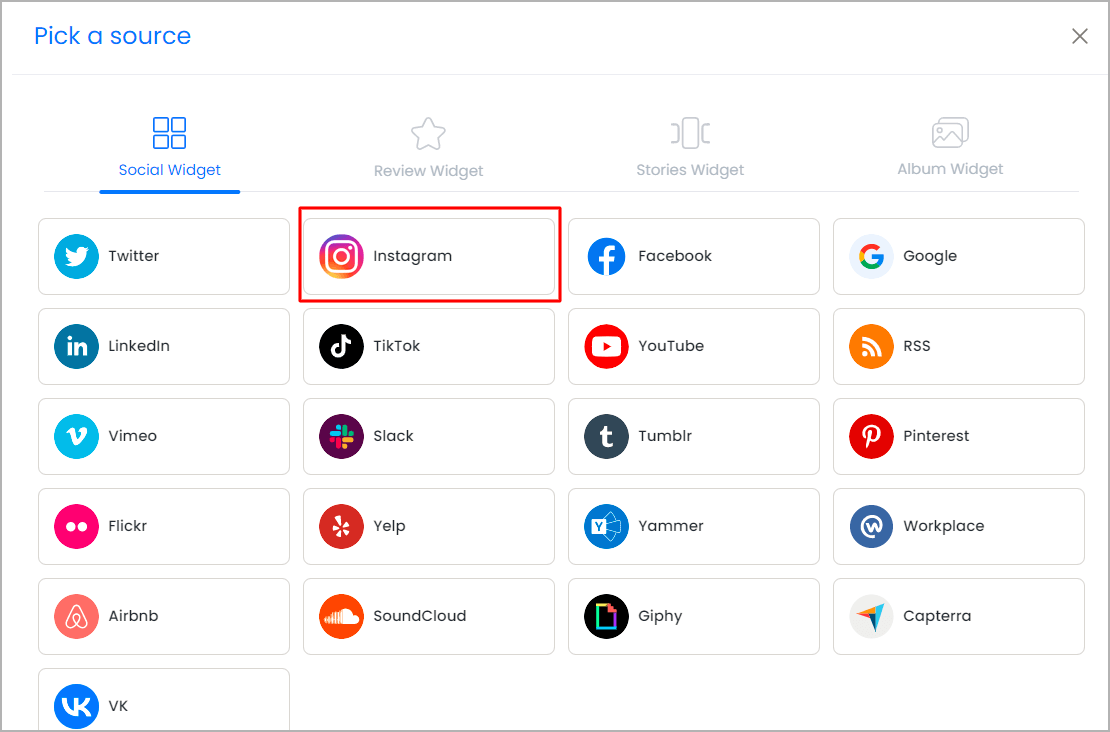 Now, you will get the different option to select your preferred connection type from here you need to select Reels as your connection type.

Click on Create Feed button and proceed with authorizing the account to collect Instagram Reels.
You will see the aggregated Instagram reels on your widget editor in a few minutes.
Step 2 – Generate The Instagram Reels Embed Code
After you are satisfied with your Instagram Reel widget's overall looks and content, you need to generate the embed code.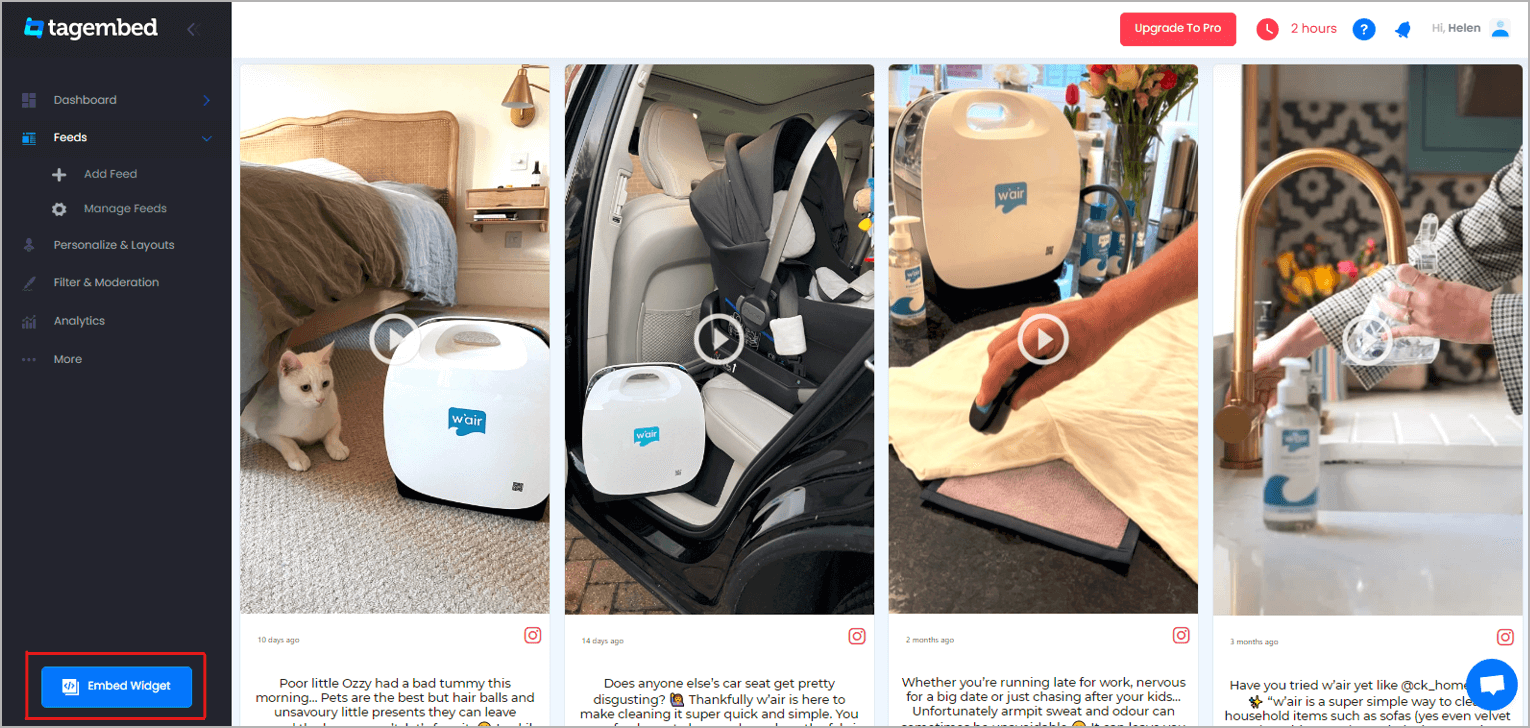 Click on the Embed widget option on the bottom left corner of your widget editor and select Shopify as your CMS platform.
Click on Get code to generate the embed code and copy it on the clipboard.
Step 3 – Embed Instagram Reels Widget On Shopify
Start by logging into your Shopify store.
Under the sales section, click on the online store option.
Select Themes from the drop-down menu and choose the Customize option.
On the left menu panel, select Custom Content.
Select Custom HTML and paste the copied embed code into the provided section.
Click on Save to complete the embedding process.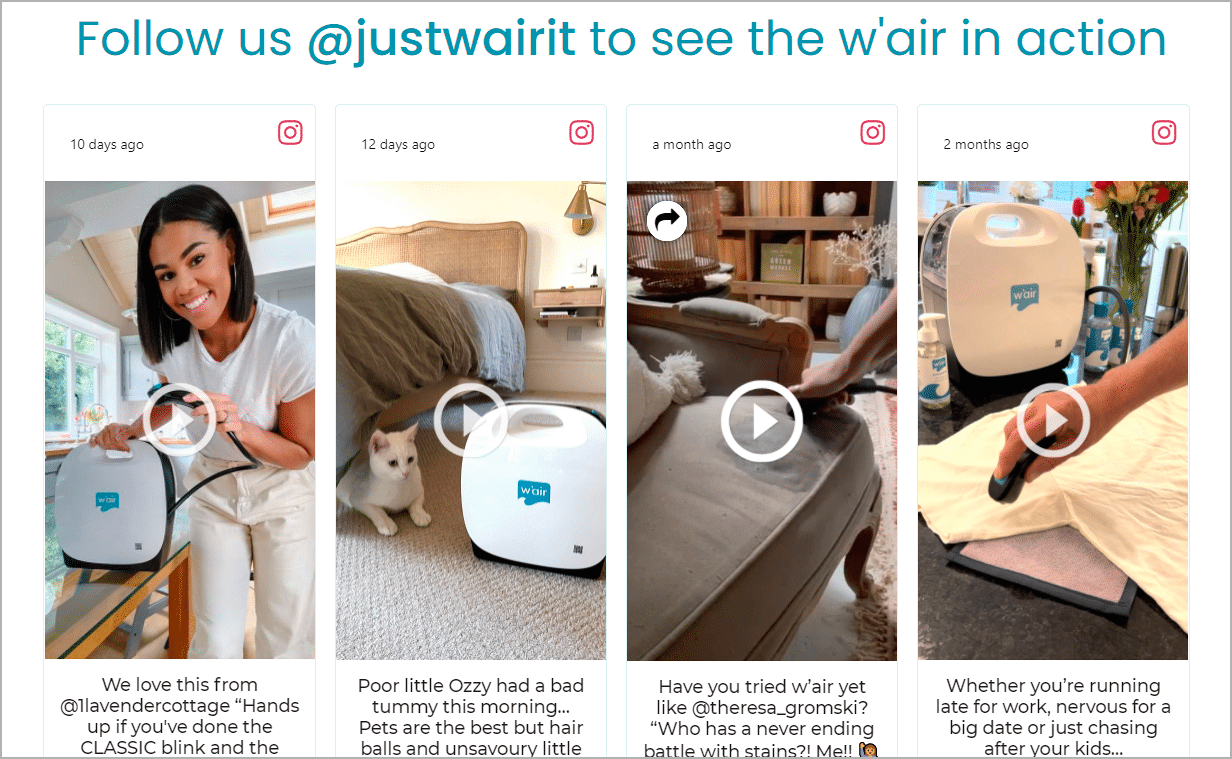 Congratulations! You would have successfully embedded Instagram reels into your Shopify store.
3 Ideas For Instagram Reels To Embed On Your Shopify Store
The process was super easy, wasn't it? Since you are entirely acquainted with the entire embedding process, in this section, we will be telling you about a few Reel content ideas that are super result-driven and can catch the attention of your website visitors.
1. Behind the scene videos
Website visitors look forward to relatable content and give deeper insight into their preferred brands.
Give your Shopify shoppers a chance to get up close and personal with you by giving them a sneak peek into behind-the-scenes content. You can reveal the production process of your products or give them glimpses into the inspiration of your soon-to-be-launched range of products.
It is a great way to build a better relationship with your prospects and make them see your brand as friendly and approachable.
2. User-Generated Content videos
Did you know that more than 85% of potential customers go through User-Generated Content before finalizing a brand and making a purchase?
Millions of Instagram users publish reels daily to openly talk about their preferred brands and products. Showcasing the brand's social proof has become a much-needed strategy to engage and convert effectively. Embedding User-Generated Instagram reels can prove how much your customers enjoy your products.
Add Instagram Reels to Shopify
Collect, Moderate, Customize and Add Instagram Reels on Shopify Store
Try For Free
Aggregating and embedding them in your Shopify store would give your prospects a chance to see how much your existing brand users vouch for your products and lead to more brand trust.
3. Tutorial videos
Often, when potential customers surf your product catalogue, they get confused about your product's use case and credibility. Do not let that be a reason for cart abandonment!
You can publish Instagram reels displaying the different ways to use your product. It would help your shoppers visualize better and instil curiosity in them to purchase the product right away.
Why You Should Add Instagram Reels to Shopify Website
If you wonder how this strategy would benefit and help your business in the long run, then make your way to the end of this section to catch better insights!
#1 Boost Engagement On Your Website
Since Instagram reels were launched in 2020, using it has helped brands increase their engagement on their Instagram page. It happens since reels are the video form of content, and videos are much more effective to grab attention than text-based content.
Moreover, due to its resemblance to Tik Tok, reels have become hugely popular amongst Gen Z and millennials. Further, adding Instagram feeds on Shopify holds the potential to push Shopify store visitors to stay on the website for a long, leading to more engagement on the website.
Add Instagram Reels to Shopify
Collect, Moderate, Customize and Add Instagram Reels on Shopify Store
Try For Free
#2 Escalate Sales & Conversions
Apart from being highly engaging, Instagram reels can tap into the emotional quotient of website visitors. By displaying User-Generated Content videos, you will be able to trust and connect with your prospects on a personal level.
Once you win over the trust and confidence of your potential customers, they will be convinced about the quality and durability of your products and services and be motivated to purchase them, leading to more revenues and conversions.
#3 Improve The Presentation Of Your Shopify Store
Your brand website should not only comprise good quality text-based content. Website visitors look forward to surfing through a well-put-together and aesthetically pleasing website.
Hence, it is crucial to pay attention to the overall design aspect of your website. When you embed a well-customized and designed Instagram feed on website, it will revamp the overall presence of your store, and your visitors will be convinced to stay longer.
Wrapping It Up!
Instagram reels receive close to 22% more engagement than regular videos! Instagram users highly use the Explore tab to discover new brands and businesses, and if you are not yet using it in your marketing efforts, you are missing out on a lot of possibilities.
We are at the end of this post, and you are entirely aware of everything you need to know about Instagram reels and how showcasing them on your Shopify store can be a transformative marketing strategy!
Create your Free Tagembed account and get set to witness incredible Reels on your site!
Free Social Media Aggregator
Embed social feed from Facebook, YouTube, Instagram, Twitter on your website, like a PRO
No Credit Card Required