How To Add Instagram Feed To Shopify Website For Free (Full Guide)
2022-02-24==================================2022-02-24========================February 24, 2022
You can add Instagram feed to Shopify website for leveraging profits for merchants and retailers in two ways: engage users and display social proof to drive conversions for their stores with authentic content.
Over the past few years, Instagram and Shopify have become highly used marketplaces to promote, reach, and sell more products to target audiences.
Hence, a strategic and deliberate amalgamation of Instagram & Shopify can retrieve surprising benefits by exponentially increasing engagement with sales.
Add Instagram Feed to Shopify Website
| No Credit Card Required |
In this blog, you'll learn how to add Instagram feed to Shopify store:
#1 – Using Shopify Instagram Feed App by Tagembed
Shopify Instagram feed app by Tagembed: It is a dedicated app to add Instagram feed to Shopify store, that you can easily install from the Shopify app store.
Add Instagram Feed to Shopify
Collect, Moderate, Customize and Add Instagram Feed on Shopify Store
Install app
It is one of the easiest ways to add Instagram feed to Shopify store. The app is very handy and a great add-on to your website. It assists you in collecting, curating, and customizing feeds according to website theme and then displaying them on your Shopify store in an appealing manner.
Step 1: Install Instagram Feed Shopify App
1. Visit Shopify App Store and search "Tagembed" or Instagram Feed by Tagembed.

2. Click to open the Tagembed app page and Click on Add app button to install the app for FREE (No Credit Card Required).

After successful installation, open the app and follow the below steps:
Step 2: Collect & Embed Instagram feeds
1. Once you open the app you'll be redirected to Tagembed Instagram Feed Shopify App.
2. Select your Instagram account type from "Instagram" or "Instagram Business".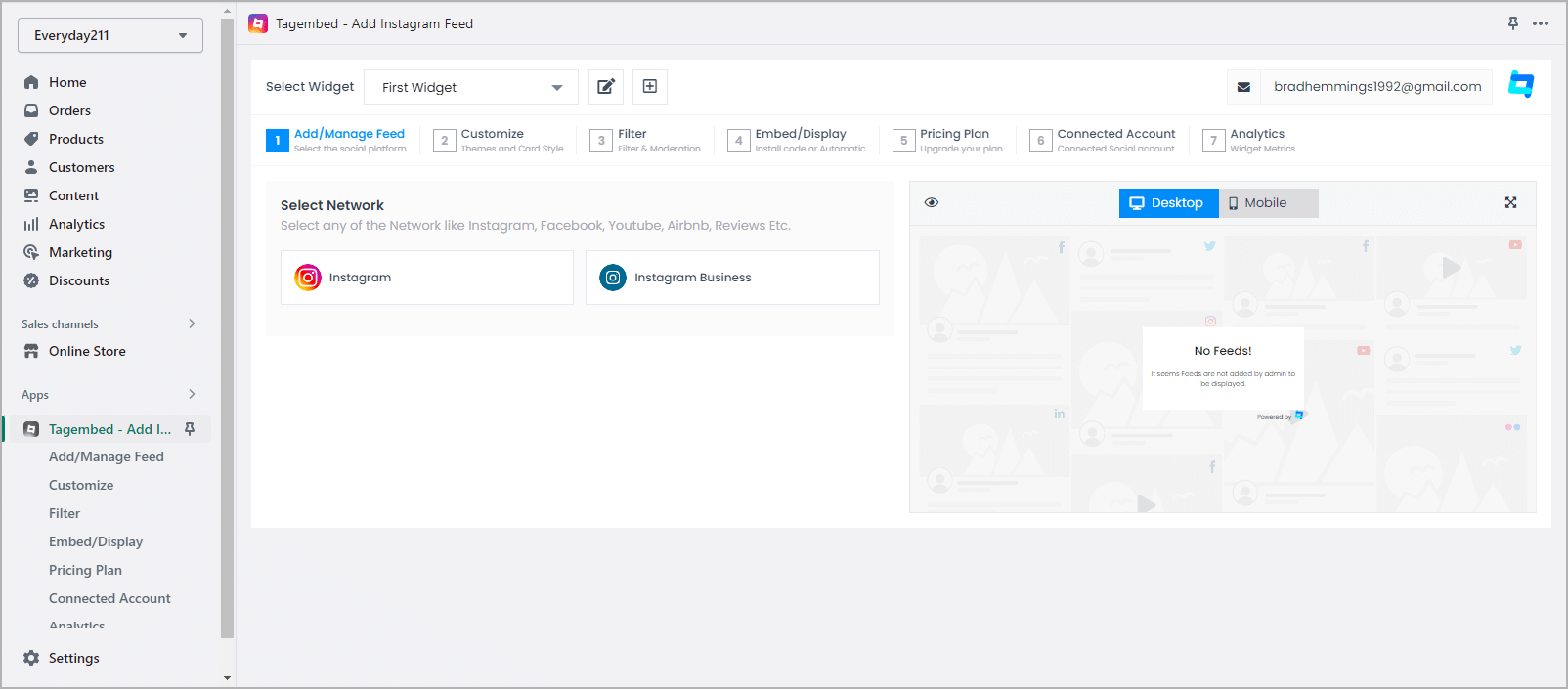 4. Now, choose your Instagram feed from:
Instagram Hashtag (#) – Enter your desired Instagram Hashtag to collect feeds from.
Instagram Handle (@) – Connect your Instagram account to collect feeds from your profile.
Instagram Business Account – Connect your Instagram Business account to collect Instagram feeds from your handle.
Instagram Stories – Collect Instagram Stories by connecting your Instagram account.
Instagram Reels – Collect Instagram Reels (Portrait) by connecting your Instagram account.
Instagram IGTV – Connect your Instagram account to aggregate IGTV or Instagram Videos.
Instagram Mentions – Gather your Instagram feeds that your profile is mentioned in.
Instagram Tagged – Collect Instagram Feeds in which your Instagram profile is mentioned.
Enter your desired input and finally click on Create Feed button. Hence, Instagram Feeds will be collected on the widget editor as per the respective method chosen.
5. Now customize the feeds with themes & layout, Card Style, background, add banners, add CTA, and other dedicated themes settings to make the widget look more appealing and attractive.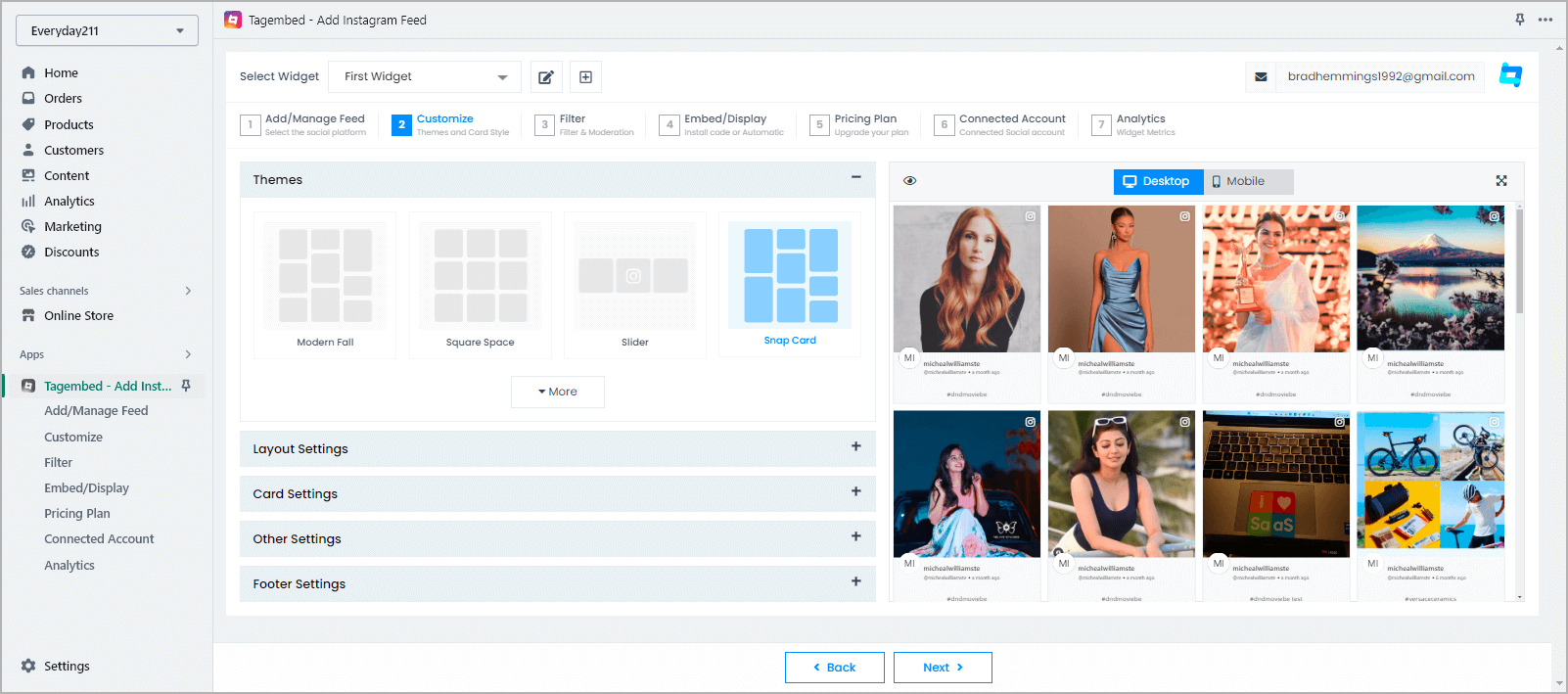 6. If you think some feeds are not cool to display then you can use the Filter feature by Tagembed to customize widget content Manually or Automatically.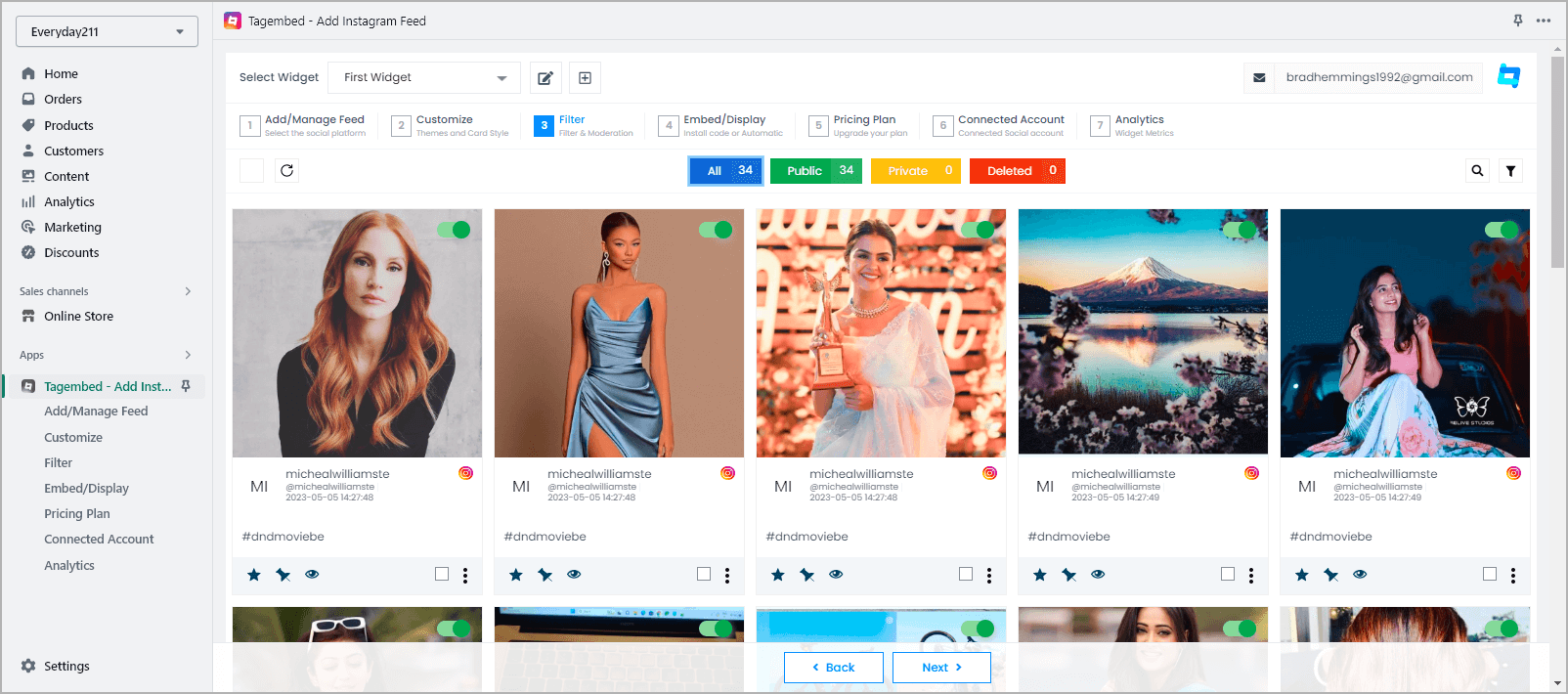 7. Now choose the Embed option from the below three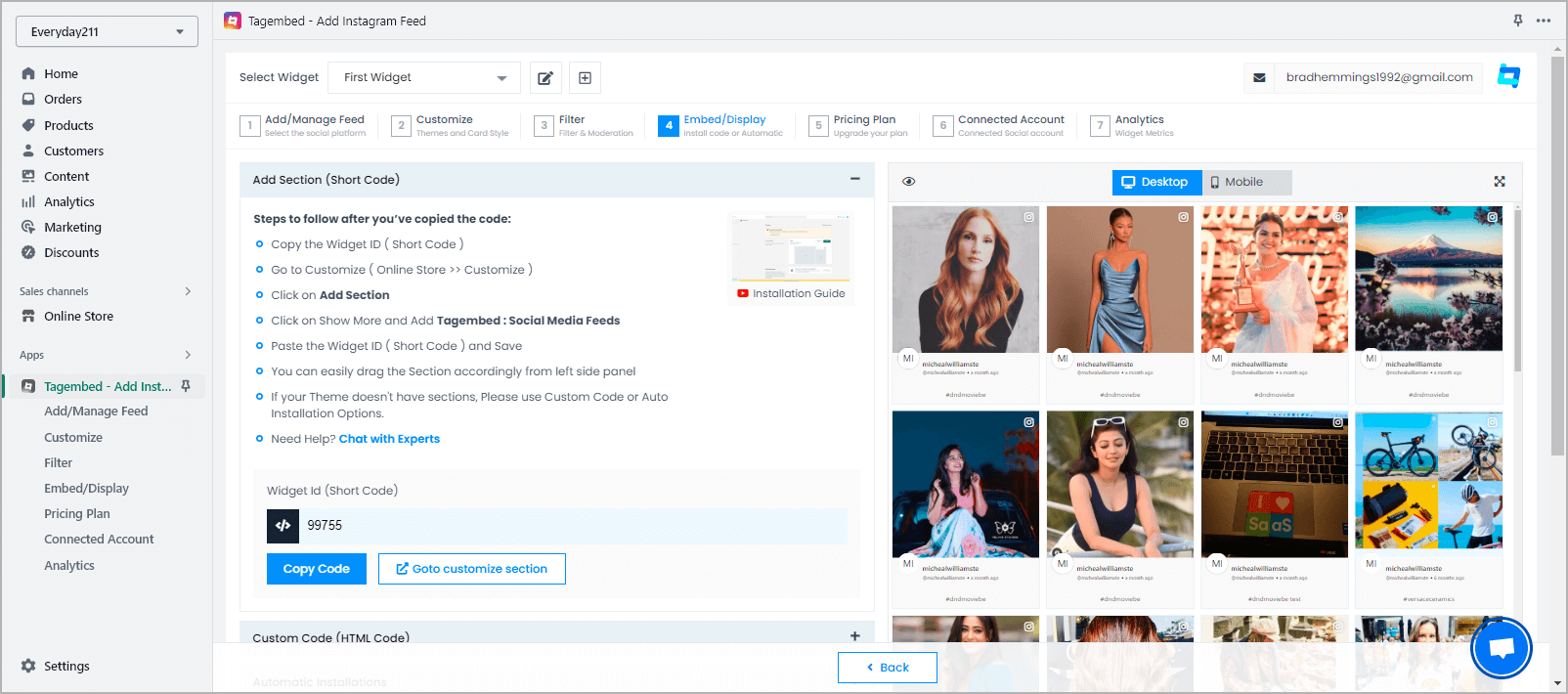 8. Kudos, Instagram Feeds are added to your Shopify store.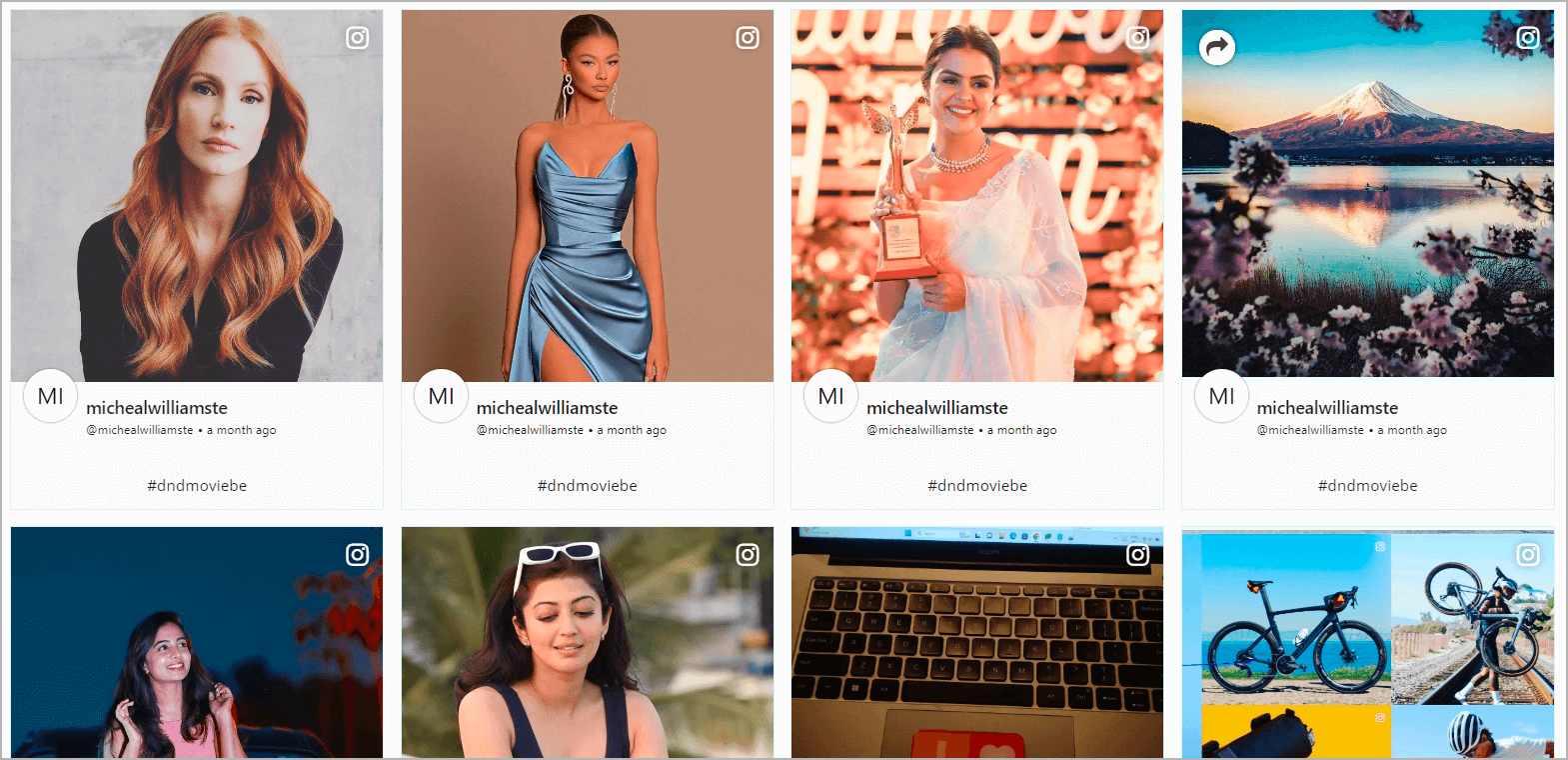 Tip: If you want to add feeds on your desired location then choose Custom instead of Top or Bottom. Then copy the embed code and paste on your website's desired location.
Best Shopify Instagram Feed App
Add App
If you don't want to Add Instagram Feeds on Shopify using Shopify Instagram Feed App then you can follow the below steps to embed Instagram feeds in just 3 minutes:
#2 – Add Instagram Feed Without Shopify App
Now you have the potential of Instagram feeds to grow your Shopify website that retrieves amazing benefits which you never imagined.
But how to add Instagram feeds to your Shopify website? Many tools are available on the internet that you can use to embed Instagram feed on Shopify website.
Add Instagram Feed to Shopify
Collect, Moderate, Customize and Add Instagram Feed on Shopify Store
Try For Free
Here you will understand how to collect, curate, and embed Instagram feed on Shopify website for free with one of the best social media aggregator tools used by many brands, called Tagembed.
Step 1. Collect Instagram Feed
The first step you need to do is to collect your Instagram feed with the help of hashtags, mention, handle, tag, etc. You can use your branded hashtag, mention or tag posts, fetch Instagram images & videos from your account, or choose trending or popular hashtags that meet your marketing needs.
So let's get started with creating Shopify Instagram Widget and collecting Instagram Feeds for your Shopify store with Tagembed:
1. Sign up free Tagembed account (No Credit Card Required) or Login if you're an existing user.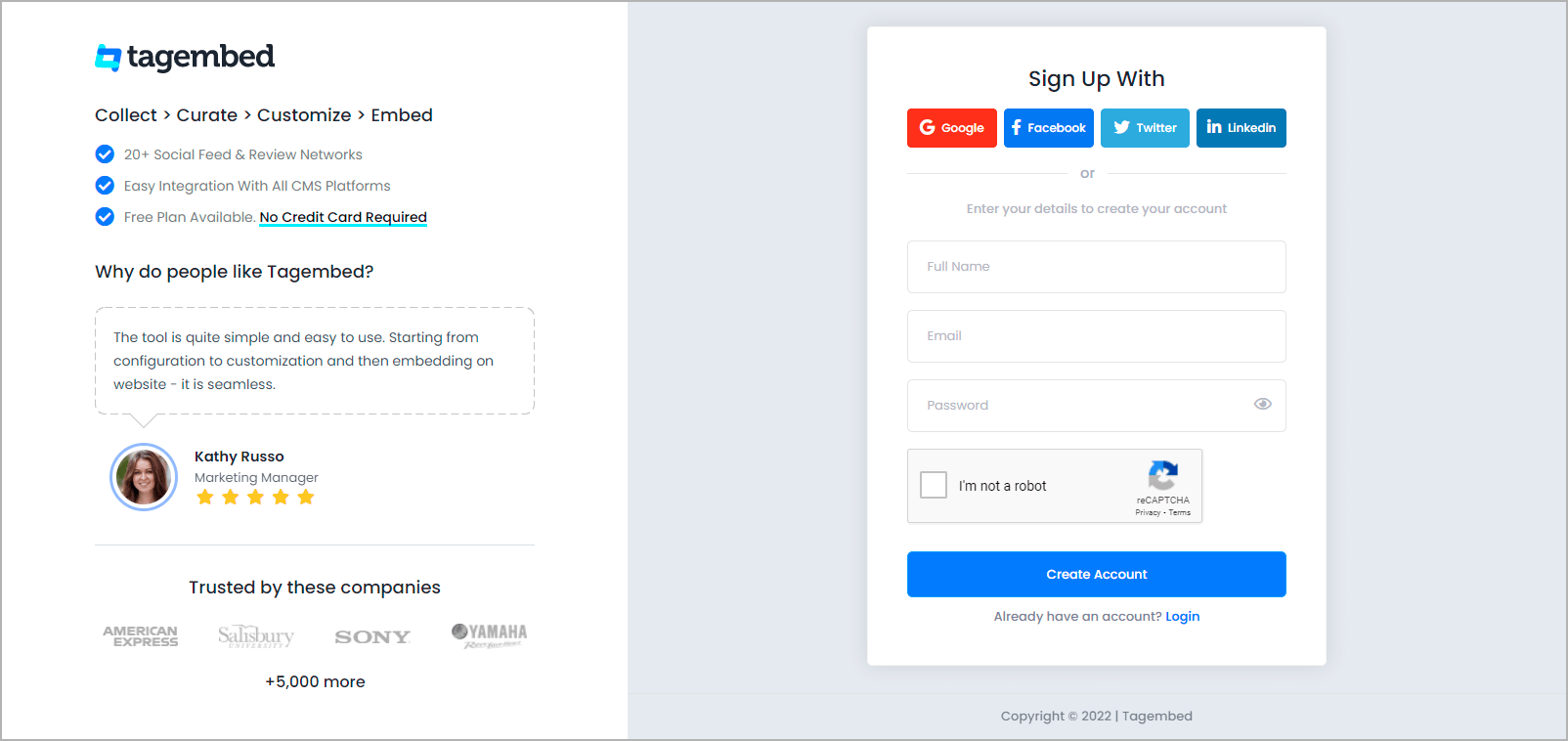 You'll be redirected towards the Dashboard, click on the Open button to start aggregating Instagram Feeds.
A pop-up "Pick a Source" will appear, select Instagram or Instagram Business as per your requirement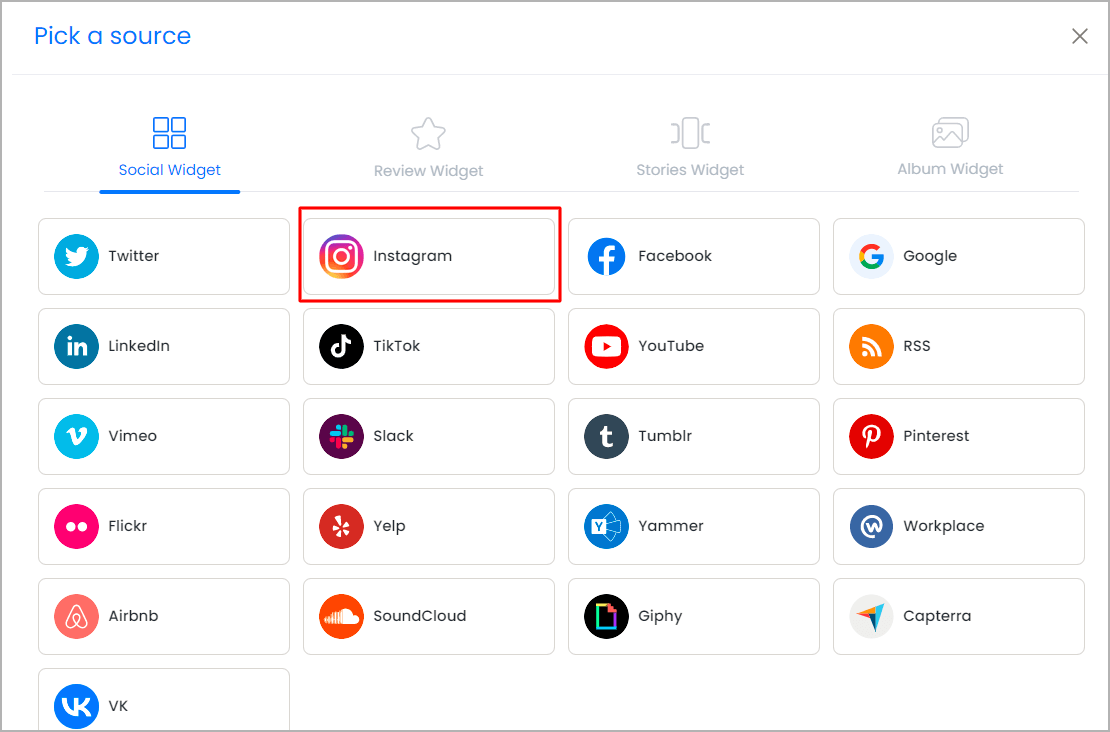 Choose your aggregating method from the hashtag, handle, business account, mention, or tagged, IGTV then enter the input accordingly and click on the Create Feed button.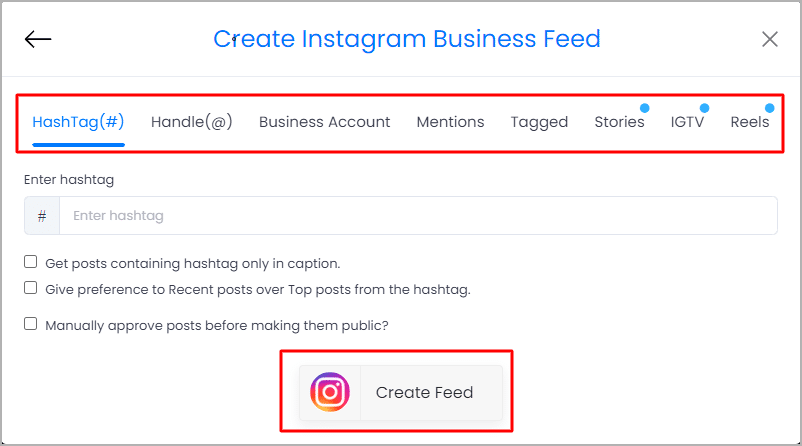 Step 2. Customize Instagram Feed Gallery
Once you collected Instagram feeds, it's time to embed them on your Shopify desired web pages or the main page of your Shopify website. Hey, but before you add Instagram feeds to Shopify websites you give them personalized touch and enhance the appearance of the gallery that you have fetched from Instagram.
Follow these steps to easily customize and embed Instagram feed to your Shopify website:
Click on the Personalize tab on the sidebar and select from 10+ themes & layouts to change the view. You can also add or change the background, or banner, alter the font style, or use dedicated theme settings to make your Instagram content creative, interesting, and engaging.
Next, using the Moderation panel on the left sidebar, you can filter relevant contents manually or using the Auto-Moderation feature. (Irrelevant content means poor, or obscene, reducing the quality of content to embed on your Shopify website)
Step 3. Steps to Embed Shopify Instagram Feed on Store
Finally, you are ready to display Instagram feeds on your Shopify store. Click on the Embed Widget button located at the bottom left of your screen.
A pop-up will appear with different CMS platforms like WordPress, Weebly, Wix, Shopify, HTML, etc. Select Shopify from the screen.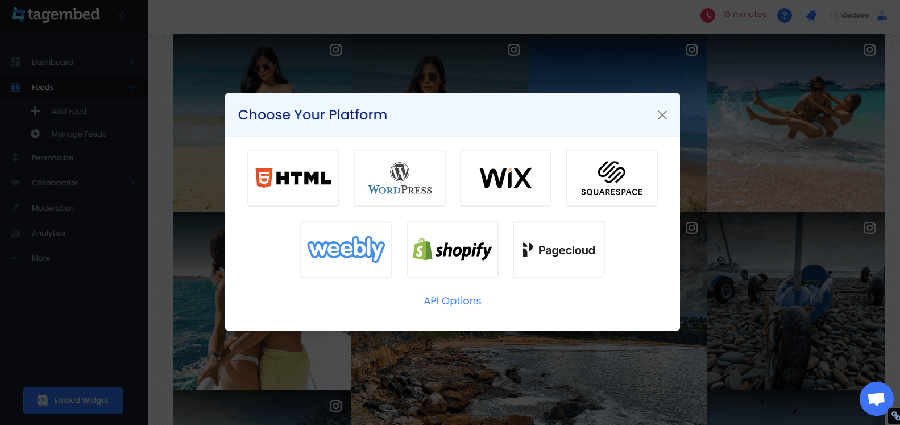 Click on the Copy Code button and paste it into the backend of your Shopify website where you want to showcase your Instagram feed.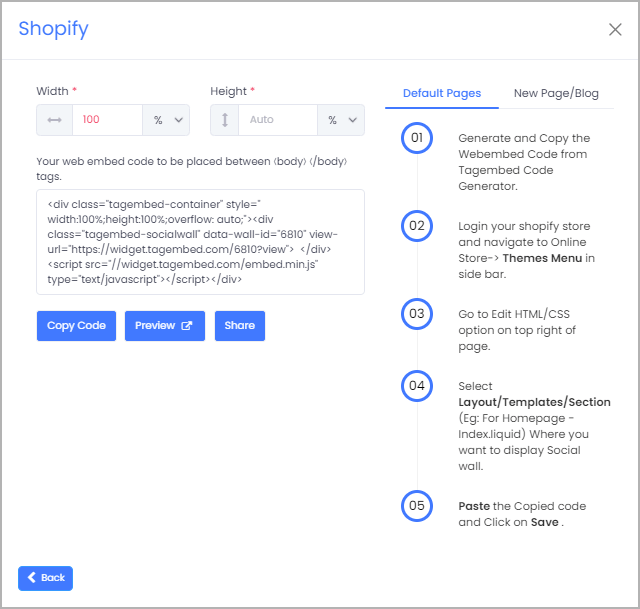 Hence, your Instagram Feed will be loaded on your website.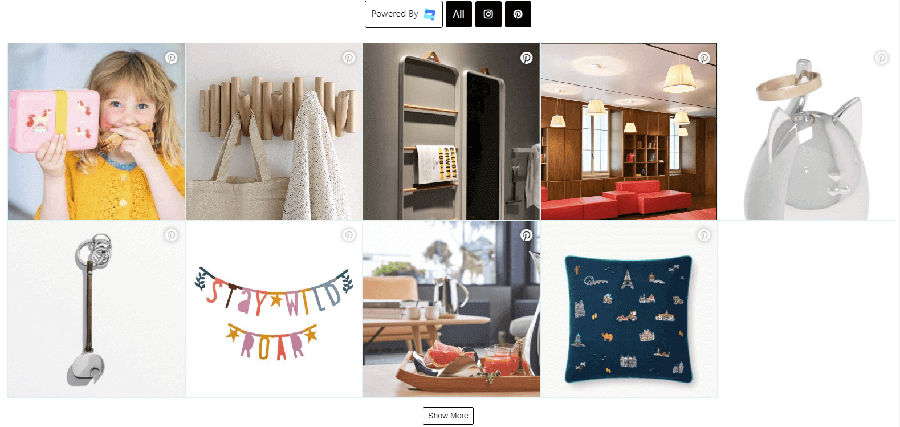 That's it, you have successfully added a Shopify Instagram feed on an e-commerce Store or website that grabs your audience's attention, increases customer engagement, displays social proof, and builds the authority of your brand on the Shopify Store.
Add Instagram Feed to Shopify
Collect, Moderate, Customize and Add Instagram Feed on Shopify Store
Try For Free
What is Shopify Instagram Feed?
Generally, Instagram Feeds are collections of Instagram posts in different formats, from different sources. Such as images, videos, Instagram reels, stories etc that can be found in a handle, profile or hashtags. When these posts are collected and displayed on the Instagram Home section it is called Instagram Feeds. Hence, when a Shopify website owner collects, curates and adds Instagram Feed to Shopify for engagement and other subjective benefits it is also called Shopify Instagram Feed. Moreover, Shopify users search for the solution or App that lets Instagram be displayed on the Shopify website using the term Shopify Instagram Feed.
Perhaps, with the help of Tagembed, you can choose the Instagram posts that you want to showcase on your Shopify store using a dedicated widget making an Instagram Gallery for Shopify website.
Why Should You Embed Instagram Feed On Shopify Website?
Competition is at its peak and it has become too hard for brands and businesses to sell their products and services among their target audience.
In recent times, earning customer trust has become an impossible task for brands and marketers when hundreds of competitors are selling the same products, praising themselves as the best in the market.
But customers are clever now and they know very well whom to trust and where to spend their valuable money.
Customers believe in real people, their experience, reviews, and social proof before making a purchase decision.
Hence, Instagram feed works as the power pact content for your marketing needs which all-in-one solution from generating unique content to displaying a social presence to your online audience.
Before starting to embed content, you can use a social media management tool, like SocialBee, to be consistent with your posting. This way, you will be able to handle all your social media management needs from one place with ease.
Check below how adding Instagram feed on Shopify store or website will retrieve amazing results for your business and accomplish your marketing objectives.
1. Attract The Audience Attention
Instagram gallery widget are fully loaded with vibrant colors, creatives, and interesting images. These Instagram images & videos are compelling enough to grab the attention of your audience instantly as they land on your web page.
Adding Instagram feeds on Shopify Website will add more colors to your content and increase the probability to attract your audience's attention than a bland traditional form of content.
2. Increase Engagement & Dwell Time
More than 500 million people like to spend their leisure time engaging with Instagram than any other social media channel. Instagram Gallery on Shopify websites offers your customers a novel reason to spend more time on your Shopify website and engage with your web page content.
Business organizations, brands or marketers can create Instagram Gallery in a variety of ways, like embed Instagram hashtag feed, add tagged feeds, Instagram Stories, mentioning posts, Instagram videos, or Instagram Reels on the Shopify website.
Visitors will spend more time engaging with your content which means their dwell time also increases on your website and turns to boost audience engagement.
Add Instagram Feed to Shopify
Collect, Moderate, Customize and Add Instagram Feed on Shopify Store
Try For Free
3. Leverage User-Generated Content
Nowadays people create content for brands or businesses unknowingly in the form of reviews, sharing product images, or uploading posts on Instagram tagging the brand. They advocate the brand with these images and reviews for the brand.
Instagram is popularly used by people to share user-generated content, and brands can find a plethora of Instagram posts featuring their brand or product. Business owners use these posts on their Shopify website specifically on e-commerce websites that will impact other users
For brands and businesses, Instagram is a popular platform to leverage user-generated content to implement in their marketing channels like websites or advertisements.
4. Build Trust & Authenticity Of Content
Customers are searching for trustworthy and authentic content to believe in. People don't trust brand-created content and are looking for social proof.
Instagram feed on Shopify e-commerce website enhances trustworthy content on your website and showcases content that tells the social presence of your brand and products.
5. Boost Website Authority & Credibility
Displaying social proof of your brand with the help of Instagram posts boosts the authority of your website. It increases the credibility of your website with content shared by real-life people, not only text-based content created by a brand.
People find Instagram content realistic, trustworthy, and authentic which increases your Shopify website authority compared to other online stores that do not show Instagram content.

Where Can You Add Instagram Feed on Shopify Store?
The biggest question that often arises is after making a perfect Instagram Gallery Widget for Shopify where should we actually embed it to get maximum benefits? Well, the answer is simple it depends on the requirement. However, here are some of the ideas on where you can add Instagram Feed to Shopify store:
1. HomePage
2. Landing Page
3. Product Page
4. Checkout Page
5. Dedicated Gallery Page
6. Our Story/About Us Page, etc…
These are some of the best result-driven places to add Instagram Feed to Shopify store depending on the type of audience you're targeting.
Read More – How to Embed Instagram Feed on WordPress
Add Instagram Feed to Shopify
Collect, Moderate, Customize and Add Instagram Feed on Shopify Store
Install app
Over To You…
Shopify is booming and gaining high popularity among brands and businesses to sell their products to target audiences.
As engaging and converting customers are the major objective of every eCommerce website, you can now easily achieve it by embedding Instagram Gallery to the Shopify website.
I hope you are now aware of why adding Instagram posts is helpful for your Shopify website marketing.
On a concluding note, start embedding Instagram posts to enhance your marketing campaign and design a powerful Instagram Gallery that engages, converts, and generates high revenues for your business.
Free Social Media Aggregator
Embed social feed from Facebook, YouTube, Instagram, Twitter on your website, like a PRO
No Credit Card Required