Social Media Aggregator Tool – How to Choose the Best One?
"The tool that lets you collect, curate, and embed/display content from various social media platforms via hashtags, mentions, profiles, etc. is popularly known as a Social Media Aggregator."
While this process is called Social media aggregation, which is often used to display user-generated content in real-time on a website.
What is the one thing that comes in your mind as soon as you wake up? Let us guess the answer for you!
Is it checking your social media accounts on your smartphones?
Well, we can't go wrong in guessing this, because social media is really becoming a crucial part of most people's lives.
Be it Facebook, Twitter, or any other social media platform, billions of users are active on these sites to explore & share content along with shopping activities.
Over the years, networking sites have become a global marketplace for brands and marketers, which is why we are going to discuss the concept of Social Media Aggregator next.
Try Best Social Media Aggregator
Boost Engagagement, Traffic & Conversion By Embedding Social Media Feed On Your Website
Try for free
Social Media Aggregator Tools – Saviour for Businesses
As already mentioned above, social media aggregator is a great tool for brands who want to stand out amongst their competitors.
There is a neck to neck competition going on between businesses, so what is that one marketing tactic that can save businesses from failure?
We are pleased to tell you about the Social Media Aggregator tool that helps in the collection and curation of social media content into a single feed. This feed can then be embedded on websites.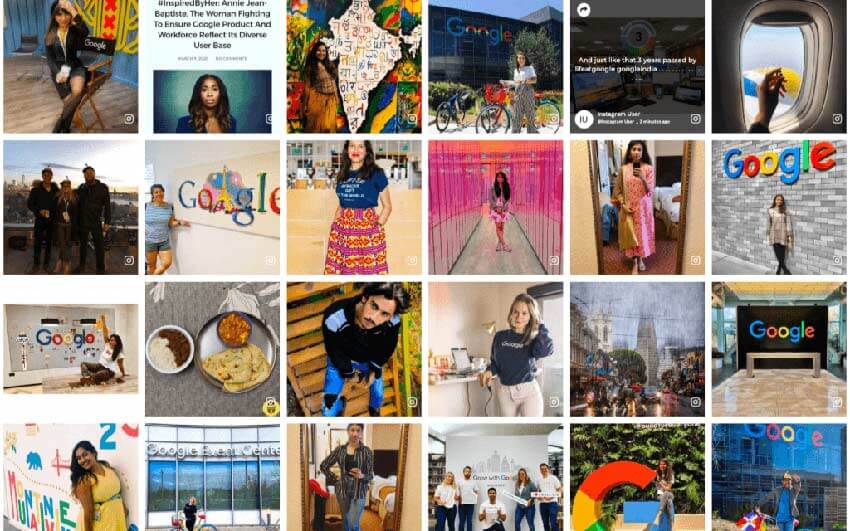 They aggregated via any hashtag, profile, channel, keywords, etc. from social media, content aggregator tools allow you to even customize & moderate the content quality along with a lot more things.
On the other side, there are quite a few but major reasons such as building customer trust & loyalty, boost audience engagement, brand upliftment, boost conversion & sales, and more.
How to Choose Best Social Media Aggregator Tool
Social media aggregator tools have innumerable features in-build in them, which can help you take your business to the next level.
To help you out with what fundamental factors you must look for before investing in a social media aggregator, we have curated a list for you.
So, start scrolling!
#1 Responsive Design
Whether you showcase your live social feed on your website or other screens, make sure it grabs the attention of your audience.
But for this, you need to have a mindblowing Social Media Wall that is only possible by employing great design & layout, font size & color, background, advanced CSS changes, and more.
Therefore, the first and foremost factor that you need to check before selecting a social media aggregator tool is the Responsive Design and Endless Display options. This feature helps you communicate with your audience effectively.
But not all social media aggregators rank higher on this factor. So, it's better to research first and then finalize the ideal tool for your business.
#2 Ease of Access to Various Social Media Networks
What does social media aggregator tools do?
They collect content from various social media platforms. Obviously!
Preferably, there should be more options so that you increase your brand reach and connect with more people.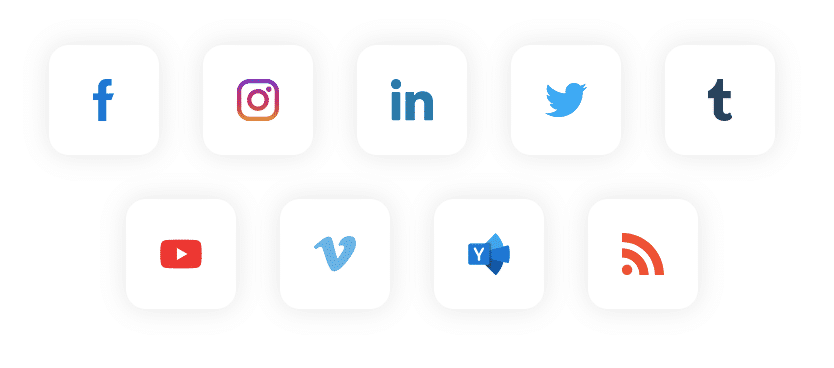 Therefore, opting for a tool that keeps updating the social media networks with the ongoing trend is all you need to do. But not many social media aggregators go beyond the most common social media sites.
So what to do? You can't just get stuck with an aggregator tool that is only restricted only to niche social media platforms such as Facebook, Instagram, Twitter, etc.
For instance, just because you are not leveraging a specific social media platform, doesn't mean you are competitors aren't too. So, don't let them procure all the benefits that you could get.
In short, go through the websites of social media aggregators to find out the list of social media sites they are associated with.
#3 Real-time Updates
Have you ever seen a real-time social wall on a website?
Real-time content is updated automatically, making the display of content more fun and engaging for the audience.
And social media is all about engagement, which is why brands must look for social media aggregators offering real-time updates.
For example, if you are running a social media campaign, and you want the audience to use your hashtag, then real-time updates are the need of the hour.
The benefits that come handy with real-time updates are as follows;
Boost audience engagement by allowing you to hold real-time conversations about your brand.
Increase word-of-mouth about your brand beyond your fan base.
Try Best Social Media Aggregator
Boost Engagagement, Traffic & Conversion By Embedding Social Media Feed On Your Website
Try for free
#4 Advanced Moderation Panel
Imagine being rolled by someone who is using your brand's hashtag.
And now imagine having a moderation panel that filters out all the unwanted and unnecessary comments on your feeds.
Sounds great, right!
Well, social media is open for anyone and everyone. It's quite easy to access the various social media platforms, which is why there are more chances of its misuse.
One of the biggest hate trends that people are following online is Trolling, and they don't miss any chance of trolling a brand, celebrity, or any famous personality.
This brings us to the concept of the Moderation Panel, which lets you control any sort of spamming, offensive, or vulgar content on your feed real-time.
If given the opportunity, would you mind leveraging the benefits offered by a moderation panel? No, right!
So start curating and moderating your social media feed to showcase only compelling & effective content.
Also Read : Comprehensive guide for Social Media Aggregator
#5 Ideal Customization
You can't just embed raw content on your website. So what can you do to make your social media feed more creatively engaging?
The solution for this is 'Customization' of content as it invokes a sense of connectivity amongst the audience with the brand.
The more engaging & interactive website will look, the higher conversion rates & sales a brand will enjoy.
You can take help from any of the best social media aggregators offering a wide range of customization elements including;
Beautiful in-build themes & layouts to help you display your content in several ways.
Fonts & colors to make your content look colorful.
Different backgrounds and banners to make your content look more exciting.
Other customization features like Custom CSS, Hashtag Highlighter, Content Play, etc.
#6 Mobile Friendliness
With the advancement of technology, the number of smartphone users has increased as it has made everything very easily accessible online.
A good social media aggregator must allow a responsive design on smartphones to maximize the influence of your aggregated feeds on your audience.
#7 Insightful Analytics
A social media aggregator is much more than just collecting, curating, and embedding social media feeds on a website.
A robust feature i.e., Analytics offered by almost every social media aggregator, gives you the power to monitor the performance of your content and marketing strategy in the digital world.
The performance for both content & marketing strategy is mainly depicted via stats showcasing growth, follower retention, impressions, and engagement specifically.
Analyzing the statistics provided by the Analytics feature also help a brand in identifying their most and least popular content.
Also Read : Benefits of Social Media Aggregator Tool
#8 Pricing Plans
Even if you get all the above-mentioned features in the same social media aggregator tool, still the one factor that might affect your decision is the 'Pricing.'
The financial budget may vary from business to business in terms of its size and requirements. Therefore, picking up a social media aggregator tool that is budget-friendly is quite important.
However, you can leverage the Free Trial plan offered by certain aggregator tools for a limited period by evaluating their features.
Also, free trial lets you have a better understanding of whether the particular aggregator tool is worth your time and money or not.
While several aggregator tools offer a good discount but only if you pay for their annual subscription.
Once you are done with all your budget-related factors, you can go ahead for the selection of the best social media aggregator tool accordingly.
Also Read : Collaborative Project Management Software
Best Social Media Aggregator Tool- TAGEMBED
In the fast-paced digital world where trends keep changing now and then, social media aggregator tools are of great help for businesses and brands.
One of the best social media aggregator tools- Tagembed aims to benefit marketers by boosting their brand awareness, building trust & loyalty, amplifying sales & revenue, and more.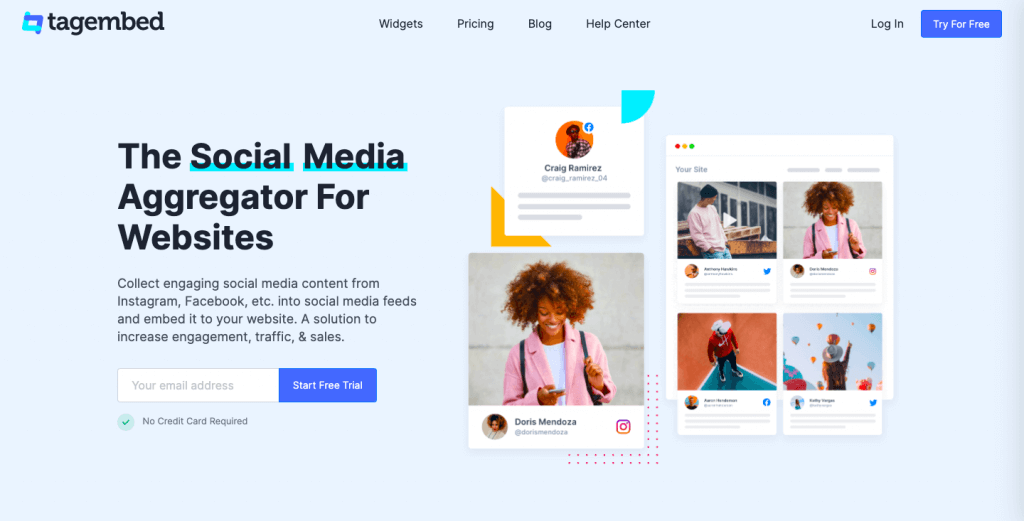 Offering a plethora of opportunities to the businesses, Tagembed helps in collecting and curating social media content from various social media platforms.
These feeds are then combined into a single feed (Social Wall), which is embedded/displayed on a website.
FYI, the content is aggregated in real-time via hashtags, mentions, handles, URLs, etc. which can be used as a crucial part of your brand's marketing & promotions.
The best thing is all the factors that we have mentioned above that are associated with the choice of a great social media aggregator tool are served by Tagembed. Isn't it awesome?
Compatible with 50+ website building platforms, including WordPress, Weebly, Wix, etc., Tagembed offers a pool of features that are mentioned below!
Customization – Apply beautiful layouts & themes, banners, background, font color & size, and more to make the aggregated content look more appealing.
Moderation Panel – This feature has an in-build Profanity Filter with the help of which you can filter out all the unwanted & irrelevant content from the feeds. In short, you can keep your social wall clean.
Insightful Analytics – You can also monitor the performance of your social media feeds by checking the total impression, clicks, and more after you embed the feeds on your website.
More – Other features offered by Tagembed are Custom CSS, Content Play, Hashtag Highlighter, Ticker, UGC Rights Management, etc.
All features can be leveraged under Tagembed's Free Plan, which is the highlight of this amazing social media aggregator tool.
Also Read – Best Tools to Embed Instagram Feed On Website
Free Social Media Aggregator
Embed social feed from Facebook, YouTube, Instagram, Twitter on your website, like a PRO
No Credit Card Required