Upgrade Your Marketing Plans With Facebook Reviews Examples
2023-03-30==================================2023-03-30========================March 30, 2023
Your customers talk and the internet listens, especially when they are talking on a humongous platform like – Facebook. Facebook is a powerful tool for businesses to connect with their target audience, build brand awareness and drive sales. With the reviews option, Facebook enables brands to understand their customer and listen to the market's wants. Brands often flaunt these reviews to convert their customers and to showcase them in the style they consider various Facebook reviews examples. And in this blog, that is what we will be talking about.
Recent research by Review Trackers has found that Facebook holds 19% of all customer reviews. And that Facebook also ranks fourth just behind Google, Yelp, and Tripadvisor on the list of review sites people check before visiting a business.
Therefore, think of FB reviews like a game of Jenga- each review no matter how small, is a crucial piece that can determine whether your business stands tall or topples over.
In this blog post, you will be learning all the alluring Facebook customer reviews examples that you can consider while displaying them on your website. Further, we will also analyze if Facebook reviews are relevant for different industries and lastly discuss the benefits of embedding Facebook reviews on websites.
Online Customer Review Platforms For Marketing
Tagembed – The Best Review Aggregator Tool
In case you are wondering how to showcase all of your Facebook reviews examples on your website, let us introduce you to an excellent review aggregator tool, Tagembed.
Tagembed is referred to as one of the best online review aggregator tools available in the industry for several reasons. It offers an easy and quick integration process, which makes it possible to embed reviews from different online review platforms, like Google review, Airbnb review, Capterra review, Yelp review, etc. on your website in just a few clicks.
With Tagembed, you can customize the appearance and layout of your reviews to match your website's design and branding. You can choose from various themes, templates, fonts, and color schemes to create a unique and attractive display for your reviews.
And here is the best piece of the cake for you. Tagembed also offers a powerful moderation feature that allows you to filter out irrelevant or inappropriate Facebook customer reviews examples, and only display the most relevant and useful reviews to your visitors. Combined with other marketing efforts, such as collaborating with the right company offering digital marketing services for your business, this tool can be the difference-maker you need to attract more customers and grow your customer base.
Furthermore, Tagembed updates your reviews in real-time, which means you can display the latest reviews as soon as they are posted by your customers. This helps you to keep your website fresh and up-to-date, which is crucial for building trust and credibility with your visitors.
Tagembed provides detailed analytics and insights that help you track the performance of your reviews. You can monitor metrics like engagement, click-through rates, and conversions, which helps you to optimize your review strategy and improve your online presence.
Add Facebook Reviews Examples on the Website
Collect, Moderate, and Display Facebook Customer Reviews on Website
Try For free
Best Facebook Reviews Examples To Display Reviews On The Website:
When business owners choose to display Facebook review examples or online review examples on their webpage, chances are they would rarely want to showcase just one review. As a matter of fact. The more reviews you pick to display, the better chances you have to convert your visitors into customers.
But guess what? Presentation matters.
So why would that be a problem? Have a look at the enticing ways you can easily display your Facebook reviews examples on your webpage.
1. Review Carousel

The very first Facebook customer review example that we are going to highlight is the Review Carousel. Over the past few years, carousels have gained immense popularity. And why not? Review carousels are the most engaging form of showcasing reviews on your website. More importantly, a Review Carousel enables more than one piece of content to occupy the same piece of space on your web page. It gives your customers enough time to read the review at a time and willingly move on to others.
2. Sidebar Widget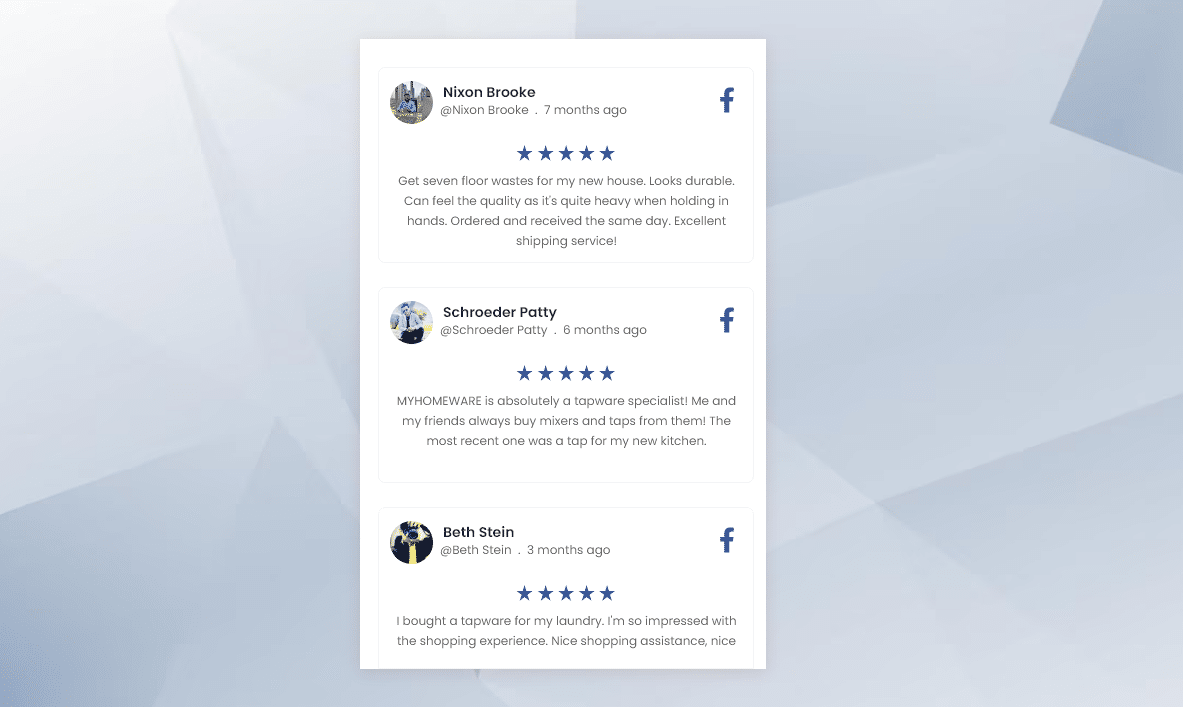 Using this alternative, you can showcase your 5-star FB Reviews to the left or right of your webpage. A sidebar widget can help your users find the opportunity which can be easily missed otherwise. For example, you can use the Sidebar widget to display the discount campaign you are running for your business. You can also use Sidebar Widget to encourage email subscriptions, etc.
The Sidebar widget is the best option if you have a content-heavy website. When you have more content on the website, it becomes a bit complicated to navigate through the content. But, the Sidebar widget can help you in this endeavor.
3. Review Box
Next, we have this list in the Review Box. It is one of the most comprehensive themes that you can use to showcase Facebook customer reviews examples on your website. This theme enables you to showcase your reviews in square boxes with all the necessary details like the name of the reviewer, date, etc.
4. List View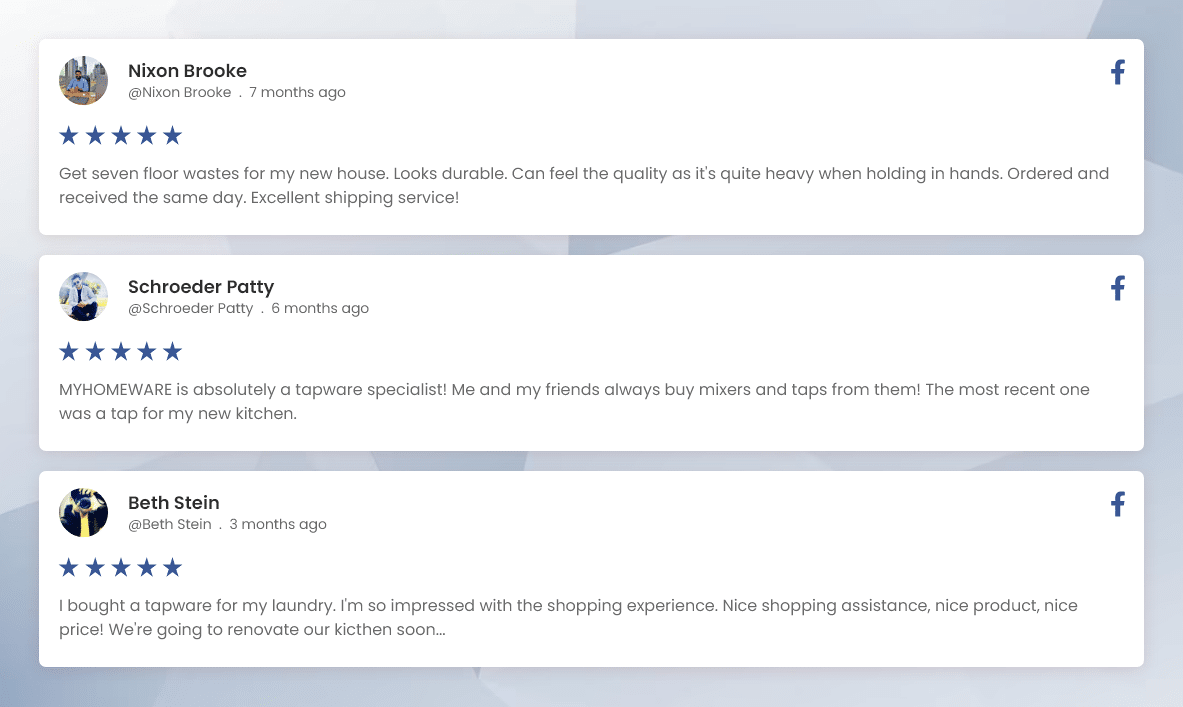 You might be familiar with the visual display of your email notification on your mobile phone. That is exactly what List View is about. It is a great way of displaying all of your Facebook customer's reviews on a website in an organized manner. List View is similar to Review Box, however, the ListView is displayed in vertical format.
If you have enough Facebook customer reviews to showcase on your website, List View can be a good pick for you. List View enables you to display a large amount of content in a scrollable list.
5. Testimonial Slider (Classical Carousel)

True to its name, Testimonial Slider helps you display all of your FB customer reviews and testimonials in a slider style. A Testimonial Slider on your webpage will help you save a good deal of vertical space on your website.
If you think Sliders and Carousels are the same, let us draw the line. Testimonial sliders can display one Facebook Review at a time, whereas, carousels help users to see multiple slides at a time. The testimonial slider keeps moving to showcase all the reviews at a time.
6. Snap Card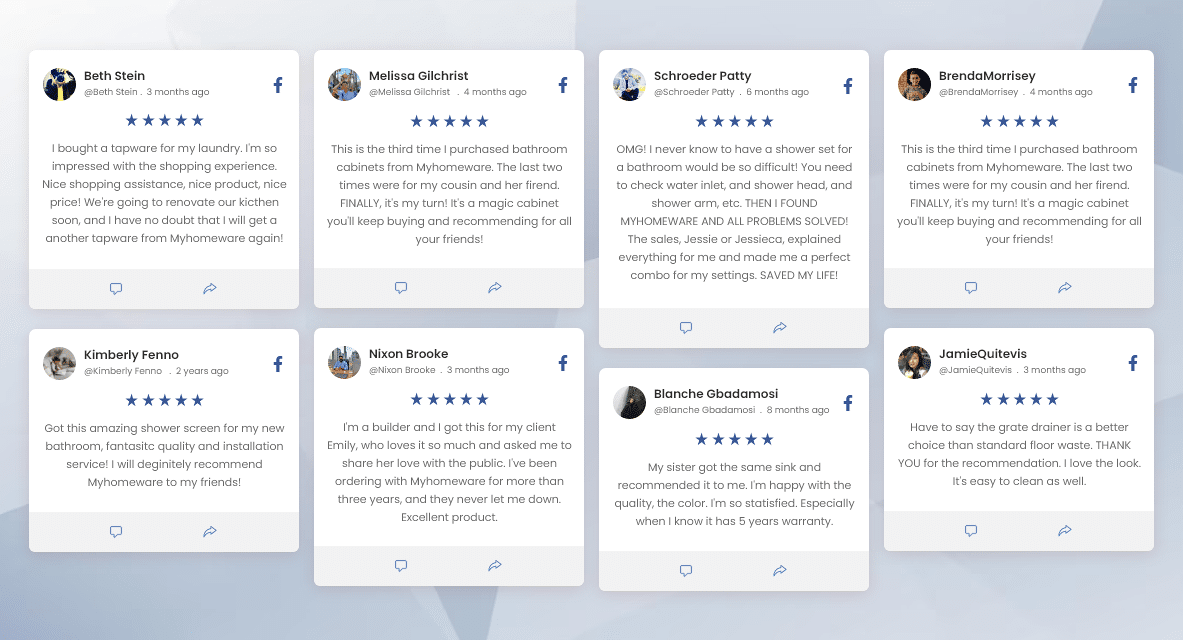 The last alternative theme we have on the list is Snap Card. This theme enables you to showcase all of your FB customers reviews on your website in the form of a card. The length of the card depends on the length of the review you have received.
Benefits Of Embedding Customer Reviews Examples On The Website:
Facebook reviews can have a great impact on your brand's reputation. Now that you are well acquainted with the idea of all the themes to show Facebook review examples, have a look at the benefits of Facebook customer reviews examples on websites.
#1 Social Proof
To be honest, humans are not independent thinkers. Therefore it is likely that they will purchase what other people have purchased and liked. Embedding Facebook customer reviews examples on your website can provide social proof to potential customers. It shows that other people have used and loved your products or services, and have positive thoughts about them.
Furthermore, you are showcasing authentic feedback from real customers. This can help potential customers feel more confident in their decision to use the products or services
#2 Better Visibility Of Your Business
So often businesses struggle to increase their visibility. While being active on all social media platforms is a great way to be visible, there is more to that. When you embed Facebook reviews on your website, it directly helps you in gaining brand visibility. How?
Let us outline. Thanks to the witty algorithm, your customers leave reviews on Facebook, and hence their friends and followers can see them, which can help increase your business's exposure and attract new customers.
#3 Increased Conversion Rates
With the industry becoming more customer-centric, it is important to offer the visitors FB reviews examples to read. One can pick out the best review for a Facebook business page and proudly display it on the Facebook review widget.
These Facebook review examples help persuade visitors to take action and convert into customers. By showcasing Facebook reviews on your website, you can help potential customers make an informed decision about whether to use the products or services, which can ultimately lead to more conversions.
Add FB Reviews Examples on the Website
Collect, Moderate, and Display FB Customer Reviews on Website
Try For free
How Different Industries Can Use Facebook Customer Reviews On Their Website?
Facebook reviews can be important for a variety of industries, but they tend to be particularly important for businesses that rely on positive customer feedback to attract new customers and build a strong reputation. Some examples of industries where Facebook reviews can be especially valuable are mentioned in the list.
1. Hospitality And Restaurant Industry
Hotels, restaurants, and other businesses in the hospitality industry often rely heavily on positive FB customer reviews to attract new customers and build a loyal following.
Social media, especially Facebook, is the best place to check out what people think of a brand. People look for Facebook reviews of their chosen restaurants and hotels whenever they are planning a vacation or even going out to try out a cold coffee.
2. Online Stores
The number of online shoppers in 2023 has risen to 2.64 billion, which is exactly 33.3% of the World's population. And looking at the trends we can say that Facebook reviews can make a huge difference to your online stores.
Facebook customer reviews on your website not only helps the customers to express their opinion but also helps the target customers to know the authenticity of the product and service you sell.
3. Distance/Online Learning
Checking Facebook reviews before signing up for an online course is a helpful step in making an informed decision about whether or not to enroll.
Undoubtedly, Facebook reviews give an idea of what other people who have taken the course think about it. This can help determine if the course is worth the time and money and if it will meet end-users needs.
4. Service Based Businesses
Do you know that 48% of local consumers say a service business's online reputation plays a role in purchasing decisions?
5-star review ratings on Facebook indicate that the services are reputable and valuable. This can help you avoid services that are not well-regarded or have a history of problems. 
These Facebook Reviews provide insight into the quality of the service content, presentation, and delivery. It is like the index of the book.
Final Words
Do you know that Facebook is the 7th most valued brand in the world and is the third most visited website in the world? Interesting, right?
We are at the end of the blog and we have made sure to provide you with all the details you need to know about Facebook reviews examples.
Free Social Media Aggregator
Embed social feed from Facebook, YouTube, Instagram, Twitter on your website, like a PRO
No Credit Card Required