Top Google Customer Reviews Examples For An Impactful Website
Is it searching for a footwear brand or a salon service in your nearby locality, what is the first thing that comes to your mind when you explore the best options?
Undoubtedly, reaching out to the phone and checking out the customer reviews and examples of the brand! Isn't it?
In today's digital era, there is a multitude of review platforms available online that can help brands engage and convert their potential customers. However, Google customer reviews have emerged to become the biggest online review platform.
The considerable shift of potential customers from leveraging the brand's promotional content to using the validation of existing customers has encouraged brands to publish Google customer reviews on their websites.
In this post, we will be telling you about the relevance of this strategy and a few ways in which you can easily embed Google customer reviews examples on your website.
Let's delve into the post right away!
Add Google Customer Reviews Examples on Website
Collect, moderate, and embed Google reviews examples on website
Try for free
What Are Google Customer Reviews?
Simply put, Google enables brands to create their Google My Business page, which can be used by the brand users to leave their valuable feedback and their experience with the brand.
Embedding Google reviews on the website is a much-sought strategy that allows businesses to build their brand reputation and showcase how much their customers vouch for their products.
Further collecting and embedding a Google review widget on your website can offer a few amazing benefits like never seen before. We will be highlighting the incredible benefits as you continue reading the post.
However, here are a few ways in which you can easily collect Google reviews.
Different Ways To Collect The Google Customer Reviews
Even though the most common option for collecting reviews on Google is the opt-in form every time the customers make a purchase. There are various other ways to collect the reviews as well.
1. Reviews Opt-In
In this option, the customer receives mail after they purchase if they have opted in for the option. The customers can leave their reviews using the opt-in option and express their experience with the brand.
2. Reviews Survey
If your costumes have decided to opt in, then they would receive a survey in the form of a questionnaire in their mail. Based on their experience, the customers can give a rating to the brand.
3. Brand Ratings
The overall brand ratings are displayed on the Search ads option. The brand ratings are like an extension that helps prospective customers determine the brands with the highest ratings and purchase products according to the brand ratings.
Tagembed – The Perfect Google Review Aggregator Tool
If you are wondering about how you can aggregate the valuable feedback of your customers, then the process can be completed using a tool like Tagembed.
Referred to as a leading social media aggregation platform, Tagembed allows users to collect, curate and embed content from various sources including Google reviews. The reviews can be aggregated from the preferred connection type of the users. The users can either aggregate content from Google places or the Google my business page.
Furthermore, the users can customize the widget how they want it to look. The users can select from a variety of options like fonts, colors, themes, layouts, etc. The profanity filter of the tool can be used to keep the quality of content in check.
Tagembed comes with various other features like automatic instant content updates and a robust back support team for assisting users every time they come across an issue while using Tagembed.
It enables you to connect all major online review platforms, making it simple for you to flaunt reviews to your website visitors from various sources. Some of the major sources that you shouldn't miss out on or we recommend using are:
Mentioned below are a few theme ideas that can be kept in mind while customizing the Google review widget. The best part is that all the theme options are offered by Tagembed as well.
Embed Google Review Examples on Website
Collect, moderate, and add Google customer review examples on website
Try for free
5+ Best Google Customer Reviews Examples To Display Reviews On The Website:
1. Review Carousel

The first Google review example that we are going to highlight is the Review Carousel option. Carousels have gained popularity on social media platforms as it allows users to display a variety of content in one go.
Adding Google reviews in the Review carousel theme allows website visitors to go through one review at a time and swipe if they wish to read more.
2. Widget (Sidebar)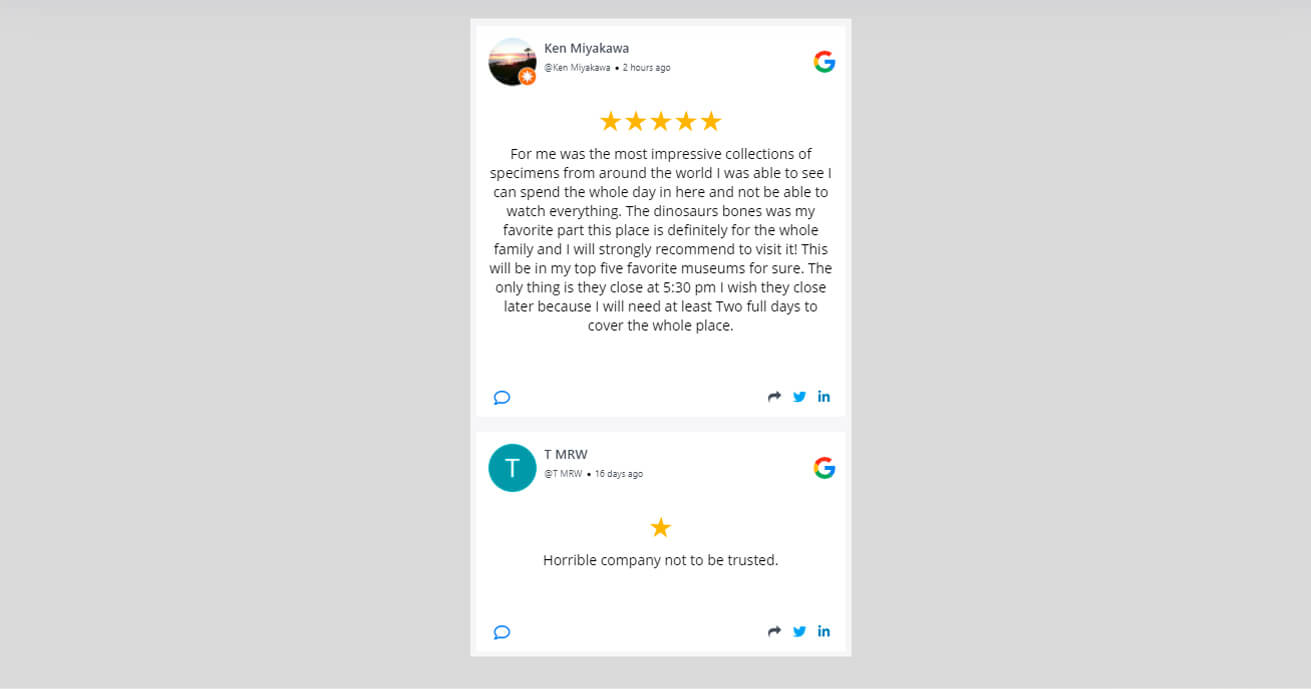 Using this option, the users can embed Google customer reviews examples in the form of a sidebar widget. This theme option is great to display on your product pages or if you have an exclusive discount going on your website.
Displaying a review sidebar widget on your webpage would work well to convert your visitors seamlessly into your existing customers. If the customers are confused about making a purchase, they can go through the reviews and make up their minds.
3. Review Box
Next up, another good option to add Google reviews examples on the website is using the Review box theme. This theme enables brands to display customer reviews examples in the form of a square box.
The best part about the theme is that it allows brands to embed a number of reviews in one go. In this theme, the brand can display the 5-star ratings of the users along with their feedback in a synchronized format, all at the same time.
4. List View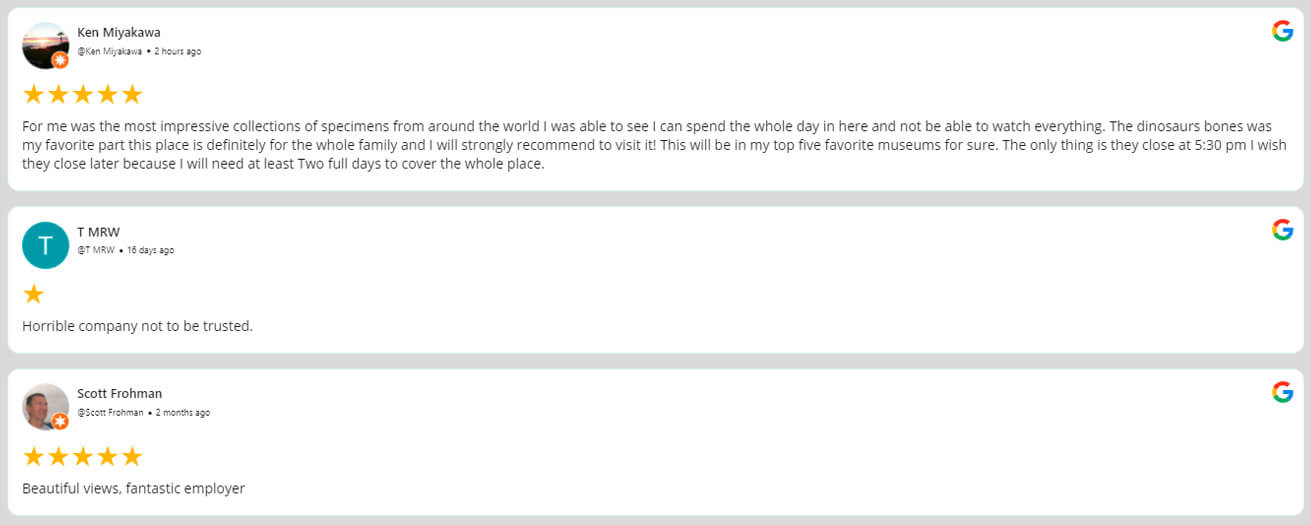 Quite similar to the Review box theme, the List view allows the users to display the star ratings and the feedback at once. However, the reviews will be displayed in a vertical format.
Overall, this theme looks great and holds the potential to upscale the overall look of your website, and displays Google customer review examples in a presentable format.
5. Testimonial Slider (Classical Carousel)
One of the most eye-pleasing ways to display customer reviews on the website is using the Testimonial slider. The testimonial slider displays the customer reviews in a detailed format with the ratings in rectangles boxes.
It helps website visitors to have a deeper understanding of your brand from the user's perspective. Alongside it, the slider makes the website alluring, organized, and presentable.
6. Snap Card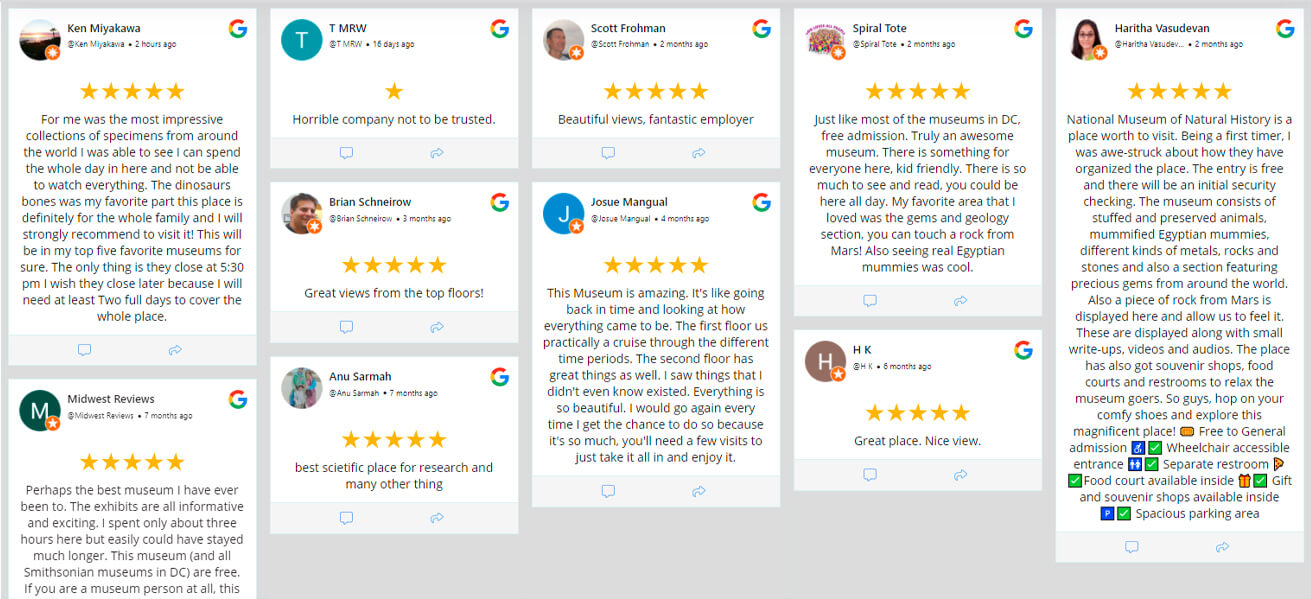 The last theme option on the list is Snap Card. This theme is amongst the most popular and loved theme options as it allows the users to display Google customer reviews examples in the form of cards.
This theme is aesthetically pleasing and catches the attention of website visitors with ease, hence it makes it difficult to ignore Google reviews.
Benefits Of Embedding Customer Reviews Examples On The Website
You have got to know about the best theme options available and if you are still not convinced to leverage this strategy into your business, then mentioned below are a few incredible benefits of Google reviews examples:
1. Google reviews help to escalate your brand's reputation
The most valuable asset for any brand is its reputation. It holds the potential to either make or break its business. Moreover, the reputation of the brand is made by its customers.
The existing customers of a brand are like its biggest ambassadors and there can be nothing more convincing and powerful than them vouching for your products and their quality. Aggregating and embedding Google review examples on your website can increase the reputation of your brand as the websites serve as a major point of interaction between your brand and its potential customers.
2. Embedding the Google review widget helps to amplify the overall presence of your website
Apart from written content, the website of a brand needs to be pleasing to the eyes as well. Your website visitors may get disinterested in your brand if your website is not well presented and lacks aesthetics.
When you add Google review examples on your website which are well customized and formatted, then there is a chance that your website visitors will feel the need to explore your website more, leading to an increase in the engagement level of your website.
3. User-Generated content helps to build social proof of your brand
Google customer reviews examples fall under the category of User-Generated Content i.e.- the content created by the existing users of a brand. Since this type of content is unscripted and created by the will of the customers, it helps brands to build their social proof.
Displaying the social proof of the brand is a great move as it helps gain the trust of the website visitors. More than 85% of potential customers put trust in the recommendations of the existing customers, more than the content published by the brand itself! The more the trust of the customers, the higher would be the sales and conversions.
How Different Industries Can Use Customer Reviews Examples on Their Website:
Reviews are important for each business and all types of brands. After all, it is important to build a reputation in the market. And here are some important industries that can enjoy benefits from this strategy.
#1. Healthcare
Healthcare is one of the most prominent industries that stand as essential for humans. A brand in the healthcare industry needs to build credibility in front of its customers as it helps them get a better reputation and win trust.
People often write about the services from healthcare brands or mention whether their treatments are effective. It eventually helps brands to win more consumers.
#2. Automotive
In recent years consumers are shifting towards purchasing vehicles for their uses, and they are spoilt for choices. By opting to embed review widgets on the website, automotive industry brands can flaunt their products and build their place in the market by showcasing feedback from their satisfied customers.
#3. Restaurant
People who tend to look to eat outside, a restaurant in particular, love to read about reviews so that they can ensure their choice. Moreover, many consumers often recommend any particular dish that they like.
#4. Education
Online education and classes are gaining their deserved popularity, so businesses in these industries have huge opportunities to gain more customers. But people are very picky about the choices they make when it comes to education. By showcasing reviews on their website, businesses can win the trust of their students/customers, and it also helps them to market any particular course.
#5. Shopping
With people finding it comfortable with online shopping, there are various cases where customers fall prey to fake brands or scams. Reviews on the website not only help customers to know the genuineness of the brand but also assist brands in building reliability.
#6. Hospitality & tourism
As the tourism and hospitality industry is experiencing great growth in their footfall, it has become for the brands to stand out from the competition. And this is where reviews jump in for the rescue. By displaying reviews of their business and services, brands in this industry build credibility and woo their customers.
Final Thoughts
Did you know there is a whopping number of more than 92% of customers who feel apprehensive about purchasing a product from a new brand if there are no reviews left by the customers? An eye-opener, isn't it?
This brings us to the end of this post and you are now aware of the significance of the Customer reviews examples and also the top Google reviews examples that can be used to add reviews on your website!
Why are you waiting then? Add Google review examples to your website right away and you will be amazed at the spectacular results!
Free Social Media Aggregator
Embed social feed from Facebook, YouTube, Instagram, Twitter on your website, like a PRO
No Credit Card Required