Yelp Reviews Examples To Boost The Growth Of Your Brand
We all know that reviews play a vital role in businesses. While running a business, one cannot undermine the need and importance of customer reviews. And as customers are finding ease in online shopping, they have ample online review platforms as well that helps them in making their purchase decision. Amongst various trustworthy customer reviews platforms, one that stands out is Yelp.
Launched in 2004 Yelp is an online review platform that allows users to search for and review businesses, such as restaurants, bars, and other local services. Since its launch, it has grown to become one of the largest and most influential online review sites. It creates such an impact that businesses often opt to embed Yelp reviews on websites. In this blog, we have discussed Yelp reviews examples for the website, which you can also use for your website. But before that, let's learn about the Yelp customer reviews platform and why it has such hype.
This well-known review platform allows users to share their experiences with businesses they have visited. They can leave reviews, rate businesses on a scale of one to five stars, and upload photos to give others an idea of what to expect. It also enables users to provide information such as business hours, location, and contact details.
Best Online Reviews Platforms For Marketing
Why Does Yelp Review Platform Have Such A Hype?
We just go with pure statics; here are some of the major and notable ones that deserve your attention.
As of Q1 2021, Yelp had 214 million reviews.
The average rating of a Yelp review is 3.89 stars.
The most reviewed categories on Yelp are restaurants, home services, and shopping.
Yelp users tend to leave more positive reviews than negative ones, with 58% of reviews being 4 or 5 stars.
Reviews with photos are 200% more likely to be engaged with than those without.
The median number of Yelp reviews for a business is 7.
Yelp reviews have been shown to have a significant impact on a business's bottom line, with a one-star increase in rating leading to a 5-9% increase in revenue.
Yelp has a robust filtering system to detect and remove fake reviews, and as of Q1 2021, the platform had removed 16.9 million reviews for violating its content guidelines.
Yelp reviews are important to both businesses and consumers. For businesses, Yelp provides a way to connect with customers and receive feedback on their products and services. Positive reviews can help attract new customers, while negative reviews can provide valuable insights into areas where the business needs to improve.
For consumers understanding, Yelp reviews can help them make informed decisions about where to eat, shop, and receive services. Reviews from other customers can provide valuable information about the quality of the business, the prices, and the level of customer service. Yelp's star rating system and review filters can help users find the most highly-rated and relevant businesses in their area.
Overall, Yelp has become a popular platform for sharing information about local businesses and is a valuable tool for both consumers and business owners alike.
Add Yelp Reviews Examples on Website
Collect, moderate, and Embed Yelp Reviews Examples on website
Try For Free
Productive Yelp Reviews Examples To Consider
Adding Yelp to your website can help you in the long term, but to make it more productive and functional, it is important to use it smartly and make it presentable. And for your help, we have filtered some best examples for your Yelp reviews:
A). Testimonial Slider

A testimonial slider is a web design element commonly used on websites to display customer or user testimonials visually appealingly. It is a slideshow of testimonials that automatically or manually cycles through a collection of user reviews, feedback, or recommendations.
A typical testimonial slider will usually feature a series of short testimonials that highlight the benefits or positive experiences of customers or users with a product, service, or business. The slider may include images of the people giving the testimonials, along with their name, position, or company name, to add credibility and trust to the message.
B). Review Box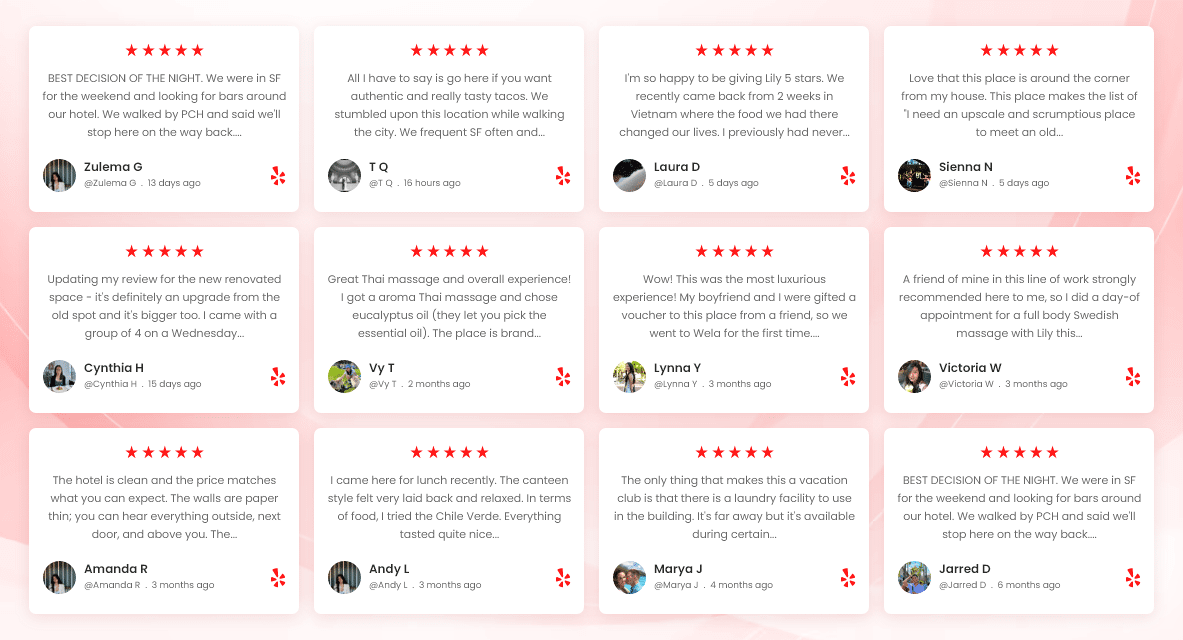 The name is self-explanatory, but here is a simple explanation. The review box showcases your reviews in a box. In this style of showcasing reviews on the website, your viewers can view more than one review at a time, as each review is displayed on different boxes, all in one place.
All the reviews are in a tabular format, giving your website an organized look. A well-organized website looks more appealing and pleasing to the eyes.
C). List View
It is similar to the review box. It displays reviews in a methodical manner, and your visitors can read more than one review at a time. But if there is a need to be differentiated, the only major difference between the list view and box view is that – in the inbox view, content is displayed in a square box and in a tabular form. And here, in the list view, each review is displayed vertical format.
D). Widget (Sidebar)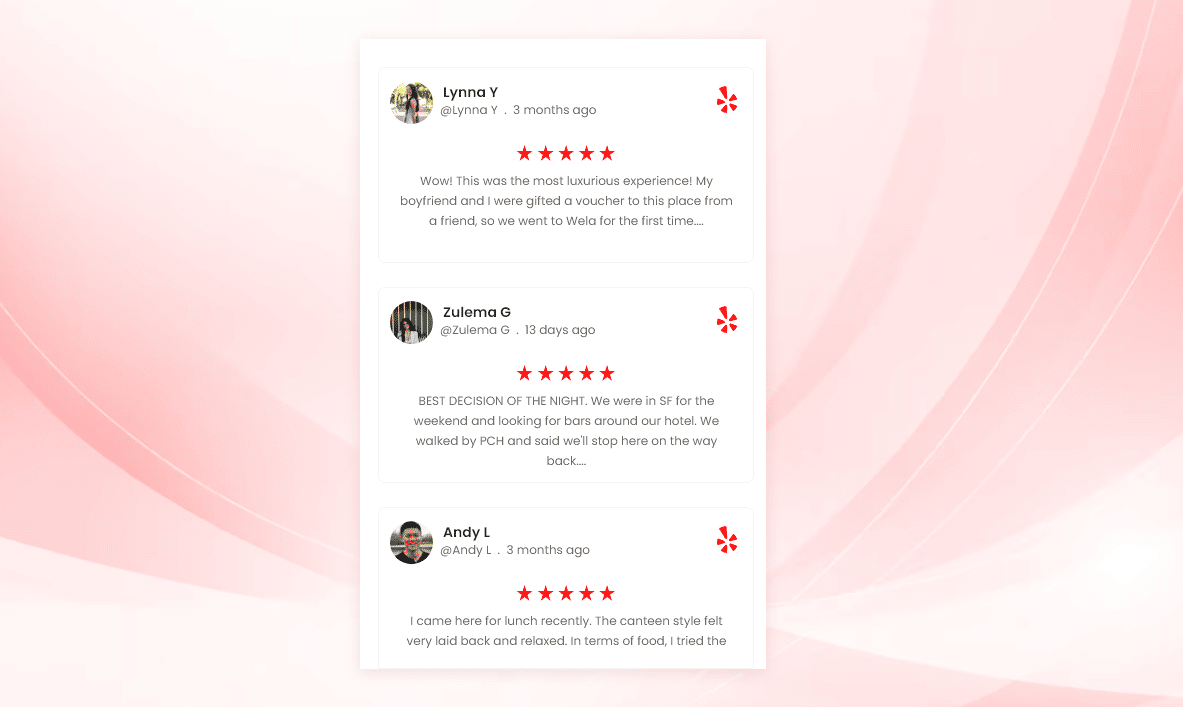 Sidebar display is another popular and preferred style of display. The major reasons for the popularity of the Sidebar are that it takes less space and provides
Sidebar display is another popular and preferred style of display. The major reasons for the popularity of the Sidebar are that it takes less space and provides
E). Review Carousel

The review carousel is one of the most commonly used and popular Yelp review examples. In simple words, a review carousel is a display of customer reviews in a horizontal or vertical carousel format that allows website visitors to easily browse through and read multiple reviews at a glance.
A review carousel aims to provide social proof to potential customers and help them make informed decisions about purchasing a product or service. By displaying a large number of positive reviews on your restaurants, apparel, cosmetics sites., etc, you can help build trust and credibility with your visitors. Additionally, review carousels can help increase engagement on a website and improve the user experience by providing easy access to relevant information.
Why Using Tagembed Is The Best Way To Embed Yelp Reviews?
Tagembed is an amazing social media aggregator tool that helps users collect social media feeds from 20+ platforms and assists in curating and customizing the collected feed before displaying them systematically on the respective website.
Out of various benefits, some of the major benefits of Tagembed is that it is a coding-free tool. That means you don't need to have coding experience or knowledge to run the tool. Even the feature of the tool is as simple as it gets.
The customization feature helps to twerk the widget as per need, you can change the font size, style, and more. Also, you have the freedom to change the widget background and banner to add charm to the review widget.
It also provides you with other additional features like moderation that allows you to remove the content that you think is inappropriate or does not satisfy your needs. You can either remove them manually or even choose for profanity filter that automatically removes the content consisting of provided keywords.
The Parting Note
We all know that reviews play an important role in businesses. Adding them to the website, not only helps to extract maximum benefits but also helps in converting potential customers. You can take ideas from the Yelp reviews examples mentioned above and make your brand stand out from the crowd.
Free Social Media Aggregator
Embed social feed from Facebook, YouTube, Instagram, Twitter on your website, like a PRO
No Credit Card Required