How To Add Google Reviews To Shopify Website
2021-11-11==================================2021-11-11========================November 11, 2021
We are beginning this post with a question – What is the first thing that comes to your mind when you look for the best hairdresser in your location? We bet you instantly Google it and shortlist it as per the recommendations of other customers. Ever wondered why that happens?
Adding Google reviews to Shopify has become a popular marketing trend as it offers spectacular benefits that we will be mentioning as you continue reading the blog.
Customers believe what they see and take other customers' experiences more seriously compared to the promotional content of a brand. Soon enough, smart marketers began to consider this fact, which is why Google reviews play a major role in their marketing efforts.
However, have a look at the step-by-step guide to easily add Google reviews to Shopify stores using the most responsive and effective tool.
Add Google Reviews to Shopify Store
Collect, moderate, and Add Google Customer Reviews to Shopify Store
Install App
Let's get started!
Steps To Add Google Reviews To Shopify Store
We shall be shedding light on the two easy methods of adding Google customer reviews to Shopify.
Using Tagembed Shopify App
Without Shopify App
Method 1 – Using The Tagembed Shopify App
Speaking a little bit about Shopify, it is a leading E-Commerce platform that has become every brand's favorite place to showcase their products. The promising features and seamless integrations of the platform make it much in demand. Additionally, the affordable pricing of Shopify has made it explode in popularity amongst all brands and businesses irrespective of how established or new they are in the market.
Have a look at how to add Google reviews to Shopify using the Tagembed Shopify App in a couple of clicks and minutes.
Step 1: Download & Install the Tagembed Shopify App
1. First things first, you need to install Tagembed Shopify App. Simply visit the Shopify app store and search Tagembed
2. Once you open it, click on the add app button to install the app successfully.
Step 2: Add Google Reviews on Shopify Website
1. Next, when you click on the app, you will be redirected to the dashboard section of Tagembed.
2. Click on the Create widget button. Give a name to the widget and click on the Create button.
3. From the pop-up menu, select Google as your content aggregation source.
4. You will be given the option to choose your review source. You can aggregate based on location or the My Business page.
5. Enter the required input and click on the Create feed option.
6. Go to the Personalization & Layouts panel and choose the best theme that best fits your website, make changes to the card style, add banners, make dedicated theme settings, and more.
7. If you think some feeds are not cool to display then you can use the Filter feature by Tagembed to customize widget content Manually or Automatically.
8. Once you are done customizing the Google reviews widget for Shopify and moderating the content, you need to select the best option for you to Embed the widget. Select the webpage and position of the review widget from the Top, Bottom, or Custom Position. 
Kudos! You will have successfully added Google reviews to Shopify stores.
If you don't want to download Shopify App, you can follow the steps mentioned below to easily add Google reviews to Shopify without the Shopify App. Hence, complete the process of adding Google customer reviews to Shopify in a couple of minutes!
Add Google Reviews To Shopify Store
Collect, moderate, and Add Google Customer Reviews on Shopify Store
Install App
Method 2 – Using The Tagembed Tool
Tagembed is a leading review aggregator tool that enables users to collect social media content from many social media platforms, including the Google My Business page. While creating the Google review widget for Shopify, the users can improve its effectiveness by customizing it using a wide range of options like themes, templates, fonts, colors, etc. 
Other features include content moderation, advanced analytics, and a 24×7 back support team for assistance whenever users encounter an issue.
1. Start by logging into your existing Tagembed account or Sign up for a free new account.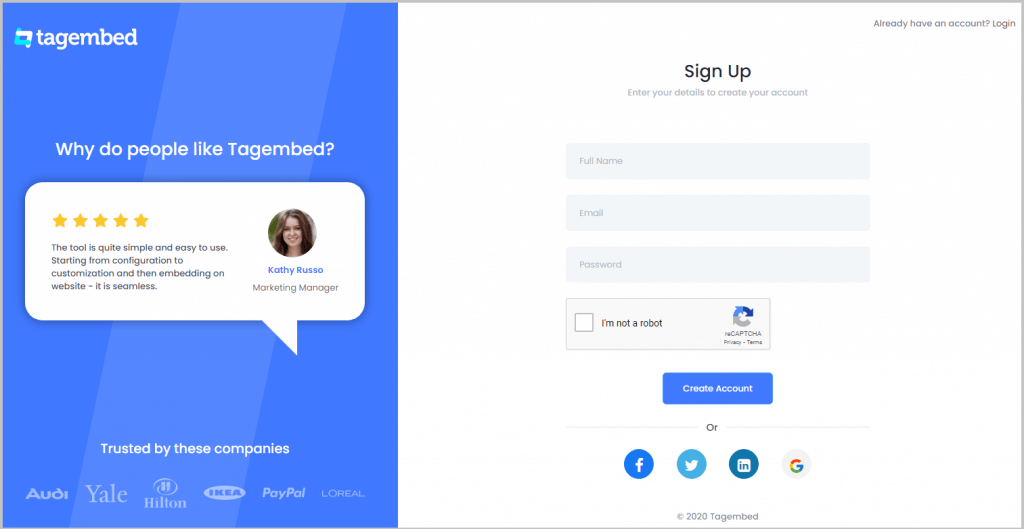 2. You will be redirected to the dashboard. Click on the Open button to open the widget and start the process. (However, you can also create a new widget by clicking on the Create Widget button in the top right corner).
3. A pop-up will appear. Select Google as your network to collect Google reviews.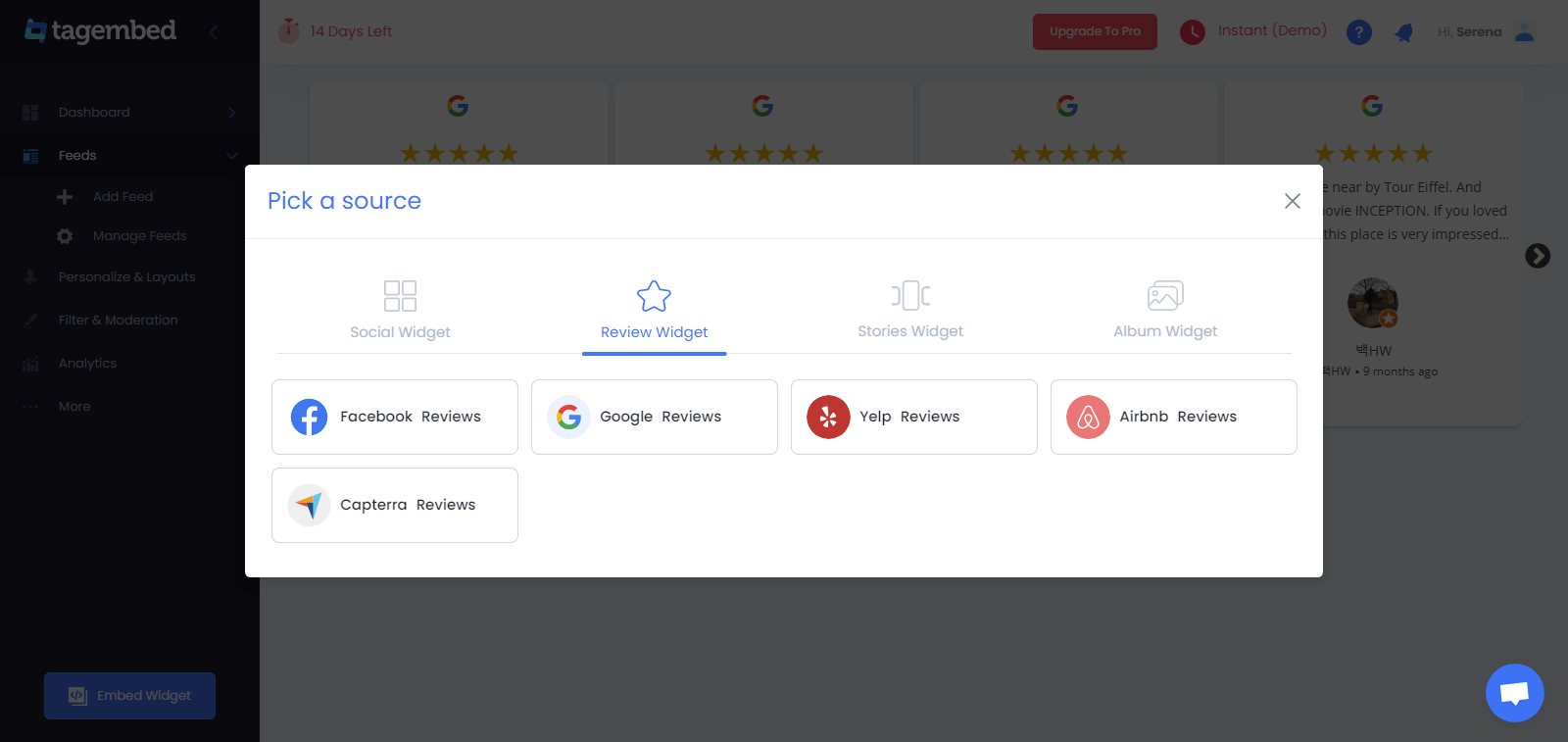 4. Next, choose your connection type, i.e., Other Places or My Places.
5. Lastly, Click on the Connect Google or Create feed button. You will see the collected review feeds on the editor screen in a couple of seconds. 
Tip: You can click on the Personalize tab on the left menu panel to change the themes & layout, background, banners and other dedicated themes settings to make the Google Review widget look more appealing and attractive.
7. Click on the Embed widget option in the bottom left corner of the editor.
8. From the pop-up menu, select Shopify as your website-building platform.
9. Adjust the height and width of the Review Widget and click on the Copy code option to copy the embed code in the clipboard.
Steps to Add Google Reviews to Shopify without Using the Shopify App
1. Redirect to your Shopify account and click on the Online Store option under the sales section
2. Choose Themes in the drop-down section and click on the Customize button.
3. Navigate through the left menu panel and select Custom Content.
4. A new scroller will appear to choose Custom HTML and Paste the embed code. Save the changes made.
You will have successfully embedded Google reviews on Shopify stores!
Add Google Reviews on Shopify Store
Collect, moderate, and Add Google Customer Reviews on Shopify Store
Install App
Benefits Of Embedding Google Reviews to Shopify Website
1. Build Your Brand's Social Proof
It is important for brands to build social proof of their brand as it helps their potential customers make a purchase decision. Quite often, customers are apprehensive about switching over to a new brand since they are comfortable and satisfied using their existing brand.
When you display Google Reviews on Shopify as what your customers say and experience about your brand, you showcase proof that they are happy with your services and use your brand leading to trust and confidence to go ahead and purchase.
2. Boost Engagement On The Website
Keeping your website visitors engaged is not an easy task, and the lack of interesting content can make the visitors leave midway through, leading to an increased bounce rate. But, again, displaying the voice of your brand customers can help you through this.
Customers are always curious to know about the thoughts of other customers, and if you show Google reviews on website it would motivate them to explore and understand more, leading to more engagement levels. 
3. More Sales & Conversions
The main factor that determines the success of your brand is the number of sales and revenues generated. You can attain more sales when the potential customers are completely convinced to purchase your products.
Displaying Google reviews on Shopify works miraculously to keep the visitors hooked and instills confidence in them, which would lead to more sales. More than 60% of potential customers leverage reviews before finalizing a purchase!
Key Takeaways
More than 80% of customers trust online reviews as much as they trust a personal recommendation from a known person!
It reflects the relevance and significance of leveraging Google reviews in businesses. We have concluded that you are now completely aware of the methods to add Google reviews to the Shopify website and the benefits of adopting this strategy.
Go on now, Create a free Tagembed account, and start the process to take your business to the next level!
Free Social Media Aggregator
Embed social feed from Facebook, YouTube, Instagram, Twitter on your website, like a PRO
No Credit Card Required