How To Embed Google Reviews On The Websites | Add Google My Business & Place Reviews
In recent times you might have witnessed a trend where businesses are opting to embed Google reviews on websites. Businesses have started understanding that as it is important to have reviews, it is equally important to showcase them. Hence, by choosing to add Google reviews, they are able to prove their credibility and build brand recognition.
According to Bright Local, 84% of individuals trust reviews as much as they do word-of-mouth. And when we mention online reviews, we cannot ignore the fact that Google reviews are the most trusted among customers. In this blog, you will find different ways to display Google my business reviews on websites and why you really need them! So let's delve in!
Embed Google Reviews On The Website
Google Places
Reviews
Try For Free
Google My Places
Reviews(GMB)
Try For Free
Introduction About The Google Reviews
Over 90% of people trust user-generated reviews before making any online purchase decision.
Google Reviews are a form of user-generated content that makes them more authentic, trustworthy & reliable.
They are a product of Google My Business Reviews or Google Maps that are shared by real customers based on their real experiences, ideas, opinions, feedback, & more related to the products or services of a brand. And as you know that a business website is one of the most important marketing touchpoints, so it would be great if you embed a Google review widget on the website.
We will discuss this below!
Embed Google Reviews On Website By Using Tagembed Widget
One of the leading social media aggregators, i.e. 'Tagembed' is a great choice for brands & businesses to add Google reviews on websites. Keeping this in mind, we have divided the embedding process into 2 parts & curated some simple steps that can be a great help to you.
PART-1. Create A Google Reviews Widget
1. Create your new Tagembed account or log in to your existing account.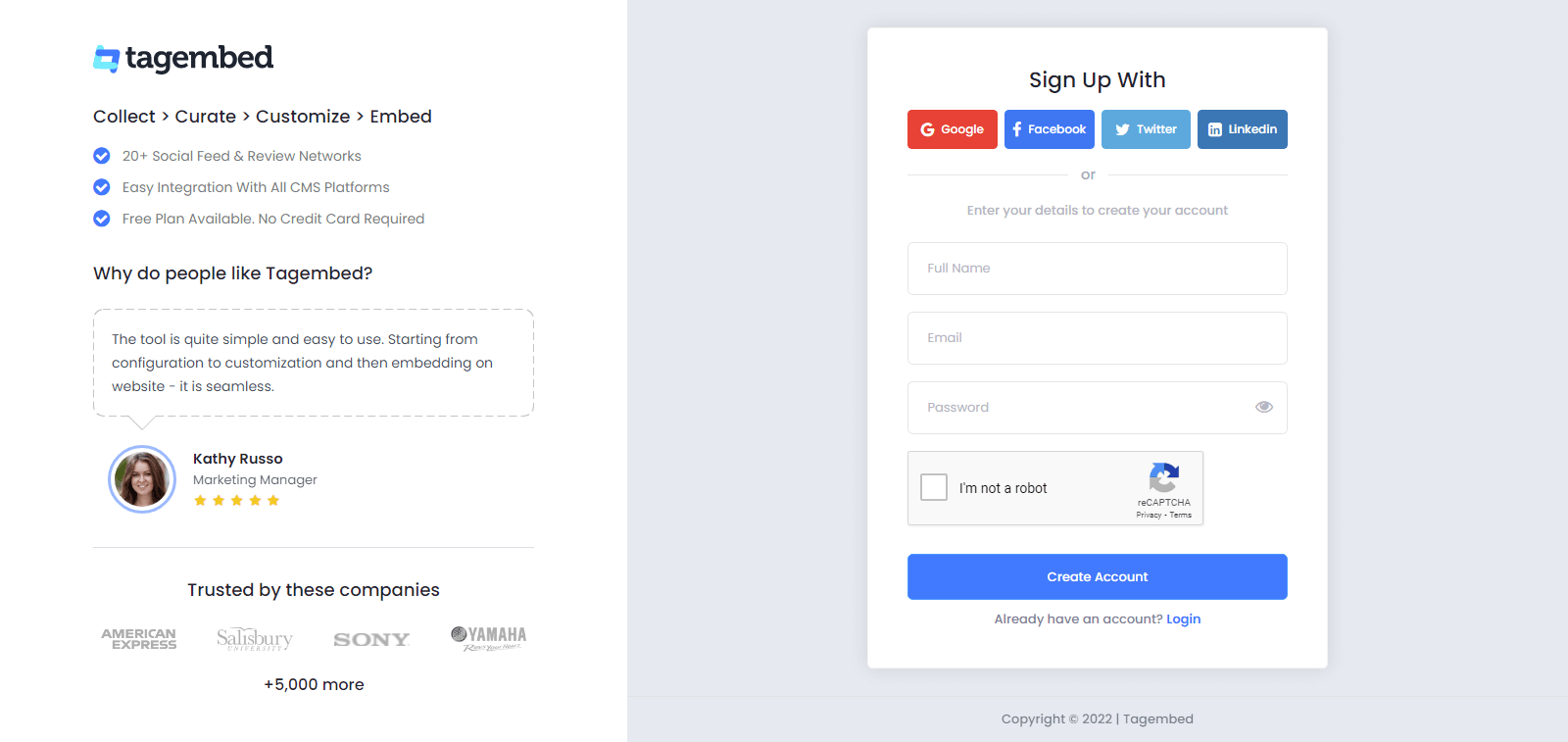 2. If you are a new user then your first widget will be created by default now click on the "Open" button to proceed to collect a Google review feeds.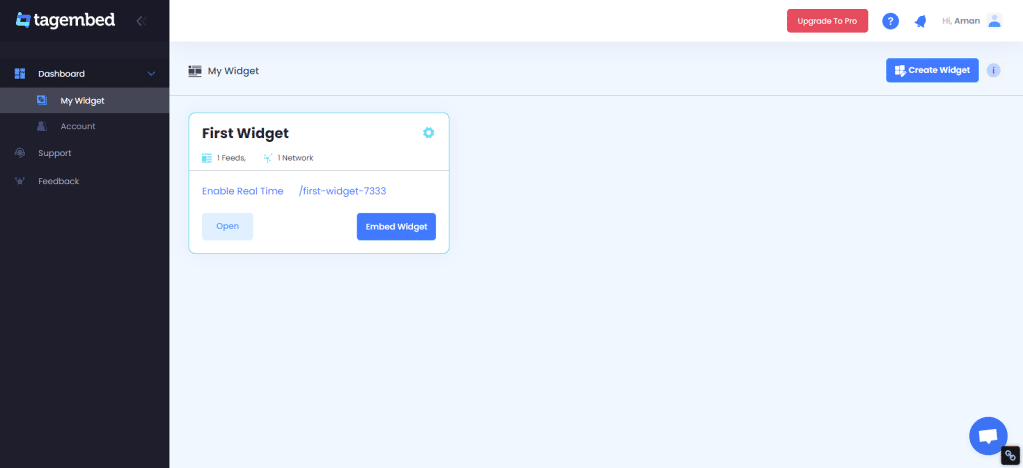 3. Now a popup appears from where you can choose "Google Reviews" as the source from the different platforms.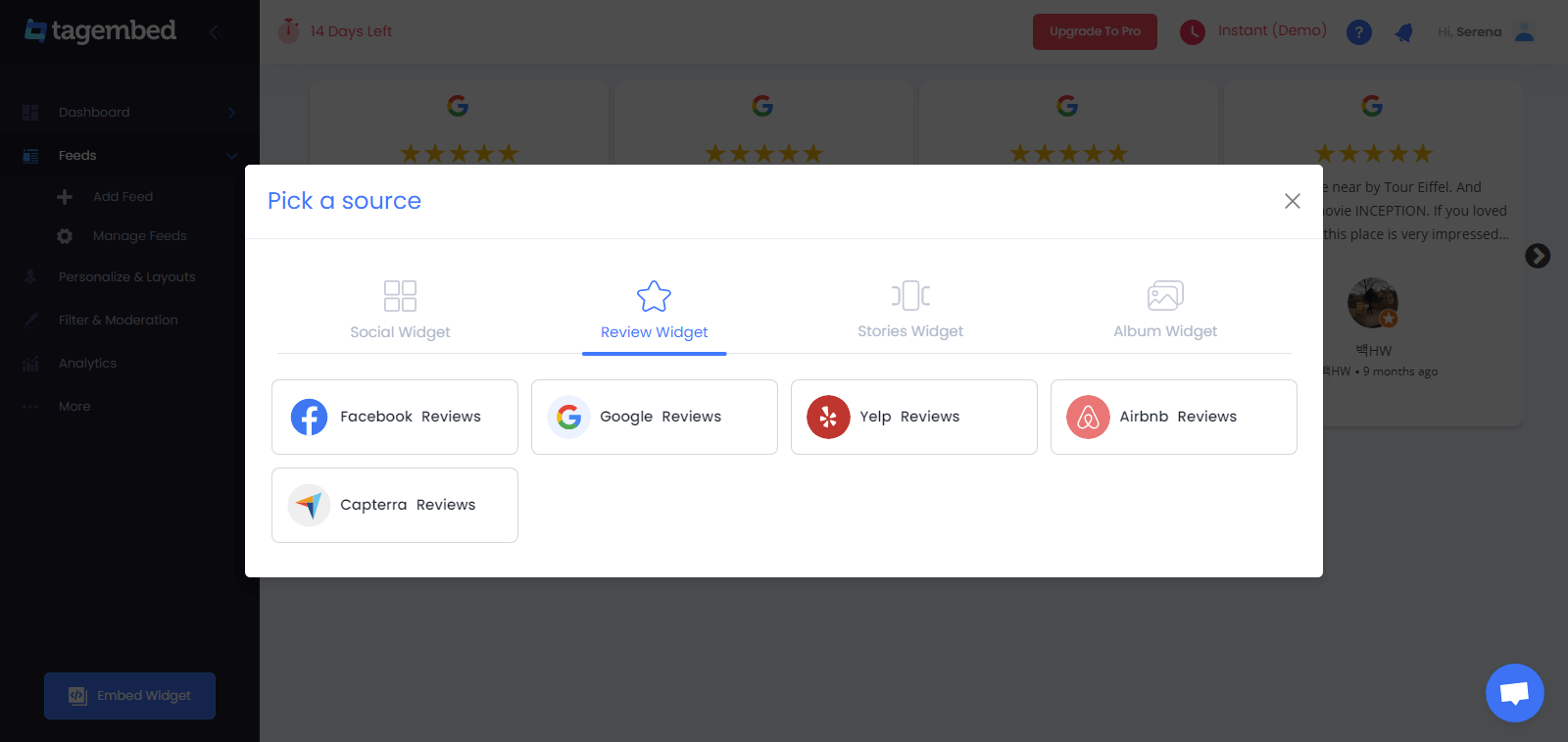 4. Again a pop-up will appear. Here you have to select My Location and enter the location from which you want to collect the Google reviews.

Here you have two tabs. My Places tab helps you to display all the reviews related from your Google My Business Reviews, whereas, the Other Places tab enables you to exhibit 5 most useful reviews in 50+ languages.
5. So now click on the "Create feed" option. But make sure you provide all the relevant information as well as access so that Google reviews can be fetched.

6. All your Google reviews will be then collected into a unified feed.
Once you are done, you'll be redirected to the widget editor page where there are options like:
Customization- Opt for features like banners, social sharing options, pop-ups, a background, custom posts, and more that match the aesthetics of your brand.
Moderation- You have complete control over what you want to show & what you want to restrict to your target audience. This feature helps in displaying content of the utmost quality.
Insightful Analytics- Get insights into your audience's behaviors, sentiments, etc. through web analytics. It helps you monitor & evaluate the total impressions, click-through rate, users, sentiment analysis, and other details.
More- Also, you can add elements to the widget like- hashtag highlighter, ticker, filters, custom CSS, etc to make your feeds look more attractive & engaging.
Embed Google Reviews On Website
Collect, moderate, and add Google reviews on website
Try For Free
PART-2. Display Google Reviews On Website
Here are the remaining steps that you need to follow!
7. At the lower-left corner of the widget editor page, click on the "Embed Widget" button.

8. A pop showcasing various website-building platforms like HTML, WordPress, Wix, Squarespace, Weebly, Webflow, BigCommerce, Shopify, etc. will appear on the screen. Choose any platform of your choice that suits your business requirements.
9. Now according to the section of the webpage, adjust the height & width of your Google reviews feed.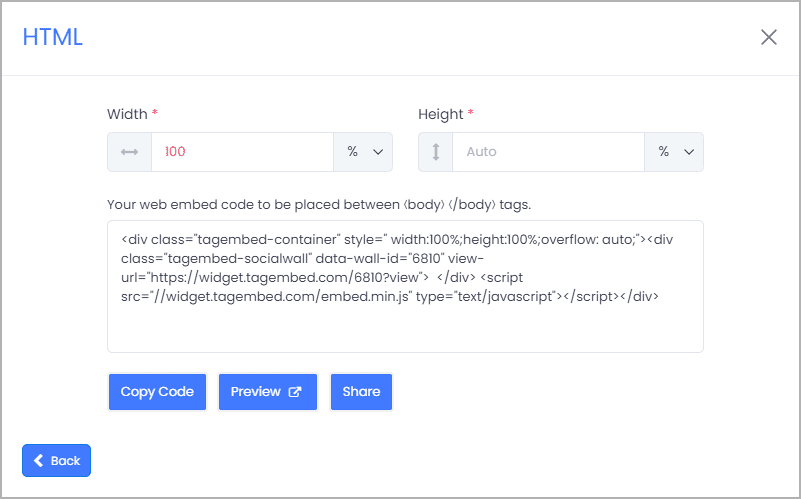 10. Then click on the "Copy Code" button and copy it on the clipboard.
11. Paste the code in the backend of your website where you want to display Google reviews.
12. Lastly, end the process by clicking on 'Apply' changes.
Kudos! You have successfully added Google reviews to the website. In case you want to do the same for other website platforms, then you can do it easily.

PART-3. Embed Google Reviews On Any Website Building Platforms –
Every user uses a different website-building platform. To give you a better understanding, we have given a detailed step-by-step guide to how you can add Google business reviews on various CMS platforms.
Select WordPress as your website-building platform and log into your WordPress account
Visit the webpage where you wish to embed the feeds
On the right side of the webpage, click on the visual and text option
Select Text mode
Paste the copied code into the backend of your webpage
Click on Update to finish the process
Log into your Wix account once you select Wix as your website-building platform option
Click on the + option on the left side of the menu bar
Click on More
Select HTML iFrames from Embeds
Paste the generated code in the code field
Save the changes by clicking on the Apply button
Log into your HTML account once you select HTML as your website-building platform
Redirect to the webpage where you wish to display Google Reviews
Paste the copied embed code into the backend of the website where you wish to embed Google reviews on website
Voila! You will have done embedding the widget on your website
Once you are logging into your Squarespace website, click on the Edit option
Next, click on the </> code on the pop-up on the right side
Paste the generated embed code
On the top left corner, click on the Done option
Voila! You would have embedded the widget
Select Weebly as your website-building platform and log into your account
Navigate to the embed code element option. Use the drag-and-drop option to embed the widget where you wish to
Select the HTML box
Choose the Edit custom HTML option
Paste the generated code in the given space
Save the changes to complete the embedding process
Once you select Shopify as your website-building platform, start by logging into your account
Click on the online store under the sales channel option
Select Themes in the drop-down menu
Click on Action
Choose Edit code from the options
Select the area/section where you want to add Google reviews to website
Paste the generated code and finally, save the changes
Log in to your Webflow account as an admin
Navigate to the page or area where you want to display Google reviews
In the backend section, paste the embed code into the supplied field
Paste the embed code in the backend
Lastly, click on Save to complete the process
Log in to your BigCommerce account and on the dashboard, navigate to the Storefront
Now select the Web Pages option
The Web Pages option will redirect to your all pages. Now, Select Create a Web Page and fill in all your required details.
Select HTML section
Paste the code and click on update
After filling in all details scroll down and click on Save & Exit
9. Add Google Reviews To GoDaddy
Login to your GoDaddy account, after copying the embedding code. To get the embedding code for GoDaddy you need to choose Other from Choose Your Platform window in Tagembed. Now, Open your GoDaddy page editor
Click on Add Section. Next, scroll down and click the HTML option
Click the Code will render here section and on the sidebar, enter any desired section title
On the Custom Code field, paste the embedding code you copied from the Tagembed app
On the upper right corner, click Publish and then click Save and Publish.
Finally, click the ViewSite button
Other Options To Embed Google Business Reviews On Website
A). Tagembed WordPress Plugin For Displaying Google Reviews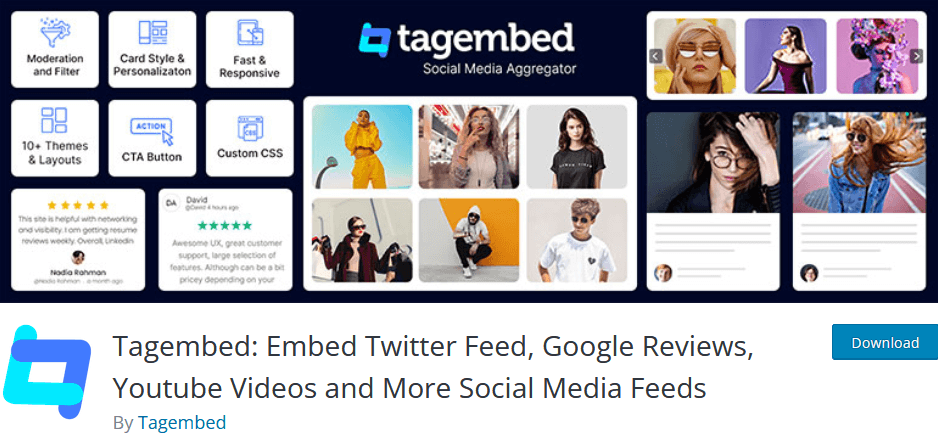 If you have an existing account on WordPress, then you surely must consider this option. Tagembed WordPress Plugin is extremely easy to set up and has no complex functionality. All you need to do is install now it from the WordPress directory and connect it to the Google my business account.
Your Google reviews feed would automatically be updated and you would not need to do it manually.
B). Tagembed Shopify App For Add Google Reviews To Website

Another best option to embed Google reviews on website is using the Tagembed Shopify App. Apart from integrating Google my business reviews, this plugin offers various other beneficial features and functionalities to help businesses maximize their profits and to upgrade their business.
How To Adding Google Reviews To Website Helps Your Business?
1. Build Brand Trust & Credibility
No business can survive in the long run if it doesn't have the trust of potential customers. And as reviews are shared by real customers and are considered authentic content as it's based on real experiences, therefore the new customers also trust Google reviews.
Hence, embedding Google my business reviews on website automatically helps you gain the trust of your customers and your brand credibility.
2. Boost Brand Reach & Awareness
To get maximum traffic on your website and business, you need to boost your brand awareness and reach a wider audience with positive exposure & higher reach.
As 5-star Google reviews are shared by the users, they are correlated with networking, website traffic & user engagement for your brand.
3. Represent Brand Advocacy
Brand advocacy is the process when the existing customers take responsibility & credibility for your brand's products as well as services.
The fruitful benefits of displaying Google my business reviews on website also help in creating brand desirability, influencing your customers' purchase decisions, and therefore conversions for the brand.
4. Amplify Conversion Rate & Sales
Last but not least, all the aforementioned factors help you achieve a higher conversion rate and sales. Around 92% of the users read trusted Customer reviews before making online purchases.
And by embedding valuable & authentic Google reviews, you can drive conversions to your business and eventually boost sales.
5. Builds A Review Cycle
We all know for a fact that – more reviews mean better for the brand. And by displaying online reviews on your website, you can get more reviews for your brand. Consumers feel respected when a brand showcases its content on its website. And hence when other readers consume this content, it inspires them to write reviews as well to enjoy the limelight on the website. You have various customer reviews platforms that help you in this cause, as they provide the space where consumers can provide their opinions about any particular brand or product. You just need to gather those reviews and showcase them. It eventually builds a review cycle for your brand, you helping you in generating more reviews and eventually building a robust brand reputation.
6. Reduces Bounce Rate
Here is a little hack for your understanding of consumer behavior as well. Consumers often look for reviews before making a purchase and read as many reviews as they can before making a purchase. With business reviews on your website, they have the option to read all the reviews on your website itself, eventually keeping them on your website. It reduces the bounce rate of your website, which can help you in getting a brand reputation and increase your search engine ranking.
All Things Considered
Google my business reviews act as a perfect way to make your website more effective, informative, and engaging for site visitors. So when you add Google reviews on any website-building platform, you get all the business benefits that are mentioned above to help it bloom.
Without any doubt, you can take help from Tagembed to know the steps that are linked with the embedding process of reviews on your site.
Frequently Asked Questions
Free Social Media Aggregator
Embed social feed from Facebook, YouTube, Instagram, Twitter on your website, like a PRO
No Credit Card Required