Most Awaited SAAS Black Friday and Cyber Monday Deals 2022
2022-11-09==================================2022-11-09========================November 9, 2022
This year, we witnessed some fantastic fests and events that made incredible announcements. We kickstarted the year with CES, followed by the Google I/O conference, SaaStr, WWDC, and more. With the end of SaaStock in October, it's almost the end of the year. And just a few months before the beginning of a new year, it is the right time to make smart tool & plugin purchases that can save you big on big plans to take your businesses to new heights in the coming year.
As Black Friday and Cyber Monday are around the corner, we can sense the season of rainy discounts has arrived! As we are making strikes towards the holiday season, getting great deals and offers can be treated as the cherry on the cake.
So if you are looking for upcoming Black Friday and Cyber Monday deals, your search ends here. For your convenience, we have filtered some of the best deals just for you. So without further ado, let's dive into it and learn about these tools and deals they offer.
Top Black Friday And Cyber Monday Deals For 2022
Managing finance is one of the key factors for the business, and when there is the opportunity to save some money, then why not take advantage of it, right? So, here are some of the best tools in the market that helps upgrades your business strategies.
1. Tagembed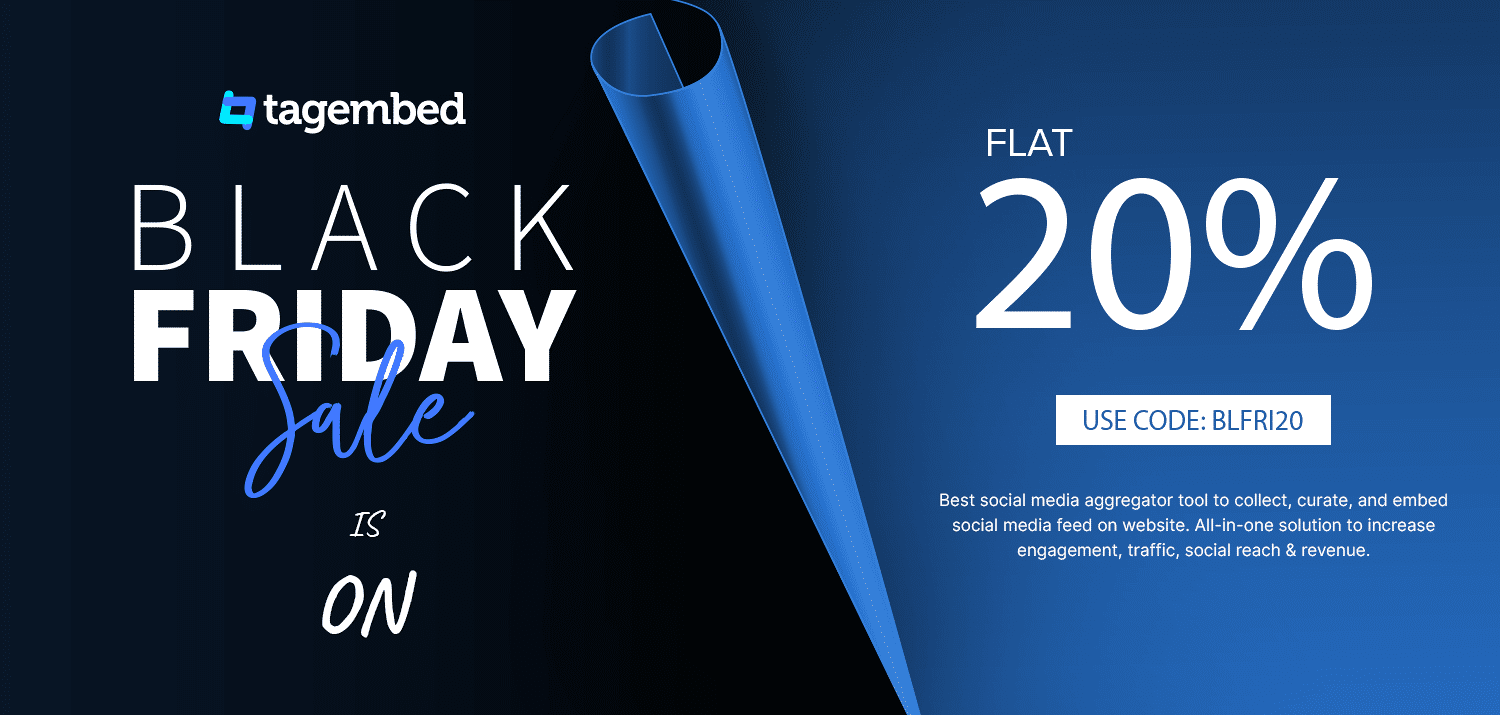 Tagembed is a well-known social media aggregator tool that helps you collect social media feeds from different platforms, allows you to curate and customize the collected feed, and assists in displaying them on your website. With coding free integration process, you can easily embed social media feeds on a website.
The tool not only helps you in making your website more attractive but also adds functionality to it. It improves your website traffic, reduces bounce rates, and improves your website's liveliness. All these measures help you to stand out from the crowd and create awareness for your online presence. You can get started by creating a Free Tagembed account.
Tagembed Features That You Must Know About
Widget Customization – You can personalize your widget as per your need by changing font size, font style, widget background, and more adding charm to your widgets like Instagram Widget, Linkedin Widget, Facebook Widget, Twitter Widget etc for your website.
Content Moderation – This enables you to moderate collected content, which means you can remove posts that you think are inappropriate.
Responsive feed – The widget automatically adjusts itself as per different screen resolutions from different devices; there is no need to change the display setting.
Real-time update – The content on the widget showcases all the latest content without refreshing the feed.
Why you should use Tagembed
Provides liveliness to your website
Brings functionality to your site
Promotes your social media presence
Increases website traffic
Provides social proof to consumers
Black Friday And Cyber Monday Deal
Deal – Flat 20% off on all pricing plans
Coupon Code: BLFRI20
Valid Till: 30th Nov '22
2. SocialBee
As social media platforms are becoming integral for everyone, handling them could be a task. And this is where SocialBee comes to the rescue. SocialBee is a social media management tool that allows users to create, schedule, and post content to every major social platform from one place.
It saves time, as you can now avoid spending time posting content manually on each platform separately. Moreover also helps improve your consistency as you can easily schedule the posting on platforms.
SocialBee Features You Must Know About
Content categories: This allows you to organize your content in categories based on different topics and post types more effortlessly.
Social media scheduling: You can schedule entire content categories at once and even reschedule and expire posts with a few clicks.
Why You Need SocialBee
Saves your time
Keeps your social media handles active
Organizes your uploads on social media
Boosts consistency on social media platforms
Black Friday And Cyber Monday Deal
Deal: 70% off for 3 months.
Coupon Code: SOCIALBEEBF22
Valid Till: 21-28 November
3. Brand24
With social media platforms emerging as one of the best ways to communicate with each other and allowing people to discuss any topic with any set of people, it is more likely that people might discuss your brand and product as well.
Brand24 is an amazing tool that helps you monitor the internet, particularly on social media. So, whenever there is any discussion regarding your brand, product, or any topic you are interested in, you can reach that easily. It eventually helps to support sales and helps in strengthening the image of your company on the internet.
Features of Brand24
Alerts – Helps you to install customized alerts the way you need. You can use as-getting email if there is negative mention of your brand from blogs and more.
Filtering: allows you to filter down the search filter, which means you can narrow your search and focus on what is most relevant.
Data Exports – you can save the reports in the pdf file and store them for making future strategies and plans.
Why You Need Brand24
Assists in competitor analysis
Keep track of online discussions related to your brand
Keep a check on pr and influence in the market
Helps in finding appropriate brand ambassadors for your brand
Black Friday And Cyber Monday Deal
Deal: 50% off any plan for 3 months.
Coupon Code: The price will be automatically reduced on the pricing page.
Valid Till: Till November 25
4. SmartReach
Sales eventually help you in building your brand and achieve your goals. And sometimes, cold emails could be one of the best measures to reach your desired consumers. SmartReach is an all-in-one enablement platform specializing in cold email outreach and helps with email deliverability.
It can be considered the easiest and fastest way to start a business as it assists in finding prospects and automates email replies and outreach.
SmartReach Features
Multichannel Outreach Automation (Email, Linkedin, Whatsapp, SMS) – Allowing you to reach your desired consumers via different channels.
Email Automation – Improve communication and connect with your consumers and client by providing proper replies and reverts.
Personalization – allowing you to send personalized emails so you can have a proper sales pitch and convenience readers.
Why Your Need SmartReach
Helps you to manage all lead generation for your clients from a single login
Assist you in converting your cold lead into sales
Boost productivity
Black Friday And Cyber Monday Deal
Deal: 20% Off on All Annual Plans for the First Year
Coupon Code: SMARTREACHBF20
Valid Till: 3rd December
5. Internxt
Privacy and storage are among the huge concern for internet users, and to overcome this drawback, we have Internxt. Internet is a fully encrypted, open-source cloud storage provider designed to put users first and protect clients' data privacy and safety. It not only helps in privacy, as mentioned earlier, but it also helps in solving storage issues, as Internet users also get access to Internxt Drive, Photos, and Send. All three services authorize users to securely store, share, and back up large files and photos.
Alongside providing the primary service of storage and privacy, it also offers a Virus scanner and a Password checker.
Features of Internxt
Multi-device: Allows you to operate the tool and data from multiple devices.
Secures your files – It secures your files as they are fragmented and encrypted before leaving your device.
Why do you need Internxt
Secures your files and encrypts before leaving your device
The business model is not based on ads; their data remains safe
Don't access or sells your files and data
Black Friday And Cyber Monday Deal
Deal: Get 60% off Internxt's biggest 2TB plan for one year!
Coupon Code: The price will be automatically reduced on the pricing page.
Valid Till: November 21 – December 5, 2022
As the season for discounts and offers are upon us, and for that sake, we have some additional tip for you. While having an online presence, it is important to have a presence that remains fresh in the minds of the visitors, and for that, you need to have a good-looking website. WordPress is one of the most popular website-building platforms. Here are five best WordPress these that you can use to improve your website's overall look and feel.
6. PluginHive WooCommerce Shipping & Bookings Plugins
PluginHive offers the best WooCommerce shipping plugins for UPS, FedEx, USPS, Royal Mail, etc., to automate your shipping: display live rates, print shipping labels, schedule pickups & do live order tracking.
PluginHive also offers the WooCommerce Bookings & Appointments plugin with tons of add-ons like Recurring Bookings, Product Addons, WooCommerce Deposits, etc., to help you sell your services online. It allows you to convert your time, products, or services into resources.
Features of PluginHive WooCommerce Shipping & Bookings Plugins
Helps you in displaying live rates, printing labels, scheduling pickups & tracking
Enables you to make domestic as well as international shipments
Helps you accept partial payments and security deposits for your bookings
Provides two-way Google Calendar sync
Allows individual or group bookings
Why You Need PluginHive WooCommerce Shipping & Bookings Plugins
To save time & effort by automating shipping & bookings.
To track your orders in real-time.
To experience a completely integrated WooCommerce solution.
Black Friday And Cyber Monday Deal
Deal: 20% off on all WooCommerce Plugins
Coupon Code: PH-WOO-BLACKCYBER2022
Valid Till: 27th November 2022
Over To You…
And this brings us to the end of this blog. The tools mentioned above have the potential to take your business to the next level. Even if you missed some of their Halloween marketing deals, you still have time to make the most of this opportunity during Black Friday and Cyber Monday. Try them now and enjoy the benefits. They say, " strike the iron when it's hot," so what are you waiting for?
Free Social Media Aggregator
Embed social feed from Facebook, YouTube, Instagram, Twitter on your website, like a PRO
No Credit Card Required
Free Social Media Aggregator
Embed social feed from Facebook, YouTube, Instagram, Twitter on your website, like a PRO
No Credit Card Required