How to Embed Social Media Feeds on Website For Free
Reading Time:
9
minutes
We all love social media and therefore the diameter of its usage has increased over the years.
Marketers are continuously seeking ways to boost their social media marketing game-plan and with that, we have come to the conclusion embedding social media feeds is the trending strategy to grow business.
One of the easiest ways to leverage social media feed is by embedding them on your site to add a lot more value to it.
But it can be a bit tricky, therefore we have curated this guide explaining the step-by-step process of embedding social media feeds for free on your website.
So let's start exploring the blog and learn more about these alluring social feeds that bring magic to your website.
Why Should One Embed Social Media Feeds On Website
Adding social media feeds to your website retrieves unexceptional marketing benefits that you might never think of. First and foremost, it will boost unique and authentic content on your website and give a fresh feel that attracts your audience.
It will enhance your website with a beautifully designed Social Media Widgets like Instagram Widget, Twitter Widget, Facebook Widget, TikTok Widget, YouTube Widget, Google Review Widget and many more. Hence, give a new reason for your customers to stay on your website for longer.
More than that, it will show your new audience that you value the content created by your fans or customers and you appreciate their efforts through your official website.
Moreover, displaying social media feeds will let customers find you on all the platforms that they're also active on. Hence, resulting in the increase number of social reach. At such situation you need to offer support on all the channels. And an omnichannel support inbox like DelightChat can help you connect your social media channels and emails so that you can respond to customer queries from a unified dashboard.
5 Major Types Of Social Media Feeds
Instagram Feed: These are the Instagram posts with hashtags, mentions, tagged, or any other images, videos, or gifs from the handles of Instagram users.
Facebook Feed: Similarly Facebook feeds refer to the images, audios, videos, etc. from the Facebook page, album, profile, mentions, etc. all together.
Twitter Feed: Collection of Twitter posts with the same hashtag, tag, mention, favourites, lists, etc. all in one place for easy curation.
YouTube Feed: Collection of YouTube video or videos from your account or other YouTube video creator with Channel URL, Keywords, Playlist, and Location.
Pinterest Feed: It consists of assembling Pins or Pinterest images from the handles of Pinterest users or Pinterest boards.
4 Smart Steps To Embed Social Media Feeds On Your Website:
Step 1: Start Create Account/Add Feeds With Tagembed
1. Sign-up to create a Tagembed account. Here you'll be redirected to the Tagembed dashboard.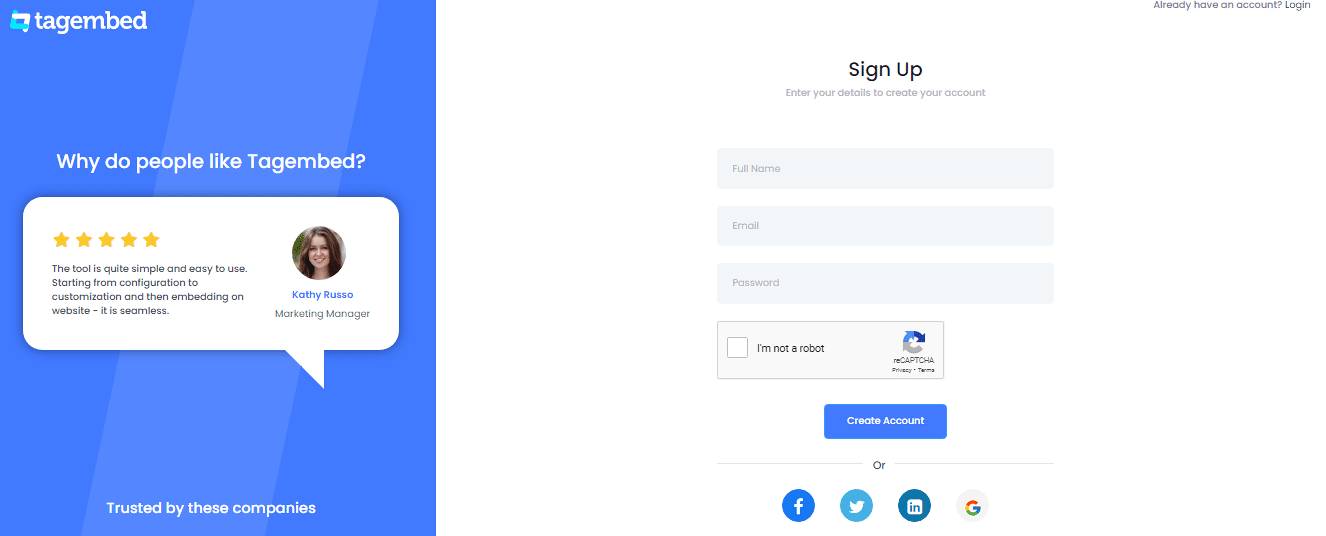 2. See at the top right corner of your screen and find the "+Create Widget" option.
3. Now a dialog box will appear with the name "Create Widget" with the following checkboxes: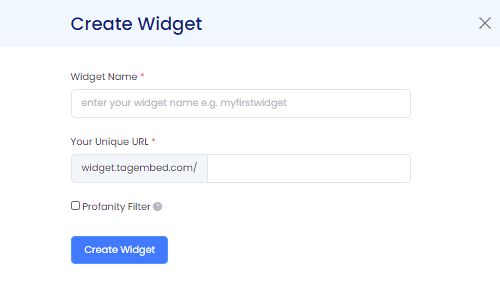 Widget Name – Pick a unique name of your choice for your widget.
URL – You will find a URL displaying the name that you have chosen for your widget.
Profanity Filter – This option will allow you to eliminate the irrelevant posts before the content is aggregated from various social media platforms.
4. Once you filled in all the required information, click on the "Create Button" and your own social media widget is created with Tagembed.
Step 2: Connect Your Social Media Accounts
1. Start by clicking on the Edit button on your newly created "Widget".
2. A popup will appear with various social media source options. You can choose any source to collect the feeds.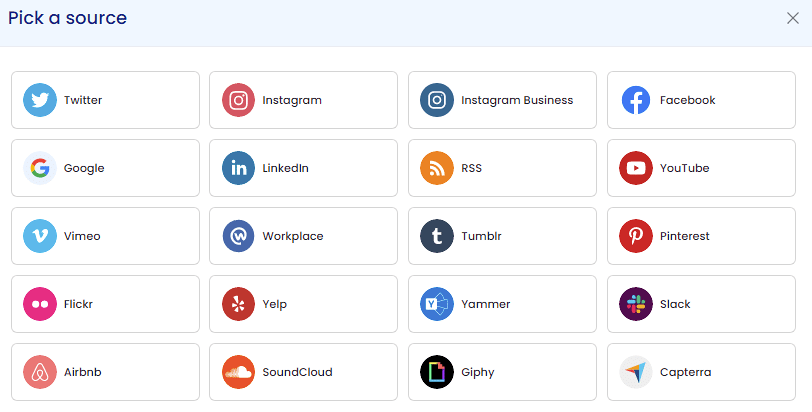 3. Now pick the required social media platform such as Instagram, Facebook, Twitter, YouTube, etc. to aggregate the feeds.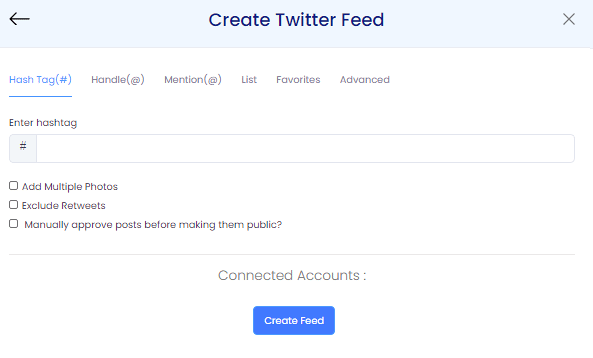 (Please Note: There are no limitations to create feeds, you can create more than a single feed from multiple sources, but remember you can only create one at a time)
4. As soon as you are done with the aforementioned steps, you can move forward and click on the "Create Feed" button.
5. Next, connect your social media account from which you are aggregating the feeds. And you are done with creating feeds from social media platforms.
Step 3: Generate Social Media Feed Embed Code
Next, you need to get an embed code to display these lively and enticing social media feeds on your website. And the best part is, you do not require any technical expertise or need coding, let's do it easy!
1. Open the Tagembed Widget editor and click on the "Embed Widget" button.
2. Then select the website building platform on which your website is developed.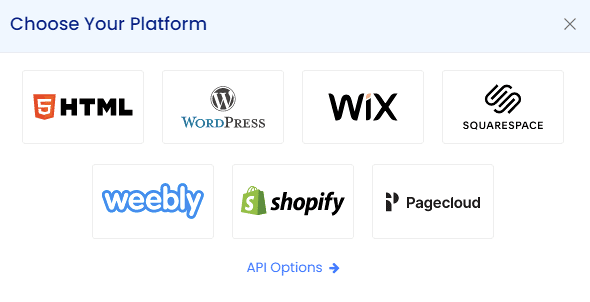 Step 4: Embed Social Media Feed On Any Website
1. Now as per your widget's requirements set its width and height from 'Auto' and 'Fixed'.
2. Click on the "Get Code" button.
3. Copy the Embed Code to the clipboard and paste on the website editor.
Embed Social Media Feeds On Website
Boost Engagagement, Traffic & Conversion By Embedding Social Media Feed On Your Website
Add Social Media Feeds With Different Website Building Platform
Once you generate the embed code, you can begin with embedding your curated and customized social feeds on your website without worrying about your CMS platform. Tagembed offers you seamless integration of feeds with different website building platforms like HTML, WordPress, Wix, Shopify, Jimdo, Weebly, Squarespace, and others well.
4(a). Display Social Media Feed On HTML Website
Login to your HTML website where you want to add social feeds.
Paste the generated embed code and save it.
You have successfully embedded social feeds on your website.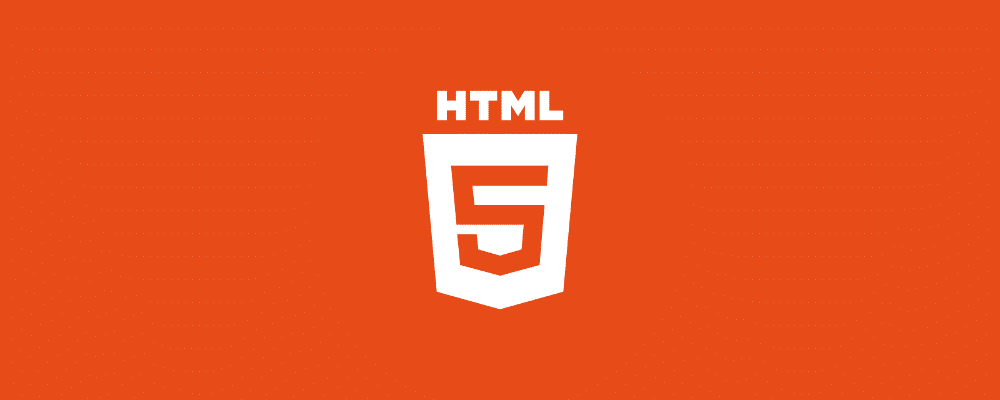 4(b). Add Social Media Feed On WordPress Website
This free and open-source content management system has empowered businesses of all sizes by helping them to create a robust website.
Follow these steps are:
Start with navigating to the web page where you want to add the feeds on your WordPress website.
Now look for a Visual and Text Option, that you will find on the right-hand side.
Here, choose the Text mode. Then paste the Embed Code where you want your social media feeds to be displayed.
In this last step, you need to click on Update to save the changes.
4(c). Display Social Media Feed On Wix Website
As of June 2020, Wix claims to have more than 180 million registered users that also across 190 countries around the world.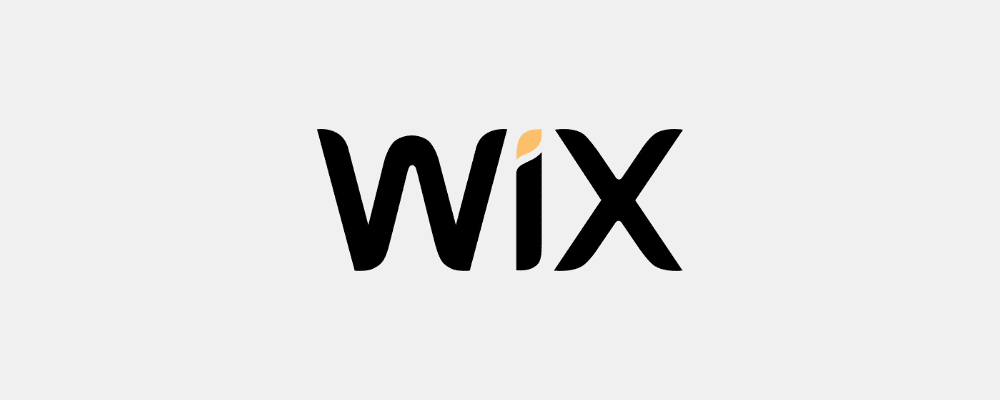 Follow these easy steps are:
Add an element by clicking on the plus button (+) that you'll find on the left-hand side of the screen.
Now choose More options which are at the bottom of the menu.
Then select HTML iframe from the Embeds.
Click the Enter Code on the newly created element.
Paste the HTML code of Tagembed in the code field.
In the end, click Apply to save the changes.
4(d). Show Social Media Feed On Shopify Website
Popular as one of the best eCommerce platforms, 'Shopify' helps brands to sell on Facebook, online or in-person.
With over 600,000 merchants on this platform, you can also grow your eCommerce business by customizing this website-building platform.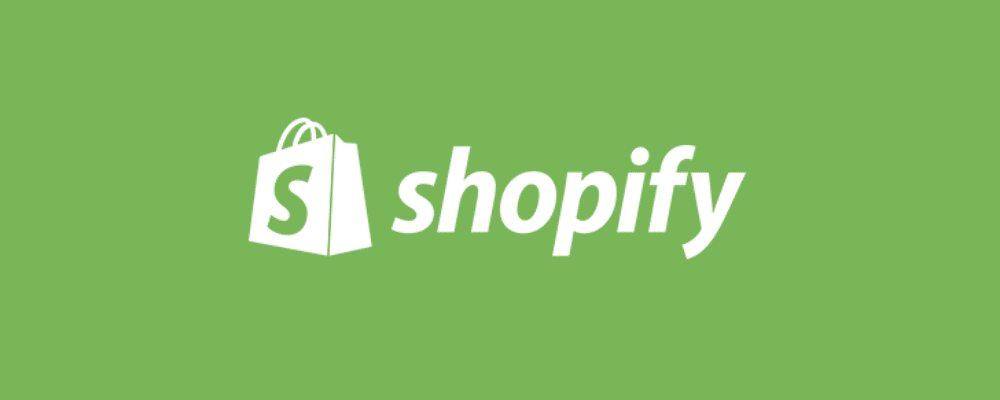 Follow these steps are:
Begin with login into your Shopify account.
Now under the Sales Channels section click on Online Store.
Then in the sidebar, you will find the theme from the drop-down list.
In the current theme, you will find Action Button. Click on it
Choose Edit code from the drop-down list.
Select the web page where you want to display your Social Media Feed.
End the steps by pasting the embed code and save it.
4(e). Embed Social Media Feed On Weebly Website
As a free website builder, "Weebly" has been leveraged by more than 40 million entrepreneurs to grow their eCommerce business.
Also, simple drag and drop elements make it quite easy to use as they let you embed social media feed wherever you want.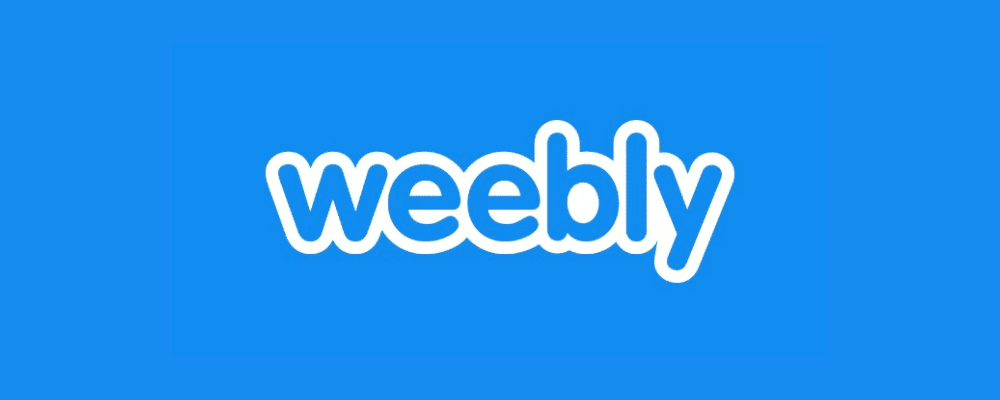 Follow these simple steps are:
In the menu, find the Embed Code element on the left-hand side of your screen.
Now drag and drop it where you want to see the all feeds.
Click on the HTML box and choose Edit Custom HTML.
Then paste the HTML code to embed feeds on Weebly Website.
Click on Save to apply the changes.
4(f). Add Social Media Feed On Squarespace Website
Since its launch, "Squarespace" has created millions of websites to help brands build themselves, share their stories, and communicate with their customers.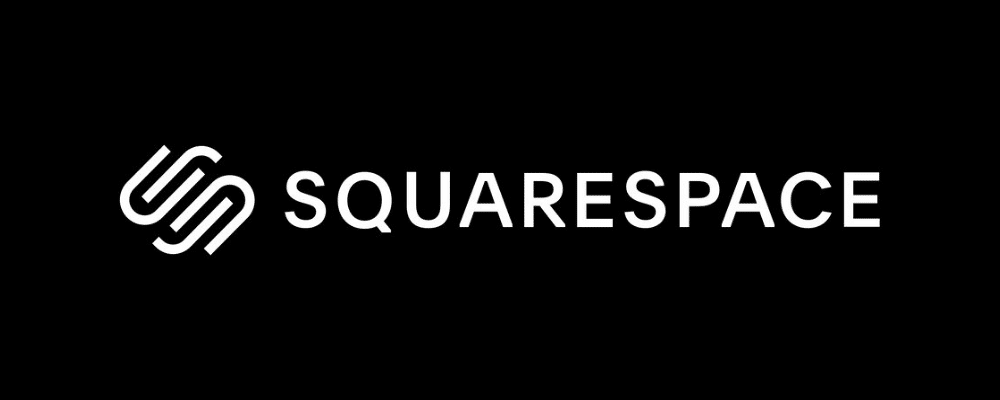 If you want to create an impactful online presence by embedding your social feeds on the Squarespace website, then follow the below-mentioned steps!
Use Embed Blocks to add your embed code on web pages and extra content to your website.
Now open a page or post editor and click "Add Block" to embed social feeds.
Now select Embed from the menu. You can then click the </> icon in the URL field.
Now paste your embed code on that box.
End the process by clicking on 'Set' to save changes.
4(g). Insert Social Media Feed On Jimdo Website
Not so popular AI-powered website-builder- "Jimdo" still has created over 20 million websites in the past 10 years.
Follow these easy steps are:
Select the webpage where you want to display your social media feed.
Now click on the Add Element button.
Now click on More elements.
Choose Widget/HTML.
Paste your social feed code into the code field.
End up by clicking on Save Button.
Embed Social Media Feeds on the Website
Collect, moderate, and embed social media feed on website
This is not the end, below we have mentioned 5 proven benefits of embedding social feeds on websites that have been experienced by several brands or business website owners.

Let's start exploring!
Top 5 Amazing Benefits Of Embedding Social Media Feeds On Website
1. Brings Your Various Social Media Under One Roof
This is one of the greatest features of embedding social media feeds on your websites i.e. it lets you showcase various feeds together under one roof.
And this happens with the help of a social media aggregator tool like 'Tagembed', which allows you to monitor & manage all your social media platforms at the same time.
2. Let You Build Social Trust & Loyalty
Social feeds are simply user-generated content that is said to be the most trustworthy form of content. And when it is embedded on your website, you showcase social proof for your brand.
This way you can generate trust amongst your potential customers and therefore make them more loyal toward your brand.
3. Reduces Site's Bounce Rate
The duration of the visitors staying on your website makes a lot of difference on your website.
Once you embed fresh, dynamic & vibrant content on your website in the form of a social media feed, you automatically reduce the bounce rate effectively.
If simply put, the longer visitors will stay on your site, the better results it will show. So, don't let the audience go off-page as it will harm your site performance significantly.
4. Encourage Audience
People are going gaga over social media, that's why embedding social feeds on your website will inspire your audience to engage more with your site.
5. Boosts Conversion Rates
Incorporating social media content brings the point of inspiration and point of sales under one roof. You can choose a beautifully designed website popup template and display the social media feeds there.
Please update it and share the updated link soon
Therefore, user-generated content encourages your site visitors to convert into your customers by letting them make a quick purchase decision.
Conclusion
Social media marketing is the major aspect of promoting your business and selling your services online.
But as customer trust is the hinge for online marketing, it is taking away many paying customers from businesses.
Hence social feeds are opening doors for businesses, as it is user-generated content and voluntarily shared by them on social media channels featuring your brand or business.
Thus, you can enhance your marketing strategies by integrating social media posts on your website and drive your potential customer's trust with your beautifully ornate website.
FAQ
Free Social Media Aggregator
Embed social feed from Facebook, YouTube, Instagram, Twitter on your website, like a PRO
No Credit Card Required