How To Embed YouTube Video In Shopify Store
Of all the mediums, videos have emerged victorious to successfully convince people about the content that needs to be delivered. To make the most of this, budding brands and marketers began to use moving content to reach a wider audience, boost engagement and get more brand awareness.
In this blog, you'll learn about the most efficient ways in which you can easily embed YouTube video in Shopify website using Tagembed. Additionally, we will be shedding light on how this strategy can benefit your brand tremendously.
Without any further ado, let's get started!
Embed YouTube Video on Shopify
Collect, Moderate, Customize and Add Youtube Video to Shopify Product Page
Install app
3 Methods To Seamlessly Embed YouTube Video in Shopify Store
The users can effortlessly adopt this strategy using Tagembed – a social media aggregator tool with a set of promising features that allow users to collect, curate, and embed content from over 15+ social media networks.
In this section, we will be shedding light on the step-by-step guide to add YouTube videos in shopify using the two easiest methods.
Method 1 – Embed YouTube Video on Shopify Using Shopify App
Before we dive into the embedding steps, here's a little insight into the Tagembed Shopify app.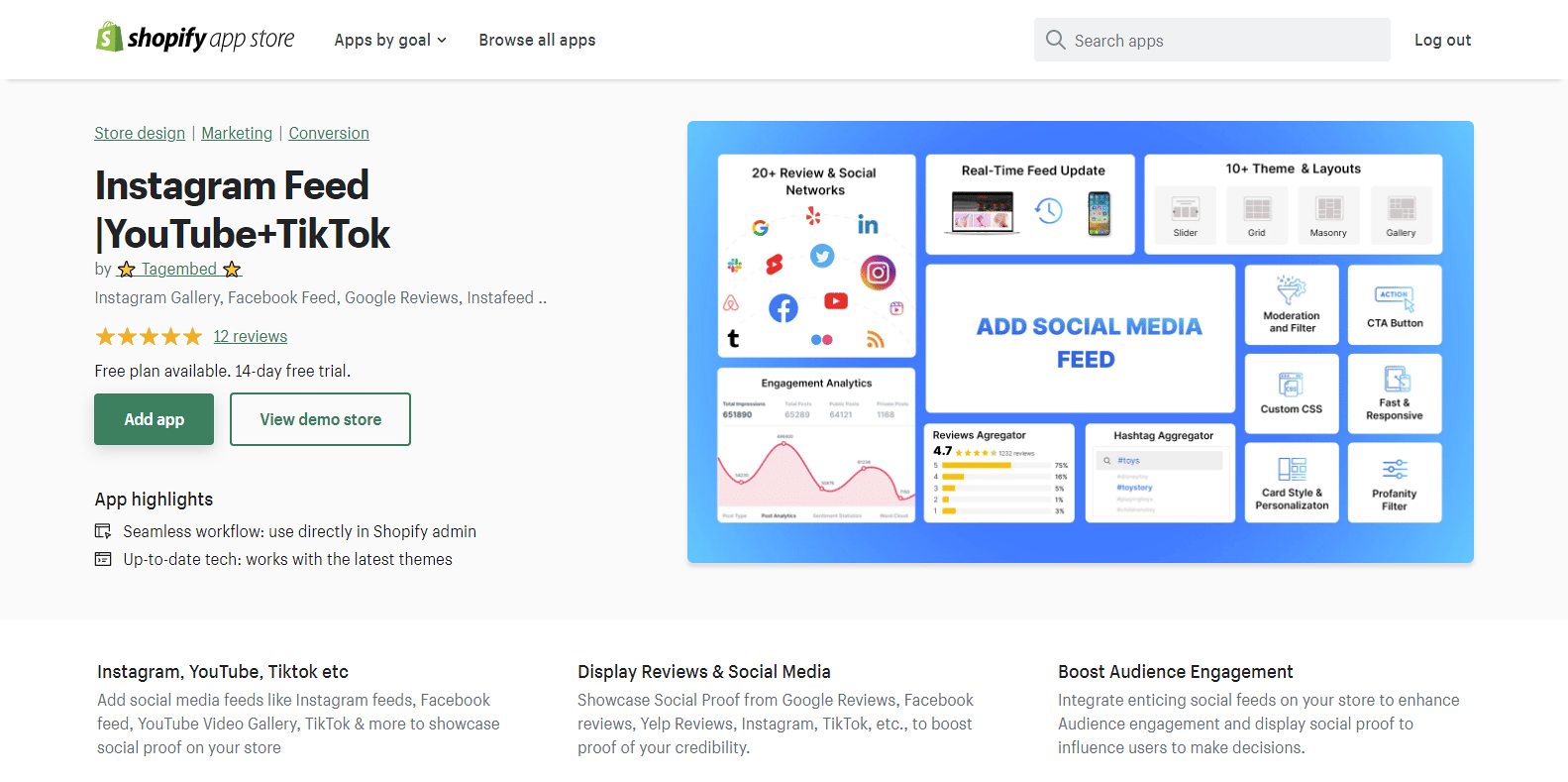 This app is designed exclusively for embedding social media content on Shopify. It can be easily downloaded from the Shopify app store and does not require any technical knowledge or coding skills to embed on website. Overall, it is great for all brands who own a Shopify store and wish to increase their impact.
Have a look at the steps below.
Step 1 – Install & Activate The Tagembed Shopify Plugin
1. Redirect to the Shopify app store and type in term "Tagembed" in the search bar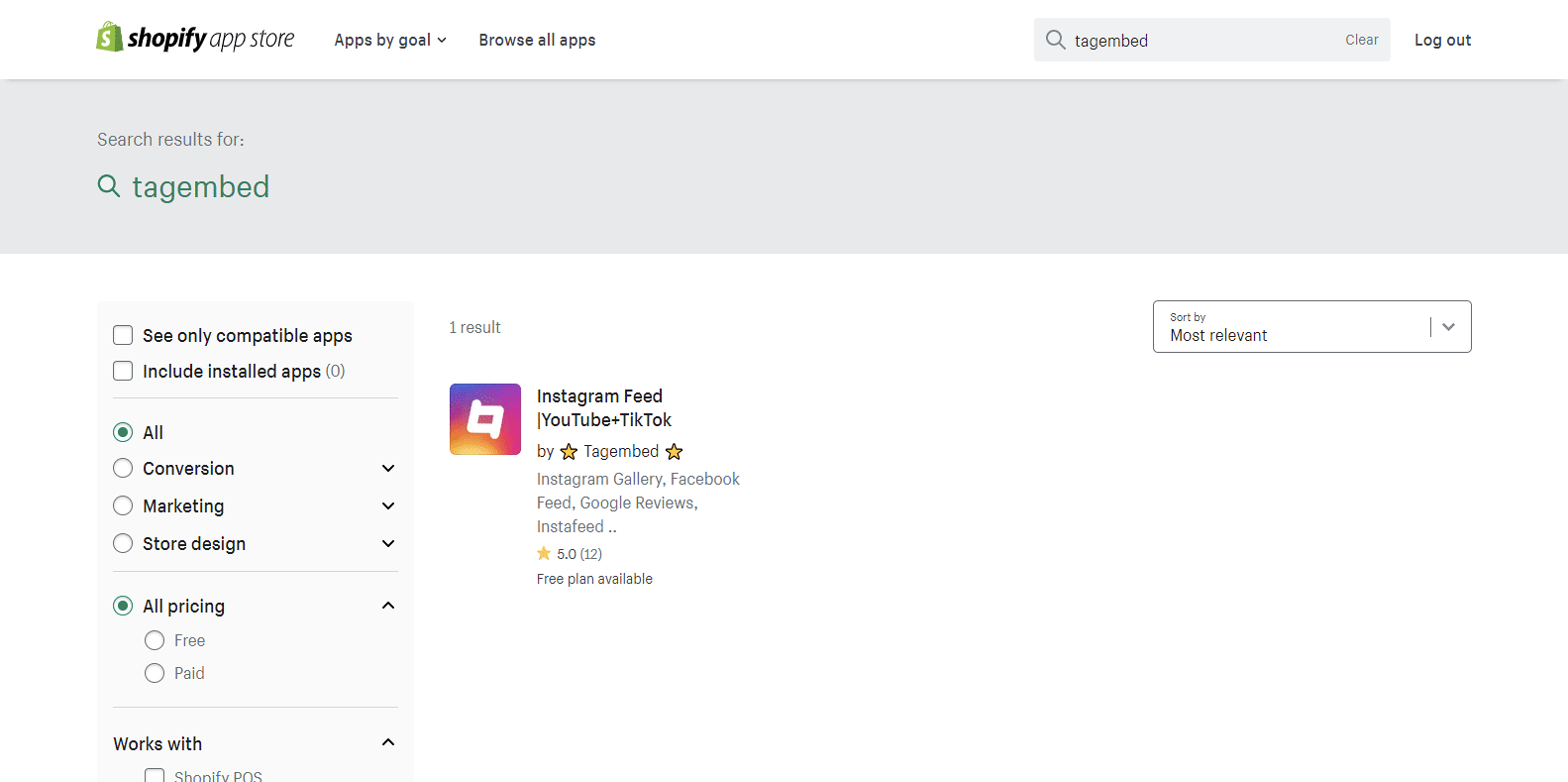 2. Click on the option to open the app & click on Add App to download the app for Free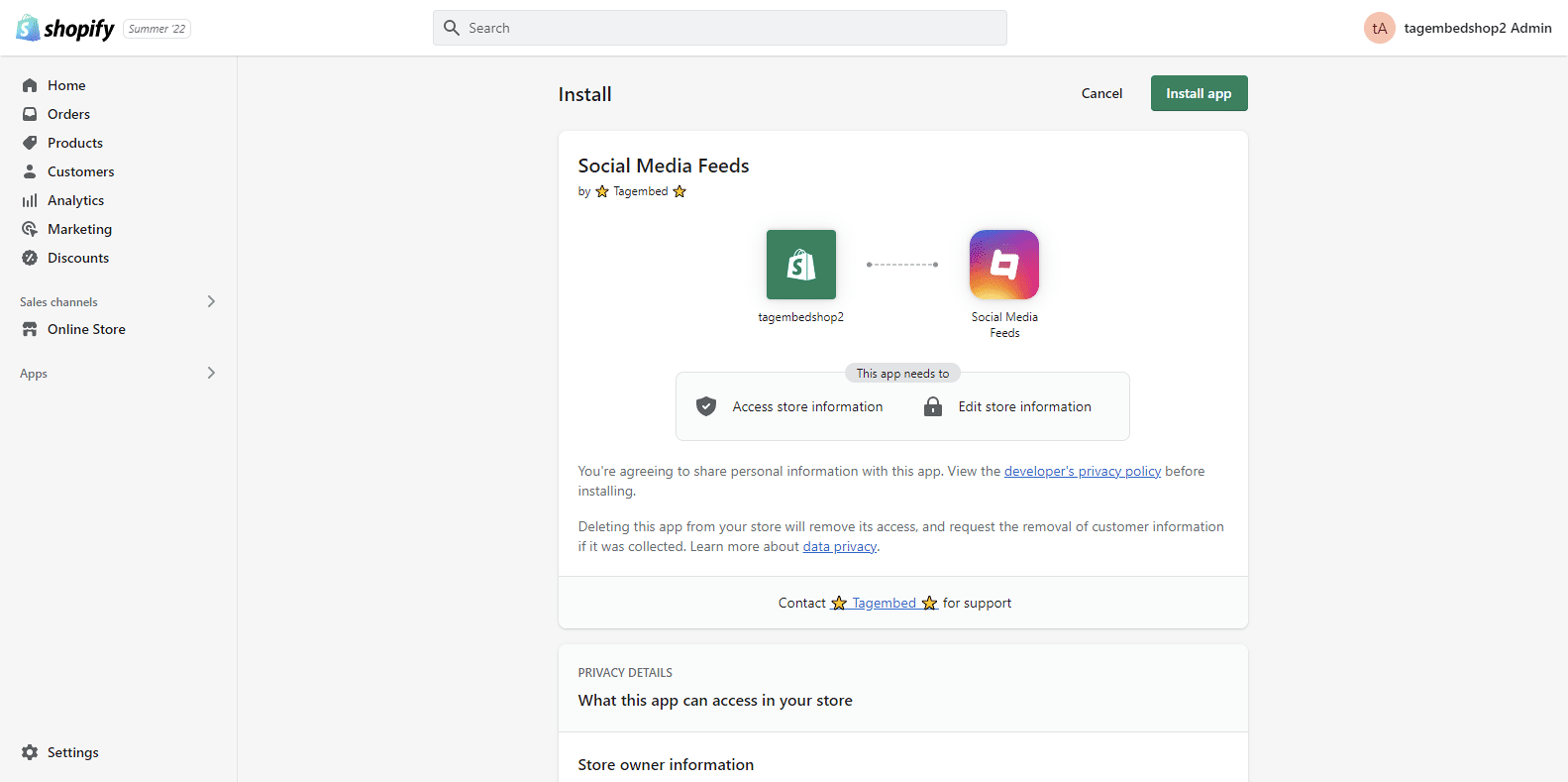 Once the app is installed and ready to function, follow the below steps.
Step 2 – Aggregate & Embed YouTube Videos on Shopify
1. After opening the app, you will be redirected to the dashboard of Tagembed Shopify app. Name your widget and click on the Create widget.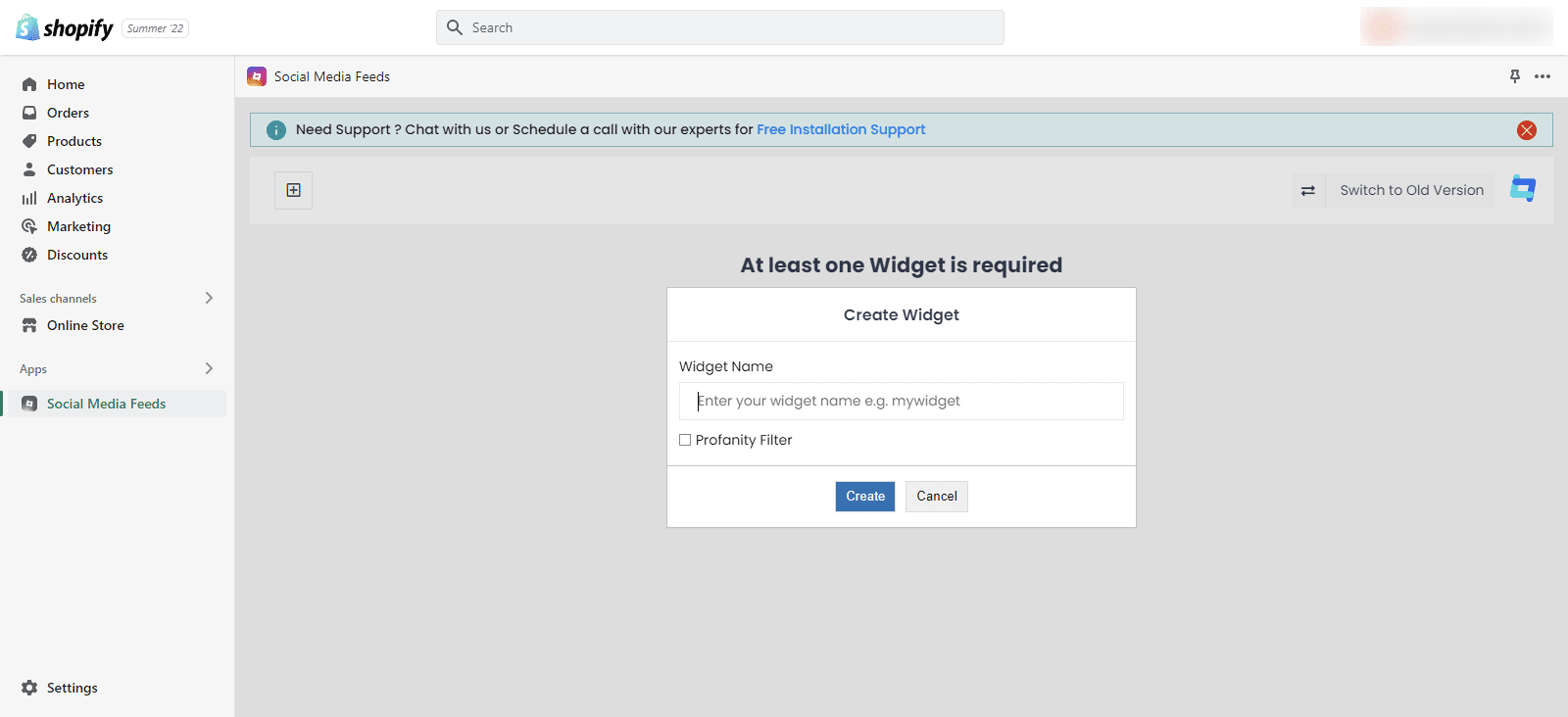 2. A pop-up will appear "Pick a source", select YouTube as your content aggregation source.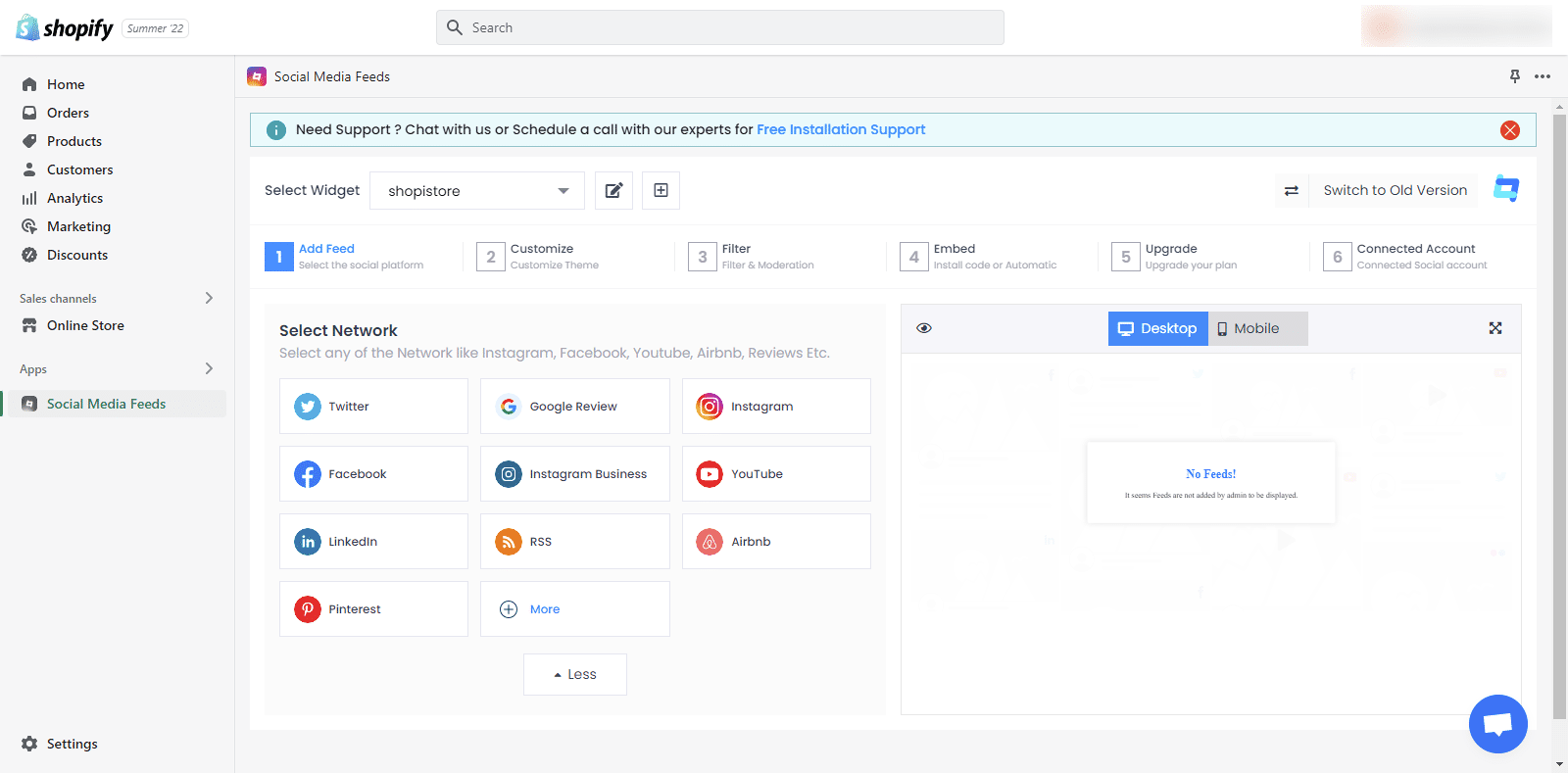 3. Next, you will be given the option to aggregate the feeds by choosing your connection type (Channel, Playlist, Keyword, Shorts etc.)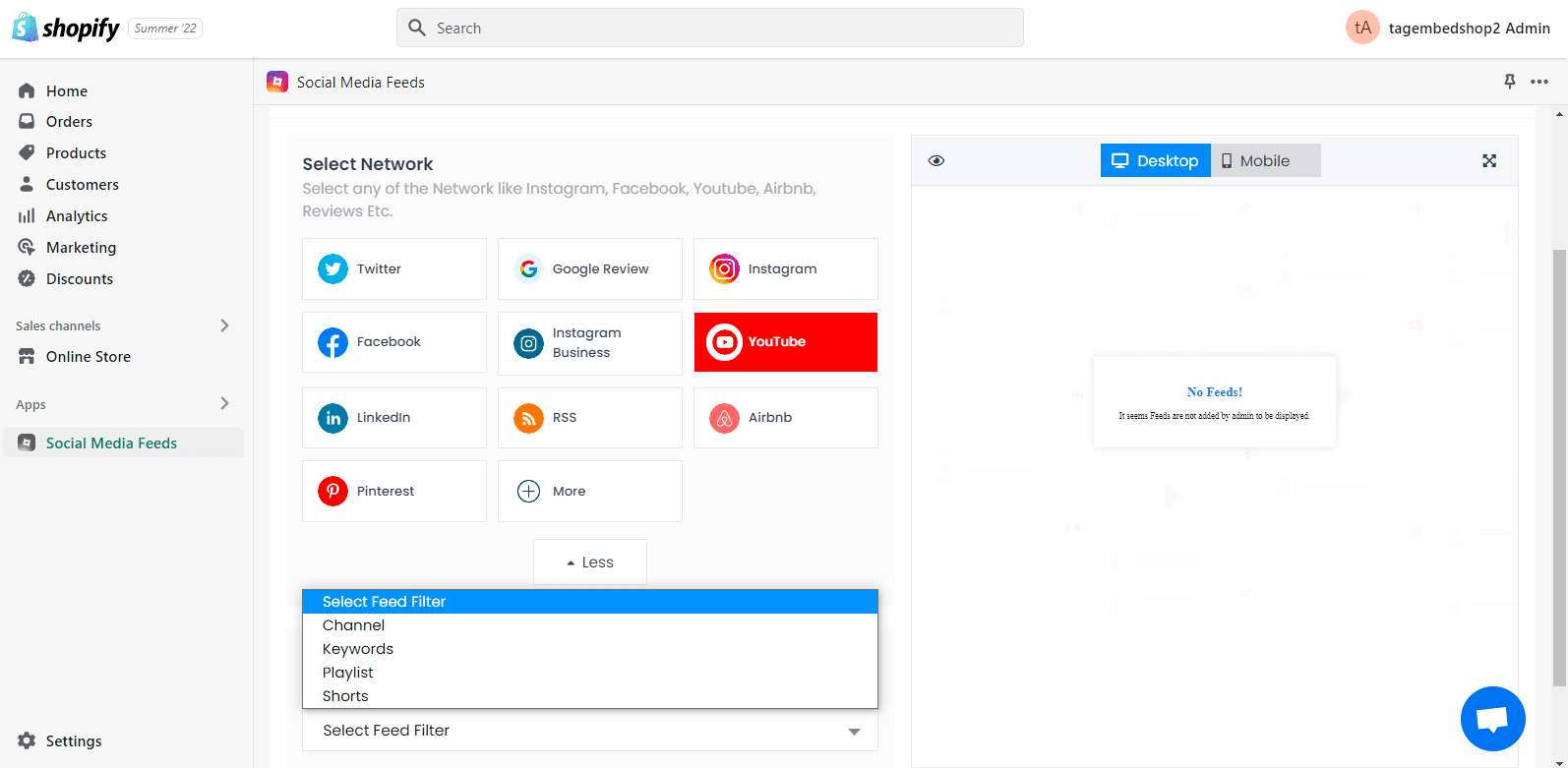 You will be able to see the aggregated feeds in the widget editor in a couple of seconds.
4. To increase the appeal and effectiveness of the YouTube widget, the users can leverage features such as customization/styling options, content moderation panel, insightful analytics, and a back support team for assistance.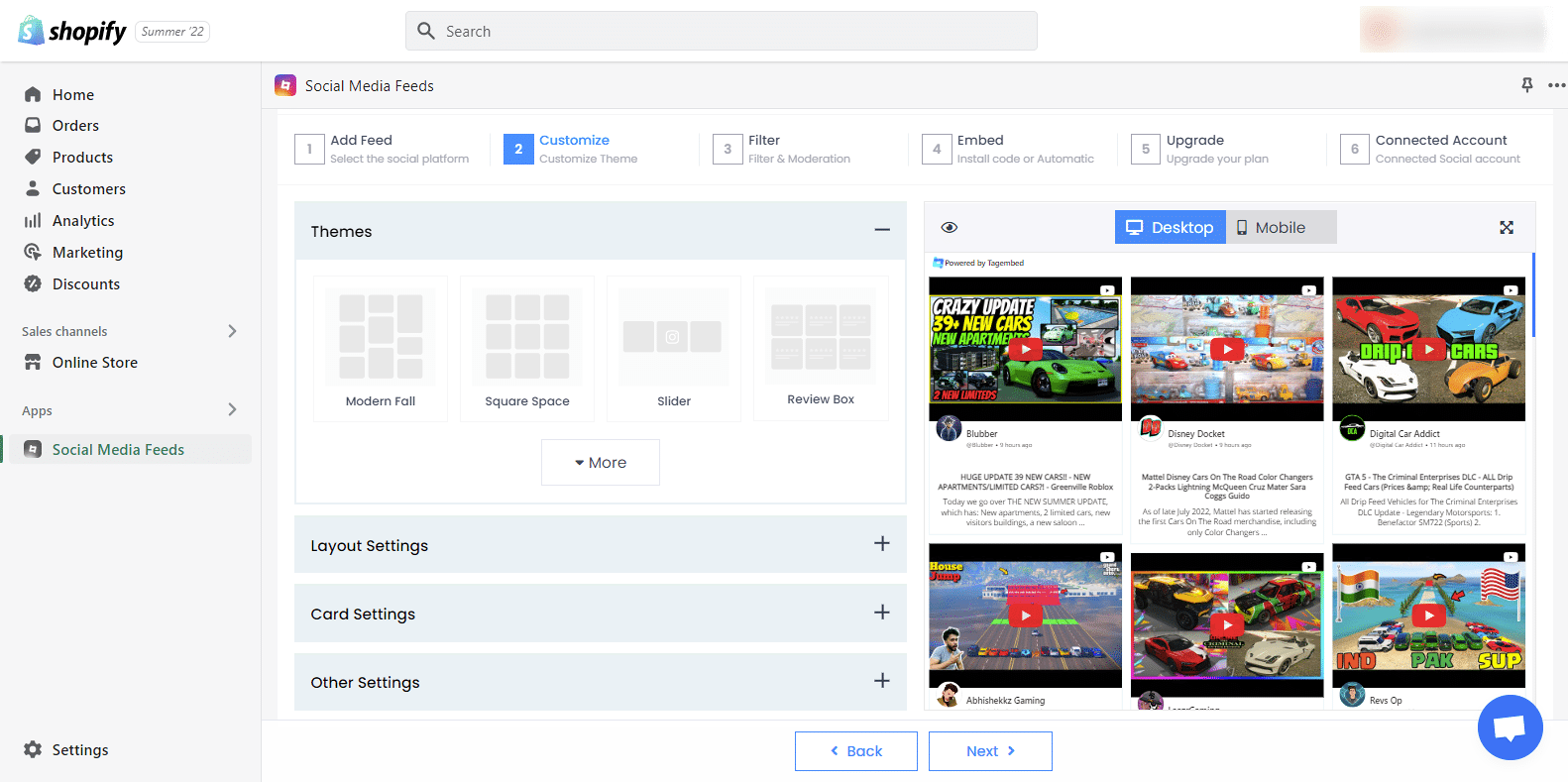 5. If you think some feeds are not cool to display then you can use the Filter feature by Tagembed to customize widget content Manually or Automatically.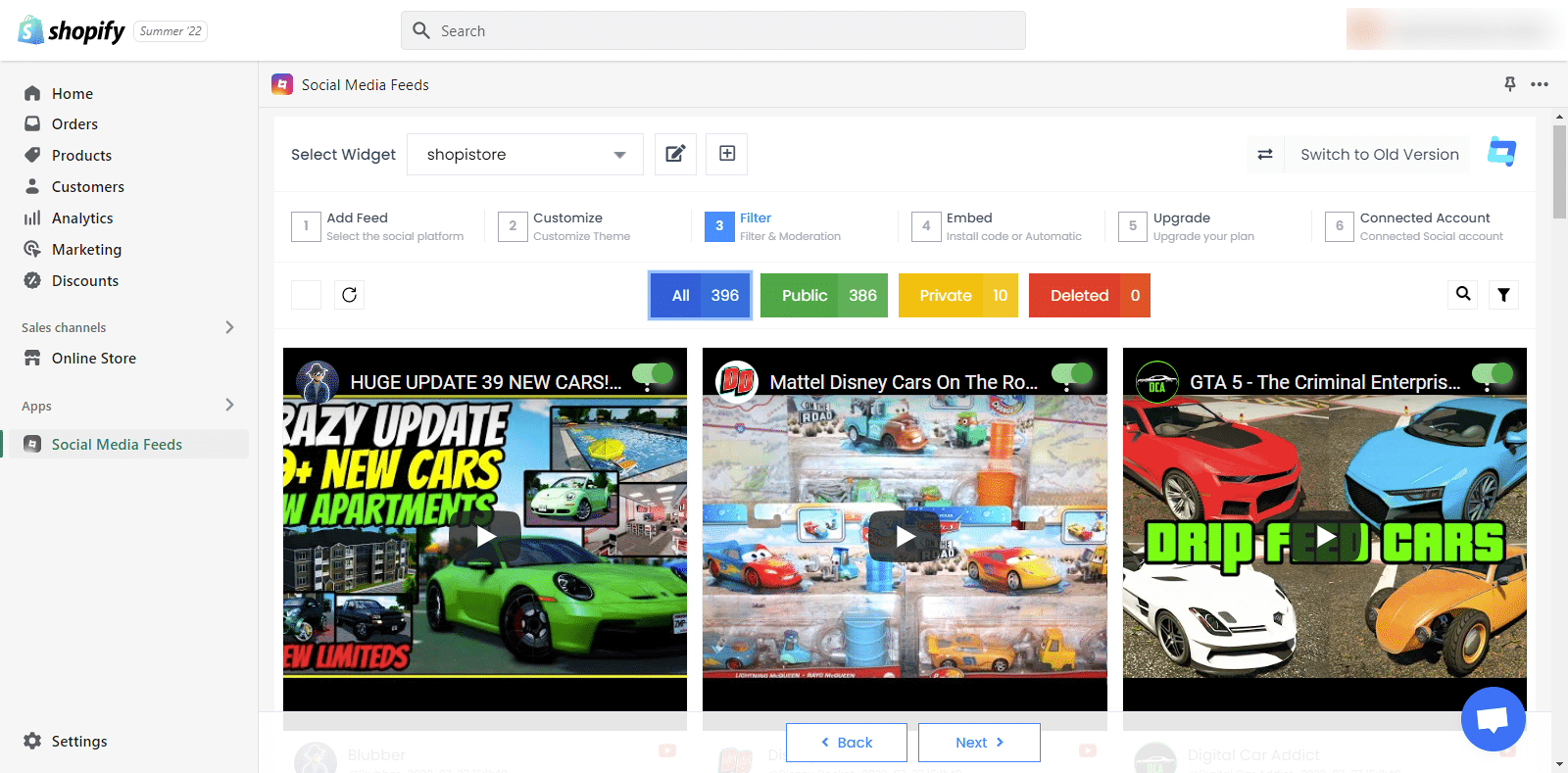 Note: You can now also embed YouTube Shorts in the Shopify store using Tagembed Shopify App
Best YouTube Video Shopify App
Add App
6. Now choose the Embed option from the below three and select the page like product page, home page, store page, blog page, etc. where you want to add Instagram reels to Shopify and the widget's location.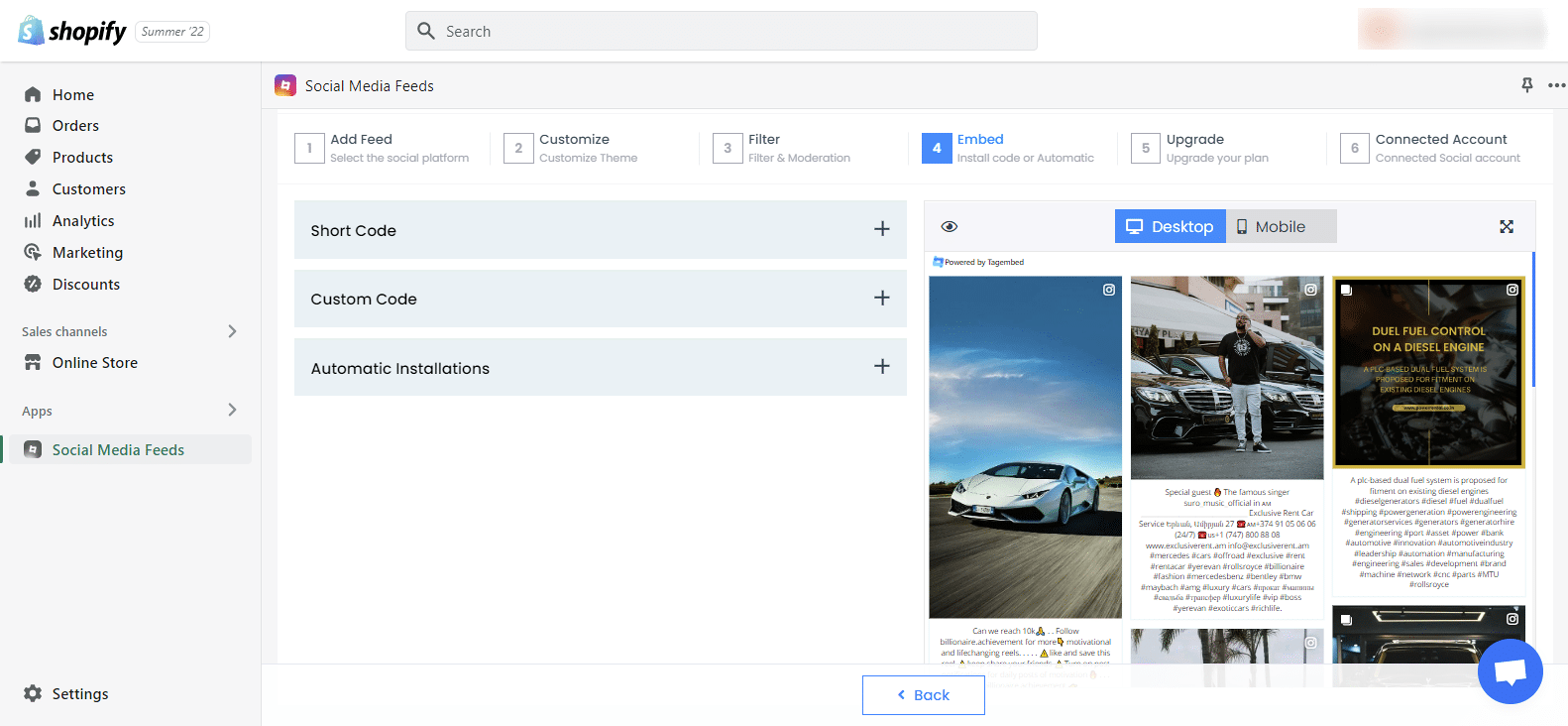 7. Paste the selected code to the required place.
Kudos! You will successfully embed YouTube video on Shopify store homepage using the above steps!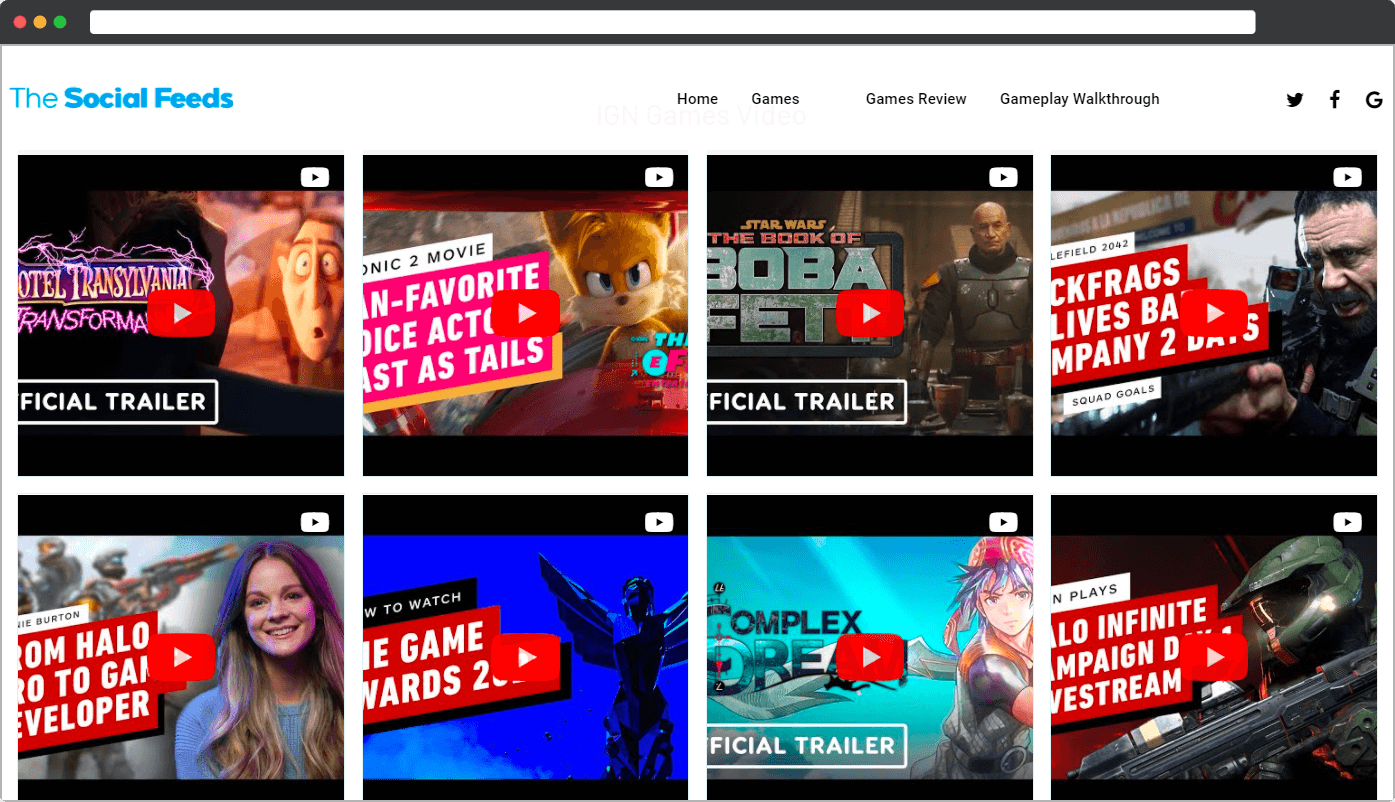 Method 2 – Embed YouTube Video On Shopify Using Tagembed Widget
If you do not wish to download or use the plugin or app to embed the YouTube widget on your website, then the other alternative is to use the Tagembed tool for the process.
Follow the steps below to easily embed YouTube channel in Shopify store.
Step 1 – Aggregate YouTube videos on YouTube Widget
Start by logging into your Tagembed account. If you are new, you can create a Free Tagembed account for the process.
Here, you will get two options. If you are an existing user, you would be required to click on the Create New, give an interesting name to the widget and click on Create Widget to start the aggregation process.
If you are a new user, you will simply need to click on the Open option, and you will be set to aggregate the YouTube widget.
Click on YouTube as your content aggregation source from the pop-up menu.
Next, you will get an option to choose your connection type- channel, playlist, keyword, etc.
Click on the Create feed option, and you will see the aggregated feeds in the widget editor.
Step 2 – Generate The Embed Code
After you are done personalizing and customizing the YouTube widget as per your likes and preferences, click on the Embed Widget option in the bottom left corner of the editor.
A pop-up will appear from where you will be required to choose your website building platform. Select Shopify from the CMS options
Click on the Copy code button to generate the embed code and Copy it on the clipboard.
Step 3 – Embed YouTube Widget On Shopify
Log into your Shopify admin account, and under the sales section, click on the Online store option.
Select Themes from the drop-down menu and click on the Customize option
On the left menu panel, select Custom content.
Select Custom HTML and paste the embed code in the given section.
Save the changes to complete the process, and you will have successfully embedded the YouTube widget on your Shopify website.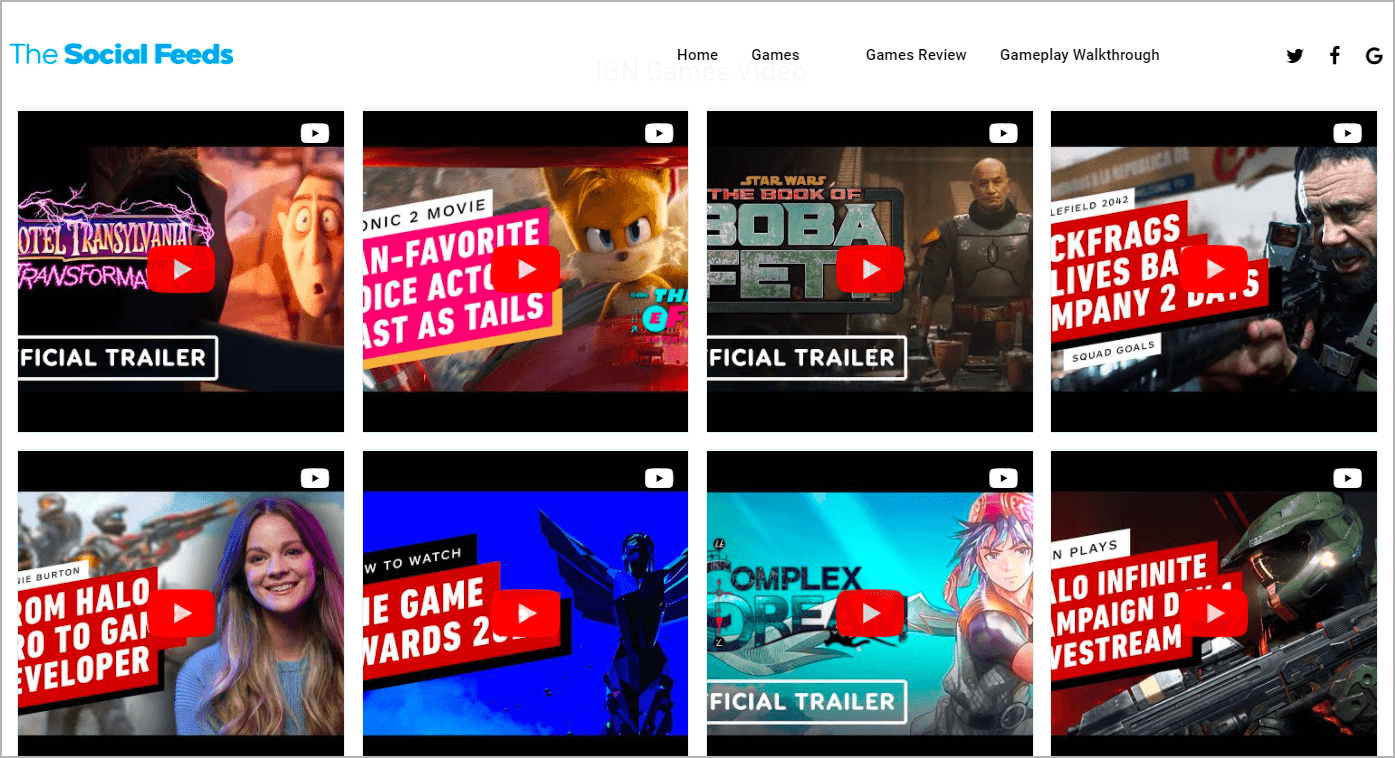 Method 3 – Embed YouTube Video on Shopify Manually
Visit YouTube & open the respective video you'd like to embed on Shopify
Now click on the share button and select embed from the list of option.
A new screen will appear with the embed code, click on copy button.
Now paste the embed code on the backend of your Shopify Store and save the change made.
Hence, your YouTube videos are embedded on your Shopify store. Eventually, if you have lots of videos to embed then it will cost you a huge time to keep repeating the step again and again.
Add YouTube Video on Shopify
Collect, Moderate, Customize and Embed Youtube Video on Shopify blog
Install app
Why Embed YouTube Video On Shopify Website?
Here are no. of reasons to embed YouTube video on Shopify website. we list out some important from them.
1. Videos = More Engagement
As mentioned at the beginning of this post, YouTube has exploded in popularity since moving content is much more engaging than its text counterparts. Here is a fun fact: Visuals are 10 times more effective and engaging than texts.
Being the first point of interaction, websites need to comprise content that is engaging and holds the ability to keep the visitors hooked for a longer time. Hence, if you embed YouTube channel in Shopify Store then it may help you attain that.
2. Bring Vibrancy To Your Website
Apart from being engaging, YouTube videos have a stunning, appealing presence. When you fetch the appealing YouTube videos and embed them on your website, you add more liveliness to your website.
Moreover, the design of your website needs to be on point to make the visitors interested in your brand. Even though the content plays a major role in keeping your website on point, a boring and dull-looking website can be quite off-putting for the users. Try YouTube Shorts Widget to embed YouTube Shorts on your website to engage wide number of users with small & to the point videos.
3. Showcase User-Generated Content
User-Generated Content is a great source to convince your potential customers to convert into satisfied customer. It is obvious for customers to feel overwhelmed with the choices. And this is why every brand should try its best to influence the users. Hence, at such situation User-Generated Content can definitely influence potential customer to make the decision.
Not only that, showcasing user-generated content on website will let you generate more user-generated content and engage visitors to explore your services more.
4. Reduce The Bounce Rate Of Your Website
A high bounce rate reflects that your website lacks an interesting element that needs to be worked on. When you embed YouTube video in Shopify it holds tremendous potential to keep your visitors on the website for a long period that would lead to an increase in their dwell time.
A high dwell time of the visitors would reduce the dwell time of your website.
Final Thoughts
It is obvious for customers to feel overwhelmed with the choices. And this is why every brand should try its best to influence the users.
YouTube is the entertainment house for 2 billion people out there. And as a result, people are choosing to pick what YouTube has to say. So who says this entertainment and engagement should be confined to the platform itself? We have unveiled all the brilliant ways you can bring the magic to your Shopify store.
So what is stopping you now?
Go ahead and embed YouTube videos on the Shopify store and see the power of YouTube!
Free Social Media Aggregator
Embed social feed from Facebook, YouTube, Instagram, Twitter on your website, like a PRO
No Credit Card Required
Free Social Media Aggregator
Embed social feed from Facebook, YouTube, Instagram, Twitter on your website, like a PRO
No Credit Card Required