Introducing Tagembed Social Media Feed WordPress Plugin
Do you run a WordPress website and want to improve its performance? If yes, then you must surely understand the importance of a plugin as it can do wonders to your site just by making small to massive changes.
After monitoring the marketing world and the increase in demand for WordPress plugins, 'Tagembed' has acknowledged this which is why we have recently launched a social media feed plugin for WordPress users.
To make things clear for you, we have curated this blog explaining more about the Tagembed WordPress widget plugin.
Tagembed Social Media Feed WordPress Plugin – Brief Introduction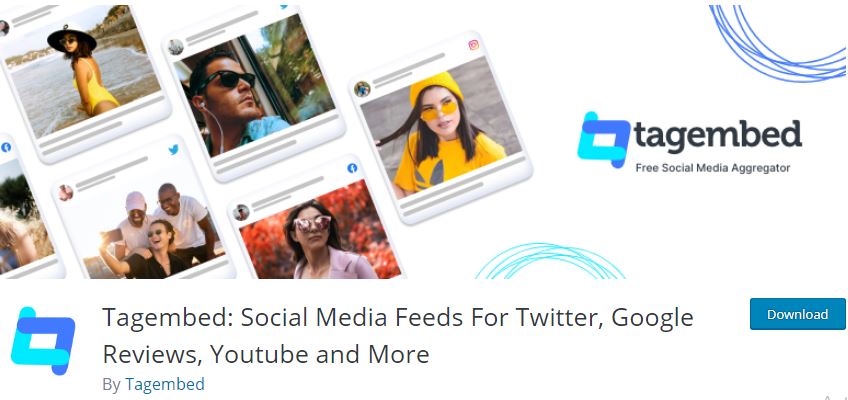 Keeping in mind the scalable & useful functionalities of a social media feeds WordPress plugin, Tagembed has created this plugin to make life simpler for brands & businesses.
Working seamlessly, the Tagembed WordPress social media feeds plugin simply allows users to combine their Tagembed account with their WordPress website. The plugin aims to make the user experience intact by avoiding all kinds of errors that occur while creating social feeds.
Without putting much effort, any WordPress CMS user can integrate social media feeds to WordPress website easily with the help of this WordPress plugin.
On top of this, all the features along with major functionalities are in-built into this plugin, therefore the user doesn't have to separately visit Tagembed to access any of these.
Opportunities With Social Media Feeds WordPress Plugin
Don't think that this recently introduced social media aggregator WordPress plugin might not be as good as compared to other popular plugins.
The social media feeds WordPress plugin of Tagembed aims to help brands & businesses of all sizes to grow positively without any kind of hassle.
Offering content aggregation from over 18+, the Tagembed social media feed plugin allows you to curate social media content (i.e. images, videos, customer reviews, and more) from Facebook, Instagram, Twitter, YouTube, LinkedIn, TikTok, Yammer and more.
You can also curate and embed customer reviews from review platforms like Yelp, Airbnb, Google reviews, Facebook reviews etc. to gain the trust and loyalty of your customers.
Last but not least, you can also collect, curate & embed feeds from platforms like Slack and Yammer to improve the internal communications of your organization. Sounds great, Right!
In short, Tagembed does not restrict content aggregation from a single platform. This is why brands can easily leverage this WordPress plugin for collecting and embedding user-generated content from multiple sources.
Best Social Media Feeds
WordPress Plugin
Download
Speaking of the Features of the Social Media Feed WordPress Plugin:
Advanced moderation & filtering to eliminate all the irrelevant as well as unwanted content from your feeds.
Classy customization of your feeds with different themes, colors, designs, fonts, styles, banners, backgrounds, and more.
Automatic real-time content updates from any of your selected social media platforms such as Instagram, YouTube, Twitter, etc.
Add custom posts, announcements, highlights, etc to your feeds.
Seamless integration along with fast and responsive plugin design
User-generated content rights for your brand to protect yourself from the legal hassle.
Active customer support for technical expertise.
Free Download – How to Choose the best Social Media Feeds Plugin to increase sales for your WordPress Website
Click Here
Two Methods To Use Tagembed Social Media Feed Plugins For WordPress
Method-1
#Step1 – Log in to the admin panel.
#Step2 – Click on the plugin menu, click on "Add new" and search Tagembed Plugin.
#Step3 – Install it and click on "Activate now".
Method-2
Download the Tagembed plugin zip files first.
You can upload these files to your WordPress website in the/wp-includes/plugins directory.
Now upload the same files in the plugin section directly.
To activate the plugin click on the active button.
After adding the plugin, go to the Tagembed plugin.
Lastly, copy the Shortcode & embed it on your webpage where you want to display it.
(Note: You can opt for any of the aforementioned methods as per your business needs as well as comfort.)
How To Get A Shortcode – Brief Steps to Follow
In case you don't have an account then you can start with Registering yourself. And if you already have a Tagembed plugin account, then log in to it.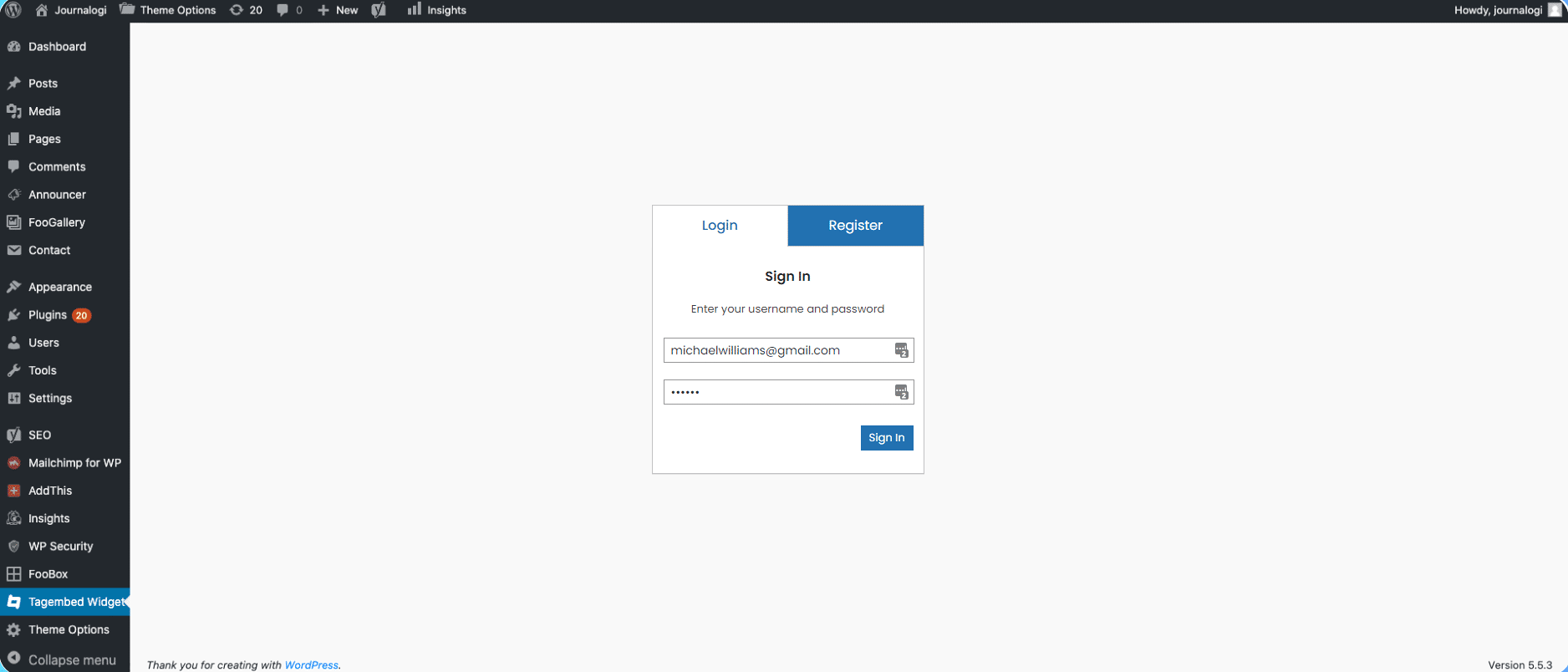 Now, two things are there. Either you will see your existing feeds, or click on the "+Add Feed" button to start with creating your feeds.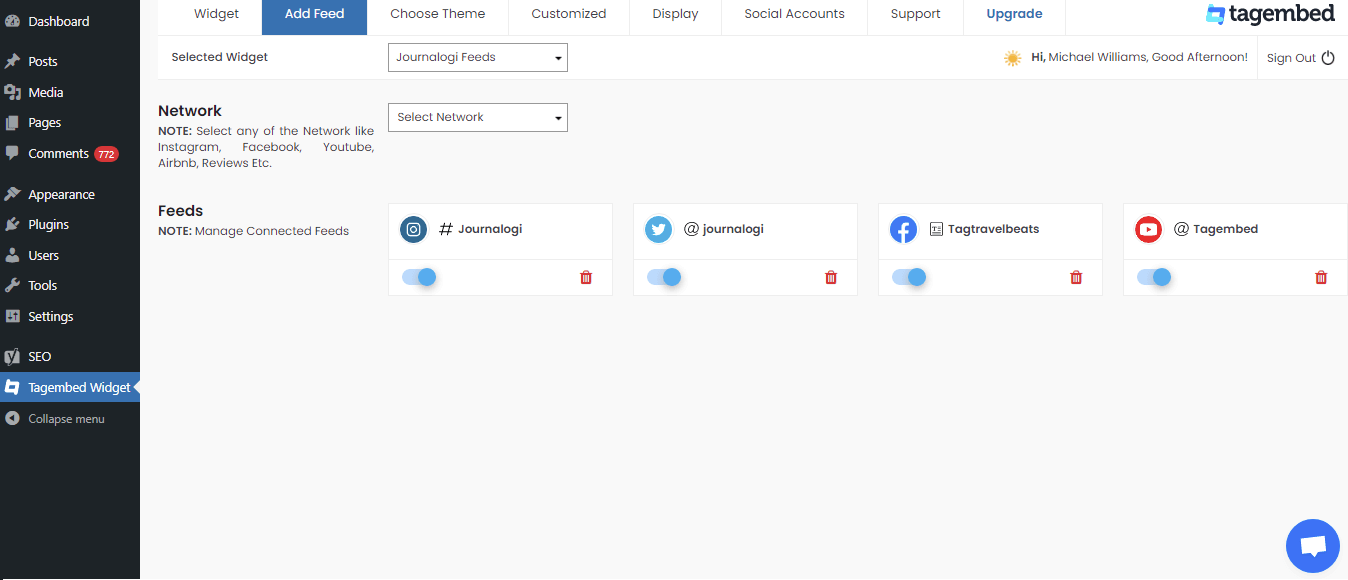 In this step, you have to click on the "Copy Code" button under Display Section for any of your selected Widget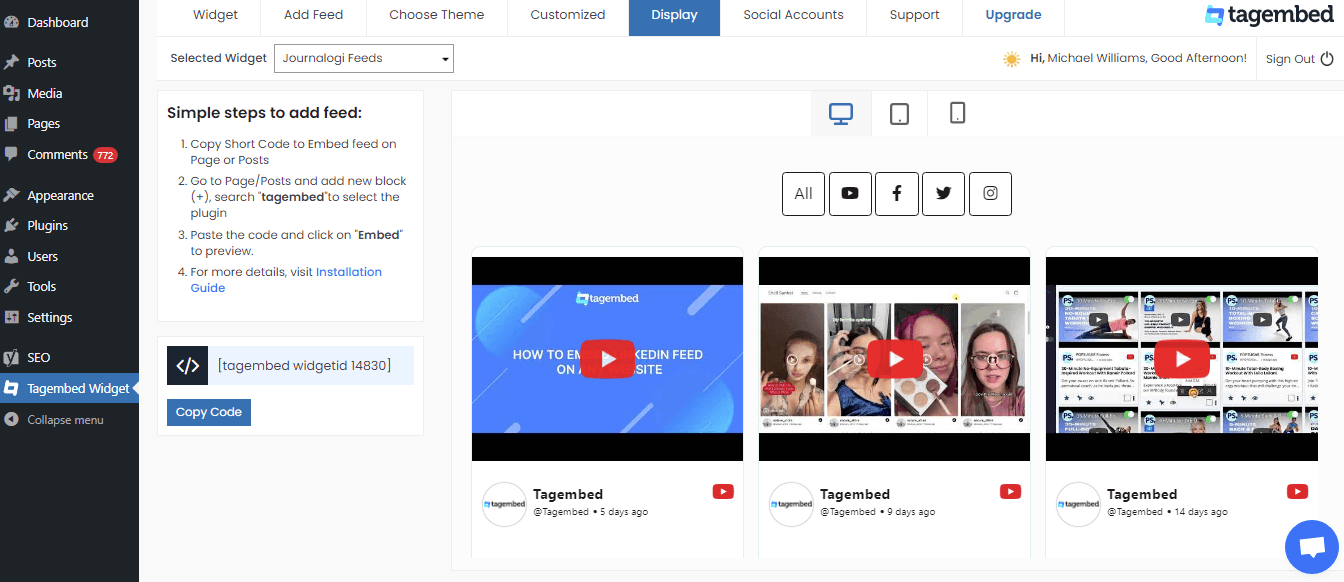 End up the process by embedding the code where you want to see your feeds.

Kudos! You have successfully generated the code and therefore can enjoy the benefits of embedding feeds on your website with this WordPress plugin.
FINAL WORDS
Grab the opportunity to make your website more engaging, exciting & advanced by embedding a diverse range of content from various sources with the help of the WordPress plugin by Tagembed.
Free Social Media Aggregator
Embed social feed from Facebook, YouTube, Instagram, Twitter on your website, like a PRO
No Credit Card Required
Free Social Media Aggregator
Embed social feed from Facebook, YouTube, Instagram, Twitter on your website, like a PRO
No Credit Card Required