Airbnb Reviews Examples – Better Guidance For Business Website
You might have noticed the trend where brands are paying a lot of attention to review platforms such as Airbnb. They even look for Airbnb reviews examples to use strategically. It is not rocket science to understand that reviews how reviews affect the buying decision of any individual. And review platforms are growing exponentially, and consumers have the facility to know the customer's feedback about any particular brand for any specific industry. Airbnb is one such review platform that helps consumers to know about any accommodation facility of any destination.
So, if you own any accommodation facility and are listed in Airbnb customer reviews, this blog is just for you. Here you will learn some of the best 5-star Airbnb reviews examples for your websites that you can use.
In recent times, traveling is soaring to new heights, and people tend to travel to new places, learn about new cultures, explore someone's hidden gems, and meet new people. But while traveling, one of the main concerns is accommodation. Keeping in mind that people might be traveling to a new place, they would be less likely to trust any accommodation they find. Therefore building credibility and trustworthiness has become an essential element for the business.
Businesses can build trust in the market by opting to add Airbnb customer reviews and flaunting the feedback for their previous customers. And with that, they are able to reach their business goals. With businesses having ample ways to embed Airbnb reviews on websites, using the social media aggregator -Tagembed can be marked as the most recommended and beneficial. One of the major reasons, why Tagembed stands as the most preferred method is – because of its various layouts. And here are the best 5-star Airbnb guest reviews examples.
Best Review Platforms For Business
Airbnb Reviews Examples To Make This Strategy More Productive:
Tagembed provides you with ample display options that you can use while embedding Airbnb customer reviews to your website. Here are 5 chosen Airbnb guest reviews examples for your reference; you have even more. You just need to signup for free to Tagembed to explore these display styles and more.
Add Airbnb Reviews Examples on Website
Collect, moderate, and embed Airbnb customer reviews on website
Try For free
#1. Testimonial Slider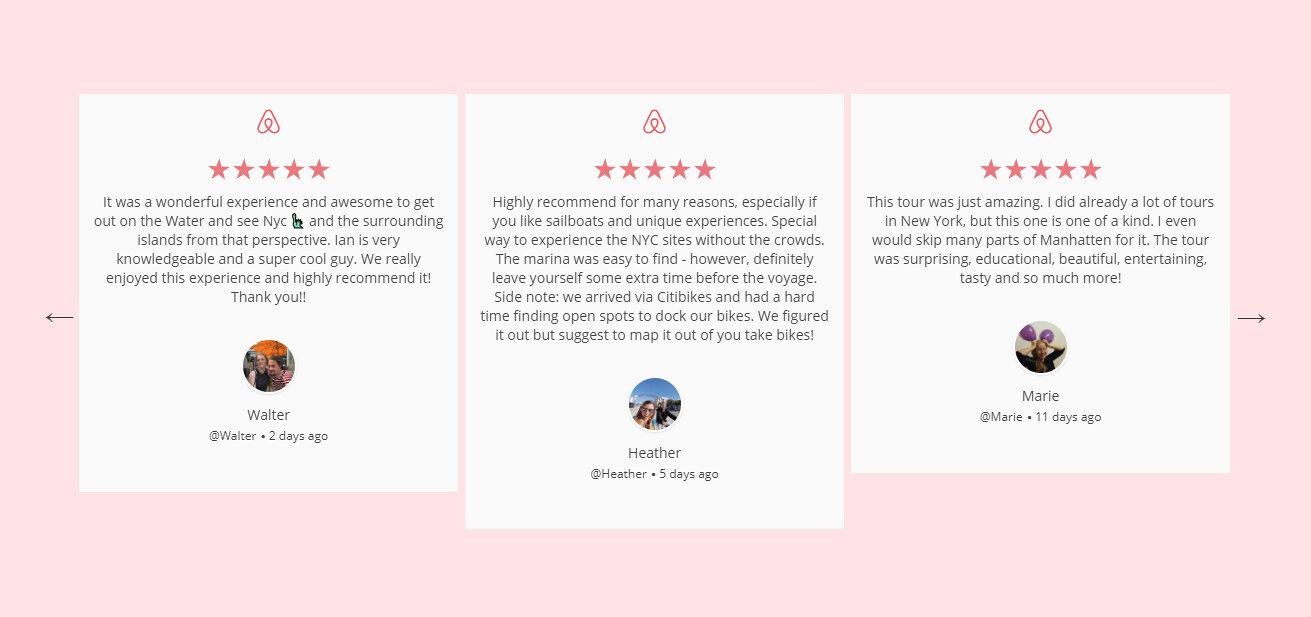 Last but not least is the Testimonial slider. It is one of the eye-pleasing ways to display reviews to your website, and visitors. It helps your visitors read about the reviews posted by others and form their perspectives about the brand.
These are just the tip of the iceberg. You can find various other options as well. Alongside providing these layout options, Tagembed has other features as well, which makes it the best way to add Airbnb customer reviews to the website. And why do we say that? Well, here is a brief about it.
#2. Review Carousel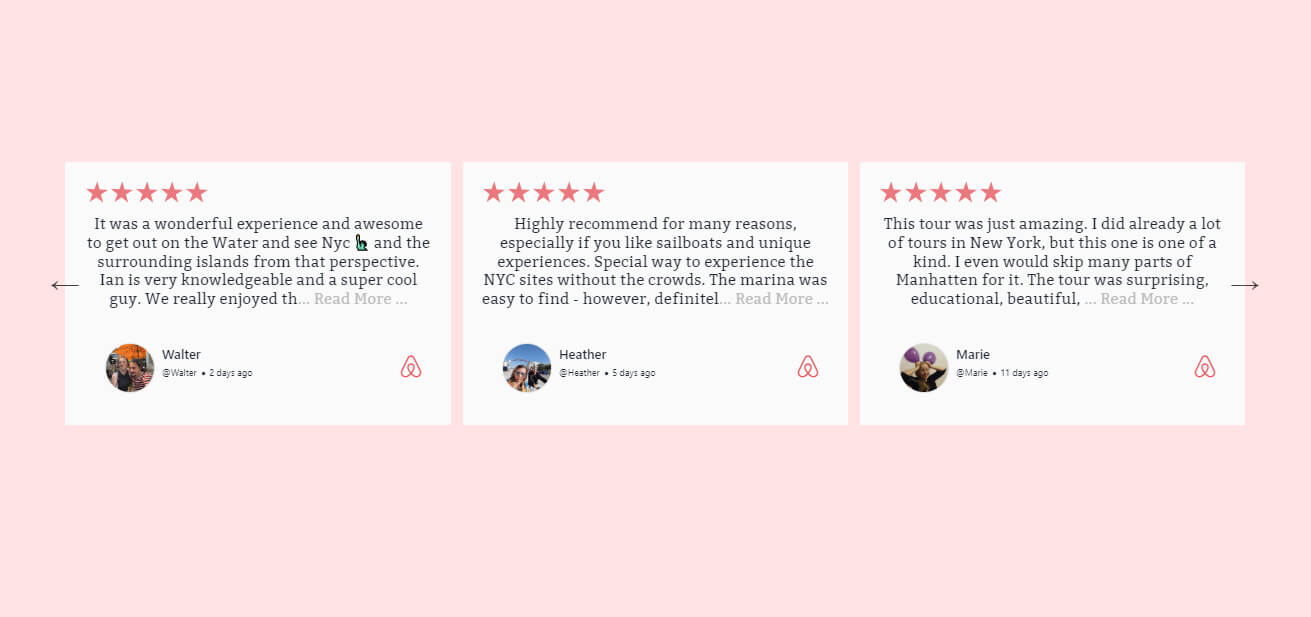 Carousel style display is one of the well-known and preferred display styles. You can mark the measure of the popularity of this display that even social media platforms consider using the same to display their content.
One of the prime reasons why a review carousel is popular is because it allows website visitors to read one review at a time, and they have to swipe if they wish to read more.
#3. Review Box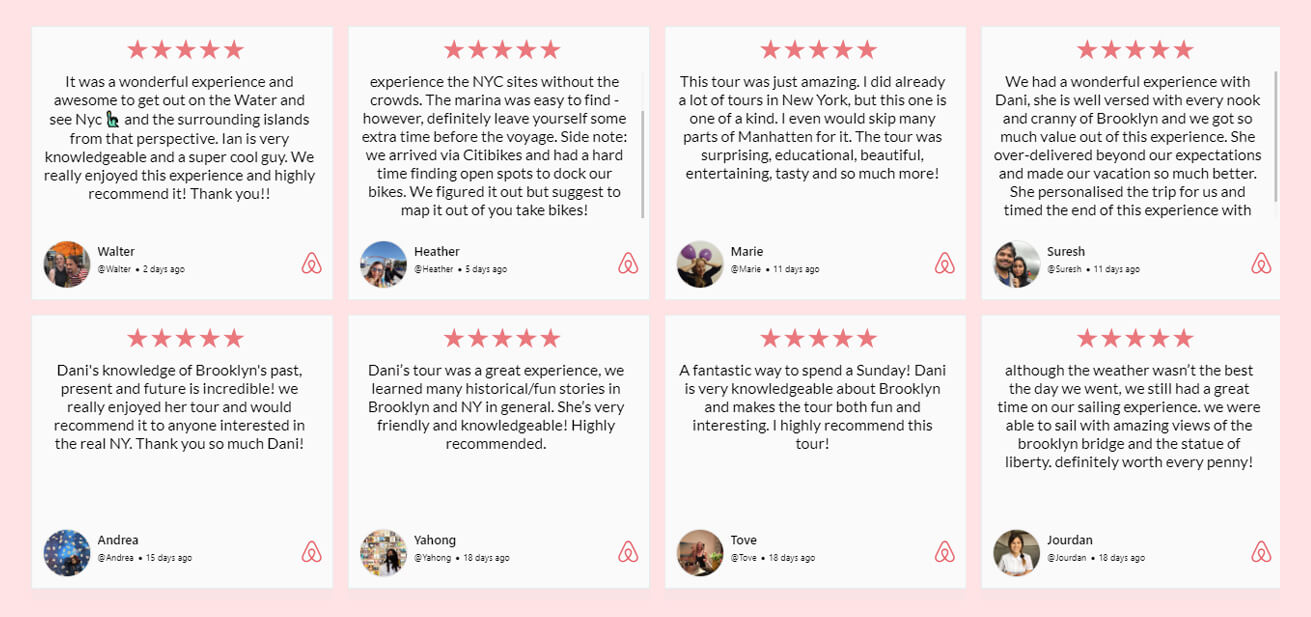 As the name suggests, the review box showcases your reviews in a box. Your viewers can view more than one review at a time, as each review is displayed on different boxes, all in one place.
It is a systematic form of display that provides your website with an organized look. All the reviews are in kind of a tabular format. It helps in making your website more visually appealing.
#4. List View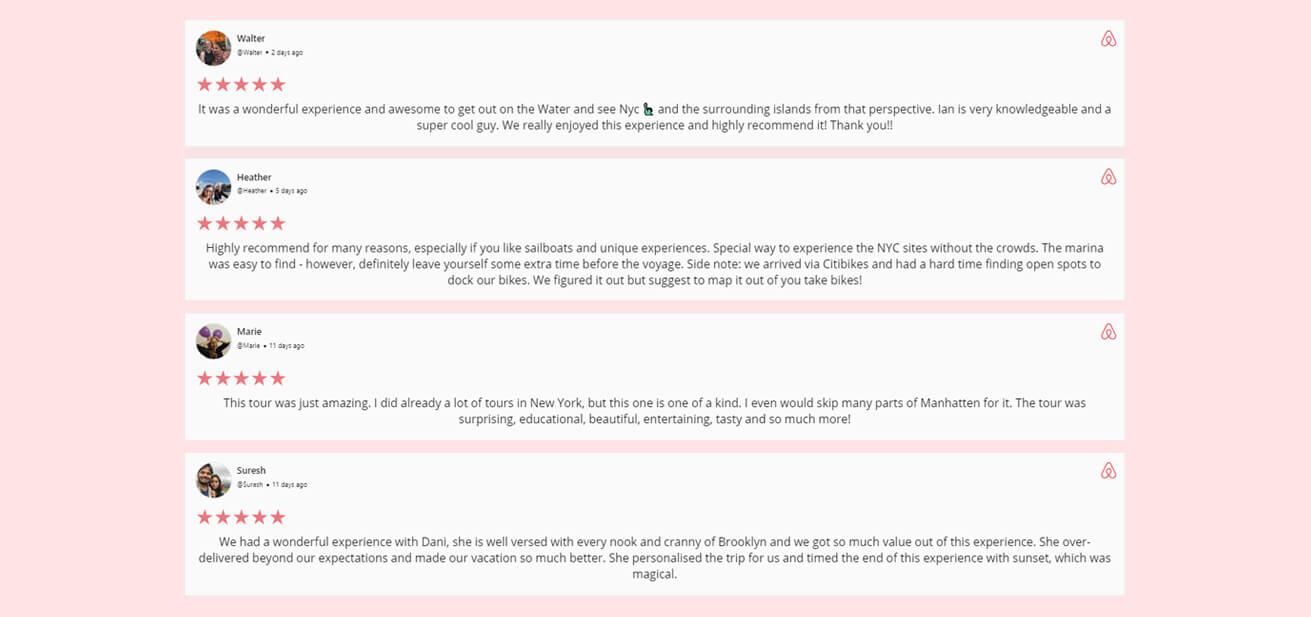 It is pretty similar to the review box. It displays reviews in an organized manner, and your visitors can read more than one review at a time. The only major difference between the list view and box view is that – in the inbox view, content is displayed in a square box and in a tabular form. And here, in the list view, each review is displayed vertical format.
#5. Widget (Sidebar)
Sidebar display is another popular and preferred style of display. The sidebar takes less space and allows businesses to showcase their reviews in style. As it takes less space, your visitors can read Airbnb guest reviews and make reservations at the same time.
Why Using Tagembed is the Best Way to Add Airbnb Customer Reviews?
Tagembed is a phenomenal tool that helps users in collecting social media feeds from their desired social media platforms. Not only that, but the tool also allows users to curate and customize the collected feed and assists in adding them to the website. Long story short, it eases the whole embedding process.
But the benefits of these tools do not only end here. The tool provides you with a dedicated Airbnb review widget that works like a functional block on the website and helps showcase the reviews with ease, and without hampering the site's speed.
Also, the tool allows you to customize your widget as per your need. You can change font size, background color, widget font style, and more. Moreover, you also have the option to moderate the content as per your need. That means you can even hide the reviews from your website, which misleads your consumers or hinder your brand's reputation.
So, saves time, allows you to customize, lets you moderate the content, and more. What else do you need to consider using Tagembed is the best way to add Airbnb customer reviews on the website.
With the tool, you can also showcase these reviews in different styles, helping you make your website more attractive and this strategy, more functional.
Over To You
There you have it; these were the 5-star Airbnb reviews examples that you can consider while choosing to embed Airbnb customer reviews on the website. And as mentioned above, you can explore more theme options of Tagembed, by having your own Tagembed account. You can sign up for free and discover more features of the tool.
Free Social Media Aggregator
Embed social feed from Facebook, YouTube, Instagram, Twitter on your website, like a PRO
No Credit Card Required