Amazing Tools to Embed Instagram Feed On Website
2020-07-31==================================2020-07-31========================July 31, 2020
In this blog, you'll get to know about the 5 best tools to embed Instagram feed on your website. But before we jump directly onto that, let's give you a quick brief about Instagram, and its benefits for businesses. 
Who knows that a platform which was launched as a photo-sharing application will evolve into a platform with massive functionality?
Yes, we are talking about Instagram here!
Instagram and Why To Embed Instagram Feeds on a Website?
Offering multiple features like Instagram stories along with filters, geo-tagging, and the colorful galleries of pictures and more; social networking site "Instagram" is becoming an addiction for users across the globe.
Ever since it has been launched, this amazing platform has been beneficial for business development and global exposure.
Because of the growing number of users on Instagram, brands and marketers are using it to achieve factors like brand awareness, engagement drives conversions, and boosts sales, and more.
But how Instagram is useful for brands?
With more than 1 billion monthly active users, this social media platform has got the attention of brands.
This is why marketers are using the latest Instagram marketing strategy to embed Instagram feed on their websites to gain the trust & loyalty of users, build customer-brand relationships, engage audiences, etc.
And to do so, they can take help from various social media aggregators, widget tools, or plugins.
Add Instagram Feed on Website
Collect, Moderate, Customize and Add Instagram Feed on website
Try For Free
Tools to Embed Instagram Feed on a Website
A list of 5 the best tools to embed Instagram feeds are mentioned below!
#1 Tagembed
One of the best social media aggregators, 'Tagembed,' is the ideal choice for brands in current times.
Why? Because this tool has been built in such a way that it solves all the user-generated social media content aggregation problems of brands and marketers.
Tagembed helps in collecting real-time feeds (via hashtags, tags, mentions, or handles) from various social media networking sites such as Facebook, Instagram, Twitter, etc.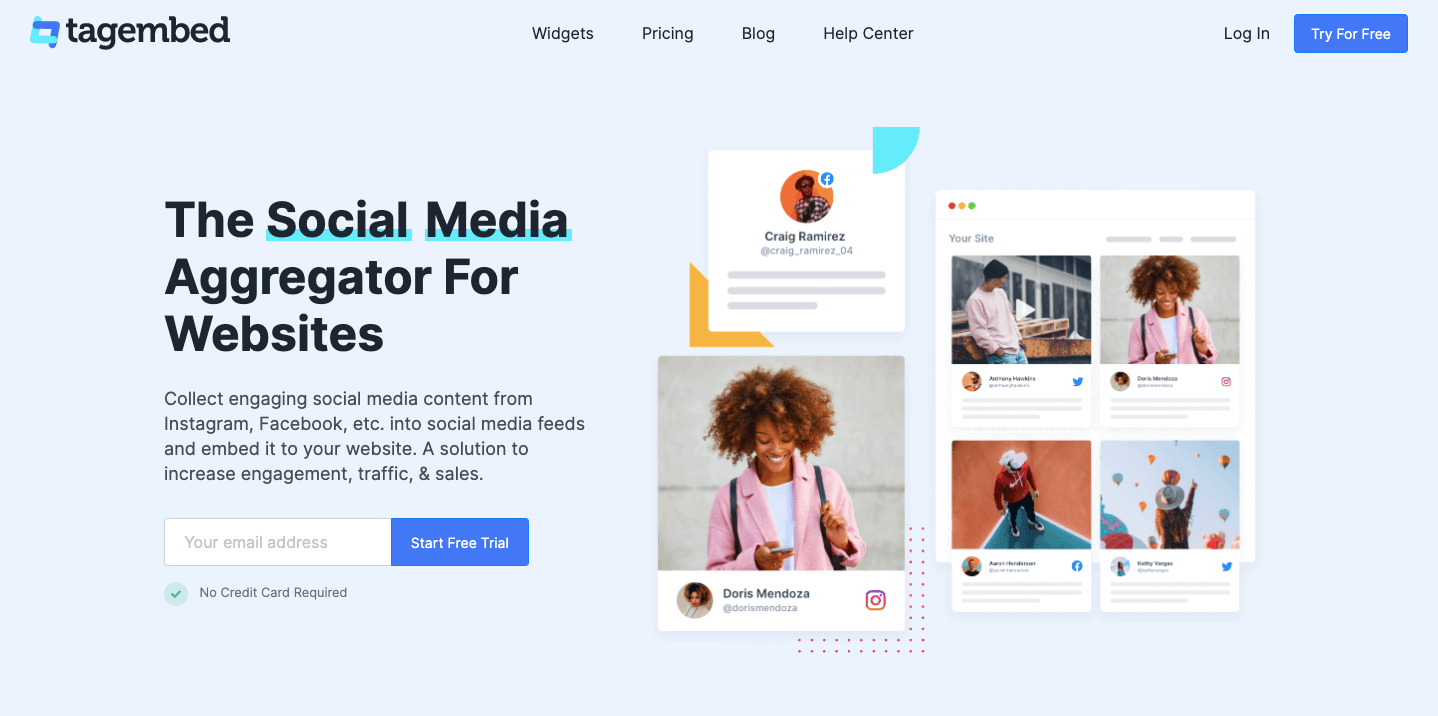 These social media feeds are curated into a single feed, which is then displayed/embedded on a website.
Compatible with various website building platforms including WordPress, HTML, Shopify, Weebly, Wix, etc., Tagembed offers a pool of features that can be leveraged under its Free Plan.
Tagembed also offers dedicated WordPress plugin to embed Instagram on WordPress website.
Similarly, you can also use dedicated Tagembed Shopify app to add Instagram on Shopify easily.
Customization- This feature allows you to apply beautiful layouts & themes, banners, background, font color & size, and more to make the aggregated content look more unique.
Moderation Panel- This feature comes with a Profanity Filter, which helps in eliminating all the unwanted & irrelevant content from the feeds.
Insightful Analytics- Tracking the performance of your Instagram widget feed is now so much easier.
You can see the total impressions, clicks, visits on your website once you embed the Instagram feeds on your website.
More- The list of features continues with Custom CSS, Hashtag Highlighter, Ticker, etc.
Be it reviews, social media feeds, or any other user-generated content, widgets are designed to be responsive & quick as well as deliver a seamless user experience.
#2 Instagram Feed WD Plugin
Offering innumerable advanced features, the Instagram Feed WD plugin allows you to display/embed not just this but multiple public Instagram accounts and hashtags on your WordPress website.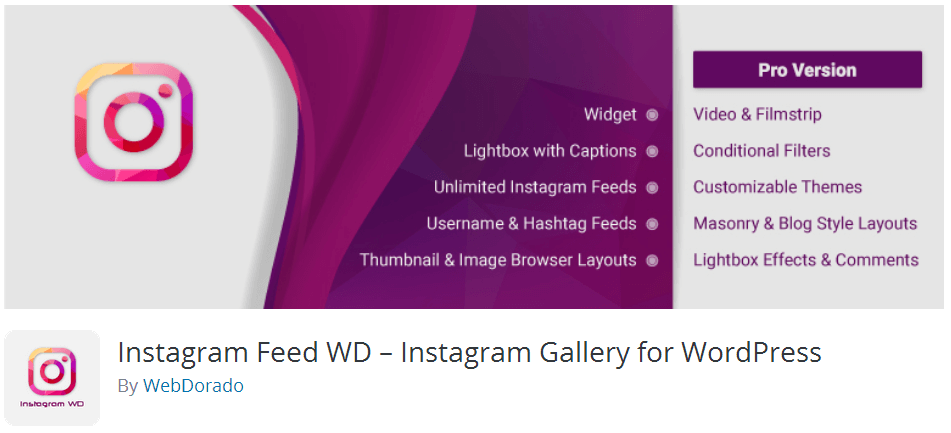 This plugin also has an advanced widget that can be embedded on the sidebar of your website. Mentioned below are the features that come with the Instagram Feed WD plugin!
4 layouts i.e., Thumbnail, Masonry, Blog Style, and Image Browser
Fully Customizable Themes
HTML5 Video Support for displaying Instagram videos
Instagram Hashtag/ Instagram User account filtering options.
Aggregate multiple feeds from various public accounts via different-different hashtags.
#3 Instagram Official Embedding
Instagram itself is a greatly functional platform, which is why it is considered to be one of the most trusted ways for users.
This Instagram plugin can be leveraged to streamline feeds to any website building platform.
So why would it not offer embedding Instagram feeds directly?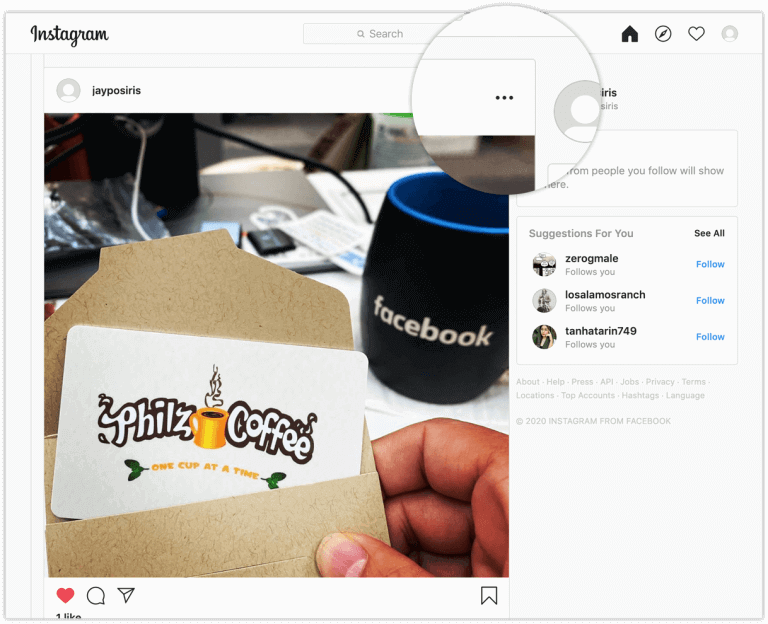 Though you can only embed one feed at a time, and this method is also not quite effective as compared to other Instagram embedding tools, but still, why not give it a try?
Here are a few features offered by Instagram that you can leverage!
Embedding a wide range of Instagram content, including feeds of your choice directly from Instagram, is quite easy and quick.
A fast and responsive procedure as Instagram itself is the source.
Require no technical expertise
Free to access for every user
But the drawback of this plugin is that it is ideal in case you want to embed just one or two Instagram feeds.
Read Instagram Embedding Guide Here
#4 Instagram widget by Stratum for WordPress
Stratum will be helpful for those of you on WordPress since it's a plugin for this CMS. More precisely, it's a free extension to the most popular and also free WordPress page builder – Elementor. If you customize your WordPress website with Elementor, Stratum will be of great help for many design tasks – adding a gallery, pricing table, testimonials, tabs, and more.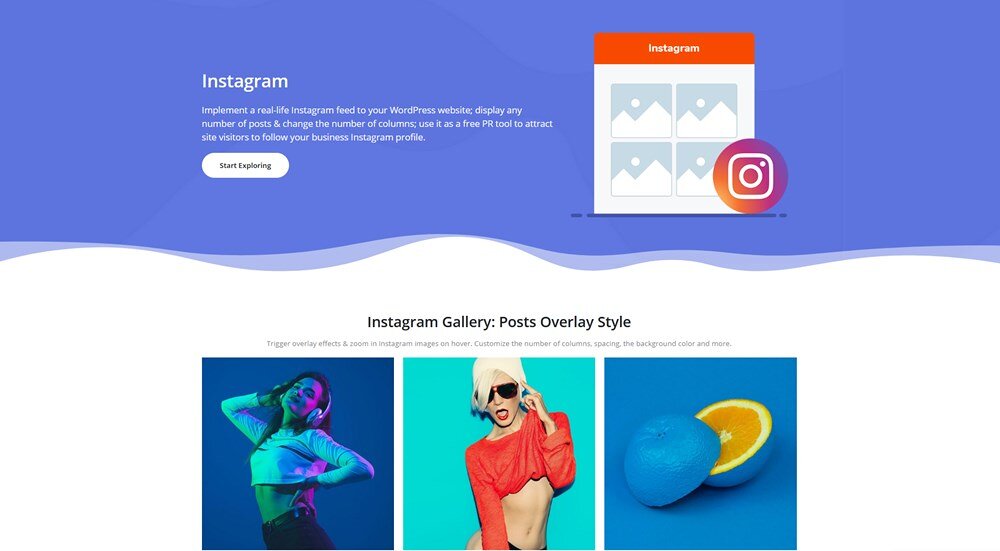 Moreover, you don't really need any extra plugins to embed an Instagram feed into your WordPress site – there is a dedicated widget for this purpose. Just add it to the page, connect your Instagram account via a token, and voila – your live feed with all the images and likes is embedded. You can customize the look of the gallery, for example, choose the number of columns and decide which info to display.
You can embed a live feed literally in clicks without extra plugins.
In addition to the Instagram feed, you can perform many more WordPress-Elementor customization tweaks on your site.
The choice of animation effects on scroll.
Turn on/off likes and comments.
Customize the background color, the number of columns, and more.
#5 Taggbox Widget
Last but not least, the Taggbox Widget tool collects, curates, and embeds user-generated content from various social media platforms.
This tool offers a variety of features such as Moderation, Customization, etc. so that you can showcase the content of the utmost quality in the most creative way.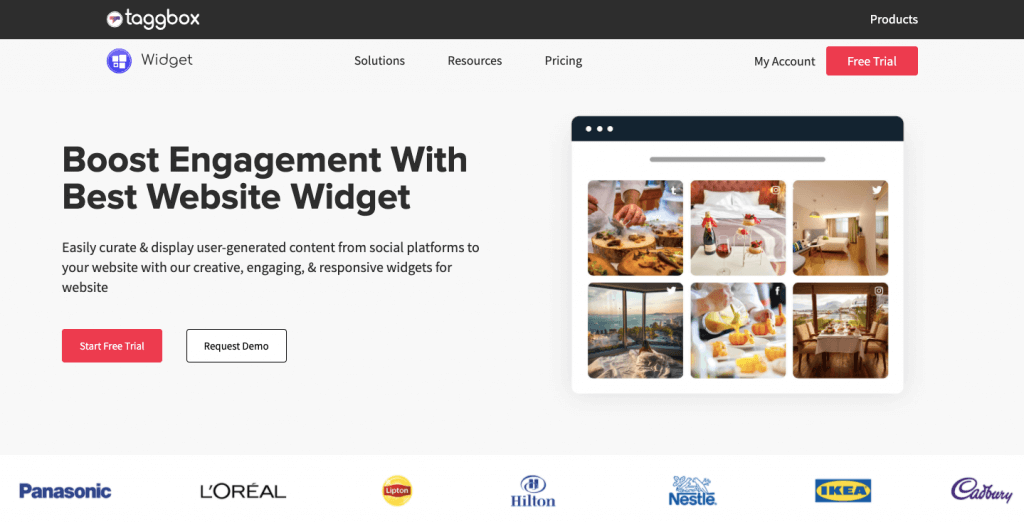 Taggbox Widget has an awesome moderation panel; you can filter feeds and remove bad content in real-time.
SUMMARY
What are you waiting for now? Choose any of the aforementioned tools to embed Instagram feed on your website and start leveraging its benefits in your business.
Free Social Media Aggregator
Embed social feed from Facebook, YouTube, Instagram, Twitter on your website, like a PRO
No Credit Card Required
Free Social Media Aggregator
Embed social feed from Facebook, YouTube, Instagram, Twitter on your website, like a PRO
No Credit Card Required