How to Embed YouTube Videos on Wix – Complete Guide
Instilling faith and confidence in potential customers is a crucial step of the marketing funnel process. Ultimately, motivating customers to purchase your products is what leads to more sales & conversions.
Even though brands and marketers are making the most of different marketing tactics to widen out their brand reach and tap into the interests of their potential buyers, videos have become the most highly leveraged form of content marketing as it works brilliantly to target potential customers of a brand.
Videos have proven to be more effective and successful than their text counterparts as they are far more engaging and attractive. Surveys suggest more than 70% of customers prefer learning about a brand or product by watching a video rather than reading about it!
Making the most of it, smart brands have begun including YouTube videos into their websites to gain maximum exposure and benefits. As the title suggests, this post will give you an insight into the best ways to embed YouTube videos on Wix website.
Without any further ado, let's get started!
Embed YouTube Videos on Wix
Collect, Moderate, Customize and Embed Youtube Video on Wix Website
Try for Free
Easiest Method To Embed YouTube Widget On Wix Website Using Tagembed
The YouTube widget embedding process is extremely simple and can be done following a few steps. Before we get started, here's a little introduction to Tagembed.
Tagembed is a super responsive tool that is meant for social media content aggregation. This tool comes with promising features that make the YouTube widget even more appealing and impactful. Tagembed aggregates social media feeds from over 15+ social media platforms with YouTube as an option.
The tool offers the ability to customize the widget using a wide range of options. Additionally, users can use the content moderation panel for moderating or eliminating any unwanted content. Other features of the platform are robust analytics, custom CSS, back support assistance, and automatic content updates.
Follow the steps mentioned below to embed the YouTube videos on Wix website.
Step 1 – Aggregate The YouTube Videos
1. Log into your Tagembed account or if you are a new user, create a Free Tagembed account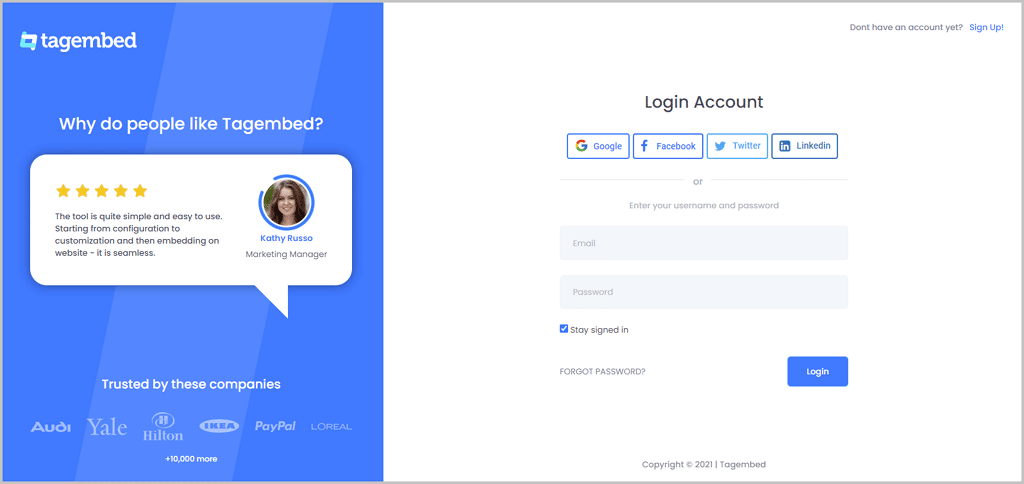 2. (a) If you are a new user, you need to click on Open and you will reach the dashboard section of the widget editor.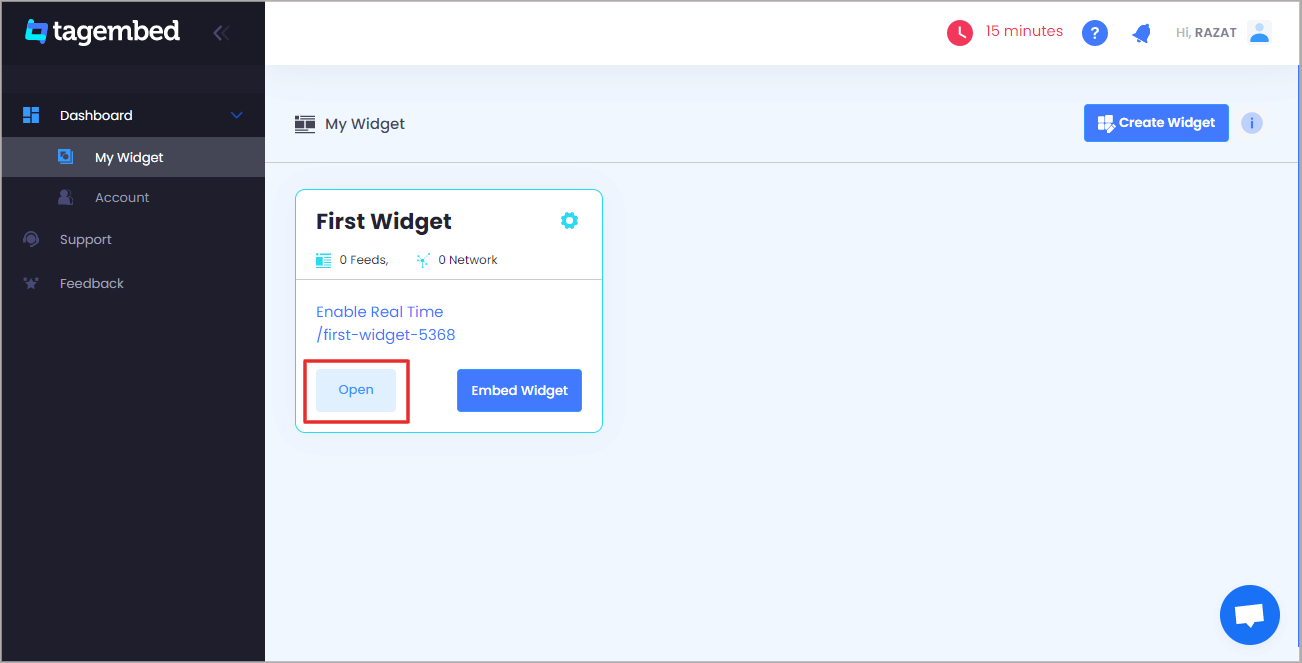 2. (b) However, if you are an existing user, then you would need to create a new widget. Give a name to your widget and click on Create Widget.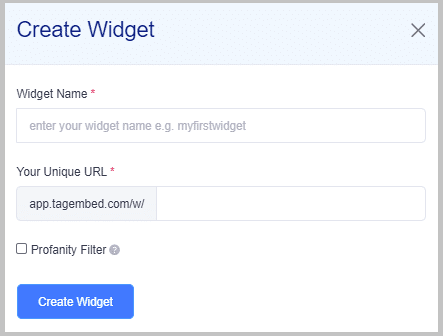 3. Click on the Add Feeds option. A pop-up will appear. Click on YouTube as your content aggregation source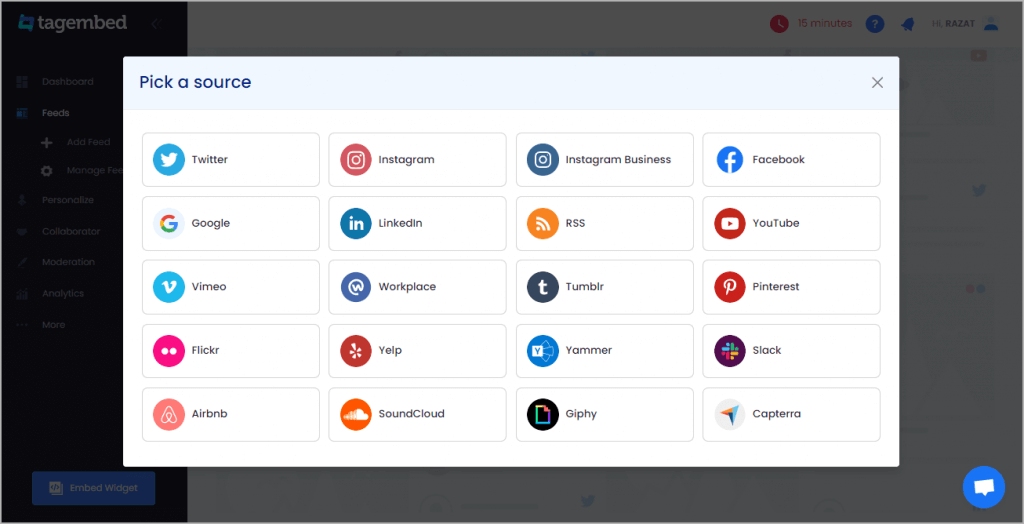 4. You will be given the option to choose the source from where you wish to aggregate the YouTube videos. Choose the preferred option from the playlist, keyword, channel, location & shorts.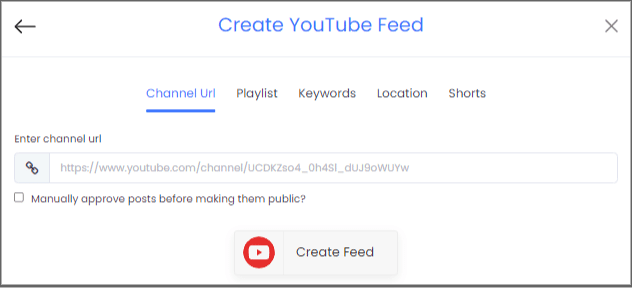 Fill in the required information and you will be able to see the aggregated videos in a couple of minutes
Embed YouTube Videos on Wix
Collect, Moderate, Customize and Embed Youtube Video on Wix Website
Try for Free
Step 2 – Generate An Embed Code
After you are done customizing the widget and satisfied with how it looks, you will be set to begin the embedding process
1. Click the Embed Widget option present on the bottom left corner of the widget editor
2. From the pop-up, select Wix as your preferred website building platform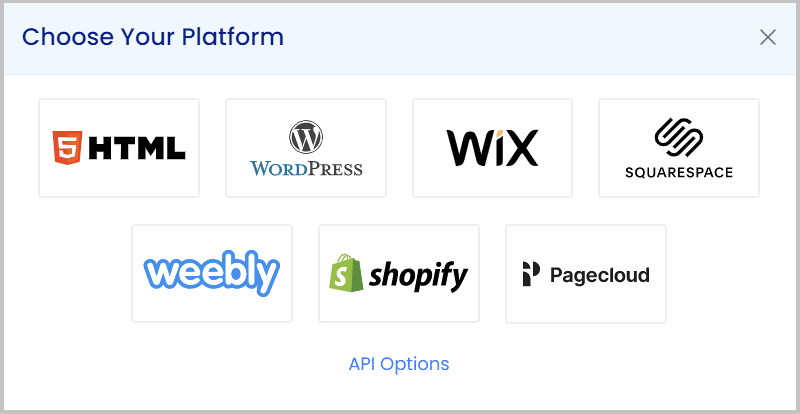 3. Next, after you are done selecting Wix as your preferred CMS platform, copy the URL on the fifth line
Step 3 – Embed YouTube Videos On Wix
1. Begin the embedding process by logging into your Wix account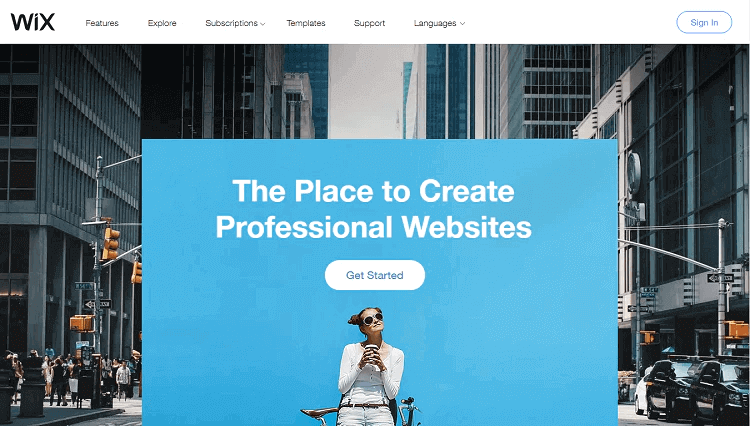 2. Redirect yourself to the webpage where you want to embed the YouTube widget. On the left side of the menu bar, click on the Add+ button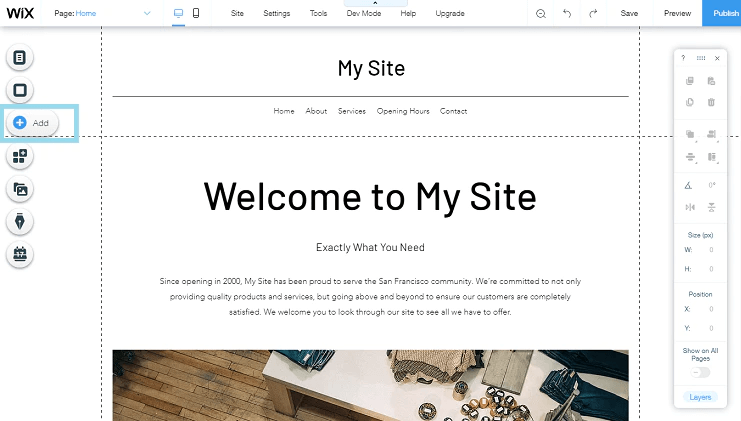 3. Select the More option and click on the HTML iFrames option in the embeds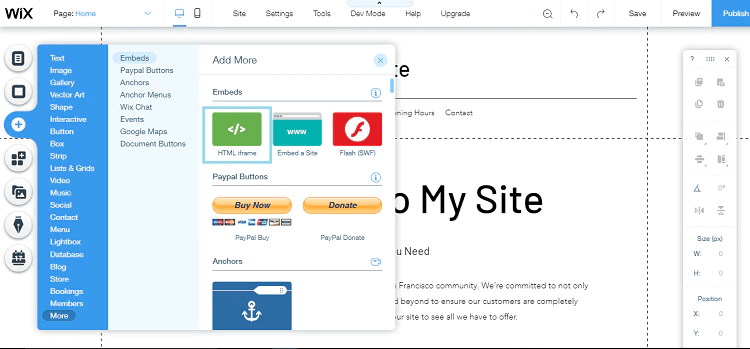 4. Paste the copied embed code
5. Finally, click on the Apply option to save the changes
Voila! You will have successfully embedded a YouTube videos on Wix website
Embed YouTube Videos on Wix
Collect, Moderate, Customize and Embed Youtube Video on Wix Website
Try for Free
Why Do You Need To Embed YouTube Videos On Website?
Now that you are acquainted with the process, and are still not sure if you should go ahead with the strategy or not, this section would shed some light on the benefits of adopting this strategy into your business!
1. Surpass Your Competitors
Just like understanding the importance of videos may be a revelation for you, there are many brands out there who are still unaware of this result-driven strategy. Today's marketing space is a cut-throat competition between brands, hence, you need to adapt to this unique way of marketing content by including videos.
Since lesser people are aware, you stand more chance to easily surpass your competitors in the marketing game!
2. Boost Engagement Of Website Visitors
Engaging the visitors to the website can be quite a challenging task. Since videos are much more successful to attract and engage, embedding YouTube channel on website can keep the website visitors hooked for a longer period of time, leading to more engagement rate of the website.
Moreover, people love surfing through videos on YouTube, and displaying them on the website will push the visitors to explore the website more. The newly introduced YouTube Shorts are much trending and could be of great source of engagement if you choose to embed YouTube Shorts on your website.
Read More – Embed YouTube Videos on WordPress website
3. Helps In Relationship & Trust Building
As mentioned at the beginning of this post, building trust is the basis of every relationship including a brand user relationship. With over 2.29 billion monthly active users, YouTube is a go-to platform for users to create as well as enjoy watching videos.
If your brand users love your products and the overall experience with your brand, there is a chance that they may give your business a shout-out on YouTube. Showcasing such content on the website is an amazing strategy to motivate other customers to purchase your products.
Ultimately, customers believe what they see and trust the words of other customers much more then the content published by a brand!
Key Takeaways
Content is King and the same theory applies when it comes to video content as well!
We are calling it a wrap and you are now aware of the importance of embedding YouTube videos on Wix website.
Embedding YouTube Videos on websites has evolved to become one of the most sought after marketing strategies due to the amazing benefits it brings along! Enjoy all the benefits and much more by following this process. All you require is a Free Tagembed account and you are good to go!
Brands all over the world are using this tactic as a major part of their marketing game and if you have not yet started, then its high time you begin immediately.
Free Social Media Aggregator
Embed social feed from Facebook, YouTube, Instagram, Twitter on your website, like a PRO
No Credit Card Required
Free Social Media Aggregator
Embed social feed from Facebook, YouTube, Instagram, Twitter on your website, like a PRO
No Credit Card Required