Robust Facebook Feed Plugins for WordPress: Best Comprehensive Review
If you have been in the industry for a long time, you must be aware that business owners are constantly searching for a flexible best Facebook feed plugin for WordPress websites, right? 
If you are on the same quest, you have landed on the right blog. In this blog, we have jotted down best free Facebook feed plugin for the WordPress website. So read this blog till the end because this blog will skyrocket your marketing strategy.
Since its creation in 2004, Facebook has been controversial as well as a revolution in the industry. But the credit where credit's due, after its inception, Facebook also affected how people connect, communicate, and shop.
Facebook has created an entire sector for marketing, including direct or indirect branding for business owners who want to make a difference. As a result, many businesses and digital marketers prefer to embed Facebook feed on website.
Curious to see how you can integrate a Facebook feed on a WordPress website? Fear not, for we've got you covered. In the following sections, we will guide you through the best wordpress Facebook feed plugins.
So, whether you're a seasoned marketer or just starting, let's dive into the world of WordPress plugin for Facebook feeds and unlock the potential they hold for your marketing strategy.
Add Facebook Feed To WordPress Website
Collect, moderate, and Display Facebook Feed on WordPress Website
Try For Free
Breakdown Of Facebook Feed Plugin: What, Why & How? 
Integrating your Facebook business page with your WordPress website can indeed offer several benefits for your business. But before we get started, we want you to have the complete dissection of the WordPress plugin for the Facebook feed.
Let's break down the concept of a Facebook Feed Plugin, including what it is, why you might want to use it, and how to implement it:
What is a Facebook Feed Plugin?
A Facebook Feed Plugin is, as the name suggests, a WordPress plugin that allows you to display Facebook feed or content from your Facebook page directly on your website. It essentially embed your Facebook posts, photos, videos, and other content onto your website in a user-friendly format.
Why Use a Facebook Feed Plugins?
Now, what difference a Facebook feed plugin can make? Let's take a look.
Engage Website Visitors: By showcasing your Facebook content on your website, you can keep your visitors engaged with the fresh and dynamic content of Facebook.
Increase Social Proof: Having a Facebook presence on your feed can build trust and credibility by showing real-time social interactions, likes, comments, and shares.
Promote Your Social Presence: It encourages website visitors to connect with your Facebook page, potentially growing your social media following.
Save Time: When you choose the custom Facebook feed WordPress plugin, Instead of manually updating your website with Facebook posts, you can automate the process, saving you time and effort.
Customization: Many plugins offer customization options, allowing you to style and tailor the appearance of your Facebook feed to match your website's design.
Spectacular Plugins You Can Use To Embed Facebook Feed On WordPress Website: The How
Now that you are aware of all the basics, without any further ado, let us take a look at the amazing plugins that one can use to embed a Facebook feed on your WordPress website.
1. Tagembed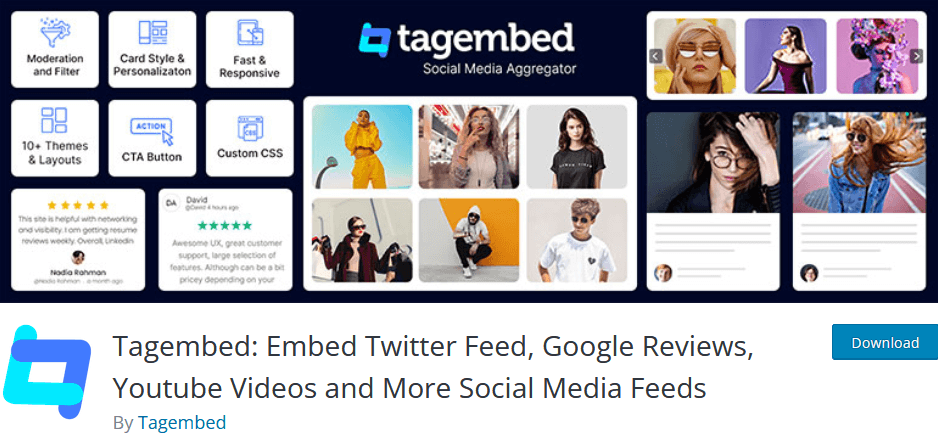 Tagembed is a social media aggregator WordPress plugin that allows users to collect, curate, and embed social media feeds from various platforms, including Facebook, Instagram, Twitter, and more, on WordPress and CMS platforms.
With this free custom Facebook feed WordPress plugin Tagembed, you can create a dynamic and engaging Facebook feed by displaying pages, profile posts, Facebook albums, page reviews, and Page mentions. 
What's more, is the customization power of Tagembed WordPress Plugin. For instance, with Tagembed the users can customize the look and feel of the Facebook feed widget. This helps the users to make their widgets as well as the website look visually appealing.
The customization feature also includes moderation features to filter and control the content displayed in your feeds. This means that the users can remove the Facebook content their marketing team does not approve of and you have total control over what your visitors see.
Talking about the other features, with the real-time update you can keep your website's content fresh. What makes Tagembed unique is its versatility. For example, using Tagembed WordPress plugin, you can showcase feeds including photos videos, and reviews.
2. WP Social Comments
Social Comments is an exceptional WordPress plugin designed to enhance your website's optimization. It seamlessly integrates Facebook comments, which eventually helps in website engagement between your visitors and your content.
One standout feature of this plugin is its flexibility, allowing you to customize the comment section by adjusting the order and the number of comments displayed. You can also personalize the box title, and language, and even fine-tune details like title text color, font size, font family, and positioning.
It's worth noting that some users have reported occasional automatic transitions to maintenance mode. However, this minor inconvenience can be easily resolved by disabling the plugin on specific pages or posts as needed.
3. 10Web Social Post Feed
Another best WordPress Facebook feed plugin, we have on our list is 10Web Social Post Feed. This plugin adds a cool new feature to your website: the ability to easily add feeds from Facebook using widgets. This means you can showcase your Facebook content in a neat sidebar without overwhelming the main content of your page.
You can display as many Facebook feeds as you want on your website. This means you can show off different aspects of your Facebook content across your posts and pages. You get to choose exactly what types of content you want to display in your feeds.
This plugin allows users to make their Facebook feed look better. You can tweak things to match your website's style and make sure everything looks just the way you want it.
4. Social LikeBox & Feed
Social LikeBox & Feed is another significant facebook feed plugin that you can use to showcase or integrate Facebook feeds on a WordPress website.
This plugin also helps the users enhance website engagement and interaction by enabling features like commenting, feedback, and sharing of content directly from their Facebook accounts.
Visitors can view and engage with social media content directly on the website, creating a more dynamic and engaging experience. Users can connect their Facebook accounts without leaving the website, streamlining the process. The plugin provides a responsive page for users to leave feedback, which can be invaluable in understanding user preferences and improving content.
5. Smash Balloon Social Post Feed
Another great WordPress plugin we have on our list is Smash Balloon. It is a social media feed plugin that includes various major social media platforms like Facebook.
With the help of Smash Balloon, you can also use their filter settings to showcase the Facebook posts that contain specific keywords. This feature works both ways. You can also hide posts that have a particular keyword.
You can also use their four layouts viz. Grid Carousel, Masonry, and Highlights. In the carousel layout, you can also choose the interval time to showcase your Facebook feed on the WordPress website.
Add Facebook Feed On WordPress Website
Collect, moderate, and Integrate Facebook Feed on WordPress Website
Try For Free
6. Flow-Flow Social Feed Stream
Flow-Flow is a another WordPress facebook plugin that is known for Instagram or Twitter feeds. However, very few marketers and business owners know the fact that this plugin also supports Facebook feeds. One of the unique features of Flow Flow is that it allows its users to create a mixed feed of Twitter, Facebook, Instagram, and Pinterest.
Flow-Flow is optimized for all the screen types; this means no matter what device the end visitor is using, the feed will adjust accordingly.
7. Feed Them Social
This flexible plugin lets you display various social media platforms including Facebook. You can create your Facebook feed with multiple display options like grid, carousel, and lists. It's known for its flexibility and includes features like caching to optimize performance.
Using this best facebook feed plugin, one can also customize the font colors of the Facebook feed as per your requirements. One can also add a like or follow button to the feed either on the above or below. 
8. Display Feed Widget
True to its name, Display Feed Widget lets you showcase your Facebook feeds on a WordPress website. Using this best facebook feed plugin one can exhibit Facebook Page URLs on a WordPress website. Talking about its features, this plugin has limited sets of customization options like changing of feed width or feed height. 
9. Facebook Feed by ElementsKit
ElementsKit is yet another WordPress facebook feed plugin that lets you showcase the Facebook feed on a WordPress website. By using this plugin you can create a responsive feed to your webpage this plugin lets you customize your Facebook feed. For example, you can select the number of columns and grids. Apart from that you can also select the number of posts. 
Another feature of this plugin is to let you add the date, author's image, and name to each post.
10. Easy Social Feed
Last but not least, Easy Social Feed is a remarkable facebook feed plugin that helps website owners display their social media presence on WordPress websites. This includes some of the major social media platforms like Facebook, Instagram, etc. 
This plugin claims to have an easy setup process and besides that, you can also lay your hands on features like customization of feeds. Easy Social Feed is a mobile responsive plugin that will help website owners in the long run.
The Final Word
Facebook has immense potential for getting high traffic for your WordPress website. And when as a business owner, you open doors for many perks like social proof and social selling. We have listed all the top wordpress Facebook feed plugin you will need for your business. 
Apart from that, we have also mentioned the benefits of having a Facebook feed on WP website.
Try one of these plugins and uplevel your marketing efforts.
Free Social Media Aggregator
Embed social feed from Facebook, YouTube, Instagram, Twitter on your website, like a PRO
No Credit Card Required