Top-Performing TikTok Feed Plugins For WordPress
2022-09-29==================================2022-09-29========================September 29, 2022
If you are active in the market and an attentive marketer, then you might have noticed the trend of people searching for Tiktok feed plugins for WordPress, right? In this informative blog, we have tried to understand this trend, and have listed some of the best TikTok feed plugins for WordPress for you. So read till the end because this blog can level up your marketing game.
Blame it on the internet if you want, but you might have witnessed that the audience's attention span is now reducing. And therefore, bite-sized videos are viral nowadays. Whenever we talk about bite-sized videos, TikTok is the one name take comes to everyone's mind.
Similarly, as bite-sized videos are trending on the internet, another tendency that is taking over the internet is having an online presence for the business. With the ease of the internet and online shopping, having an online presence is a must, and this is where WordPress stands as one of the prominent saviors, as it helps businesses to make their own websites. To improve the overall look and feel of their respective website, brands are now opting to embed TikTok feed on WordPress, and for that they have various TikTok feed WordPress plugins, easing their work, and making the whole embedding process more manageable.
In this blog, we have filtered the best TikTok WordPress plugins that help you to add TikTok feed on WordPress and are known for providing great results. You can easily find these free TikTok feed plugins and operate them comfortably.
Free TikTok Feed Plugins For WordPress
Collect, Moderate, and Display TikTok Feed on WordPress Website
Try For Free
Top Of The Rank TikTok WordPress Plugins
Current WordPress has more than 58000 plugins in its store, each helping you to improve the look and functionality of your WordPress website. Out of them, we have handpicked the best TikTok WordPress plugins that can be used to embed TikTok feed on WordPress, and for your convenience, we have mentioned some of their major features, so it is easy for you to decide the one for your website.
1. TikTok Feed Plugin By Tagembed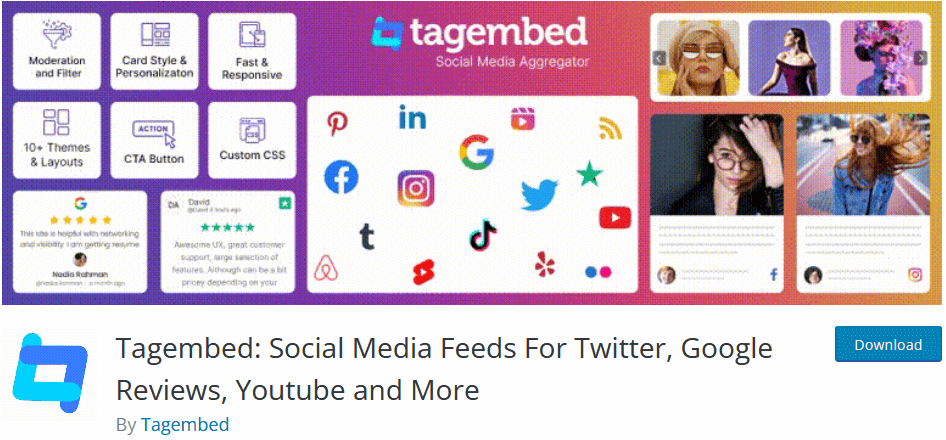 Tagembed is a prominent social media aggregator platform that has made a name for itself in the market because of its efficiency. The tool has its own dedicated TikTok WordPress plugin that you can find in the WordPress plugin store. Tagembed WordPress plugin provides you with the functionality to collect TikTok video feed for your website and easily add them to it. Alongside TikTok, the plugin is also compatible with 25+ other social media platforms are Instagram, Facebook, Twitter, LinkedIn, YouTube, Pinterest, TikTok, etc. allowing you to have a variety of content on your website.
The plugin has an easy-to-use interface that enables you to add TikTok feed on WordPress website, by following some simple steps. It is so easy to use, that even if you belong to non-technical background or do not have any coding experience or knowledge, you can still add feeds to your WordPress website. Apart from being easy to use, it also consists of various features that help you in making the most from this plugin. Some of the major features of TikTok feed plugins are mentioned below.
Features:
Widget Customization – You can personalize your widget as per your need by changing the font size and style of the content, background, color of the widget, and more.
Content Moderation – TikTok plugin allows you to remove the content that you think is inappropriate for your widget. You can either remove them manually or opt for the profanity filter that automatically removes the content consisting of provided keywords.
Auto–Updates – There is no need to refresh the feed to get the latest content on the TikTok widget, the real-time update feature automatically updates the content on the widget, keeping your website lively and up to date.
Responsive widget – The responsive widget of the plugin, adjusts itself as per the screen type, so no matter what screen your visitors are using, theft get to see the content with ease.
Custom CSS, analytics, Custom CTA, and more
2. Taggbox Widget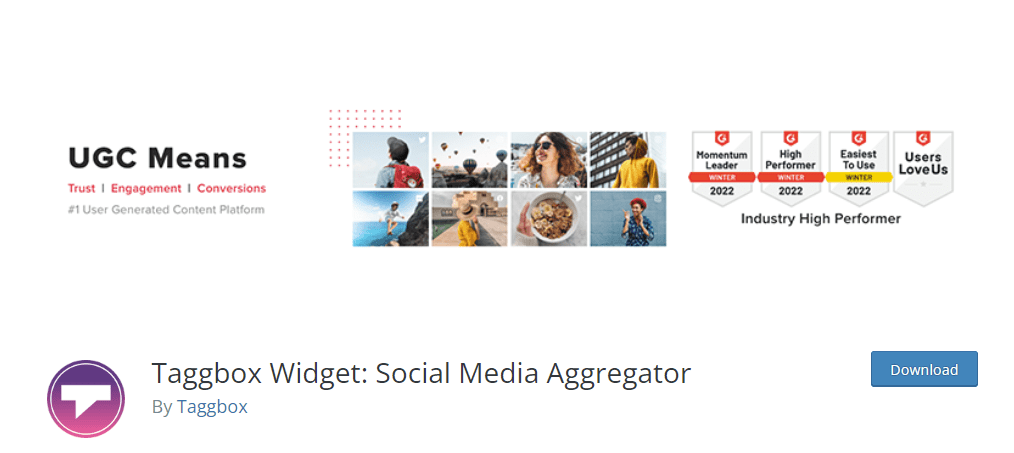 Taggbox Widget is a high-functioning social media aggregator tool that provides you TikTok WordPress plugin for a seamless user experience to integrate your TikTok feed on your website/page. It curates and creates a cumulative feed of TikTok content in real-time.
Taggbox Widget is a globally renowned platform that provides you with top-tier benefits and features to make your embedding journey smooth. It also enables you to integrate content from a wide variety of popular 20+ social channels like Instagram, Facebook, Twitter, LinkedIn, etc.
This TikTok plugin allows you to feature a bucket of content from the social channel and also lets you moderate it in numerous ways. The tool is extremely user-friendly and can be easily accessed and put to use in no time. It comes with a multitude of features. Here we have some amazing features of the tool that deserve to be on the list.
Features:
Widget Customization: This feature lets you customize the widget according to your website aesthetics. You can change the color, font, and background to match your brand's tone.
Content Moderation: With Taggbox Widget, you get the liberty to moderate your TikTok feed and filter out irrelevant content before it goes live on display. You can choose the posts you would like to see on your page and make edits at any time you want.
Performance Analytics: Taggbox Widget also lets you get a deeper understanding of your TikTok widget. You can track the total impressions, visitors count, clicks, and much more to get an insight into your website engagement, too.
Real-Time Updates: Another amazing feature of the Taggbox TikTok plugin is that it works in real-time. Whenever a new post is added to the feed, it automatically appears on the widget on your website. This ensures that the content displayed on your page is fresh and raw.
CTA Buttons: We all know having a solid CTA is non-negotiable. The Taggbox widget lets you add customized CTA buttons to your TikTok feeds, wherein you can also add or customize the information about the action.
Fast & Responsive: This tool is known to be extremely responsive and works smoothly to give you a hassle-free TikTok integration experience.
Read More: Tiktok Guide for Business
3. QuadLayers TikTok Feed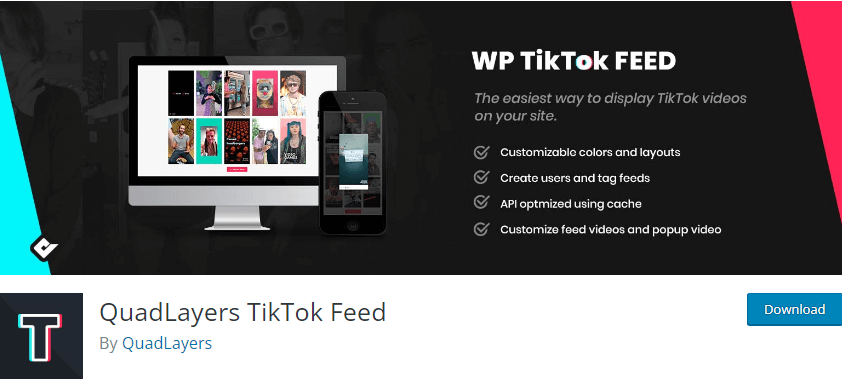 QyadLayers TikTok Feed is another user-friendly WordPress plugin, that provides an easy and manageable way to add TikTok content to your website. As we all are aware that TikTok is currently one of the top-performing social media platforms and has a huge base; hence it is unlikely that one can lack the content to display on the website.
With the help of this TikTok feed plugin, you can easily aggregate the TikTok content and display them on your website. It allows you to collect feeds using hashtags and profile handles and place the content on your website, adding charm and liveliness to your WordPress site.
Features:
Layout Choices – The plugin allows you to choose an appropriate layout and equips you with endless possibilities to customize the display of your layout and make your WordPress website more organized and charming. You have options such as a gallery or carousel and more.
Simplicity In Handling – The easy sync up and configuration make the tool easy to handle and allow you to embed the TikTok feed on WordPress with comfort.
Customization Options – With the customization options, you have the freedom to change the appearance, positioning, and layout of the TikTok feed that you are displaying on your website.
Pop–up Box – Your visitors will be able to watch the content on your own website, making your website more interactive and visually appealing.
4. Walls.io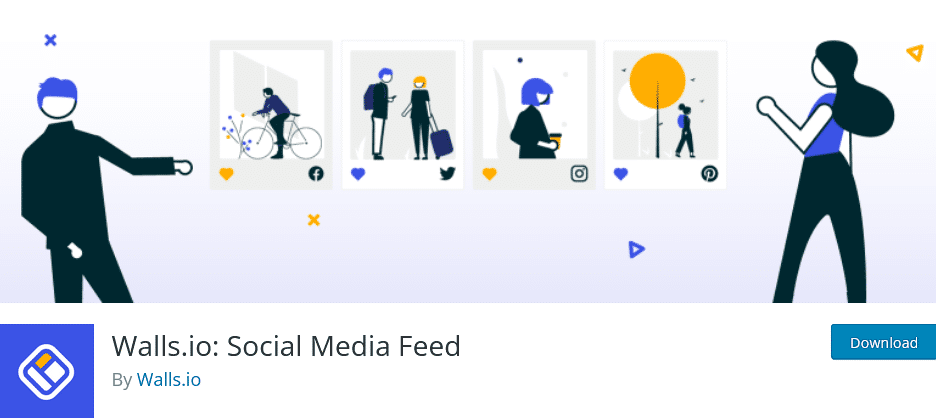 Walls.io is a brilliant plugin that allows users to collect, customize and display social media feed on their respective website. With the help of the Walls.io WordPress plugin, you can easily collect feeds from TikTok and embed them into your website, providing it with an artistic and appealing edge.
You don't require any programming skills or coding experience to operate this plugin and embed the TikTok feed on your website. With a few simple and manageable steps you can easily add your desired TikTok videos to your website, and create an everlasting impression on your website visitors.
Features:
Advanced Moderation – Advanced moderation allows you to moderate the content as per your need and maintain the quality of your website, this feature includes language filters and blacklist filters for both keywords and profiles.
Mobile–friendly Widget – The mobile-friendly widget does not affect the alignment of your website, while adjusting as per any device, making your website an easy viewing experience for all.
Widget Customization – With the help of the customization feature, you can make desired modifications to the widget, improve its visual appearance, and make it more appealing.
The Parting Note
There you have it; these are some of the best-rated and top-performing TikTok feed WordPress plugins that help you add TikTok feed to WordPress website easily. The plugins are easily accessible, and you can easily find them and operate them comfortably.
So what are you waiting for?
Try these plugins now, and take your business to a new level.
Free Social Media Aggregator
Embed social feed from Facebook, YouTube, Instagram, Twitter on your website, like a PRO
No Credit Card Required
Free Social Media Aggregator
Embed social feed from Facebook, YouTube, Instagram, Twitter on your website, like a PRO
No Credit Card Required