Facebook Aggregator Guide: A Comprehensive Introduction
2023-10-17==================================2023-10-17========================October 17, 2023
Establishing an impactful online presence in the fast-paced digital age has never been more crucial for businesses.
Utilizing the power of social media, especially Facebook plays a pivotal role in engaging and building trust with your audience.
In fact, statistics show that social media holds immense sway in consumer decisions, with 71% of consumers relying on social proof before committing to a product or service.
But how can you effectively leverage this powerful tool, ensuring that potential customers get a glimpse of your social side without ever leaving your website?
The answer lies in a Facebook aggregator, a remarkable tool that enables you to embed Facebook feed directly onto your website. Explore our comprehensive Facebook aggregator guide to harness the full potential of this game changing tool.
So, let's get straight into it!
Harness The Power of Facebook Aggregator
What is Facebook Aggregator?
A Facebook aggregator is a tool that lets you showcase your Facebook feed directly within your website. 
This means you can introduce visitors to your Facebook content without requiring them to navigate away from your site.
The format can take various shapes, such as a web widget, web feed, or even a Facebook wall-like display.
To execute this task effectively, authorized software solutions are commonly employed. These solutions directly integrate with the core Facebook platforms, utilizing their APIs to streamline the content aggregation process.
A Facebook aggregator offers a convenient way to compile and showcase Facebook-related content from various sources in one location, making it easier for users to access and interact with the collected information.
Why You Should Use A Facebook Aggregator?
The following pointers highlight the significant advantages of Facebook aggregators in terms of content management, audience engagement, branding consistency, trust-building, and improving the overall user experience on websites.
A. Content Consolidation
Facebook aggregator simplify the process of managing content by providing a unified platform.
Businesses can access and display various forms of content, like images & videos from Facebook, all in one place.
This centralization streamlines content monitoring, curation, and response, saving both time and effort.
B. Enhanced Engagement
As of Q4 2022, Facebook is the largest online social network in the world, with roughly 2.96 billion monthly active users.
Businesses create a more diverse and engaging online presence by aggregating content from Facebook with such a large audience.
Visitors to the website or digital display are encouraged to explore more content, interact with posts, and share their own experiences.
This increased engagement with Facebook aggregation can lead to longer website visits and higher levels of user interaction.
C. Brand Consistency
Consistency in branding is crucial for any business. Facebook aggregators help maintain uniformity by presenting content from Facebook with a consistent look and feel.
This ensures that the brand image remains cohesive and easily recognizable across different social media channels.
D. Showcasing User-Generated Content
UGC results in 29% higher web conversions than campaigns or websites without it.
User-generated content, such as testimonials, customer reviews, videos, and images, is powerful social proof. They have the power to impact a brand's trust and credibility significantly.
By featuring this content through an aggregator, businesses can demonstrate to potential customers that their products or services are valued and endorsed by others, instilling confidence in their offerings.
E. Improved Website Experience
Embedding social media feeds on a website can reduce bounce rates.
When visitors encounter an engaging and dynamic social content feed, they are likelier to stay on the site, explore additional pages, and interact with the displayed posts.
This improved website experience can result in longer visitor durations and increased user retention.
F. Content Marketing
Content curation is a fundamental aspect of content marketing. A social media aggregator simplifies the process of curating and sharing relevant content.
Businesses can curate user-generated content, industry-related posts, and other valuable information to keep their audience informed and engaged.
This streamlines content marketing efforts, allowing businesses to deliver valuable & relevant content to their audience consistently.
Aggregate All Your Facebook Posts in One Shot
Collect, moderate, and add Facebook feed on your website
Try for free
Top 5 Facebook Aggregators 2023
Facebook aggregators have become essential tools for individuals and businesses looking to streamline their social media management, engage with audiences, and display content in a unified manner.
1. Tagembed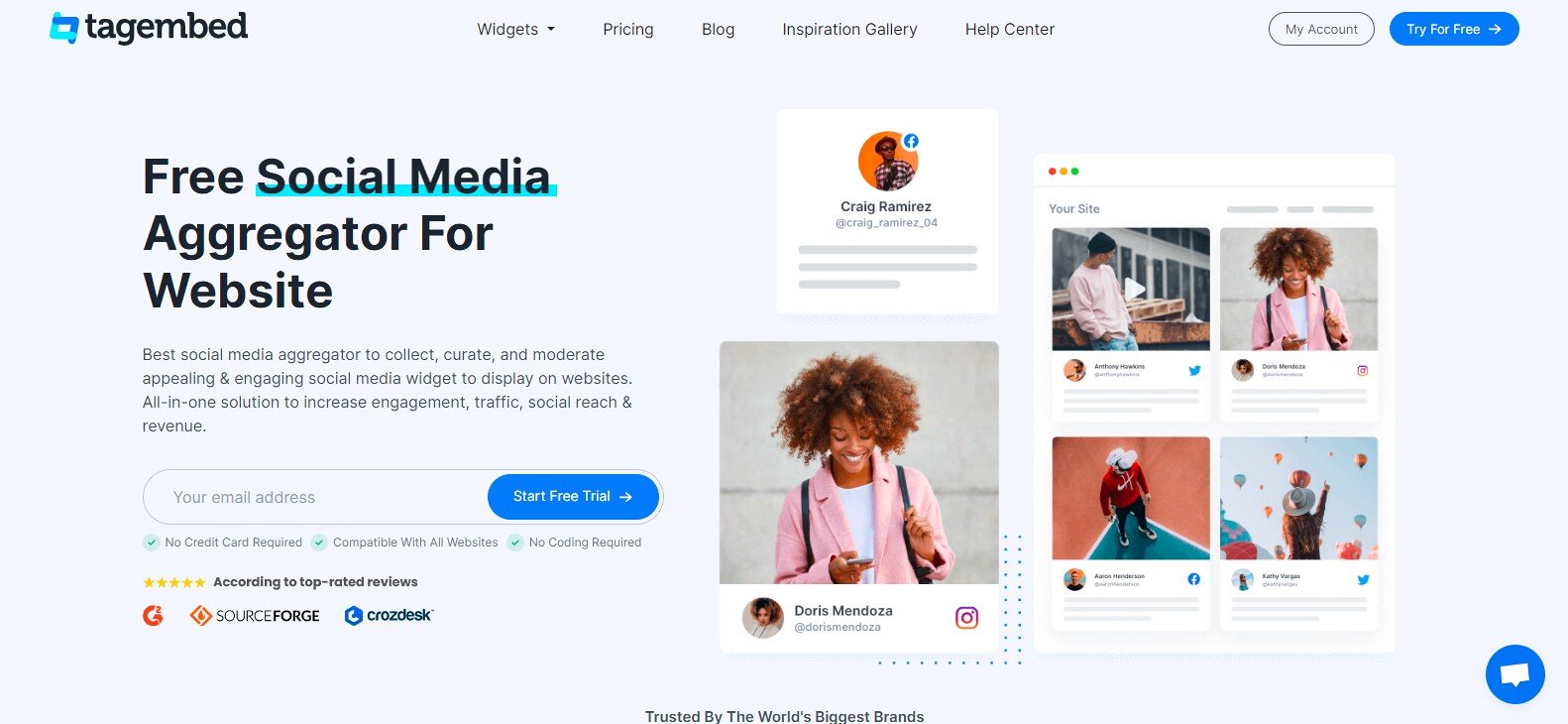 Tagembed, a cutting-edge AI-powered solution, serves as a social media aggregator tool, harnessing the power of natural language processing to gather and showcase social & user generated content seamlessly.
Its core mission is to empower businesses with data-driven decision-making capabilities by scrutinizing sentiments and identifying trends within the vast landscape of social media feeds.
Benefits: Tagembed equips businesses with the ability to delve deeper into reviews and customer comments.
This invaluable insight enables companies to formulate data-driven strategies for enhancing their offerings and crafting superior customer experiences, all through the meticulous analysis of sentiments and emerging trends within the feedback ecosystem.
2. Tagbox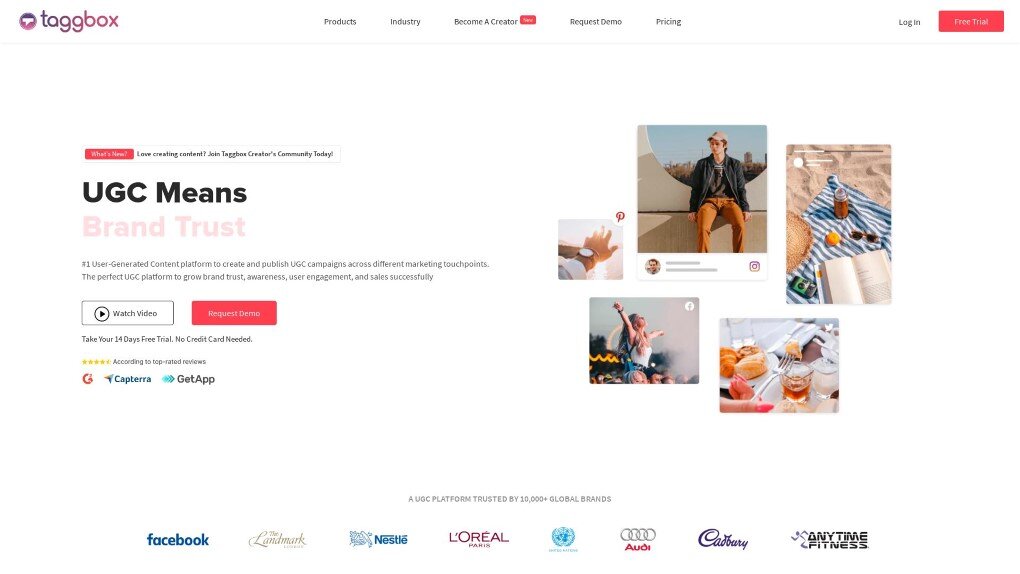 Tagbox is a powerful social media aggregator that excels at collecting, curating, and showcasing UGC ( user-generated content) from various social media platforms.
Its AI and natural language processing capabilities enable it to understand sentiments and trends within the collected content, making it a valuable tool for businesses aiming to gain deep insights from customer feedback.
It offers real-time updates and diverse display options, ensuring an engaging user experience.
Benefits: Tagbox empowers businesses to showcase user-generated content on their websites or digital displays, building trust and credibility.
It simplifies content management, enhances engagement, and provides data-driven decision-making.
Moreover, its ability to identify trends within feedback aids in issue resolution and strategic improvements.
3. Hootsuite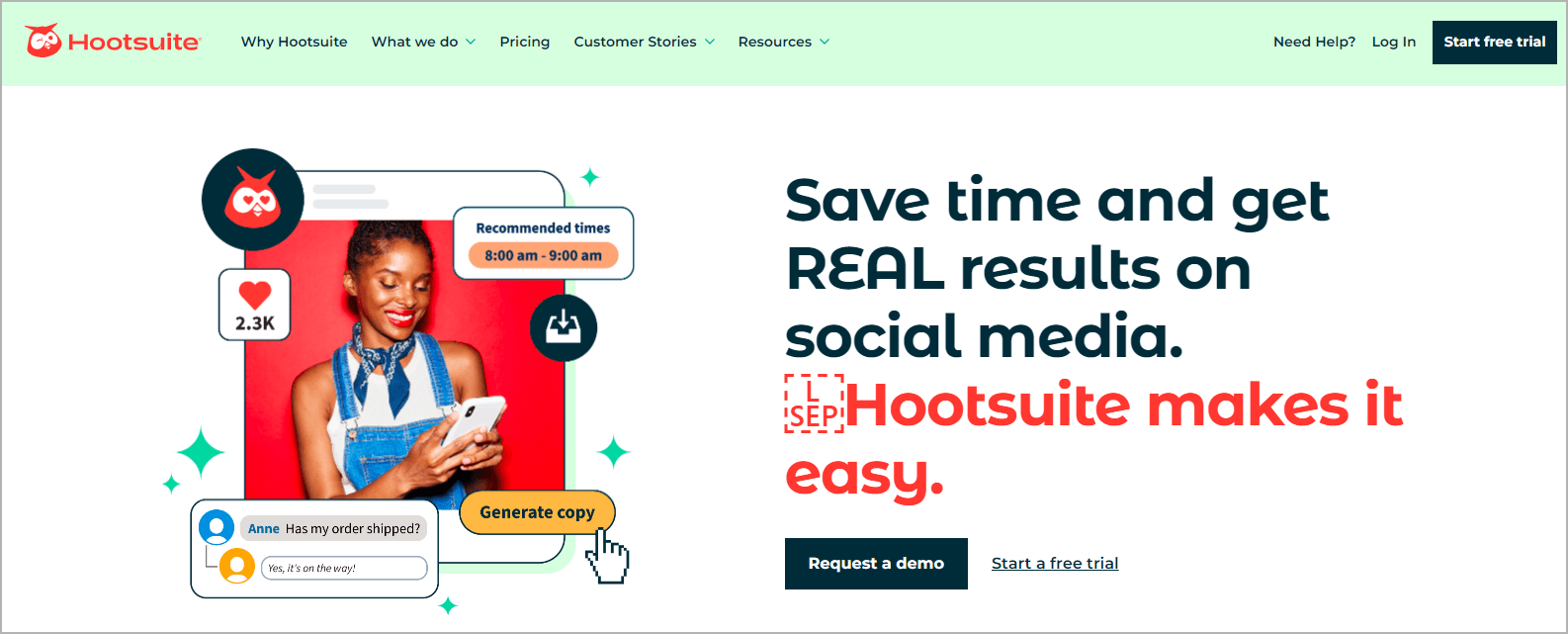 Hootsuite is a comprehensive social media management platform that offers features for scheduling posts, monitoring engagement, and analyzing performance across various social networks.
It supports a whole range of social media platforms and provides collaboration tools for team management.
Benefits: Hootsuite simplifies social media management by offering a single dashboard for scheduling, monitoring, and responding to social interactions.
It is particularly valuable for businesses looking to organize their social media marketing efforts and measure the impact of their strategies.
4. Buffer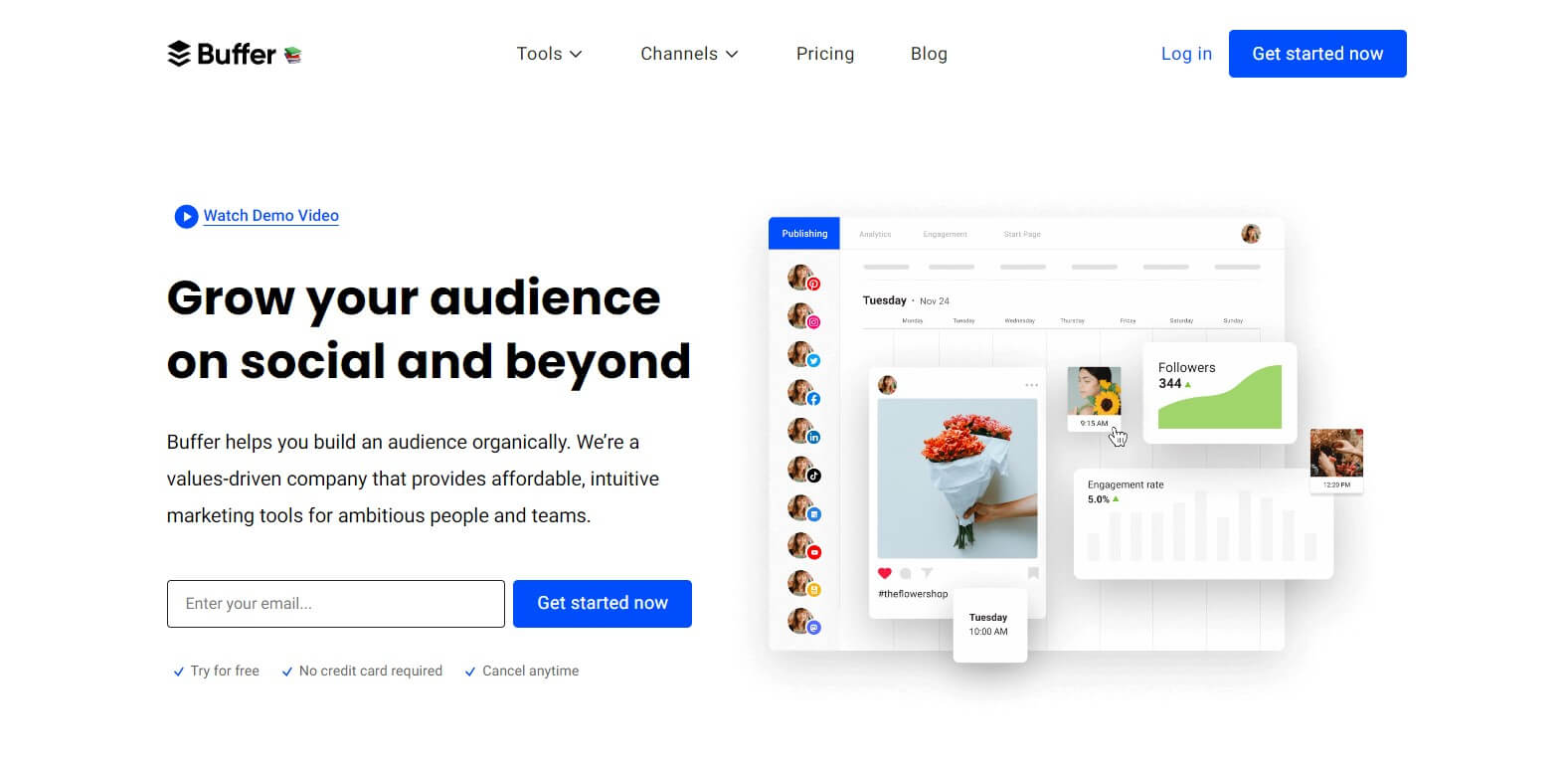 Buffer is a user-friendly & robust social media management tool focusing on scheduling and publishing content to multiple platforms.
It provides analytics to track the performance of posts and offers a browser extension for easy content sharing.
Benefits: Buffer is an excellent choice for businesses that require a simple and efficient platform to schedule and publish content.
Its analytics help users understand which content performs well, allowing for data-driven decision-making.
5. Sprout Social
Sprout Social is a renowned social media management platform with publishing, engagement, and analytics features.
It offers a unified inbox for managing social interactions and tools for monitoring brand mentions and competition.
Benefits: Sprout Social is ideal for businesses seeking an all-in-one solution for social media management.
It offers in-depth analytics, facilitates team collaboration, and ensures efficient audience engagement across various social networks.
Wrapping Up!
Facebook Aggregators mark a significant milestone in the realm of social networking.
This comprehensive Facebook aggregator guide has shed light on the transformative potential of this tool, simplifying cross-platform communication, enhancing content sharing, and prioritizing user privacy.
Free Social Media Aggregator
Embed social feed from Facebook, YouTube, Instagram, Twitter on your website, like a PRO
No Credit Card Required