Best Flockler Alternative: Tagembed vs Flockler (Compared in 2023)
Are looking for Flockler alternatives, then you are welcome to this blog. Because this blog is all you need. Read this blog till the end because it has a lot to offer.
With social media dominating the marketing landscape, brands are now eager to look for ways and tools to extract maximum benefits from these platforms. And this is where social media aggregators come into the picture. These tools not only help users use social media feeds very effectively but also assist brands in reaching their marketing goals.
As the competition in marketing is getting stiff, and consumers have various choices, it is necessary to remain updated with recent marketing trends and tools. Tagembed has now emerged as the brand's favorite and has proved its worth with time. So, if you are looking for an effective and result-oriented tool and the best Flockler alternative, then you have landed at the right place.
With its user-friendly interface, excellent features, and pocket-friendly pricing plans, Tagembed is now considered the best in the market and is enjoying its well-deserved popularity. Being in the market, you might have heard about Tagembed, as it is a trending, effective, and best Flockler alternative.
In this blog, you will learn about Tagembed, its features, and where it stands in being compared to Flockler.
Interesting, right? So, without any pauses, let's get into it.
Best Flockler Alternative
Boost Engagagement, Traffic & Conversion By Embedding Social Media Feeds On Your Website
Try For Free
Tagembed – The Best Flockler Alternative
Tagembed is one of the finest social media aggregator tools in the market. The tool helps users collect social media feeds from 20+ platforms. After collecting the feed, it enables users to curate and customize the collected feed as per their requirements. And with the tool's assistance, they can present the gathered social media feed on the respective website in a presentable manner. 
By following some simple and basic steps, you can easily embed social media feeds on the website without breaking a sweat. It is a coding-free tool, and hence even if you belong to a nontechnical background or do not have any coding knowledge or experience, you can still operate this tool like a pro.
Besides easing the embedding process and making it manageable, it also provides some useful features that make it an ideal marketing tool per the current market scenario.
The feature includes a customization option that allows users to personalize their social media widget as per their needs. Users can change the font size and style and improve the website's overall look and feel.
Tagembed also provides various themes and layouts as an option so that your social media widget looks more professional and organized, which makes the website more pleasing to the eyes. Moderation helps you maintain the quality of your website, enabling you to remove content from the feed that you think is irrelevant or unwanted. You can either remove them manually or choose for profanity filter. The profanity filter automatically pulls the content with the given keyword.
Tagembed v/s Flockler
Being a marketer or business owner, one needs to consider the budget for their respective marketing campaigns. Both tools have reasonable pricing plans that provide exceptional services and load you with features that help you stand out from your competitors.
Both tools provide you free plan, but Flockler provides a 14-day free trial whereas, Tagembed has a Free Forever plan. In the Free Forever Plan by Tagembed, which is also its Lite Plan, you get 2000 views per month for your feed. 
Moreover, the pricing plan for the Flockler starts at $47 per month, while Tagembed's paid plan, which is known as the basic plan, starts at $9 per month. Meanwhile, the Premium plan of Flockler costs $ 467; on the other hand, the Plus plan costs $39. In summary, the pricing range of Tagembed is – $9 to $39. These affordable pricing plans make Tagembed a preferred choice.
Tagembed enables you the auto-moderation feature, which saves you time. On the other hand, Flockler does not have the auto-moderation feature that gives an edge to Tagembed over Flockler.
Also, Tagembed provides fetching and displaying a feed from 20+ social media platforms, providing you with a wide range of content to display on your website and keep your visitors engaged for a long time.
So whether you want to display Tweets from Twitter, videos from YouTube, or posts from Tumblr, Tagembed has you covered. As mentioned, by following some basic steps, you can easily display them with ease and establish your online presence.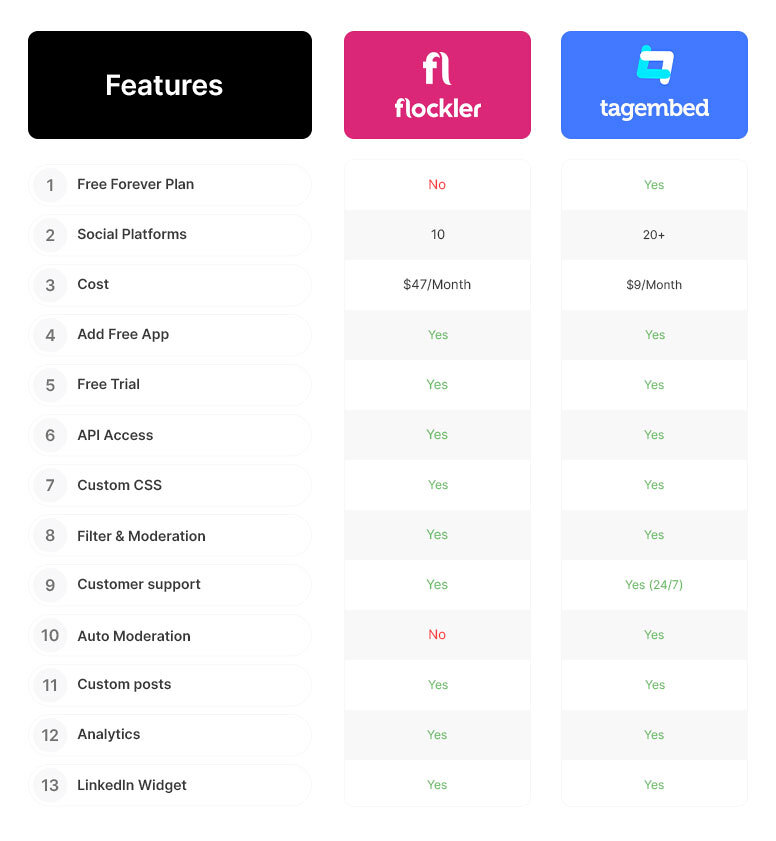 Best Flockler Alternative
Boost Engagagement, Traffic & Conversion By Embedding Social Media Feeds On Your Website
Try For Free
Major Tagembed Features That Make It An Amazing Tool
You might have read that Tagembed has some incredible features that you can utilize to extract great benefits from the tool. Moreover, these feature helps you in various ways and makes your website more beautiful and functional. In this segment, we have mentioned some of the major features of the tool that you can enjoy while using Tagembed.
Customization:
There might be cases where your widget might not match your website's or brand's style and vibe. But you don't have to worry about it, as Tagembed enables you to personalize your widget as per your needs. You can change the font size, widget color, font style, and more. And provide all desired modifications that improve your widget's overall look. A good-looking widget pulls your visitors' attention and fulfills the widget's purpose.
Moderation:
It might happen that the collected feed might have some content that can hamper the quality of your website. These contents can be abusive, irrelevant, or unwanted. With the moderation feature, you can remove these contents from the feed. You can either remove them one by one manually or use the profanity filter, where the tool automatically removes the content that consists of the provided keywords.
Responsive Widget:
the ease of the internet has opened gates for consumers all over the globe. They can easily make their purchase irrespective of the device they are using, so with the responsive widget, your visitors can easily enjoy the feed, as the widget adjusts itself as per screen type.
Auto-Update:
To keep visitors entertained and engaged, it is vital that you provide them with all the latest updates and content. The auto-update features display the latest content to your visitors without manually refreshing the widget.
Along with these features, you also get Custom CTA, custom CSS, analytics, excellent support, and more.
Best Flockler Alternatives
Boost Engagagement, Traffic & Conversion By Embedding Social Media Posts On Your Website
Try For Free
Empowering Your Content Strategy With Flockler Alternatives: In-Depth Analysis
1. Walls.io
Walls.io is one of the the other Flockler alternative tools that excels in curating and showcasing user-generated content from various social platforms. It's particularly beneficial for events, conferences, and marketing campaigns. You can also start a content collection with hashtags, keywords, or specific profiles. 
The tool allows you to create a customizable social wall where you can aggregate real-time updates from platforms like Twitter, Instagram, and Facebook. Apart from that, Walls.io provides six social wall layouts to choose from.
The overall features of Walls.io help the users to foster better audience engagement and relationships.
Walls.io provides an easy-to-use interface and customization options to match your brand's aesthetics seamlessly.
2. Powr.io
Powr.io is a robust suite of website plugins and widgets designed to enhance the functionality and appearance of your website. Powr.io offers integration with more than 60 different website apps that work well with 70+ platforms such as Shopify, Wix, BigCommerce, Squarespace, Joomla, etc.
Regardless of your coding skills, you can use Powr.io to add features such as contact forms, image galleries, social media feeds, and more. It's an excellent choice for website owners looking to improve user experience and engagement. What more users can expect from this tool are the different forms of layout. For example, you can expect a Form builder, multi-slider, PayPal buttons, countdown timer, etc. 
Besides that, Powr.io has other features such as the Image hover effect, hovering over images to display captions, likes, and comments
3. Juicer.io
Juicer.io is a user-friendly social media aggregator tailored for integrating social media content into your website or digital signage.
It offers customizable templates to seamlessly blend your social feeds with your online presence. Juicer.io permalinks to each of your social media posts; this makes the widget optimized for SEO. As a user of Juicer.io, you can also expect a responsive grid for dynamic layouts.
With Juicer.io, you can curate content from various social networks, helping you keep your website fresh and engaging for visitors. Its simplicity and versatility make it suitable for businesses of all sizes.
4. Embedsocial
Embed Social is a versatile tool that brings several benefits to businesses looking to enhance their online presence and social media management. It is one of the best Flickler alternatives after Tagembed. 
Embedsocial combines social media aggregation with automation features. It empowers you to collect, curate, and display user-generated content from multiple social networks on your website. Embed Social is designed to work seamlessly across multiple social media platforms, making it a comprehensive solution for businesses with a presence on various networks.
Embedsocial is also well-equipped with content moderation, meaning that it helps the users remove the content they wish not to display on the widget. 
5. SociableKit
SociableKit simplifies the process of gathering content from various social media platforms. This means you can easily showcase your customers' posts, photos, and reviews on your website, creating a sense of community and trust among your audience.
 It is a comprehensive social media tool kit designed to enhance your online presence. It offers a range of features, including social media sharing buttons, follow buttons, and other engagement tools. 
These features help boost social media engagement, increase website traffic, and improve your brand's online visibility. SociableKit is a valuable addition for businesses looking to encourage social sharing and interaction with their content.
By displaying authentic user-generated content on your website, you can boost engagement and credibility. User-generated content often resonates more with potential customers because it reflects real experiences and opinions.
6. Tint Up
Tint Up is yet another Flockler alternative platform that helps users collect and showcase stunning social media content on the website. Tint Up is known for its user-generated content aggregation features. 
User-generated content builds trust among potential customers. When they see others enjoying your products or services, they're more likely to trust your brand and make a purchase. One of the USPs of Tint Up is that they decrease content creation costs and improve marketing performance by leveraging your customer's trustworthy content.
Talking about the features of Tint Up, this tool helps users create responsive and engaging widgets for websites. This tool also helps the users to research and track trends and use relevant keywords. 
7. Curator.io
Curator.io is a valuable tool for businesses aiming to harness the power of user-generated content and streamline their social media management. By aggregating content from multiple sources, automating posts, and offering customization options, it enables businesses to create a more engaging and trustworthy online presence. With Curator.io, you do not have be worry about creativity. They provide a clean design to its users
It provides options for customizing the appearance of the embedded social media content on your website. You can ensure that it aligns with your brand's aesthetics and messaging.
Summing It Up…
There you have it, now, you are well aware of the tool Tagembed, its features, its pricing range, and why it stands as the best Flockler alternative.
So, over to you now, the ball is on your court; pick it up and have a Slam Dunk.
Try Tagembed now, and take your business to new heights.
Free Social Media Aggregator
Embed social feed from Facebook, YouTube, Instagram, Twitter on your website, like a PRO
No Credit Card Required