The Best Reviews Plugin For WordPress Websites (All-In-One Plugins)
If you are a brand struggling to get more conversions on your website, then your customers' valuable reviews can be your savior! Using some of the best reviews plugin for WordPress you can even flaunt your reviews and win the trust of your consumers.
Embedding customer reviews on the website have outdone every other marketing strategy due to its spectacular results. Are you excited to know more and how you can include this strategy in your business?
Continue reading till the end of this post as we have compiled a list of the best reviews plugins for WordPress that can help you effortlessly collect and embed customer reviews from various platforms to your WordPress website. 
Let's get started right away!
The Best Customer Reviews Plugin For WordPress
Collect, moderate, and Display customer reviews on WordPress Website
Try For Free
Amazing Customer Reviews Plugin To Embed Online Reviews On Your WordPress Website:
1. Tagembed Reviews Plugin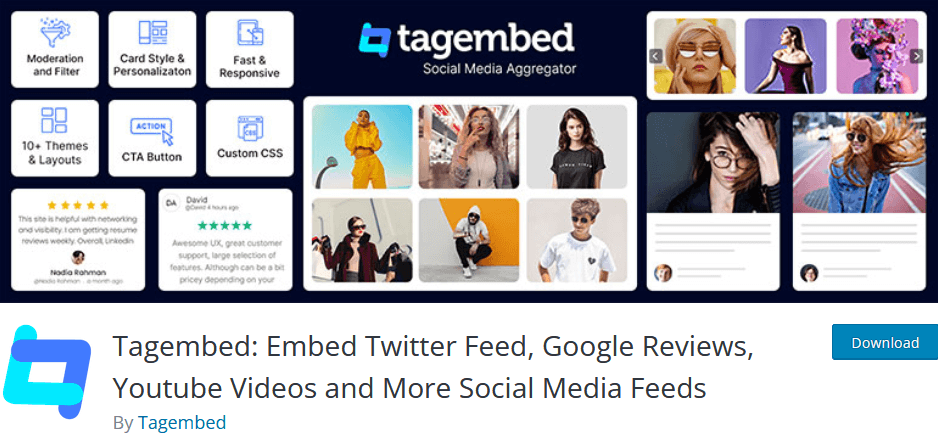 First up on the list is the Tagembed Review Plugin, a leading aggregation platform that allows you to collect and embed content from various online review platforms like Google, Facebook, Yelp, Airbnb and etc. 
This super responsive plugin enables the users to use the additional features of the plugin to increase the effectiveness of the review widget. The plugin users can use the customization panel to choose from a variety of options like themes, templates, fonts, etc. Quite often, internet users unnecessarily like to troll brands and spread hate. Using this product reviews plugin, the users can use the content moderation panel to remove any abusive content from the widget. 
Not only this, but the users can also track the performance of the online review widget after making it live. You can get insightful details like overall engagement rates, total likes, impressions, etc. Additionally, the users need not manually update the content every time as the plugin offers automatic content updates. Lastly, the users can use the back support team of the platform to take assistance from users every time they come across an issue while using the Tagembed plugin. 
2. WP Customer Reviews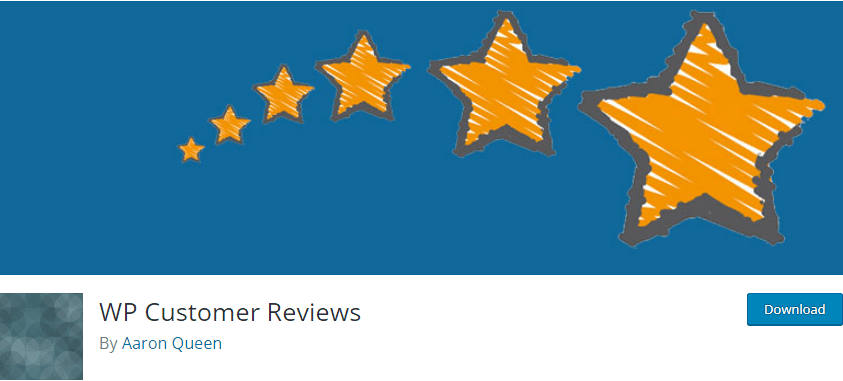 If you are looking for a plugin that can do the job of aggregating reviews for your business collectively or for individual products, then using the WP customer reviews can be your best bet. This WordPress plugin comes with a super easy interface that can be used by anyone in one go.
The plugin comes with various customization options for the users to choose from including displaying the reviews in 5-star rating format. The best part of the WordPress reviews plugin is that it works great for almost any WordPress theme. Additionally, the admin of the plugin can moderate the date and edit the content. Moreover, the plugin is compatible with WP multisite and multi-user. 
3. Ultimate Reviews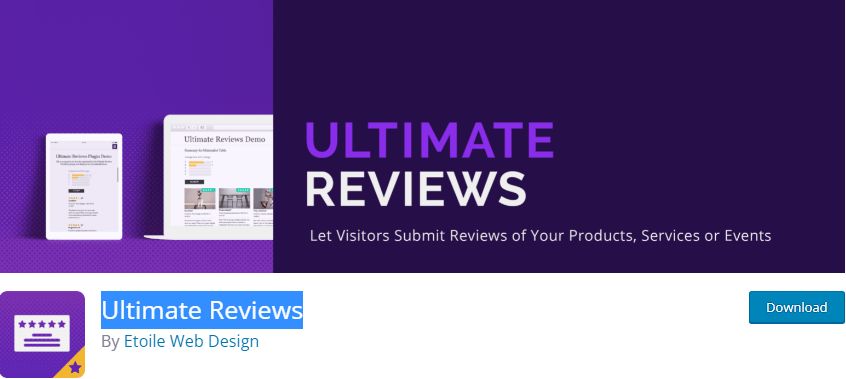 Another great plugin that can be used by brands to display their customer's reviews is the Ultimate reviews plugin. The plugin comes with a plethora of features that can help brands display online product reviews easily and seamlessly. 
Additionally, the users enjoy complete control if they want to display online product reviews for all products or for a particular product at a time. The plugin allows the users to leverage the custom CSS option to design and customize their widget as per their liking and preferences. 
Overall the plugin is considered to be one of the best customers reviews plugin for WordPress websites. 
4. Widget For Google Reviews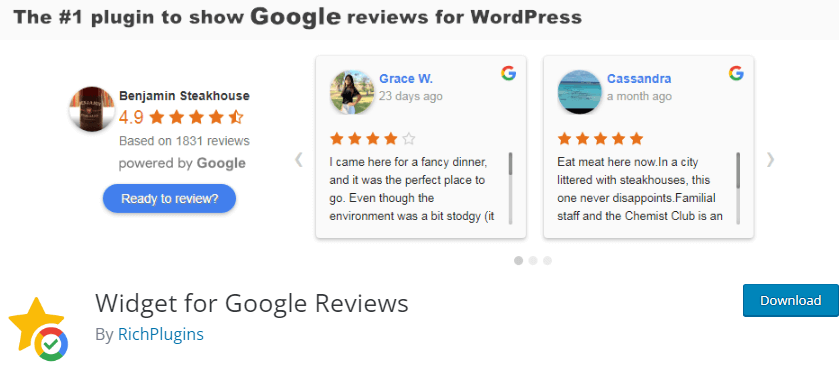 If you are looking for a plugin option that aggregates Google reviews in specific, then the widget for Google reviews is an excellent Google reviews plugin for WordPress websites. The users have the option to upgrade to the business version of the plugin as well. With this option, the users can aggregate their reviews from other product review platforms as well. 
This plugin comes with a wide range of features like automatic content updates, and a super responsive slider that works on mobile devices, tablets, desktops, etc. The plugin enjoys integration with various page builders like Divi, Gutenberg, etc. Other features are customizable layout options, multi-language support, etc. 
5. Site Reviews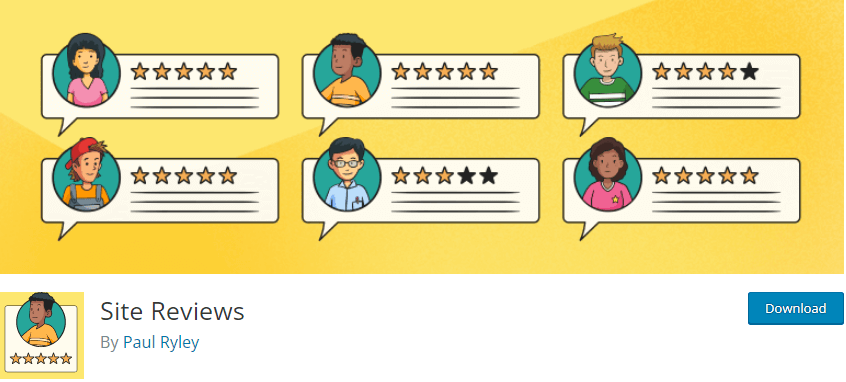 Last but not least, one of the most responsive and popular customer reviews plugins for WordPress websites is Site reviews. This WP plugin comes under the premium range of product review plugins and offers a wide range of features to its users.
To name a few feature options, the site reviews offer editor blocks, SPAM protection, Elementor editor, form styles, and much more. Additionally, the users can add captions to their reviews as well. The plugin also lets the users sort and filter the reviews as per their requirements. Overall, the plugin is great for first-time users and does the needful in a few minutes. 
The Best Product Reviews Plugin For WordPress
Collect, moderate, and Display product reviews on WordPress Website
Try For Free
Advantages Of Display Online Reviews On Your WordPress Website:
You have got to know about the best product reviews plugin for WordPress and if you are still confused about the ways in which this strategy can help your business grow, then make your way to the end of this section. 
1. Display the transparency of your brand
All potential customers look forward to including a brand that is transparent with its customers. When you embed Google reviews on your website, you tell your prospective customers about the views of your existing customers about your brand. 
Displaying both positive and negative reviews makes your customers put their faith in your brand and they are compelled to make a purchase. The logic here is that the more transparent you are with your customers, the more likely they are to become loyal customers. 
2. Helps in building your brand's social proof
Those days are long gone when potential customers leveraged the old age means of knowing more about your brand. There has been a considerable shift and customers look for social proof before investing in a new brand/product.
Customers believe what they see and embedding online reviews makes them aware of what other customers perceive of your brand, which in turn influences their purchase-related decisions. Hence, creating social proof of your brand is a major step toward success. 
3. Engage and convert easily using User-Generated Content
User-Generated Content is the content that is created by the existing customers of a brand and online reviews fall under the category of UGC perfectly. This form of content has already been declared the future of marketing since it is unscripted and authentic.
In fact, more than 85% of potential customers read reviews before making a purchase since they trust the word of other customers more than the brand's promotional content. Including this strategy can help the brand not only engage but gain more conversions easily.
Let's Call It A Wrap
We are calling it a wrap and you are fully aware of the best customer reviews plugin for WordPress websites along with their top features. 
This strategy has been a complete game-changer for various brands and marketers and if you are new, then we would highly recommend you begin right away!
What stops you now?
Choose your preferred fit and you will be ready to reap the mentioned benefits and much more!
Free Social Media Aggregator
Embed social feed from Facebook, YouTube, Instagram, Twitter on your website, like a PRO
No Credit Card Required