How To Add Reviews On Squarespace Website : Complete Guide
The voice of your customers has the power to make or break the reputation of your brand. Customer reviews are like the much-required validation from your customers that helps tremendously to convert potential customers into existing brand users.
If you are a brand that enjoys a good amount of ardent fans who take out their time to write reviews for your brand and if you are ignoring it or not using it in your business, then you are definitely missing out on a lot.
Wondering how to leverage your customer's voice? Simply add reviews on Squarespace website.
Talking a little about Squarespace, it has evolved to become a brilliant website building and hosting platform that lets users use website templates and various other elements to modify the web pages.
If you are wondering about the sources from which you can aggregate reviews, there are 4 major review platforms that can be used to embed reviews on Squarespace website.
Add Reviews on Squarespace Website
Collect, moderate, and add Reviews to Squarespace website
Try for free
Being a brand, you can aggregate reviews from:-
Step By Step Guide To Add Reviews On Squarespace Website
Now that you know about reviews and their types, in this section, we are going to tell you about steps to be taken for embedding reviews to your Squarespace website using Tagembed – a leading social media aggregator tool that enables its users to collect, curate, and embed social media feeds from various social media platforms including the top review platforms mentioned above.
Step 1 – Create A Review Widget
#1. Start by Signing up for a Free Tagembed account or Login into your Tagembed account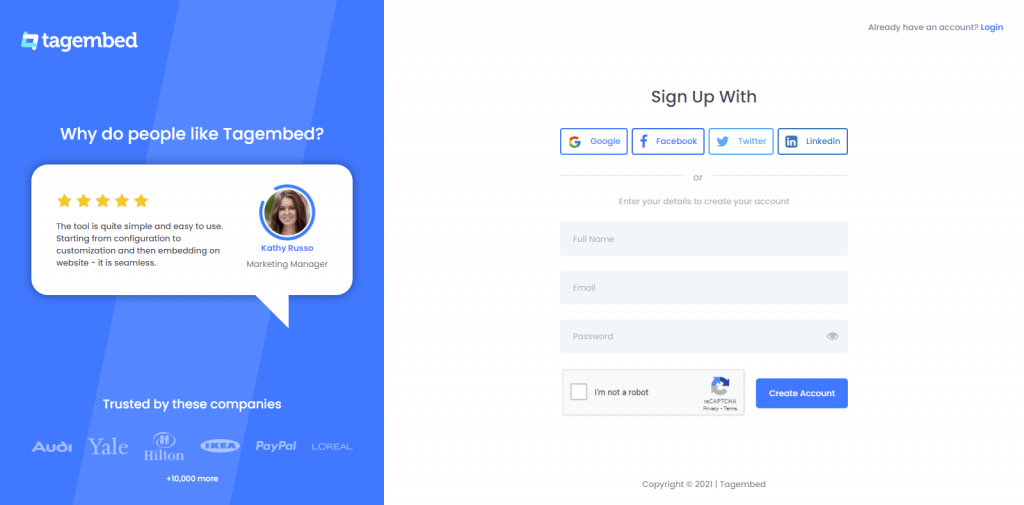 #2.(a) After logging in, you will reach the dashboard section of the platform. If you are a new user, your widget will be all set to be processed. All you have to do is click on Open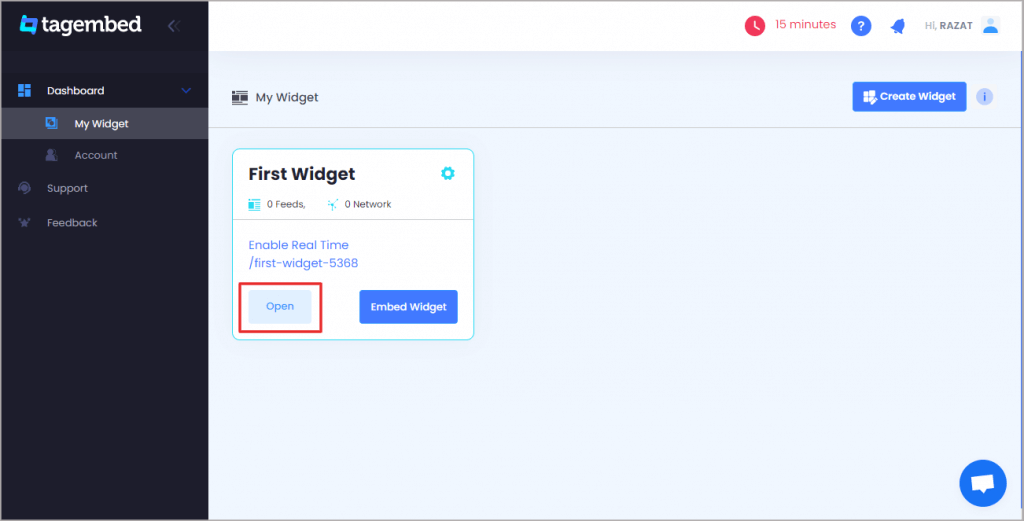 #2.(b) For existing users, you can create a new widget by clicking on the Create widget option on the top right button of the screen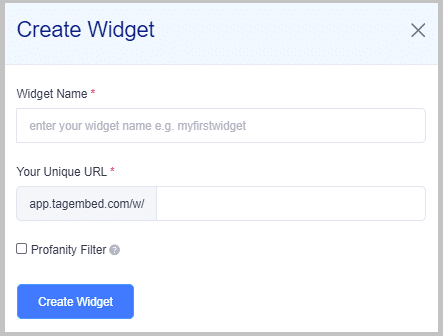 #3. Next, you need to click on the Add social media feeds option. Choose your preferred review platform like Google, Facebook, Airbnb, or Yelp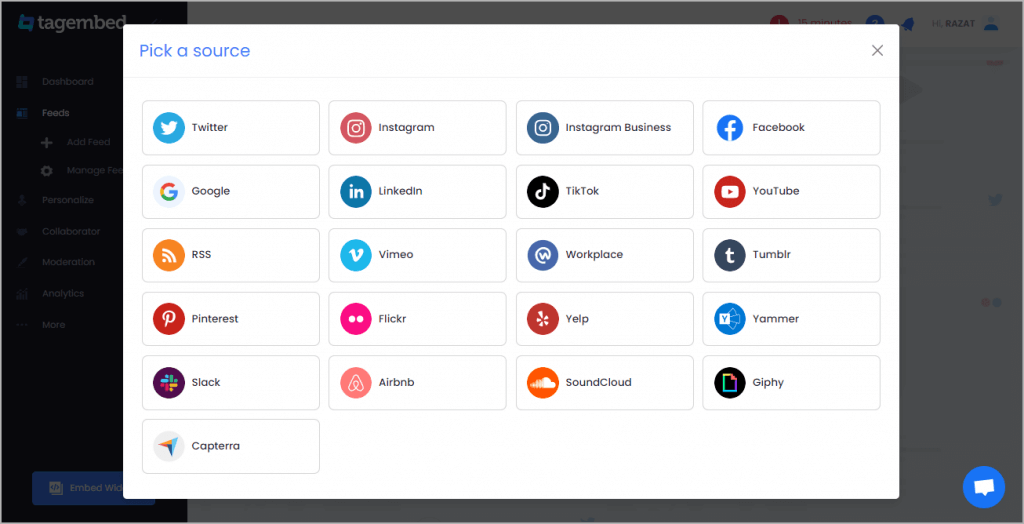 In the next option, you need to fill in your credentials to aggregate the content
Once done, you will be able to see all the aggregated content on the widget editor
Embed Reviews on Squarespace Website
Collect, moderate, and add Reviews to Squarespace website
Try for free
Step 2 – Embed The Reviews Widget On Squarespace
Once you are done with customizing the widget how you want, you will be set to embed the widget on your website
#1. Click on the Embed widget option on the bottom left corner of the widget editor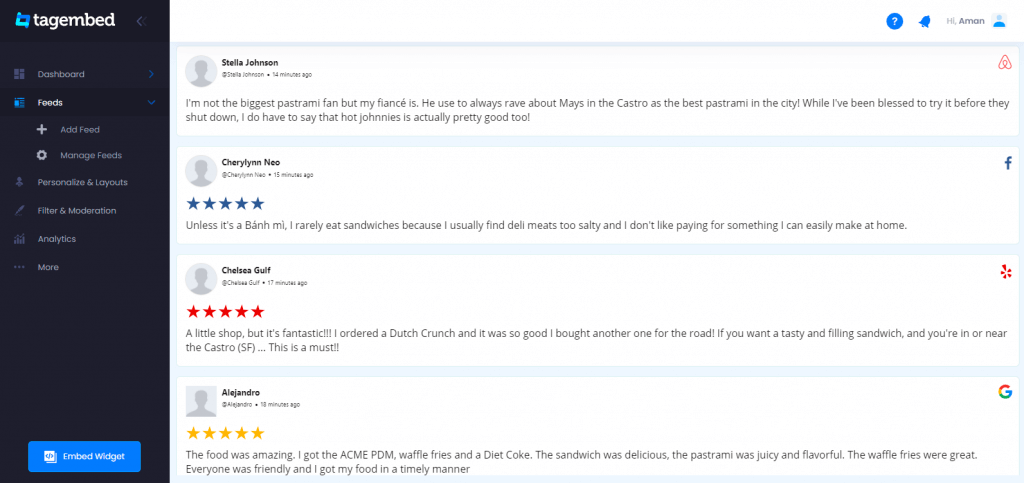 #2. A pop-up window will appear showcasing different website-building platforms. You need to select Squarespace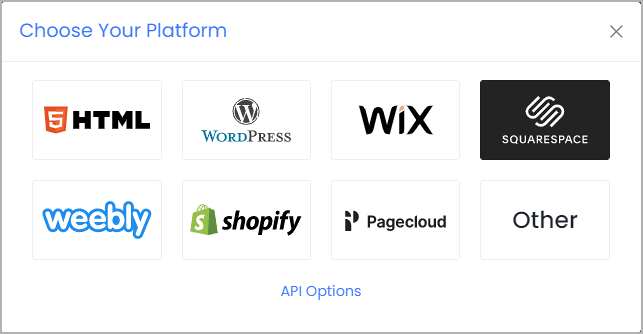 #3. Additionally, you will be given the option to adjust the width and height of the widget as per your preference. Click on the copy code option and paste the embed code on the clipboard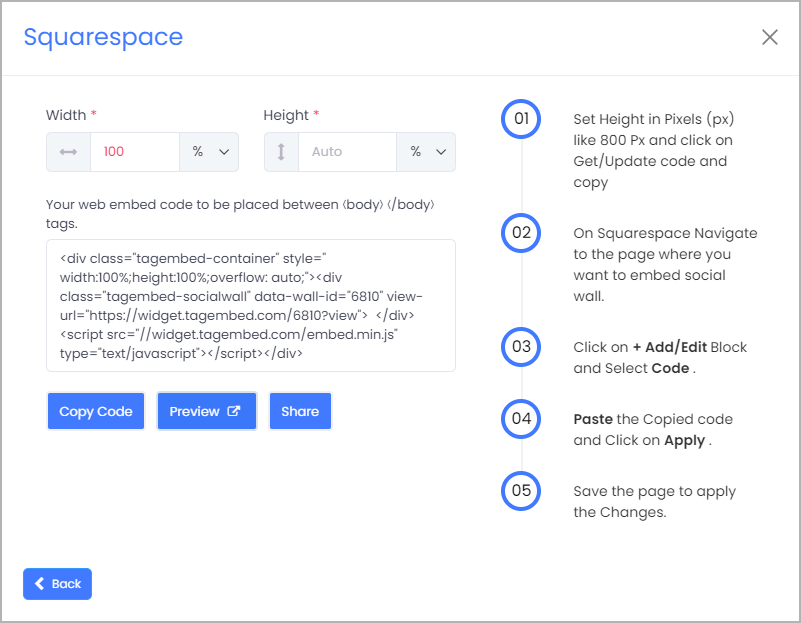 #4. Log into your Squarespace website and click on the Edit button to embed reviews.

#5. Click on the "+" Button
#6. Click on the </> code available on the right side of the screen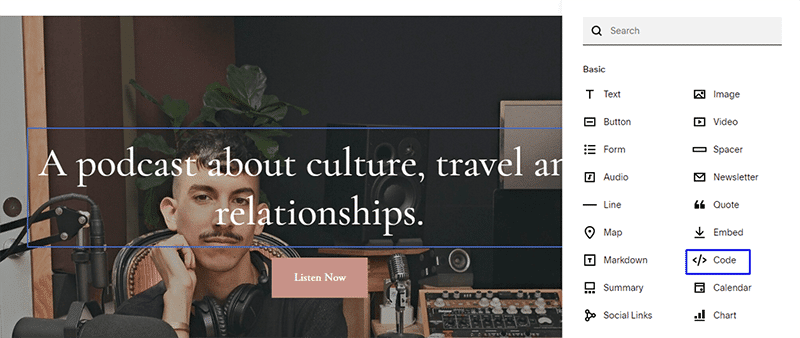 #7. Paste the copied embed code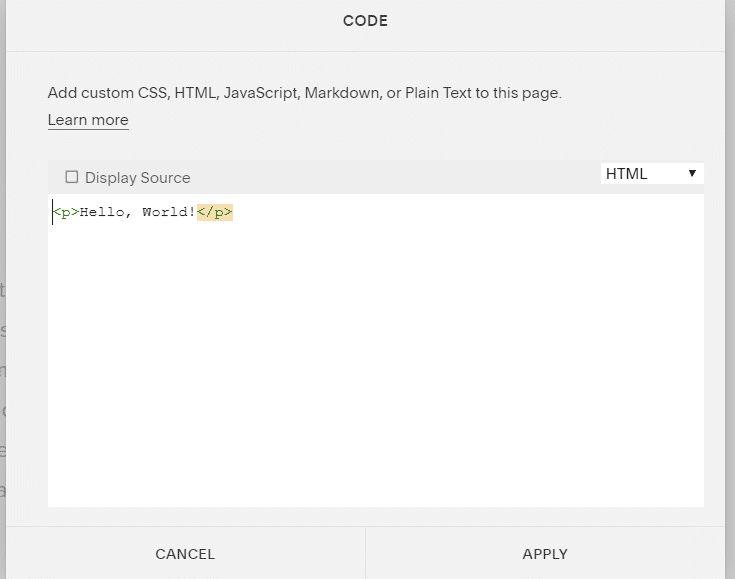 #8. Click on the Done option on the top right corner
Kudos! You will have successfully embedded reviews on Squarespace website
Also Read: How To Embed Google Reviews On Squarespace
Why Choose Tagembed?
Tagembed is a comprehensive platform that offers amazing features to its users to increase the effectiveness of the review widget!
The platform offers a wide range of customization options like fonts, colors, templates, layouts, etc. to make the widget more visually appealing. Internet users tend to get nasty at times and troll brands without any reason, which may ruin the image of a brand.
Hence, Tagembed offers a content moderation panel to its users to remove any unwanted or inappropriate content from the widget.
The best part about Tagembed is the advanced analytics feature. Users can leverage insightful analytics to track the performance of the reviews widget. Users can get details into crucial numbers like the overall engagement, likes, clicks, etc.
Overall, Tagembed is an extremely responsive platform with an extremely user-friendly interface. If the users come across any technical issues while using the platform, they can take assistance from the back support team anytime they want.
Add Reviews on Squarespace Website
Collect, moderate, and add Reviews to Squarespace website
Try for free
Key Benefits Of Embedding Reviews On Squarespace Website
By now you must be wondering the advantages of embedding reviews on Squarespace website. You will be getting the answer in this section-
1. Reviews help in building trust
Customer reviews fall under the category of User-Generated Content i.e. the content created by the consumers for the brand. This content is extremely trustworthy, genuine, and authentic as it is created as per the will of the brand consumers and is based on their personal experiences.
Furthermore, embedding reviews using Squarespace widget helps brands in building trust in potential customers. Here is a fun fact to prove the credibility of this line – More than 85% of potential customers leverages the reviews of existing customers before making a purchase!
2. Amp up the look of your website
Even though content plays a major role in making your website visitors stay for a longer duration, it is important for brands to concentrate on the design part of the website as well. A website that looks boring can be off-putting for the visitors.
Displaying a well-customized review widget on your website can work tremendously in garnering more attention from the website visitors leading to an increase in their dwell time and a reduced bounce rate.
3. Boost engagement of the visitors
The overall engagement of the visitors on the website plays an important role in deciding how likely they are to get converted into your existing customers.
Since reviews are quite engaging to read, they have the ability to keep your audience hooked for longer.
Moreover, the visitors would feel the need to explore your website more since they would be compelled to read more experiences of your existing customers.
Also Read: How To Embed Instagram Feed on Squarespace Website
Key Takeaways
More than 79% of shoppers say that they trust online reviews as much as they trust personal recommendations!
Now, that is quite a mind-blowing statistic, isn't it?
This brings us to the end of this post and you are completely aware of everything about reviews, right from their types, best aggregation platforms, their embedding steps, and the benefits of adding reviews on Squarespace website.
All you need to do is utilize Tagembed for the embed process and you will be set to present the valuable content of your customers on your website. Get going, create a free Tagembed account and you will be good to go!
Free Social Media Aggregator
Embed social feed from Facebook, YouTube, Instagram, Twitter on your website, like a PRO
No Credit Card Required