How To Add RSS Feeds To WordPress Website – Complete Guide
Do you want your website to be a point of attraction? Do you want to improve the effectiveness of your WordPress website's content and make it more engaging? If that is the case, stay still.
We'll walk you through all you need to know about RSS feeds, including what they are, how to add RSS feeds to WordPress website, and why you should use them.
Embedding RSS feed on WordPress website is one of the best ways to boost user engagement and provide additional value to visitors. Moreover, it is crucial to keep the visitors engaged for a longer duration of time and therefore, the RSS widget establishes website authority by improving readers' website experience.
Marketers, brands, and businesses are utilizing RSS feeds to connect more deeply with their consumers and drive organic conversions with high user engagement.
Let's delve right away and start learning more about RSS feeds, their advantages, and how to display them on your WordPress website by following a few simple steps.
Add RSS Feeds To WordPress
Collect, Moderate, and Embed RSS Feed to WordPres Website
Try for free
Add RSS Feeds To WordPress Website – Two Efficient Methods Using Tagembed
Here's all you need to know about Tagembed before getting started with the steps. Tagembed is a popular social media aggregator tool that allows users to filter and embed content from a variety of social media networks, as well as RSS feeds from multiple sources.
The tool allows users to personalize the RSS widget on WordPress with several design choices, among other advanced features. Tagembed comes with a content moderation panel for censoring content, custom CSS, automated content updates, comprehensive analytics, and 24×7 solid back support help.
Simply follow the steps mentioned below. We'll show you how to use Tagembed to add RSS feeds to WordPress with two different ways!
Method 1 – Using The Tagembed RSS Feed WordPress Plugin
Method 2 – Using The Tagembed Social Media Aggregator Tool
Method 1 – Using The Tagembed RSS Feed WordPress Plugin
Step A – Install and Activate the Best RSS Feed WordPress Plugin
1). Install and activate the WordPress Plugin from the plugin area, search for and install the Tagembed RSS Feed WordPress Plugin, then enable the Tagembed WP plugin.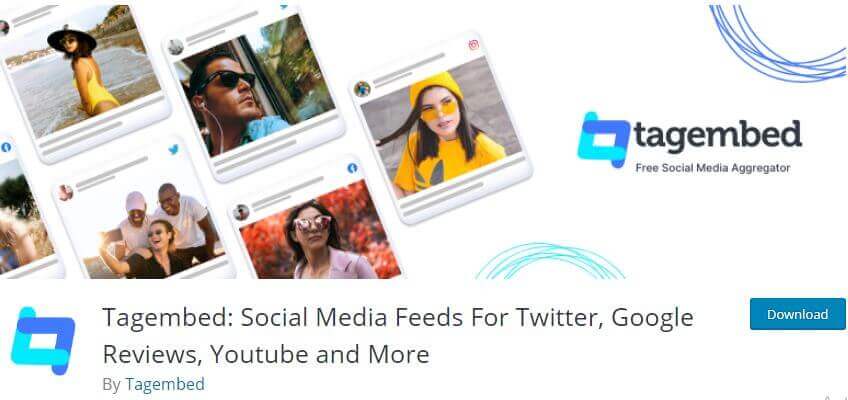 2). An alternative to this is to save the Tagembed plugin zip file to your WordPress directory, then upload it to activate the plugin.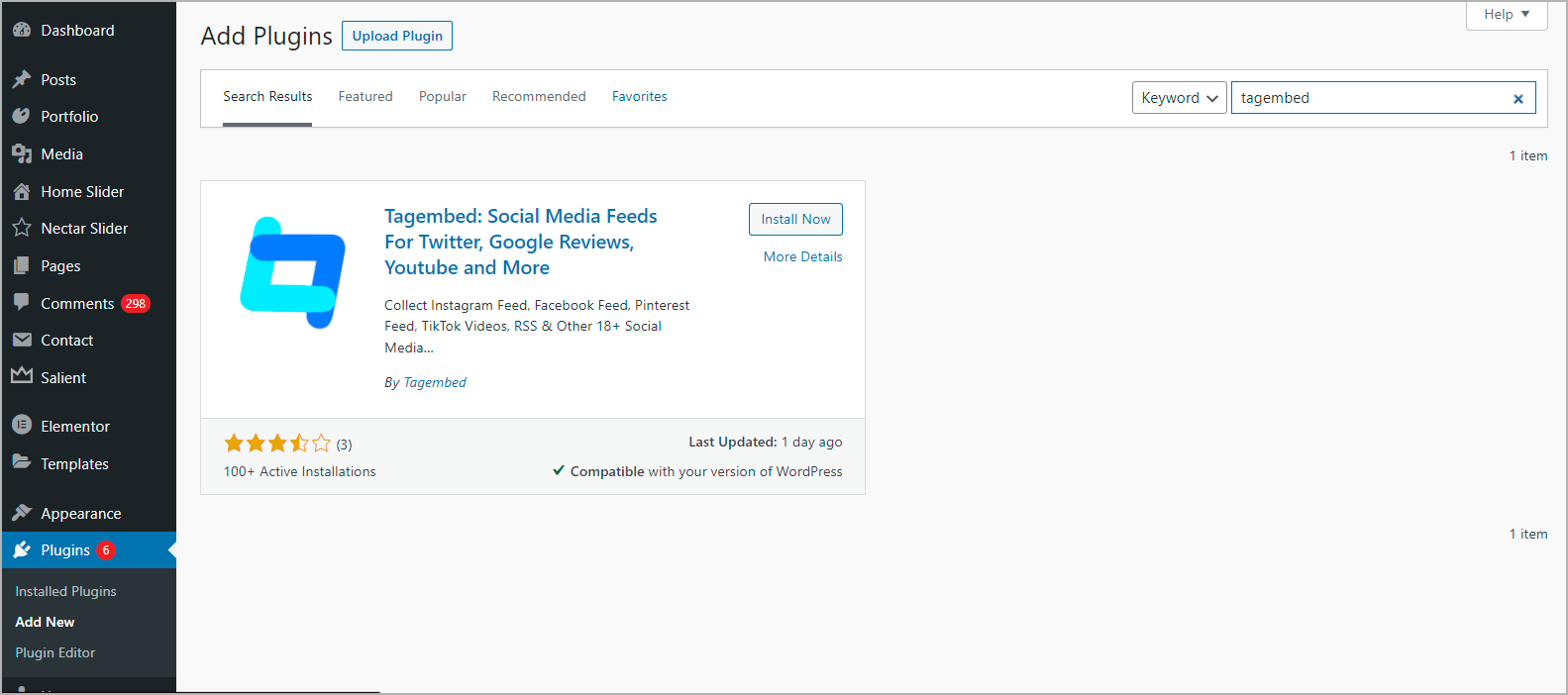 Step B – Display RSS Feeds from your preferred source And Embed it
1). Begin by signing into your WordPress account and scrolling down to the Tagembed widget plugin, where you may sign up for a new account or log in to an existing one.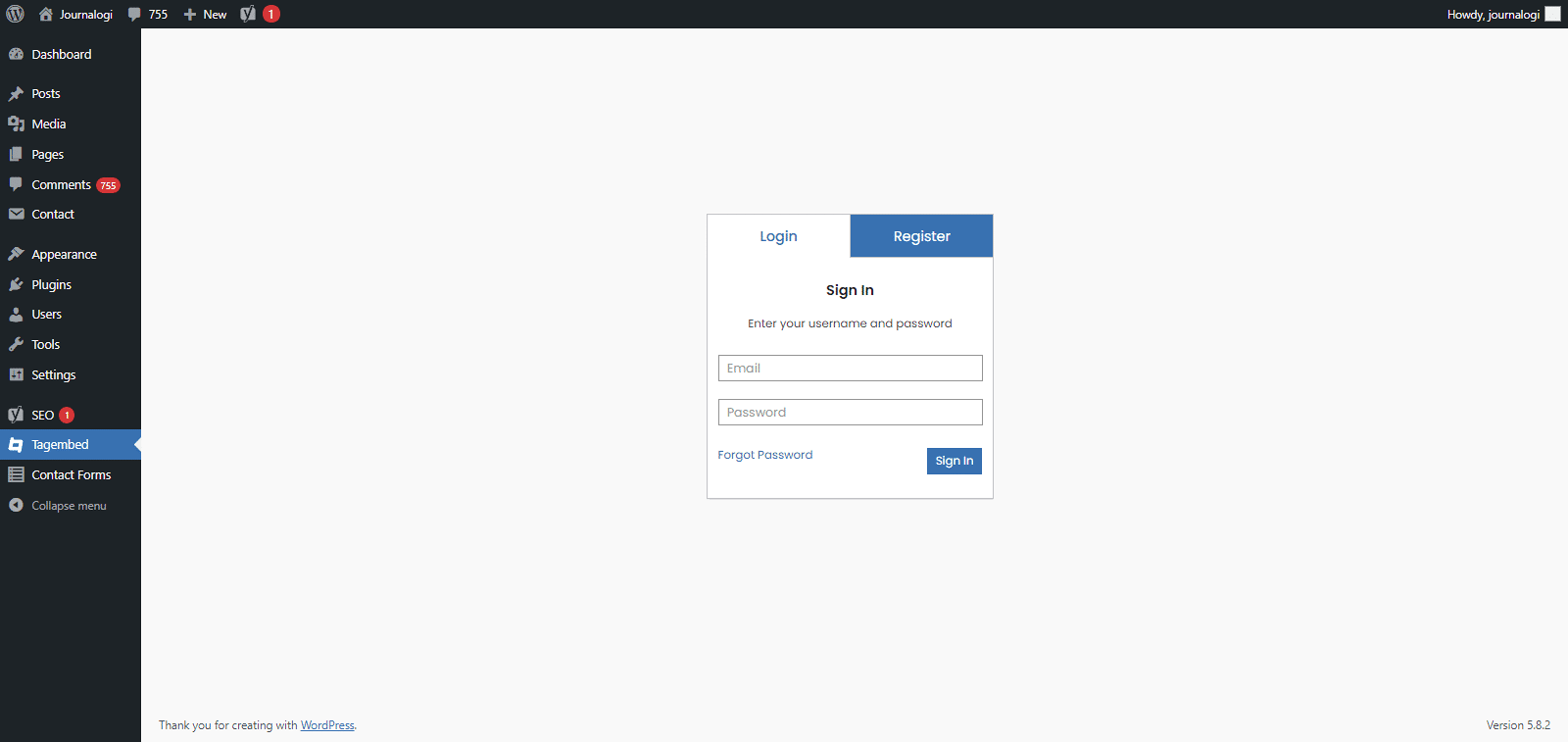 2). Go to Widgets and Select RSS from the Add Feeds menu to create a new widget.
3). Collect the RSS feeds from your preferred choice.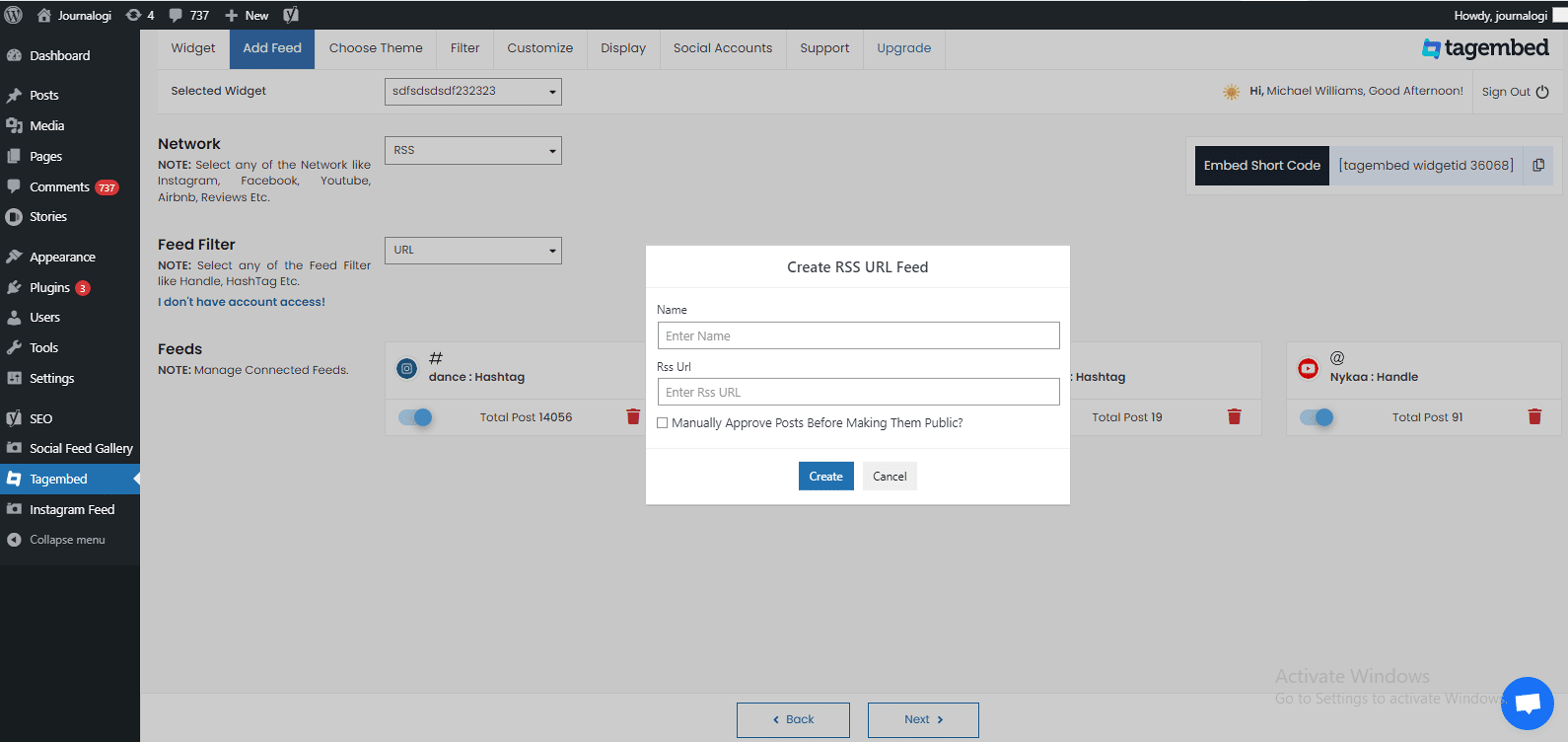 4). Next, pick the layout that best matches your style from the Choose Theme widget to tailor the widget to your liking.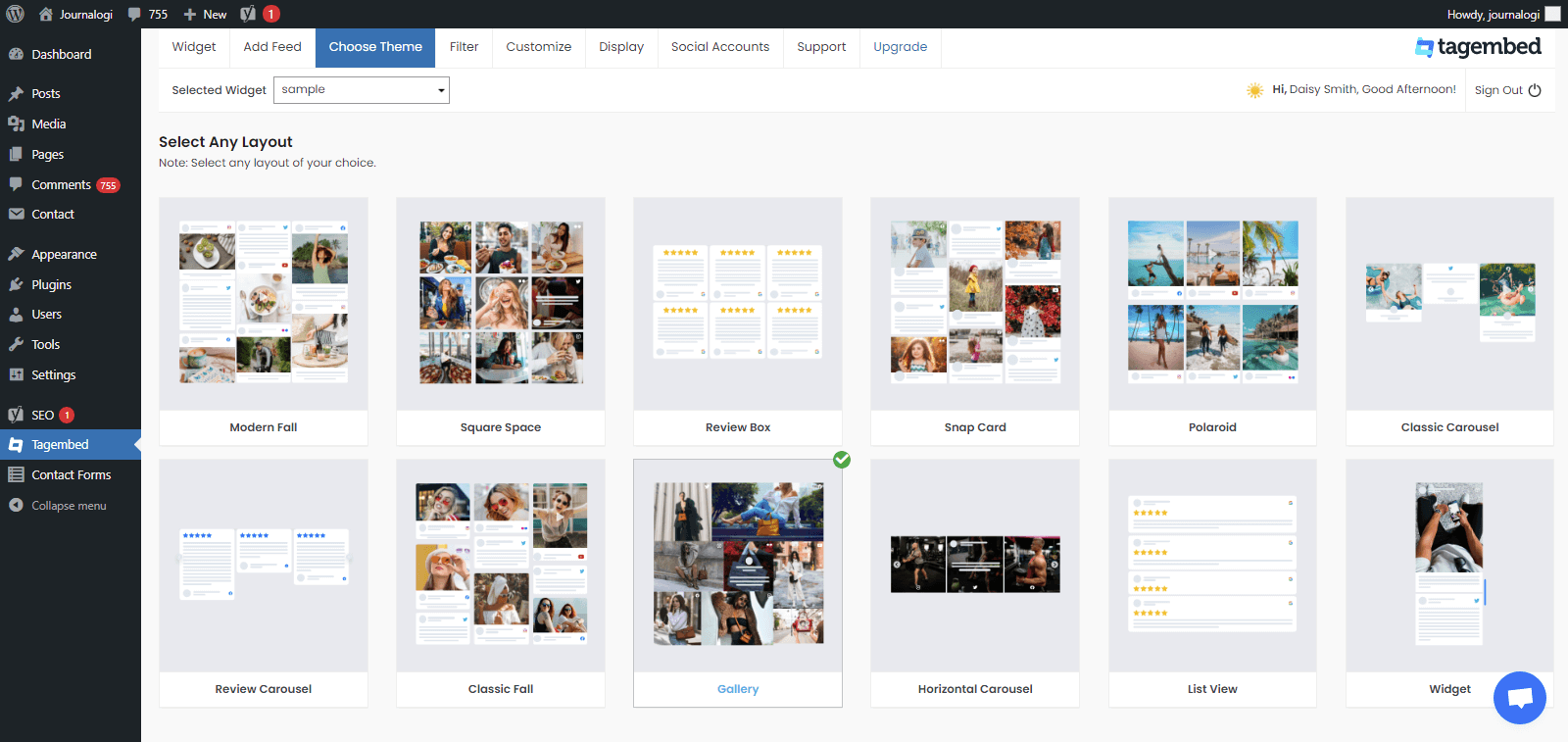 5). You can delete the items you don't want to appear in your RSS feed by going to the filter tab option.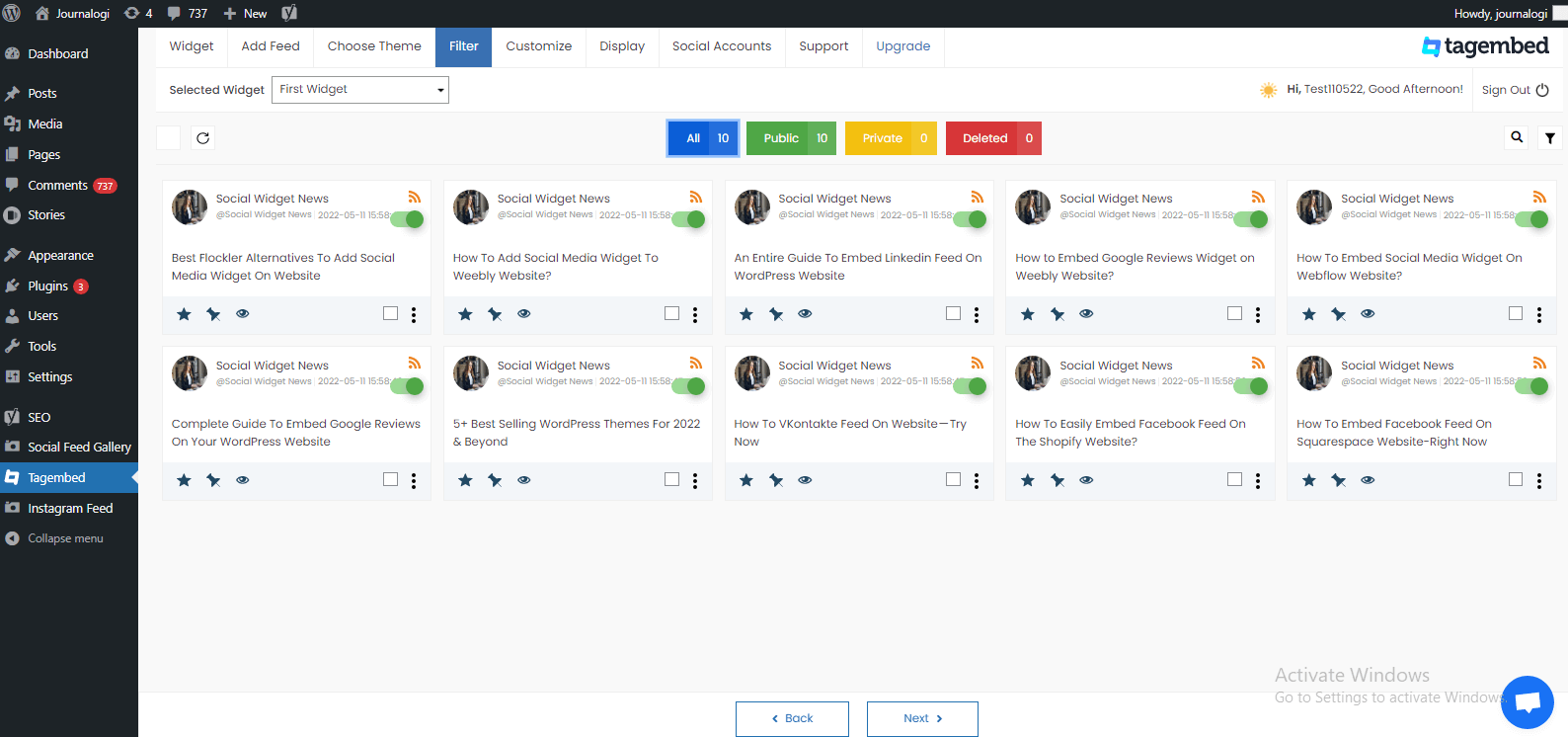 6). Now, navigate yourself to the Display tab and copy the shortcode supplied, then paste it into your WordPress editor.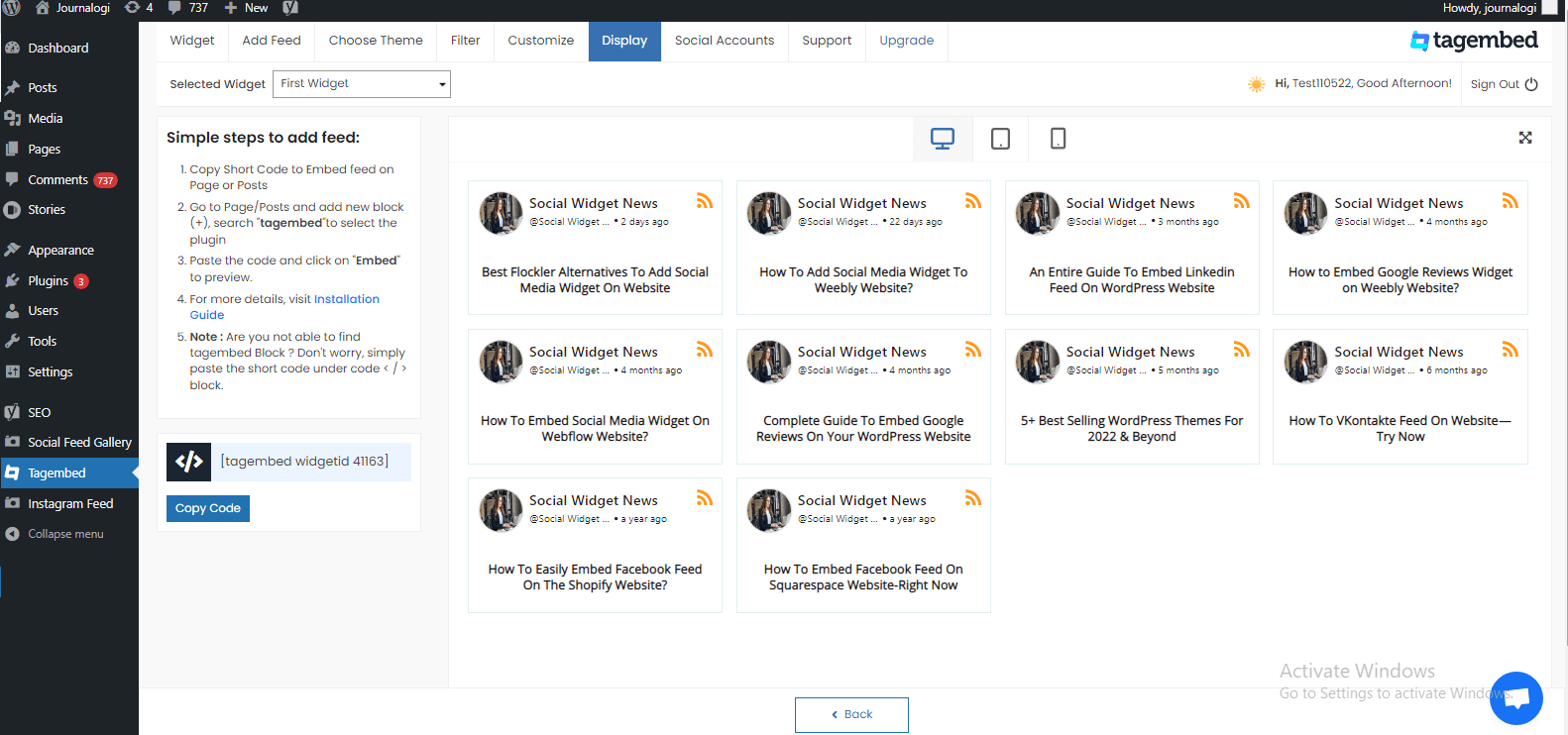 Voila! You will have added RSS feeds to WordPress website.
Method 2 – Using The Tagembed Social Media Aggregator Tool
If you do not wish to leverage an RSS feed WordPress plugin, then you have the option to use the Tagembed tool to create and embed RSS feed on WordPress website. Simply follow the steps mentioned below.
Step A – Log in to the tool & Collect the RSS Feeds
1). Create a free Tagembed account or sign in if you already have one.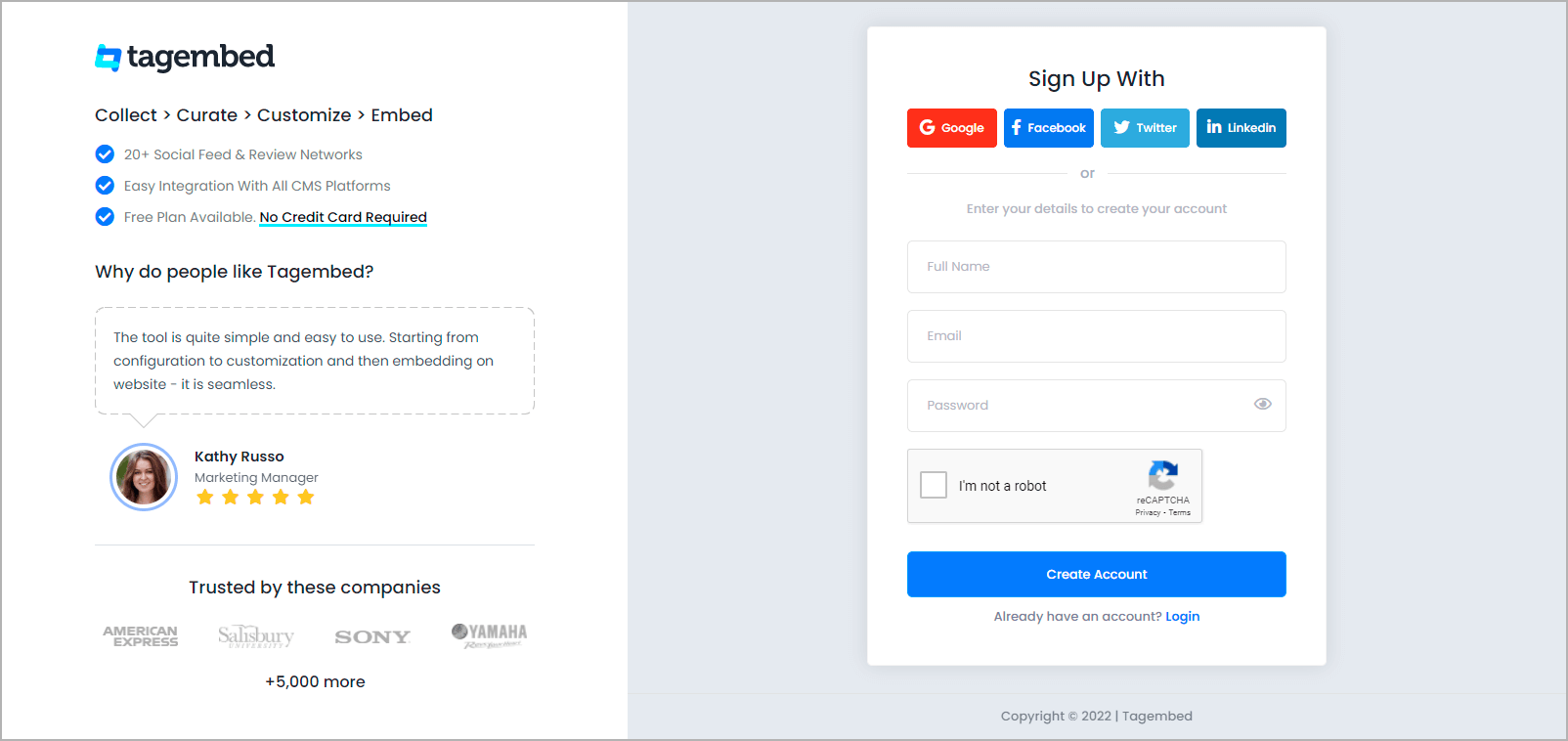 2). You'll be sent to Tagembed's dashboard. Here you will find a widget that has already been made. To begin collecting RSS feeds, click the Open button.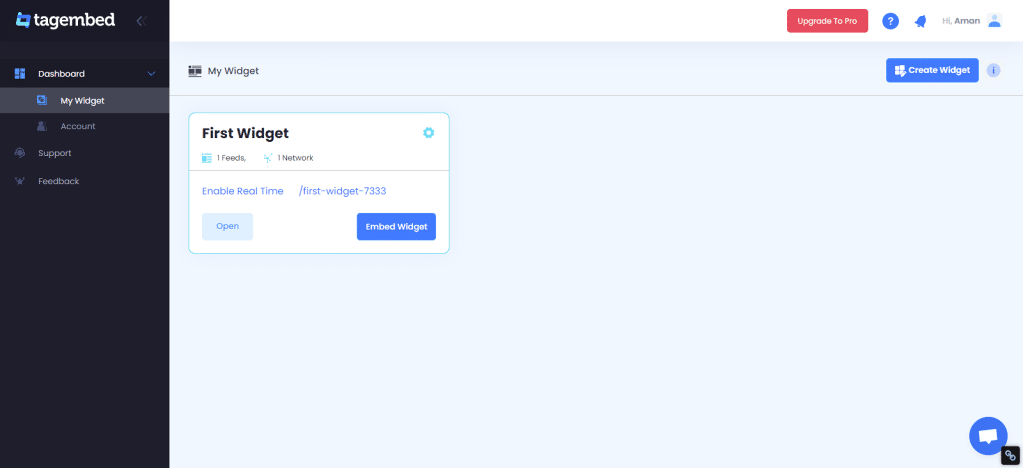 3). A screen featuring 19+ social networking channels will now display. Choose the RSS option as your content aggregation option.
4). In the box, paste the copied RSS feed URL in the input field. When you click the Create Feed button, you will be able to see all the aggregated RSS feeds in the widget editor.
Tip: To highlight beautiful and relevant feeds, apply modification and moderation on selected RSS feeds. You can create aesthetically stunning RSS widgets as the tool provides proprietary 10+ themes and layouts, styles, and specialized customization and styling options to RSS feed examples on the website.
Step B – Create RSS Feed Embed Code
1). Go to the bottom-left of the editor screen and click the Embed Widget button. A tiny pop-up with numerous website CMS choices will appear. Choose WordPress as your website-building platform.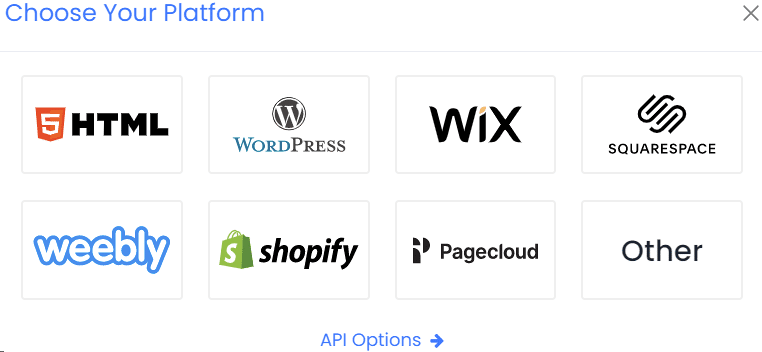 2). Adjust the RSS feed widget's height and width to suit your needs, then click the Copy Code button. Copy the Embed code to the clipboard and open a new tab.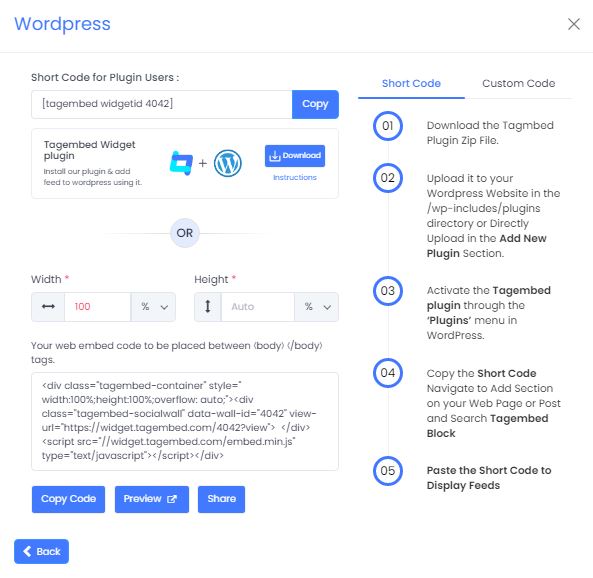 Step C – Display RSS Feeds On WordPress Website
1). Start by logging into your WordPress admin account.
2). Copy the Shortcode or embed code that is created.
3). Then, go to your WordPress website and log in.
4). Choose Custom HTML or Shortcode from the (+) Add Block icon after selecting the Page or Blog.
5). Click the Update button to complete the procedure. Kudos! You would have added RSS feeds to your WordPress website now.
Add RSS Feeds To WordPress
Collect, Moderate, and Embed RSS Feed to WordPres Website
Try for free
Incredible Benefits Of Adding RSS Feeds On WordPress Website
If you are still wondering about how this strategy can help your brand grow, the following are some of the advantages of display RSS feeds in WordPress website:
A). Works On Visitor Retention and Engagement
One of the biggest benefits of add RSS feeds on WordPress website is that it encourages your users to interact with the most useful material. You can attain the needful by showing interesting blogs and articles on your website by integrating RSS feeds.
By displaying a variety of content, your users will be able to go through various categories of content, which would increase their stay time, leading to more engagement on the website.
B). Improve the quality of your website's content
You may use RSS feeds to display different types of content on your WordPress website with innovative graphics. The content quality of your website needs to be on point as it is a major interaction point between your prospects and you. Moreover, it determines the stay time of your website visitors too.
Hence, Adding RSS feeds in the form of blogs and news articles adds value to your website's content by including other elements like images, graphics, etc. all of which improve the content quality.
C). Increased SERP Positions
RSS feeds do not provide SEO benefits directly, but they will improve your website's performance by increasing audience engagement, dwell time, readability, and content quality.
Moreover, the logic here is simple. The more visitors who interact with your website, the better its authority, resulting in higher search engine ranks.
D). Create a good relationship with the content creators
Add RSS feed in WordPress websites' blogs and articles will enhance traffic to the website directly. It sends visitors to other people's blogs, increasing the prominence of content which helps in attracting more people to your brand website.
As a result, you can include an RSS feed on WordPress website and cultivate a positive relationship with other content authors so that you may reap the same rewards.
Let's Call It A Wrap!
We are at the conclusion section of this post and you are completely guided about how to add RSS feed in WordPress website.
Resulting, these highly result-driven and appealing RSS widgets may now be effortlessly displayed on your website.
Furthermore, adding RSS feeds is a strategy that is not heavy on the pocket and presents original content on a website, and boosts client interaction.
Want to take advantage of RSS widgets?
Go on and sign up for a free Tagembed account and add RSS feeds to wordpress website right away. 
Free Social Media Aggregator
Embed social feed from Facebook, YouTube, Instagram, Twitter on your website, like a PRO
No Credit Card Required
Free Social Media Aggregator
Embed social feed from Facebook, YouTube, Instagram, Twitter on your website, like a PRO
No Credit Card Required