How To Embed RSS Feeds On Websites
Reading Time:
6
minutes
Introduction
Have you come across the RSS feeds and want to embed RSS Feeds onto your website? If yes, then don't move anywhere. We will tell you all about RSS feeds: what they are, how to embed RSS feeds on your website and why you should use them via a step-by-step guide.
RSS feeds help improve user engagement, auto-update the latest content, offer new value to visitors, and build authority by enhancing readers' experience on the website.  
Adding RSS feeds is helpful for marketers, brands, and businesses to connect with their audiences profoundly and bring organic conversions with high user engagement.
Let's get started to know more about the RSS feed, its benefits and display them on your website by following some steps.
Embed Free RSS Feeds on Websites
Collect, Moderate, and Embed RSS Feeds on Website
Try for free
How To Embed RSS Feed On Website Using Tagembed?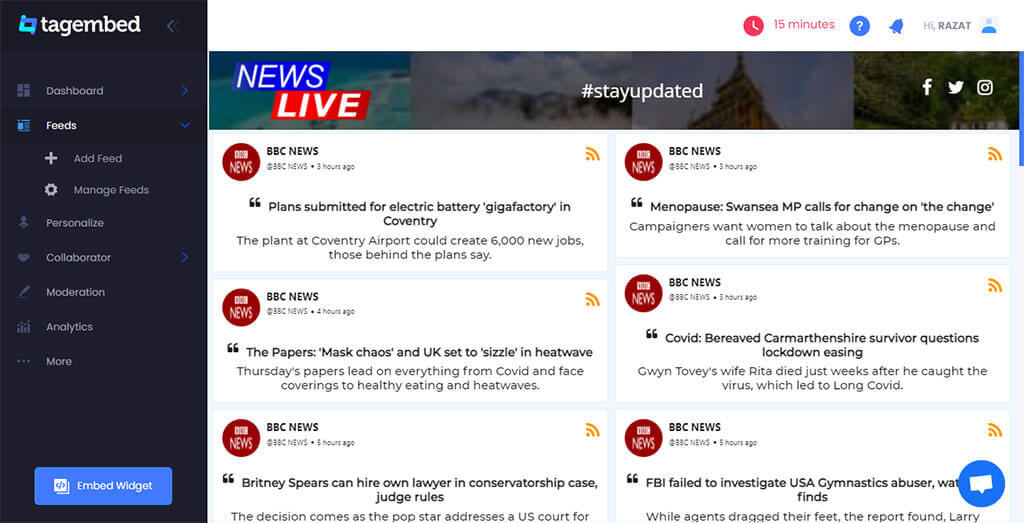 Tagembed is a social media aggregator that helps website owners to collect, curate, and display beautiful social media feeds on the website in a single click. It offers more than 15 social media sources to users, in which RSS is one of the most prominent sources to curate feeds.
This is one of the best social media aggregator tool that helps you build an attractive and customized RSS feed to display on a website using various themes, designs, banners, and many other customizations for a better user experience and engagement.
Here are four simple steps to create and embed RSS feeds on the website using Tagembed.
4 Simple Steps To Create & Embed RSS Feeds On Website
#Step 1: Create RSS feed URL
Finding RSS feed links depends on where the website is hosted. In addition, different website platforms have different RSS links.
Use the XML file of the website if provided, or you can Google for the RSS URL based on the website platform. 
If you are working with a website built on WordPress, then it is very easy to create an RSS feed URL. (e.g., https://domainname.com/blog/feed) 
Once you create the RSS feed URL of the website, respective of their hosting platform, you need to copy the link (URL) on the clipboard.
#Step 2: Aggregate RSS Feeds Using Tagembed
Create your free Tagembed account or login if you are an existing user. 
You will redirect to the Tagembed dashboard. Here, you will find an already created widget there. Click on the "Edit" button to start aggregating RSS feeds. 
Now a screen will appear with 15+ social media platforms. Here, select the "RSS" network as a feed source. 
Paste the copied RSS feed URL in the box and type the "Display Name" in the input bar. Click on the "Create Feed" button, and all the latest posts will be displayed on the editor screen. 
Tip: You can enhance curated RSS feeds by performing customization and moderation to showcase attractive and qualitative feeds. Tagembed offers exclusive 10+ themes & layouts, styles, and dedicated customization options to design visually appealing RSS feeds.
#Step 3: Generate Embed Code For RSS Feed
After modifying RSS feed Widget, click on the "Embed Widget" button located at the bottom-left of the editor screen.
A small window will appear with various website CMS options. Select the one that your website is built with.
Adjust the height & width of the RSS feed widget as per your requirement and then click on the "Get Code" button.
Copy the generated Embed code on the clipboard and log in to your website in the new tab.
#Step 4: Embed RSS Feed Widget On Websites
Login to your website Admin Panel.
Navigate to the webpage where you want to embed RSS Feeds.
Paste the embed code in it and Save the changes made
Click Publish and Reload the webpage to view the live RSS Feed Widget.
Congratulations! You have successfully collected and embedded RSS feeds on your website.
Embed Free RSS Widget on the Website
Collect, Moderate, and Embed RSS Feeds on Website
Try for free
What Is RSS Feed?
Rich Site Summary or RSS feed is a collection of the latest blogs or articles from the website or news website through an XML file. A list of blogs or articles from your website or other website is displayed on the screen with an RSS icon that ensures updated content on the website.
RSS feeds are displayed on the web page with a blog title, short description, URL, and RSS icon. Some RSS feeds also contain summaries, images, author names, tags, comments, and categories.
With the help of an RSS feed reader or a social media aggregator tool like Tagembed, you can easily display RSS feeds on your website. These tools keep checks on the latest blogs, articles, news, etc., and automatically update your website with the latest feeds.
But before you embed RSS feeds, you need to know how to collect the XML file or feed URL to display on your website.
Why Should You Embed RSS Feeds On Your Website?
Displaying RSS feeds on the website has numerous benefits. First, you create a content mix on your website, merging your website content with the latest articles from the other popular website.
Here are some of the benefits of integrating RSS feeds on the website:
Also Read – Embed LinkedIn Feeds on website
#1 Enhance Visitors Engagement & Retention
One of the top benefits of embedding RSS feeds on websites is that it gives reasons to your visitors to engage with the more valuable content. By embedding RSS feeds on your website, you can display exciting blogs and articles on your website.
You can allow the visitors to explore your RSS feeds by showcasing them informative news, blogs, articles, etc. It will generate value for your website and increase visitor retention. Hence, visitors would like to visit to find the latest informative content on your website.
Also Read – Add Instagram Feeds on Shopify
#2 Build Affinity With Content Creators
Showcasing RSS feeds based on the blogs and articles from the other website will directly increase traffic on the website. It redirects your visitors to the blogs of others, which increases the visibility of the content and brings more readers to their website. Hence, integrating RSS feeds on your website will build a healthy relationship with other content creators and help you get the same benefits in return.
Embed Free RSS Widget on the Website
Collect, Moderate, and Embed RSS Feeds on Website
Try for free
#3 Increase Content Quality On Your Website
With the help of RSS feeds, you can display different categories of content with creative visuals on the website. For example, adding blogs and news articles adds value to the content on your website, with an attractive image, title, summary, icon, and description, which overall increase the content quality on your website.
Also Read – Embed Slack Feeds on websites
#4 Higher SERP Rankings
RSS feeds do not directly deliver you SEO benefits, but they will boost your website performance by enhancing audience engagement, dwell time, readability, and content quality of your website. The more people engage on your website, the more your website's authority and visibility increase, ultimately resulting in higher search engine rankings.
Conclusion
Summarizing the blog, we have learned about RSS feeds from scratch. Hence, you can easily display these great and attractive RSS feed widgets on your website with blogs.
Moreover, embedding RSS feeds is a cost-effective way to display unique content on the website and increase customer engagement with just spending a dime.
Thus, if you are keen to leverage the benefits from the RSS feed, grab the free Tagembed account now and check out how they are increasing the performance and user experience on your website.
Free Social Media Aggregator
Embed social feed from Facebook, YouTube, Instagram, Twitter on your website, like a PRO
No Credit Card Required