25+ Best WordPress Plugins To Increase Engagement In 2023
2022-01-06==================================2022-01-06========================January 6, 2022
So, you finally have a WordPress website to target your potential customers? Kudos to you for taking this step! However, the real struggle of engaging website visitors begins after creating the WordPress website of your dreams!
It is where best WordPress plugins come to your rescue. With over 58000+ plugins in the WordPress directory, it can be quite a daunting and challenging task to pick the one that makes the perfect choice for your needs. However, leveraging the best WordPress plugins can be a boon to your business and help you tremendously increase your website traffic and engagement.
If you are a business and looking for an appropriate WordPress plugin to reap business benefits, then you are at the right place.
Continue reading this post till the end, as we will be shedding light on the best WordPress plugins available in the WordPress directory!
25+ Best WordPress Plugins To Try Out For Increasing Your Website's Engagement & Performance
1. Tagembed WordPress Plugin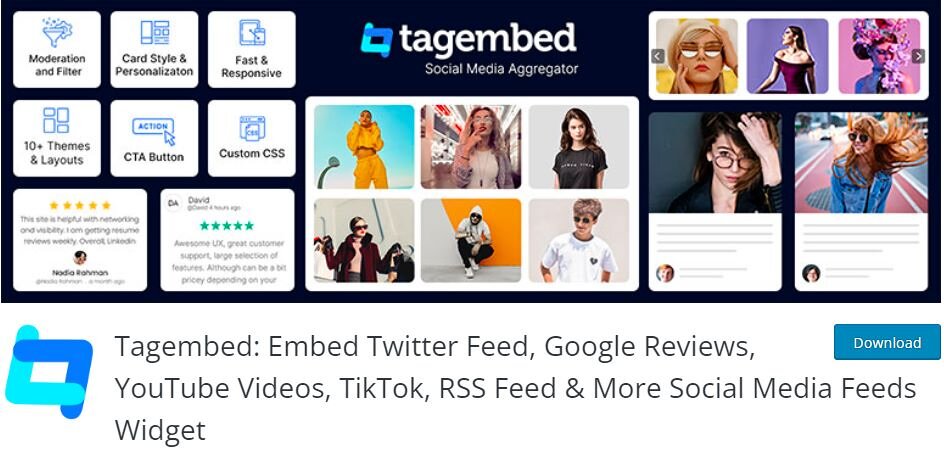 On average, social media users spend more than 2 hours scrolling through their feeds! Doesn't this statistic pretty much reflect how engaging social media truly is? What if we tell you that there is a plugin that can help you collect and embed social media feeds on your website seamlessly?
The Tagembed WordPress plugin is the leading most advanced WordPress plugin that helps users collect, curate, and embed content on their WordPress website. This powerful plugin is super easy to use and needs no technical skills to be activated. In addition, the plugin comes with power-packed features that enable the users to create an impactful and engaging social media feed widget.
The users can leverage features like customization options, the content moderation panel, advanced analytics for determining the widget's performance, and 24×7 back support assistance.
Key Highlights Of The Tagembed WordPress Plugin – [Download Plugin]
Collect social content from over 20+ social media platforms
A wide array of customization options like themes, templates, colors, and much more
Profanity filter to remove any unwanted or inappropriate content
Coding free functionality
Include CTA on social media posts
Insightful analytics like total impressions, likes, clicks, etc.
A Free Forever pricing plan
2. Booknetic WordPress Appointment Booking Plugin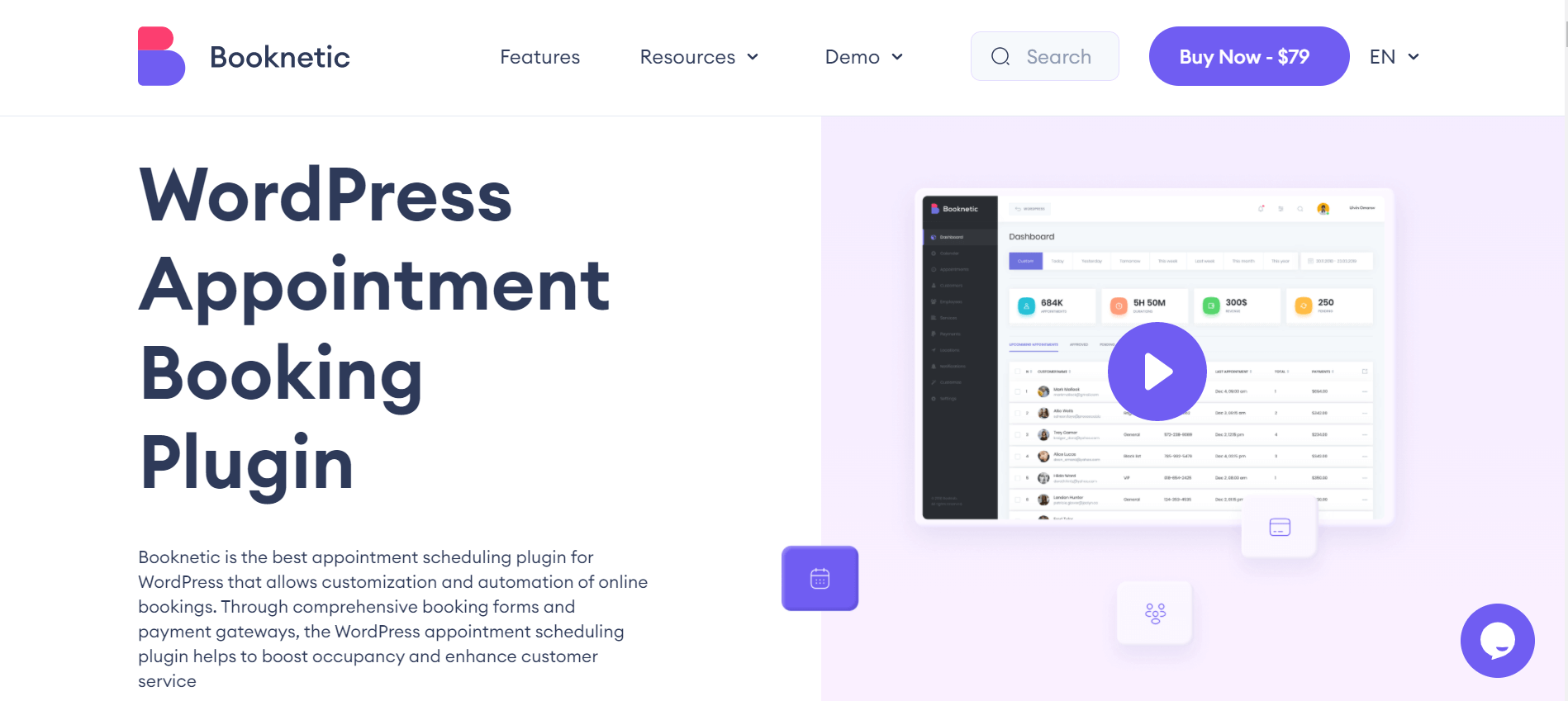 Upon the arrival of the pandemic, online booking has become a detachable part of our lives. This increased the role of bookings for appointment-based businesses. Booknetic WordPress appointment booking plugin is developed for businesses to simplify their bookings and overall management.
This plugin can be used by law firms, hotels, medical clinics, nutritionists, beauty and wellness centres, private consultants, and repair centres of all sizes. Using its customizable booking form, you can create a booking panel true to your business style.
Key Highlights of Booknetic:
Customizable booking form
Continue with Google or Facebook
Integration with Google Calendar and Zoom
Online payment gateways with Stripe, PayPal, & WooCommerce
Comprehensive notifications via SMS, WhatsApp, email
Holidays, gift cards, and discounts from the booking panel
Unlimited service, location, and staff
Insightful admin panel
Invoicing and taxing
Recurring payments and group appointments
3. ThriveDesk – Live Chat, Helpdesk & Community for WordPress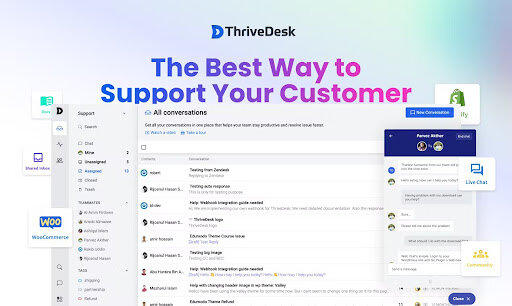 ThriveDesk is arguably the best helpdesk and live chat software solution for WordPress for humanly customer support. With the simple, straightforward, and easy-to-use plugin, you can manage all customer conversations through Thrivedesk's Shared Inbox(aka Ticket System). The lightest and fastest live chat assistant helps you to convert visitors into customers.
Aiming to provide a better customer support experience, ThriveDesk WordPress plugin also offers a stunning knowledge base to scale customer support, WooCommerce integrations for WooCommerce merchants, and advance reporting measuring your team performance, community forum support, and many more.
For eCommerce websites or SaaS startups, ThriveDesk is undoubtedly the best customer service software with minimal pricing.
Key Highlights of ThriveDesk WordPress Plugin – [Download Plugin]
Support ticket plugin for WordPress
Manage all your conversations with Shared Inbox
Live Chat assistant to convert visitors into customer
Self-service Knowledge Base
Email with unlimited addresses
Email Signatures generator
Proactive offline messaging system
Incoming email authentication
Automated replies from the Knowledge Base
Conversations reporting
Community support forum
Deep WordPress Integration
4. Solid Affiliate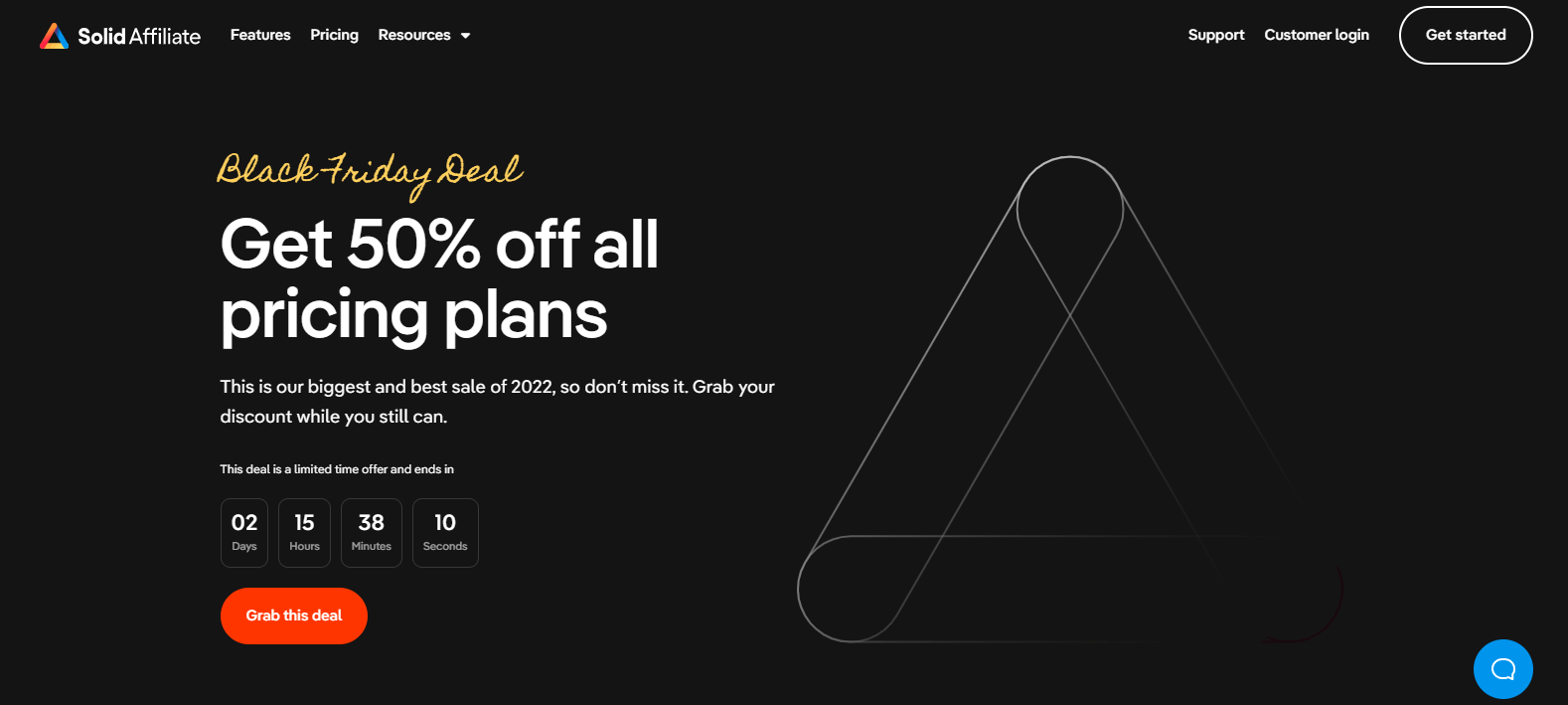 One of the best ways to increase engagement with your site it to incentivize and empower people to share it. Affiliate marketing is a tried and true strategy for sustainable, profitable-by-default growth. Solid Affiliate is considered the best affiliate plugin for WordPress and WooCommerce. It's the only solution built from the ground up for WooCommerce while including all of its features in just one robust and beautifully designed plugin.

The founder of Solid Affiliate has said: "We'd highly recommend using a combination Tagembed + Solid Affiliate. They're a natural match."
Solid Affiliate has a built-in setup tool that automatically does all set up for you, ensuring that the affiliate program works properly with any WooCommerce store. Setup takes just a few minutes, you can do it by the time you finish reading this page. Simply put, Solid Affiliate adds a registration form to your site where people can apply to promote your products. Then, you approve their account, and they get links, coupon codes, and everything else they need to promote your product. Any customers they send over will be automatically noted, and they'll receive credit. All you need to do is click a few buttons to send them the commission splits – everyone wins!
Here are some of this plugin's key features: – [Download Plugin]
Instantly works with any WordPress + WooCommerce site.
Track referred customers using links, coupons, and more.
Unlimited usage of everything, no limits.: Unlimited affiliates, referrals, creatives, affiliate links, and everything else.
All features are included for one price.
Price$149/year with all features and add-ons included. Risk-free, 30-day money-back guarantee. Learn more about Solid Affiliate here.
5. Smush Image Compression Plugin For WordPress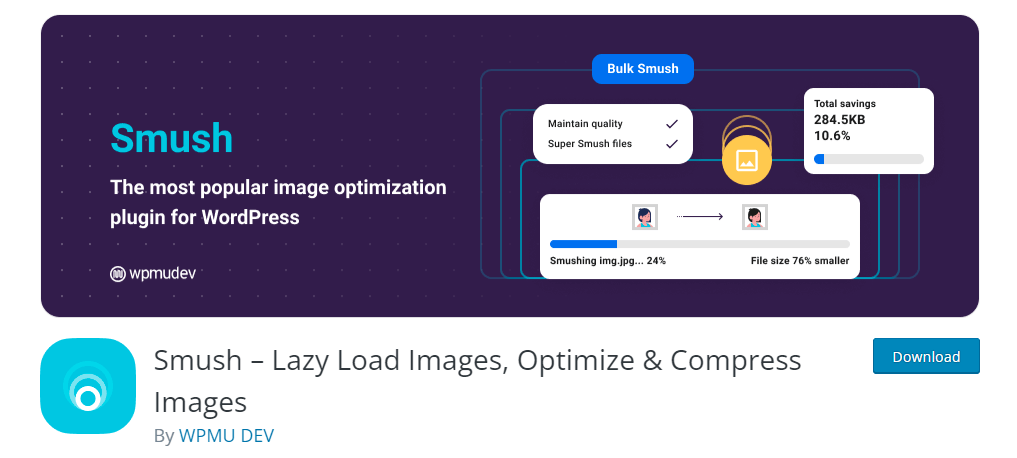 Making your web pages load faster by even 1 second can make a tremendous difference to your site's engagement and conversion rates. Installing a plugin like Smush automatically optimizes and compresses all of your images, significantly reducing page loading speed and giving your site users a much better experience.
Smush is 100% free and part of WPMU DEV's all-in-one WordPress platform, so we recommend combining it with their page speed boosting plugin, Hummingbird (also free), to make your site load even faster.
Key Highlights Of Smush Image Compression Plugin For WordPress – [Download Plugin]
Smush is rated the #1 image optimization & image compression plugin for WordPress.
It features lossless compression, so you can compress images without affecting image quality.
You can bulk smush images with just one click.
Process all your PNG, JPEG, and GIF files for optimum results.
Images are automatically optimized on upload.
Optimize all of your images with unlimited daily, monthly, or annual caps.
It's 100% free!
6. Simply Schedule Appointments WordPress Appointment Booking Plugin

Scheduling meetings or services via phone or email is a thing of the past – modern users are more inclined to do business with websites that provide online scheduling. Don't fall behind! This booking plugin is built with small businesses and consultants in mind. Simply Schedule Appointments appointment booking plugin is the simplest yet most versatile and powerful tool to get your site started with a scheduling system. And, being deeply integrated with WordPress, we feel it deserves a spot on this list.
Create unlimited calendars and notifications for all of your services with highly customizable settings for the booking calendars. Take advantage of their WordPress connections and create a seamless scheduling system given their integrations with Gravity Forms, Formidable Forms, The Events Calendar, and more. Easily start taking bookings on your site and create an additional lead generating funnel with your very own booking system.
Key Highlights:
Google Calendar integration to help you balance your business and personal schedules
Virtual meetings are easily scheduled with the help of Zoom and Google Meet integrations
Get paid for your time directly in the booking process with Stripe and PayPal
Create as many Email or SMS notifications as you'd like including reminders, confirmations, and follow-ups
Deeply integrated with WordPress including integrations with Elementor, WP Fusion, Beaver Builder, Divi, The Events Calendar, Gravity Forms, and more!
And, it offers Team booking so the booking plugin can grow along with your business
Plus, they have unmatched support, all of their plugin reviews rave about it
7. WordPress Social Media auto-poster & scheduler plugin by FS Poster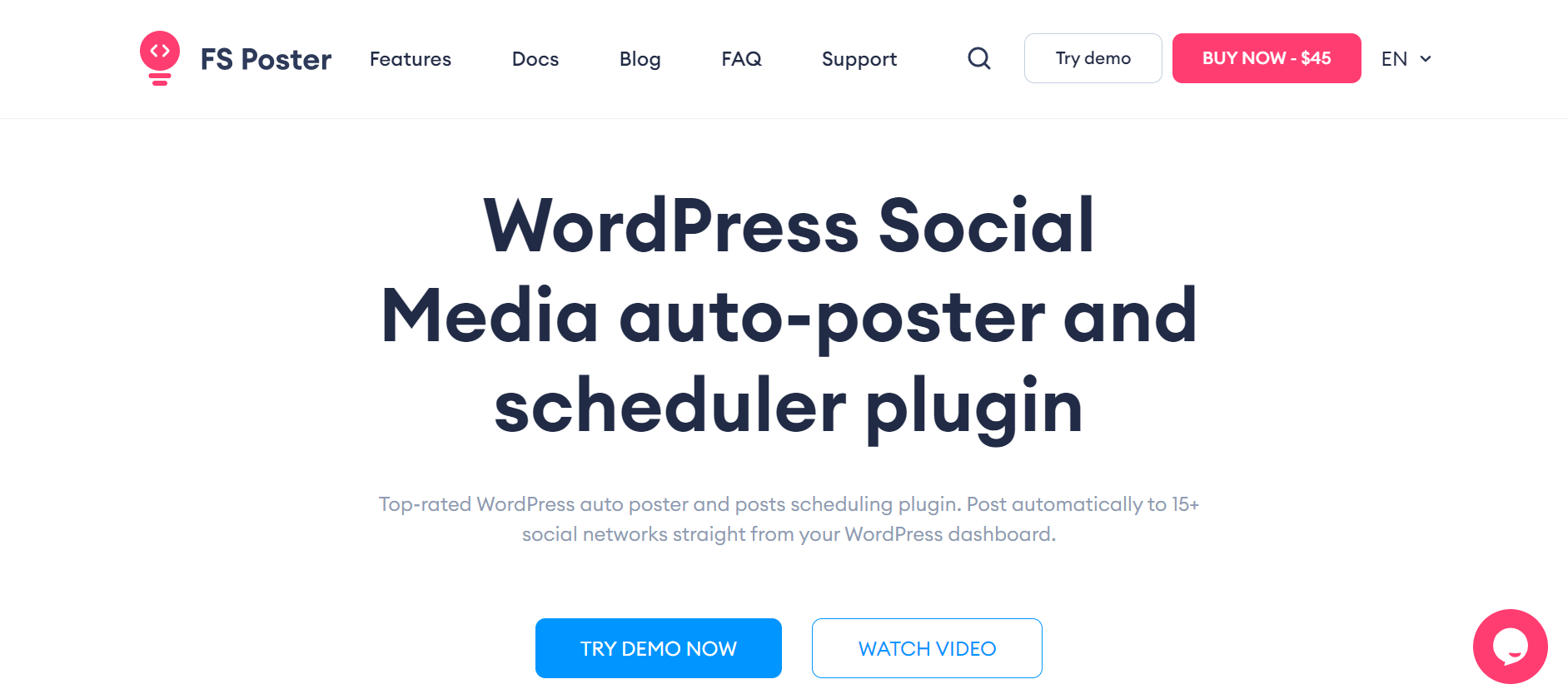 If you are looking for the plugin for auto-posting your blogs on social media, then FS Poster is the one for you. FS Poster is a WordPress plugin that allows you to post to the most prominent social media networks automatically. You can also schedule new blogs, republish previous material, and share individual posts directly across all platforms.
FS Poster supports 15 social networks, allowing you to expand your reach and boost your SEO by attracting more users to your website. Custom postings for each account can be created using third-party integration tools. With unlimited post sharing, you will be able to maintain a consistent online presence and meet your social media marketing objectives. Real-time statistics evaluate your social media strategy with platform-based performance comparisons, post engagements, and click counts.
Key Highlights of FS Poster
Scheduling posts
15 integrated social networks
Creating custom post URLs
Adding an unlimited amount of social media profiles, pages, groups, and communities on each social platform
Customizing post messages
Controlling posting interval with a post-interval option
Sharing blogs, posts, and custom content without creating a WordPress post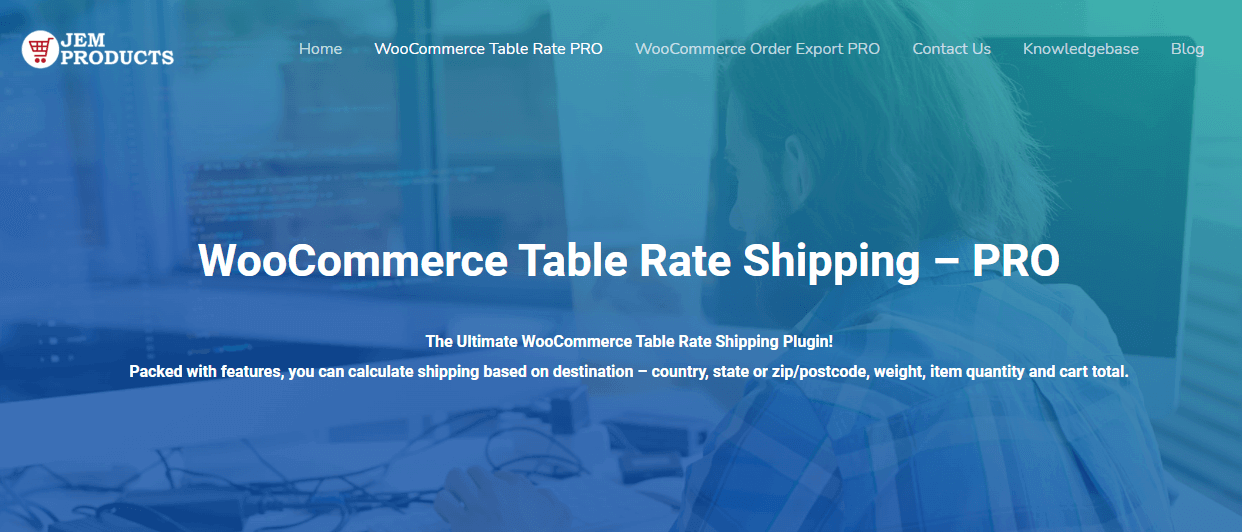 Shipping is a crucial part of online sales but calculating it can be a nightmare. Thankfully, plugins like WooCommerce Table Rate Shipping exist to make determining shipping easy yet advanced.
Using this plugin, you can set shipping prices based on destination, weight, and cart total. Plus, one of its features which is nothing less than impressive, enables enforcing shipping rules only to logged-in users.
Key Highlights of WooCommerce Table Rate Shipping:
– inclusion of handling fees
– unique shipping names
– importing/exporting of shipping methods
– shipping classes
– force usage of shipping methods
– the creation of the perfect shipping rate plan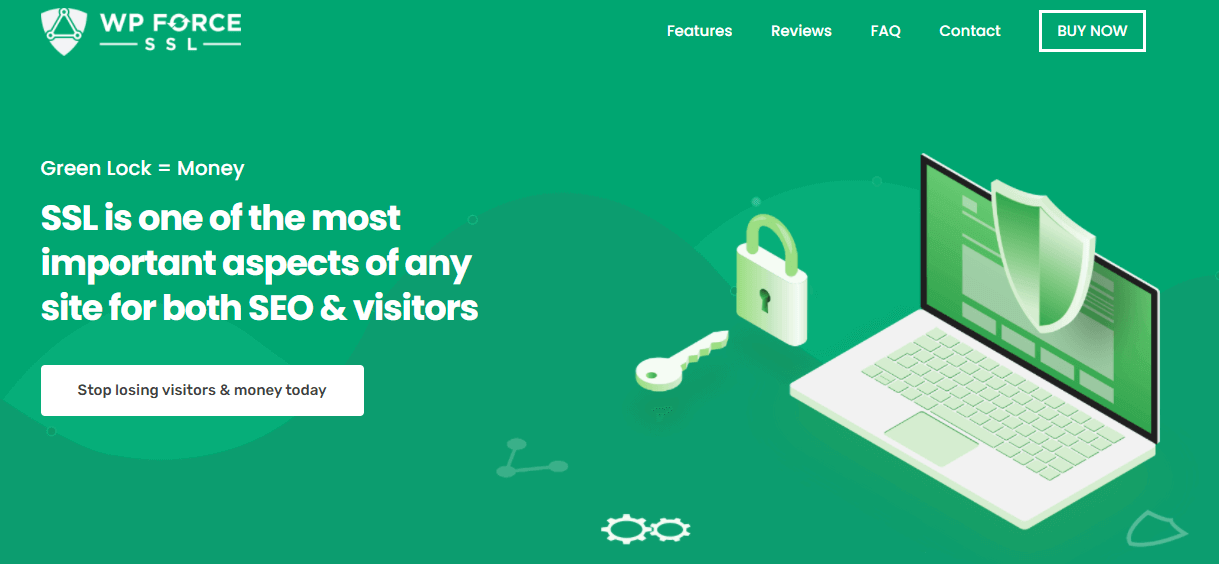 The number of site visitors heavily depends on whether you have or don't have an SSL certificate. For that reason, installing a plugin like WP Force SSL is a must! With it, you ensure your site always the "green lock" and no mixed content warnings.
How powerful is this plugin? Well, let's just say that you don't need anything else to configure SSL if you have it installed.
Key Highlights of WP Force SSL:
– fast content scanner
– real-time SSL monitor
– centralized dashboard
– premium support
The cookie consent plugin can help you achieve compliance for GDPR, CCPA, CNIL, POPIA regulations with the robust set of features that comes with it. The plugin can be one of the best options available from creating cookie banners to the effective management of both first and third-party cookies.
The plugin has a very user-friendly interface that makes it easy to navigate through its different features and makes the best out of the plugin. Cookie scanner, privacy policy generator, etc., are some other powerful features offered by the plugin.
Key Highlights of CookieYes GDPR Cookie Consent & Compliance Notice Plugin
Achieve compliance with multiple regulations
The fully customizable cookie banner
Cookie scanner
Automatic third-party cookie blocking
Privacy policy generator
Are you looking for a single solution that can take care of all the import-export and update requirements of your store? Then the import-export suite is the right solution to go for. It lets you migrate and update products, reviews, customers, orders, coupons and more from a single interface.
Other than manual import and export, you can also set up automated scheduled import and export on custom intervals. With compatibility with several third-party plugins, you can migrate custom fields associated with your store's data as well.
Key Highlights of Import Export Suite for WooCommerce
Import and export orders, coupons, products, customers, etc.
Configure scheduled import-export
Migrate custom fields
Supports CSV and XML formats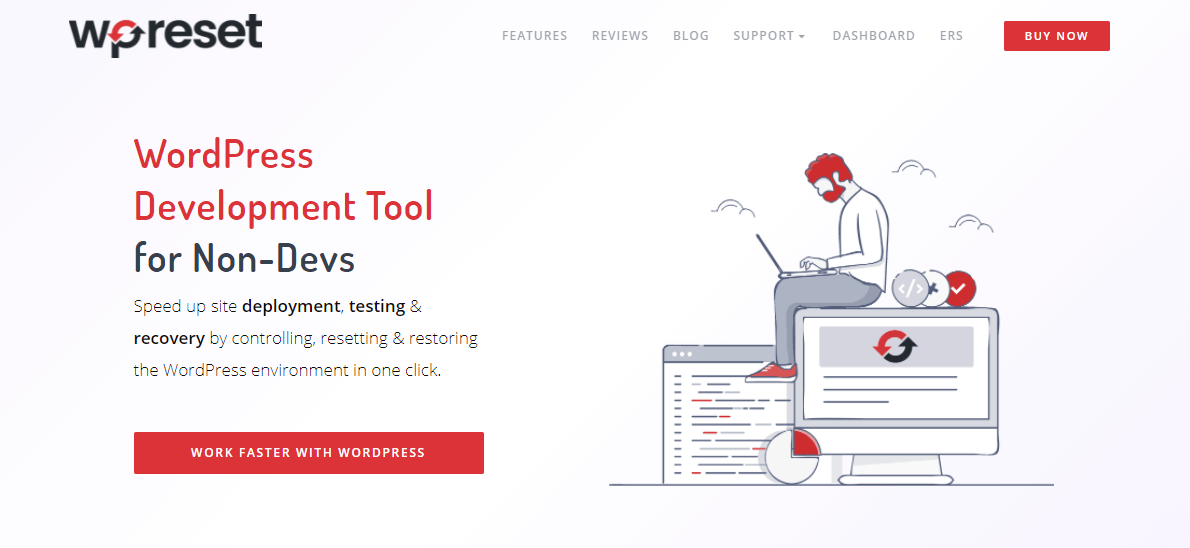 Site deployment, testing, and recovery can be tough tasks. For that reason, tools such as WP Reset exist which provide control, resetting, and restoring features in just one click
This plugin is meant for anyone who uses WordPress and wants to save time as well as have a safety net in the form of an Emergency Recovery Script.
Key Highlights of WP Reset:
– database snapshots
– plugins and themes collections
– resetting tools
– nuclear reset
– Whitelabel option
– much more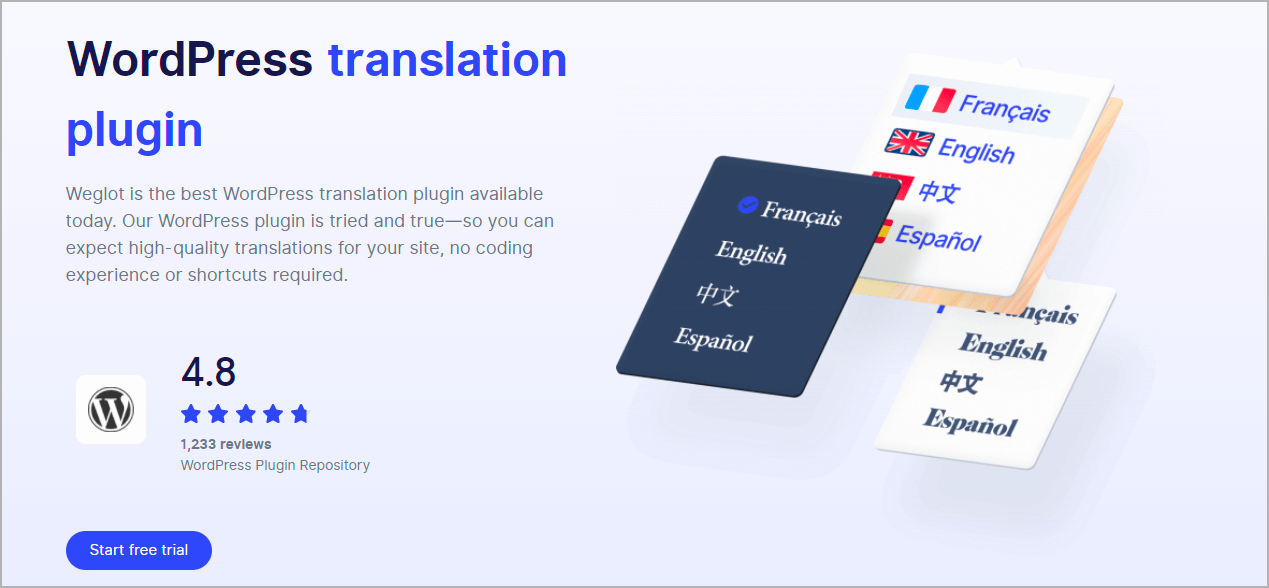 Translating your WordPress website is key to reaching new markets, standing out from your competitors, and improving your conversion rate.
The concept of translating a website can seem daunting, luckily, WordPress translation plugins such as Weglot help solve that very problem.
Weglot detects, translates, and displays the content of your website under language subdirectories, instantly. You'll be able to launch a translated version of your website or store in a matter of minutes.
Key highlights of Weglot:
Simple and quick set-up – no developer time needed
Multilingual SEO best practices – language subdomains, translated metadata, and Hreflang tags
Compatibility with any theme and plugin (incl. WooCommerce)
Machine and human translation
In context editing – edit your translations in a live preview of your website
Expert support: a highly rated support team to handle questions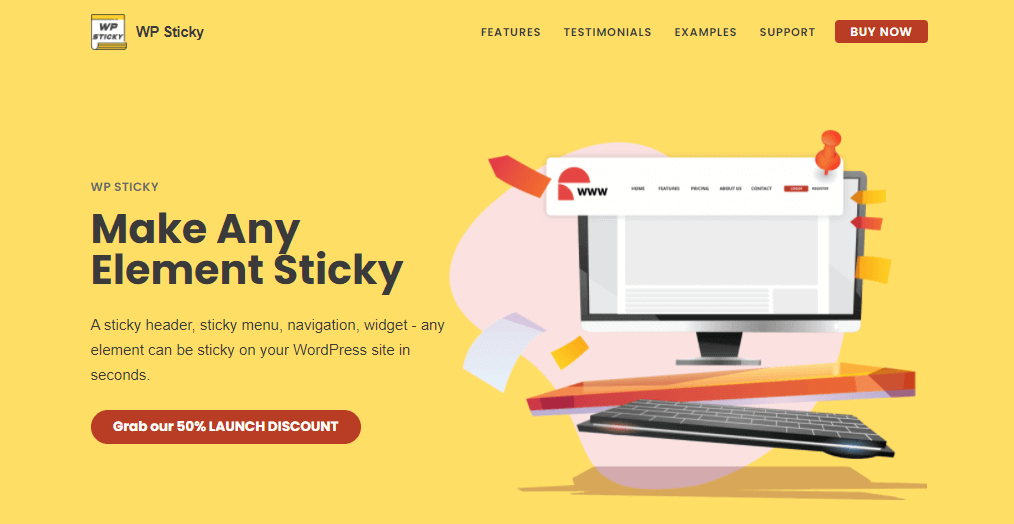 Need a sticky header, menu, navigation, widget, or any other sticky element? You can create one easily using WP Sticky. And no, you're not limited to one sticky element – you can create as many as you'd like without writing a line of code.
Settings are not shared among sticky elements meaning each one is configured on its own. Plus, the elements have different sticky settings depending on the users' screen size.
Key Highlights of WP Sticky:
– extremely fast
– visual picker
– compatibility with all themes, page builders, and plugins
– advanced options
15. Password Protect WordPress (PPWP) Pro
PPWP Pro is a great pick if you want to engage your visitors with gated premium content. This all-in-one password protection plugin helps lock WordPress pages, posts, or the entire WordPress site with just a few clicks.
You can hide your content under a password form, and at the same time, generate robust and random passwords for each of your content. Users must enter the correct passwords to view the private content.
It also excels in securing parts of your content. You can leave some sections in a post or page to entice readers while locking the rest and request subscriptions for continuing reading.
On top of that, PPWP Pro also gives the green light to custom post-type protection. It supports WooCommerce product pages and shop pages, online courses, forum content, etc.
WooCommerce shop owners can make use of this plugin to sell customer-specific products or create private wholesale stores. Meanwhile, online course providers use PPWP Pro to build private online classes.
PPWP Pro stands out from the crowd with its Quick Access Links (QALs). This awesome feature allows users to unlock protected pages/posts without having to enter passwords.
By clicking on the access links sent to your email, you can view gated content with ease. This frees your users from remembering too many passwords, plus, saves you from password abuse. As the site owner, you have full control over your access links. You can get them expired after days set or clicks.
Key Highlights of PPWP Pro:
Sitewide, category, partial content, page, post, and custom post type protection
Automatic password expiration based on time or usage
WooCommerce product page protection
Quick Access Links to bypass password-protected content
Master passwords to unlock all private content at once
A straightforward UI to easily manage passwords in one place
Useful extensions to extend password protection capabilities
Top WordPress page builder, caching, and translation plugin integration
Top-notch customer support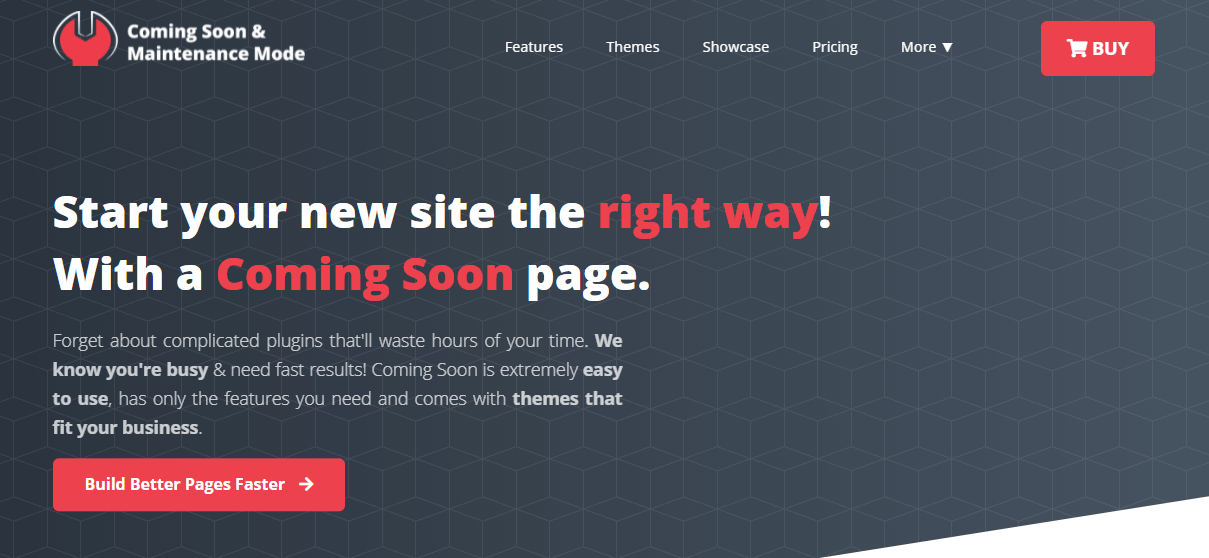 A site being unfinished does not mean you should not work on its SEO and promotion. Instead, you need to create something called a coming soon page to intrigue potential visitors.
What's the easiest way? Using the Coming Soon & Maintenance Mode plugin. This plugin and its drag-and-drop builder along with beautiful themes allow just about anyone to create coming soon, landing, sales, as well as under construction pages without any coding.
Key Highlights of Coming Soon & Maintenance Mode:
– 2+ million free images
– 170+ themes
– rebranding features
– SEO setup
– secret link feature
– support for autoresponder, CRM software USA, webinar, and marketing software
17. Portfolio Filter Gallery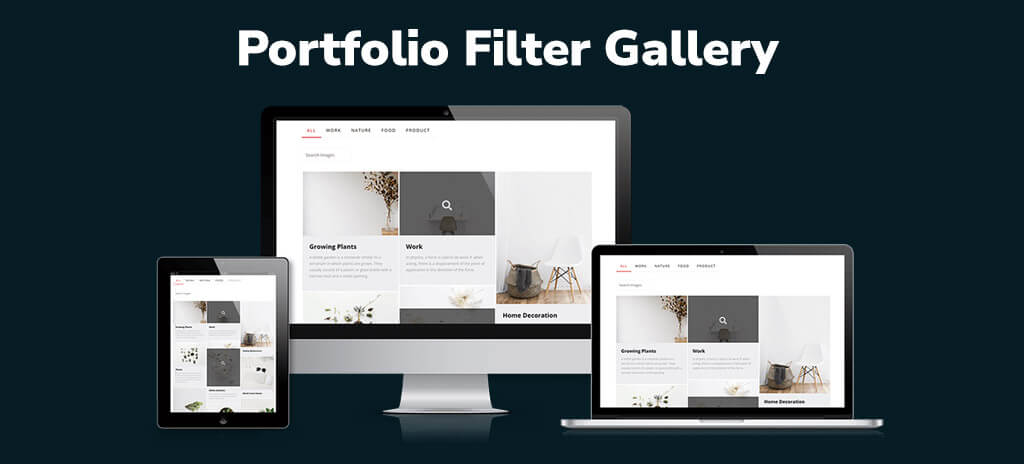 Portfolio Filter Gallery is a great tool if you wanna create stunning photo galleries in minutes. This plugin is built using responsive CSS and JS libraries. It has beautifully designed templates to display your artwork or photos in an elegant way. It can be used for product showcases, artwork displays, fashion or travel photography, or any other category you can imagine.
Key Highlights Of Portfolio Filter Gallery:
– Unlimited Filters
– Column Layout
– Sorting Controls
– Custom CSS
– Masonry Gallery
18. Meta slider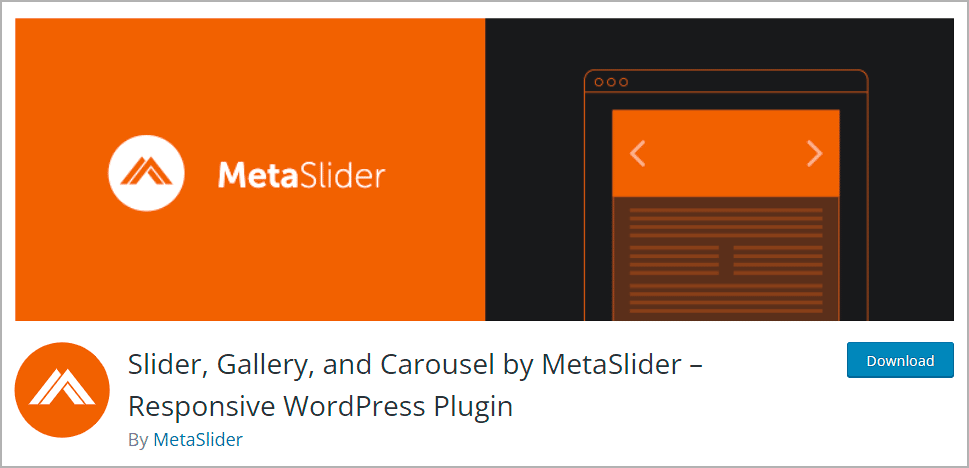 If you are looking for a plugin that can help you create slides and display them on your website, then Meta Slider can be your best bet. The responsive interface of the Meta slider helps the users create perfectly designed slides with ease.
The users can select their preferred fit by selecting from 4 design options. The best part about the plugin is that it integrates with Unsplash, which makes it super easy for the users to integrate images from the massive library of the platform!
Key Highlights Of MetaSlider
Designed to fit all screen sizes. Be it phones, laptops, or tablet
Works seamlessly with Gutenberg WordPress editor
Integrate the content of your choice
SEO optimized slides
19. Rank Math Plugin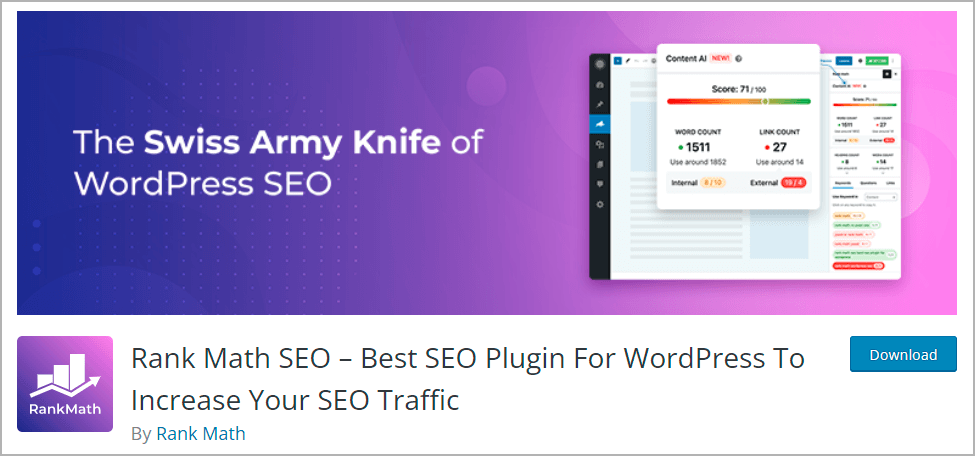 The next plugin on the list is Rank Math, a search engine optimization plugin for WordPress users that allows users to optimize their website's content. In addition, the plugin offers beneficial suggestions to the users that help them customize their website by making changes in the SEO settings.
Not only this, but the plugin also enables the users to measure and track the keyword rankings and is compatible with both the WordPress editors.
Key Highlights Of Rank Math
Gives you complete control over your website's on-page SEO
Compatible with WordPress classic and Gutenberg editors
Comes with a built-in advanced analytics
Integration with Google Analytics
20. Updraft Plus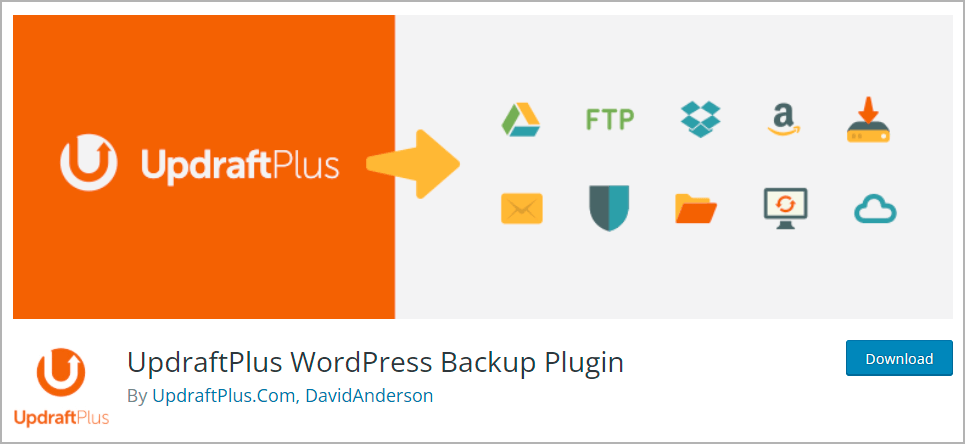 Automatic updates and security are a major concern for almost every WordPress website. Considering this, Updraft plus came into the picture and has made its place & become the most trusted and most popular WordPress backup plugin.
The plugin enables the users to redirect the content into Google Drive, Dropbox, email, etc. Backups are essential. Hence, it is crucial for WordPress users to use this plugin.
Key Highlights Of Updraft Plus
The easy-to-use interface restores content in a few clicks
Expert help & support from developers
Schedule and set time to retain or delete backups
21. Live Chat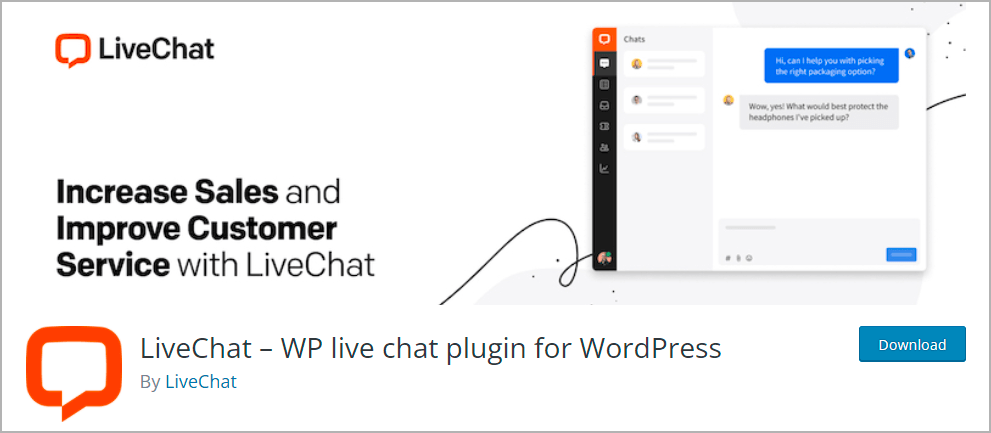 Delight your customers, and engage and convert them seamlessly by using the Live Chat plugin. Quite as the name suggests, Live Chat is a customer service WordPress plugin that is perfect for businesses, especially E-Commerce websites.
With over 200+ integrations, you can show your products to your customers and offer them a purchase journey like never before. What's more? You can create a customized hub to manage all your customer interactions!
Key Highlights Of Live Chat
A plethora of chat tools like chat tags, rich messages, chat transfer, notifications, etc.
Boost customer engagement with targeted messages, chat buttons, and much more
Complete security
Report and analytics to stay updated
22. Ice Gram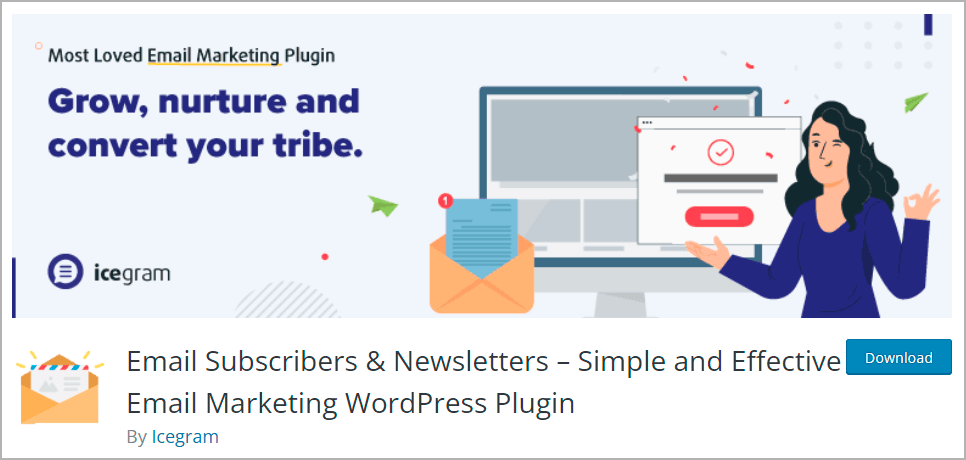 Next up on the list is Ice Gram. This plugin is designed to engage website visitors and generate more leads.
Using this plugin, the users can create relevant calls to action and pop-ups of their choice without the help of a developer. Ice gram comes with various customization options, including themes that can be used to create engaging and appealing CTA buttons.
You can also track the results of the form to determine how likely the website visitors are to purchase your product.
Key Highlights Of Ice Gram
User-Friendly Interface
Integration with E-mail marketing services like mail chimp, Get response, etc.
A robust support team for assistance
Mobile responsive design
A wide variety of theme designs
23. Push Engage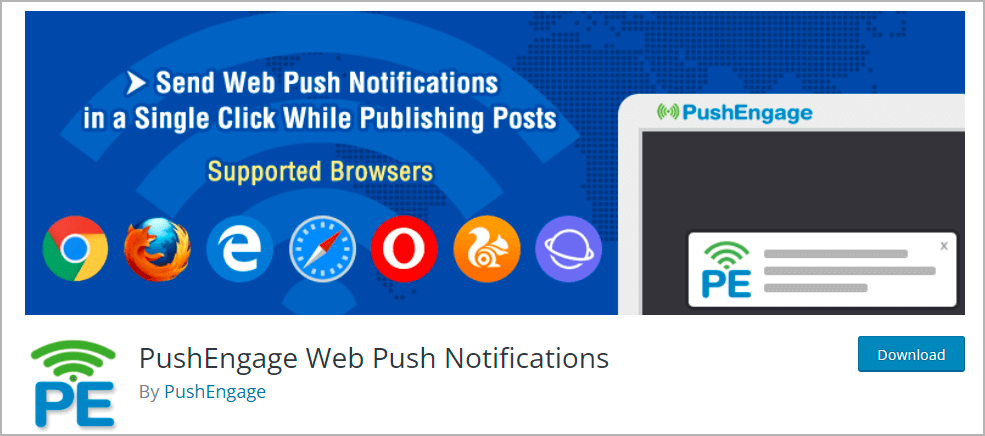 Push Engage is a web push notification plugin for WordPress websites. This plugin enables brands to send notifications and targeted messages to their website visitors.
The opt-ins offered by Push Engage are completely customizable and can be leveraged to target and engage the right set of audiences at the right time.
Another great feature of this plugin is that it sends cart abandonment reminders to website visitors to push them to complete their purchases.
Key Highlights Of Push Engage
Access to actionable data for growing the traffic, sales, and revenues
E-Commerce centric push notifications for maximized growth
Dynamic segmentation for targeting the right customers at the right time
24. WP Forms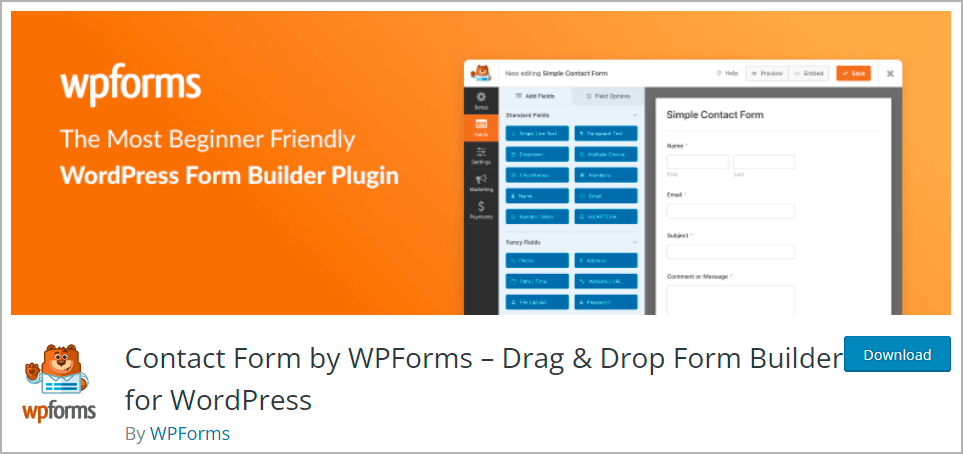 Almost every website has a contact form for the website visitors to get in touch with them for various reasons. Be it for asking a question or signing up for the monthly newsletter, creating and showing a form makes the visitors excited about the latest happenings and engages them.
WP Forms is a plugin that can be used for creating forms for WordPress websites. The plugin offers over 300+ templates, and depending on the type of form you wish to build, you can choose your best fit. Create a contact form, a survey, or a registration form easily in a few easy steps.
Key Highlights Of WP Forms
Create forms in a few steps using the Drag & drop technology
Enables the visitors to save their entries and complete the form later
Allows the users to sign the forms from their touch screens
25. Rafflepress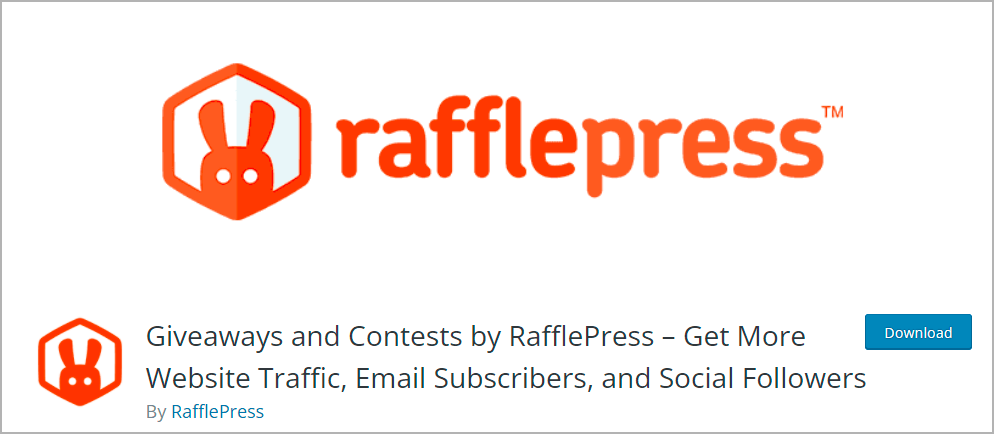 If you are looking for a giveaway plugin for WordPress, then Raffle Press can be your best bet. Giveaways have exploded in popularity ever since they have come into the spotlight because everyone loves winning freebies!
Using Raffle Press, you can host contests and giveaways on your WordPress website and urge website visitors to participate in it to win exciting prizes. In return, it helps you to increase your website traffic, social media follower count, and email listing.
Key Highlights Of Rafflepress
Integrations with social media platforms like Facebook, Instagram, Twitter, etc.
Create giveaway campaigns using the drag and drop technology
100% responsive on all screen sizes
Use the tracking and retargeting feature for more conversions
26. Document Library Pro by Barn2

WordPress is perfect for adding pages and posts, but less good at displaying downloadable resources – whether these are documents, articles, publications, e-books, audio files, videos, or something else. Barn2's Document Library Pro is the perfect solution.
This WordPress document library plugin comes with everything you need to add and display any type of resource in a searchable, filterable database.
Key Highlights of Document Library Pro:
2 layout options – table and grid view
Document search, sort, and filter
Supports downloadable documents, third-party links (e.g. Dropbox), and embedded audio or video
Bulk import options
27. Gift Cards for WooCommerce Pro

Gift Cards for WooCommerce provides 20+ Pre-Defined templates that you can use to create, sell, and manage gift cards for your eCommerce business. For quicker redemption, you may create barcodes, QR codes, and gift coupon codes. Moreover, you may allow users to edit and customize their WooCommerce gift cards. 
Gift cards may be shared by email, WhatsApp, SMS, and downloaded PDFs. For scanning, refilling, & redeeming these WooCommerce gift vouchers at an offline or online retailer, you receive a gifting portal.
Key Highlights of WooCommerce Gift cards plugin:
Offer WooCommerce coupons and vouchers with five pricing types.
Make a gift coupon with duration dependent on the variable price option.
20+ Pre-designed Gift Card Templates for different occasions.
Sell Customized WooCommerce Gift Coupons.
Online and Offline Gift Cards with PDF support.
Offer QR/BarCode secured WooCommerce Gift cards.
Pricing: The single site license of the plugin will cost you $79, 5 sites is $189 and 10 sites is $259.
28. Paid Memberships Pro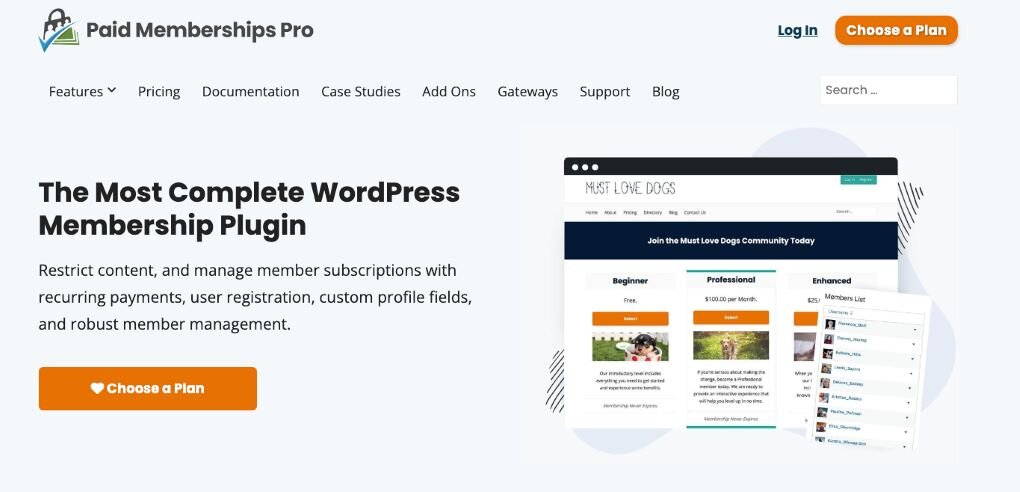 Paid Memberships Pro is one of the best membership plugins for WordPress, allowing you to set up a site to which customers can subscribe, making repeat payments and receiving regular benefits, whether that be in the form of multimedia content, exclusive products, training courses or anything else.
This particular plugin is recommended as a result of its streamlined integration with WordPress, which means that including it as part of an existing site is a breeze. So if you want to increase engagement and also earn repeat business, it's a clever choice for sites adopting a subscription business model.
Key Highlights of Paid Memberships Pro plugin:
No limit on the number of subscription tiers you can offer.
Compatibility with a variety of top payment platforms, including PayPal and Stripe.
Customization is possible with the premium version, for branding purposes and more.
The open source design gives businesses more control over how this plugin is used.
Pricing: A free version is available, while the standard paid-for package starts at $247 annually, and comes with comprehensive support and more customization capabilities than the entry-level iteration.
Final Thoughts
Your brand's website is the face of your business and plays a primary role in narrating your brand's story. It is the first point of contact between your prospects, and hence, it requires to be highly engaging.
We are at the end of this insightful post, and you are now aware of the best WordPress plugins that can be used to significantly increase your brand awareness and drive more traffic and conversions! However, if you also have an e-commerce website like Shopify then you can check out some of the best Shopify Apps that can help your upscale your business.
Pick your best fit and see your business thrive like never before.
Free Social Media Aggregator
Embed social feed from Facebook, YouTube, Instagram, Twitter on your website, like a PRO
No Credit Card Required