How To Embed Google Reviews On Wix Website?
Using marketing tactics and gimmicks is quite an expenditure for most brands and businesses. Therefore, smart marketers began to utilize other means and ways in their marketing campaigns and efforts.
Customers play an increasingly important role in defining the success of a business. Soon enough, brands started to understand the relevance of customers' content and shifted the limelight on them instead. A whopping number of more than 90% of customers go through the words of other customers before purchasing products or taking up services.
Existing customers of a brand like to convey their experience with a brand openly on various platforms and this is solely why Google reviews have exploded in popularity. However, if you are not using the voice of your existing customers in your marketing efforts, then you are missing out on a lot.
Embed Google Reviews on Wix Website
Collect, Moderate, and Add Google Reviews to Wix Website
Try for free
Embedding Google reviews on marketing touchpoints like the brand website is an amazing way to enjoy the benefits offered by the strategy. Make your way to the end of this post as we will be mentioning the simplest yet most effective way to embed Google reviews on Wix website.
Additionally, you will be getting an insight into the benefits offered by the strategy.
Without any further ado, let's get started!
Step By Step Guide To Embed Google Reviews On Wix Website Using Tagembed
Let us begin by giving you an overview of Tagembed. When it comes to social media aggregators, Tagembed is a favorite choice amongst marketers due to its power-packed features and robust responsiveness.
This highly promising tool allows users to collect social media feeds from over 15+ social media networks. Users of the tool can improve the impact and effectiveness of the Google review widget by using features like customization options to style the widget & a content moderation panel to maintain good quality content.
Other features include real-time automatic content updates, insightful analytics for keeping content in check, and a back support team for 24×7 assistance.
This was a brief about Tagembed. Have a look at the steps to embed Google reviews on Wix website using Tagembed below.
Step 1 – Aggregate The Google Reviews
1. You need to start off by logging into your Tagembed account. If you are new to the tool, then you can start by creating a Free Tagembed account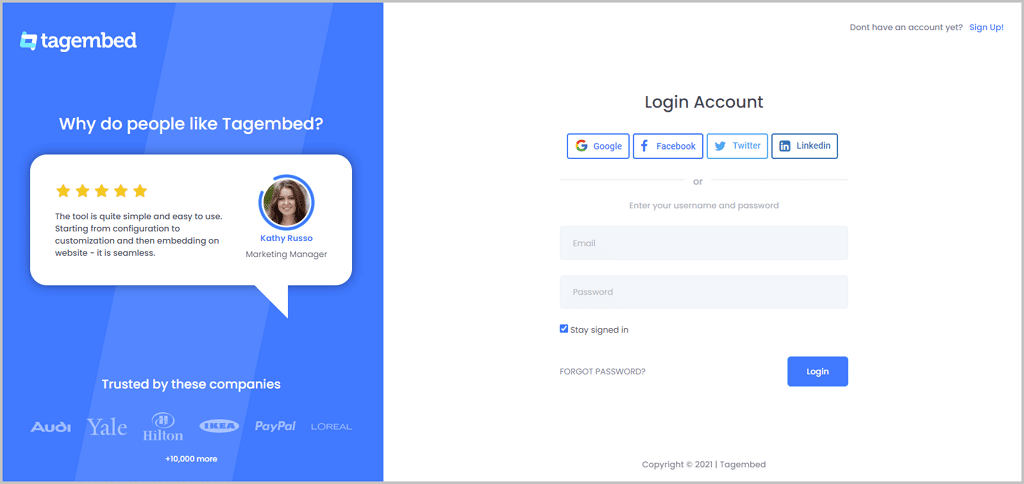 2. Once you log in, you will have options.
(a) If you are an existing user, you will be required to create a new widget by clicking on the Create Widget option.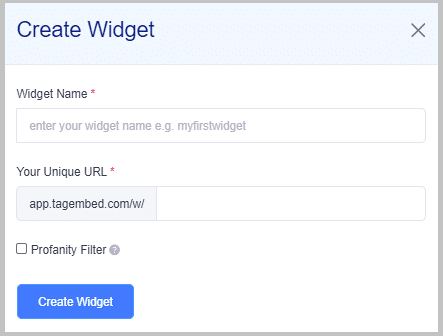 (b) If you are a new user, click on Open and you will be good to go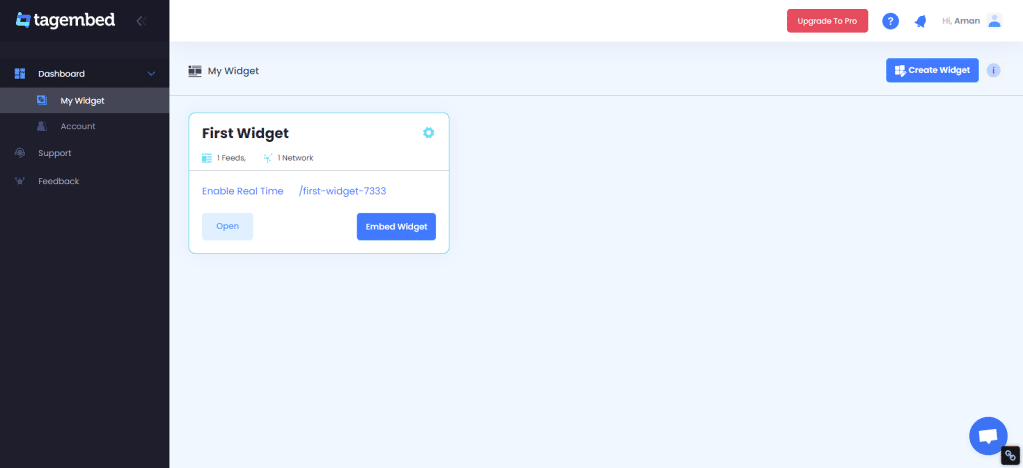 3. Click on the Add Feeds option. A popup will appear. Select Google from the given options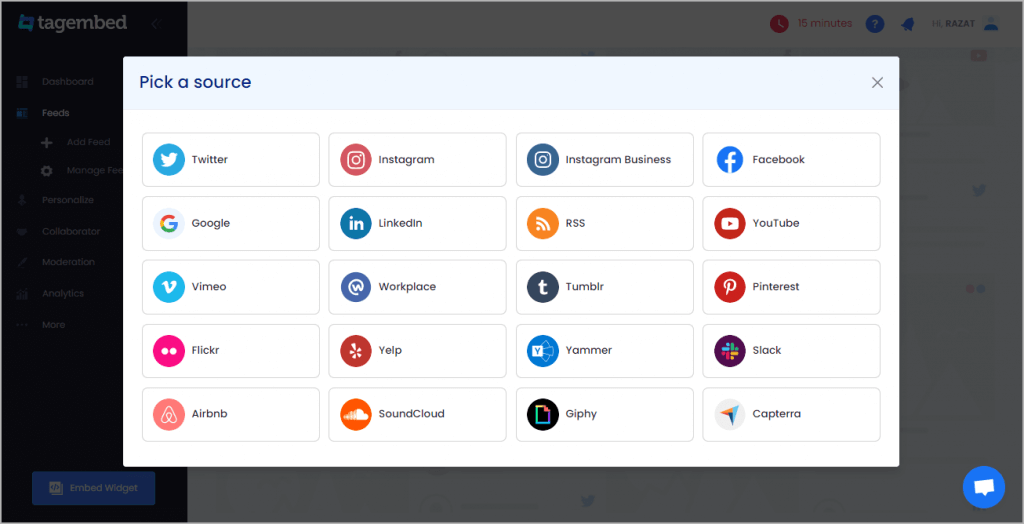 4. You will be able to select your preferred connection type. You can either aggregate the content based on location or select the Google by business option. Fill in your credentials and click on Create feed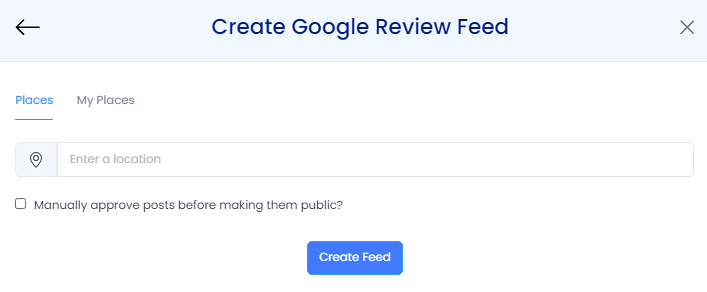 5. You will be able to see the aggregated reviews in a couple of minutes on the widget editor
Step 2 – Generate The Embed Code
1. Click on the Embed Widget option on the bottom left corner of the widget editor

2. From the pop-up window, select Wix as your preferred website building platform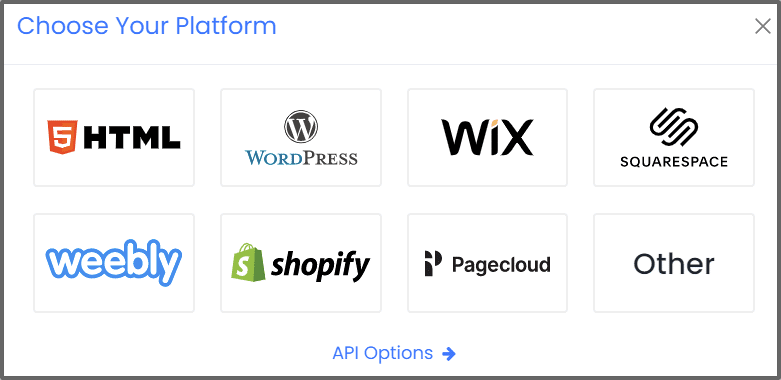 3. Click on the Get Code option and copy it to the clipboard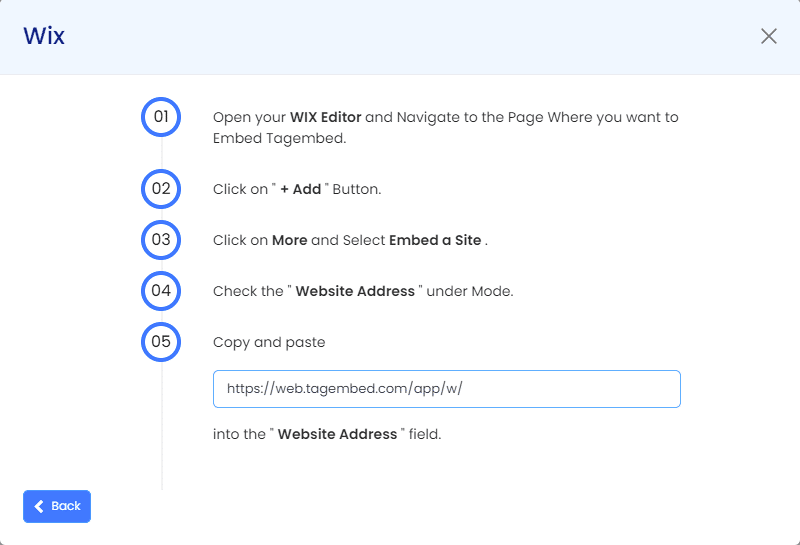 Embed Google Reviews on Wix Website
Collect, Moderate, and Add Google Reviews to Wix Website
Try for free
Step 3 – Embed Google Reviews Widget On Wix
1. Log into your Wix website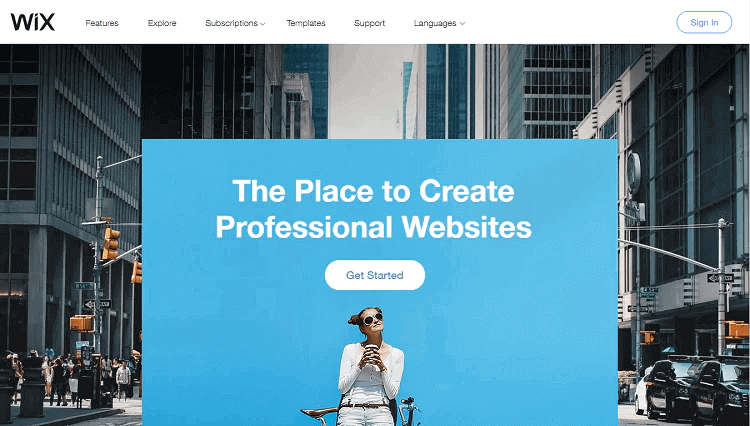 2. Navigate to the webpage or section where you want to showcase the Google reviews & Click on the plus (+) button present on the left side of the menu bar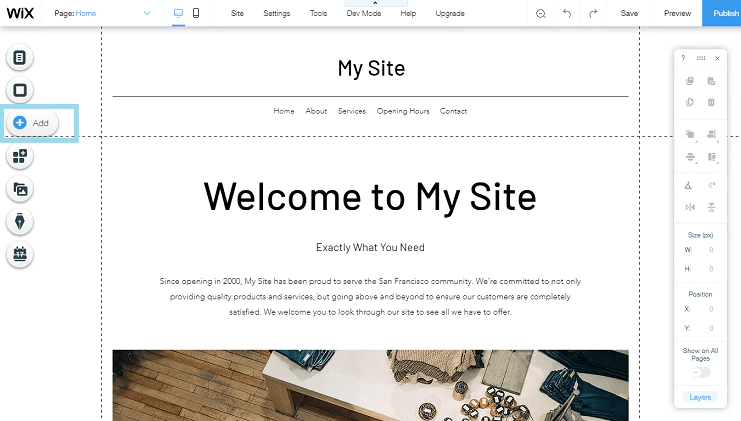 3. Next, click on the More option and click on the HTML iFrames option in the embeds section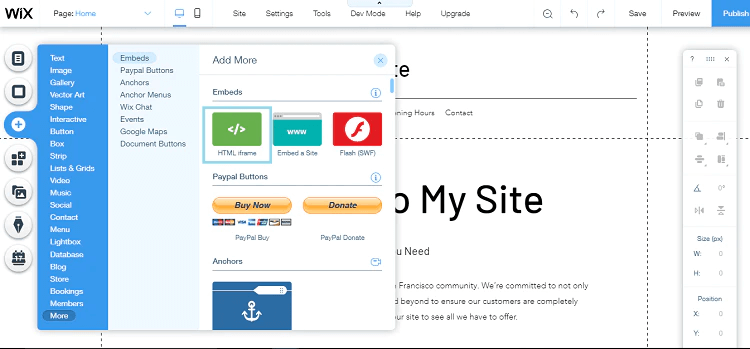 4. Paste the embed code in the provided section
5. Click on the Apply option to save the changes
Voila! You will have successfully embedded Google reviews on Wix website!
Embed Google Reviews on Wix Website
Collect, Moderate, and Add Google Reviews to Wix Website
Try for free
Key Benefits Of Integrating Google Reviews On Wix Website
Wasn't the process super simple? This is all you need to do to witness a massive transformation in your business. Still not convinced about how it would benefit you? Have a look at the key benefits then.
Build A Social Proof Of Your Brand
A large percentage of potential buyers go through reviews before finalizing a brand or a product. The reason for this is their immense trust in the views and recommendations of other customers over a brand's marketing content. Hence, it is crucial for brands to build solid proof to increase their customer base.
Being the primary point of contact, a website needs to have content that holds the potential to convert. Embedding Google reviews on website tells your potential customers how much your existing customers vouch for your brand.
More Traffic On The Website
If you are a business, then you must be well aware of how daunting it can be to drive more traffic to your website. Positive reviews have the power to incline people to visit your website. The more your reviews are, the higher will be your Click-through rate.
Additionally, the more clicks you get on your website, the more would be the credibility of your brand resulting in an increase in your SEO ranking on the Google engine.
Increased Sales & Conversions
Increasing brand conversions can be quite challenging and can be achieved when you engage and gain the trust of your potential customers. Reading online reviews hold the ability to instill gain and confidence in your customers.
Once you gain the trust of your customers and engage them enough, they would be compelled and motivated to click the Buy button and purchase your products resulting in more sales.
Final Thoughts
We have reached the conclusion section of the post and are positive that you must be convinced to utilize the strong opinions of your customers in your marketing game.
Now, you are well acquainted with the steps you need to take to embed Google reviews widget on Wix website using Tagembed and the benefits that come along with it, we highly recommend that you create your Free Tagembed account immediately and enjoy the benefits of embedding Google reviews to Wix website.
We see no reason as to why you should not leverage this strategy in your business, do you?
Free Social Media Aggregator
Embed social feed from Facebook, YouTube, Instagram, Twitter on your website, like a PRO
No Credit Card Required