Top 7 Instagram Feed Examples On Website
Back in the day, marketers used to adopt the various traditional methods of marketing and advertising their products or services, and the onset of social media platforms completely transformed marketing techniques and gave brands and businesses a platform to spread the word about their ventures.
Out of all the social media platforms, Instagram became the most popular and highly used social media platform worldwide. With over 500 million daily active users, the platform is loved by everyone especially businesses that utilize it to embed their Instagram feed on the website. Even you can join the trend by creating a free account on Tagembed. Best Instagram Feed Examples To Display On Your Website
Embedding Instagram feed on the website is a marketing trend that has grown famous amongst businesses due to exceptional Instagram benefits. 
However, brands often get confused while selecting the most appropriate and apt Instagram feeds while in the process.
Continue reading the blog till the end as we have listed the top 7 Instagram feed examples for websites to make the embed process beneficial and result-driven.
Let's get started
Embed Instagram Feed on Website
| No Credit Card Required |
7 Best Instagram Feed Examples for Websites
1. Instagram Hashtag Feeds
An Instagram post looks incomplete without a hashtag and we are sure you would agree. On average, every post on the platform has at least 3-4 hashtags, and have you ever wondered why?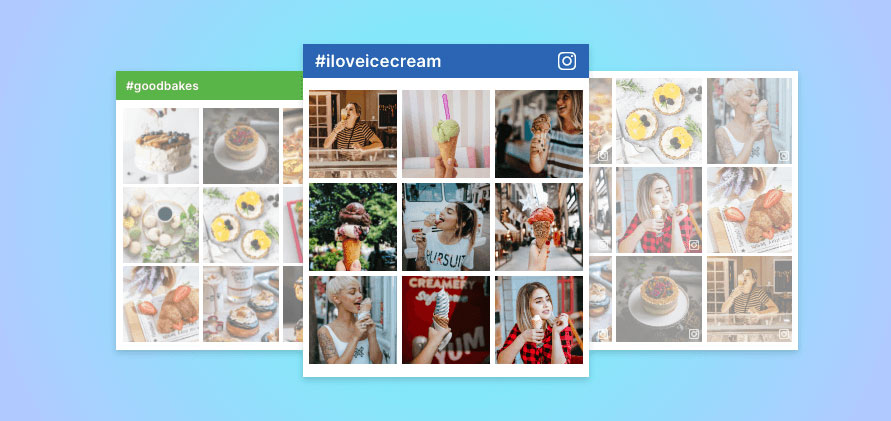 Try Tagembed – Create Your Free Account Now
That is because hashtags are extremely helpful in segregating content and increasing the visibility of the posts.
Embedding the Instagram hashtag feeds on the website is one of the most effective ways to increase the engagement of the visitors and to drive in more sales. Apart from this, Hashtag feeds on the website build a social proof of your brand since it is mostly User-Generated.
If you have run a successful hashtag campaign in the past, using an Instagram aggregator you can effectively pick up the content using the specific hashtag and embed it on your website to instill interest in your visitors about your brand. 
Read more – New Instagram Notes Feature
2. Display Feeds In Grid Style
One of the most common yet attractive ways to showcase feeds on the website is to embed the feeds in the form of a grid. The grid representation of feeds is similar to the grid format which we see on Instagram while visiting a user's account.
Try Tagembed – Create Your Free Account Now
The grid feeds present the Instagram feed in an organized manner which makes the website look proper, well-formatted, and attractive at the same time. Moreover, due to equality in the size of the posts, the users give equal attention to every post. 
Read more – New Instagram Broadcast Channel
3. Handle Feeds
If you are looking for a way to add feeds from a particular handle, then you can do so by incorporating feeds from your own handle or by selecting the public account of Instagram, be it a famous influencer, or a loyal customer of your brand.
Try Tagembed – Create Your Free Account Now
Apart from enhancing the look of your website, displaying feeds from a handle especially if the content has positive reviews or testimonials will make your potential customers more comfortable with your brand as they would not completely trust the content published only by you.
By reading the experience of other customers, they are more likely to purchase your products and increase your sales.
4. Instagram Carousel Or Slider Feed
This idea of Instagram feed example will surely garner more attention from website visitors. By adding a carousel on the website, you can showcase different products at the same time and instil more curiosity amongst your audiences as they swipe to see more.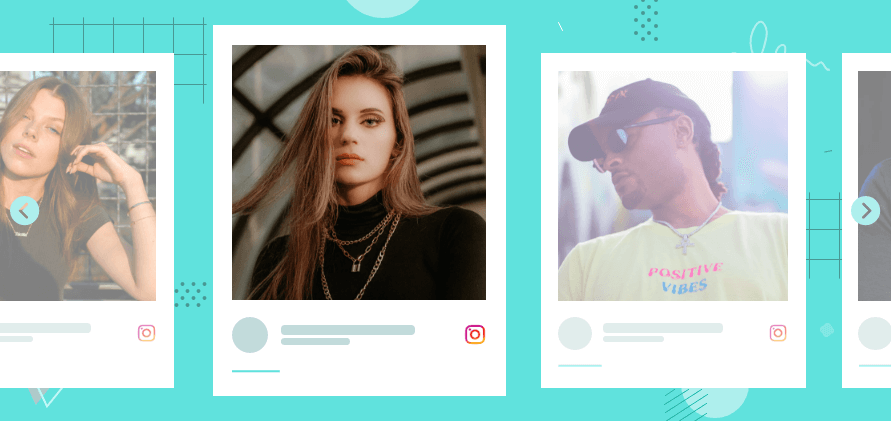 Try Tagembed – Create Your Free Account Now
You can utilize a carousel to tell the story of your brand and compel the audience to slide to keep reading which will ultimately lead to an increase in the dwell time of your customers since their stay time would increase.
In the case of e-commerce or Shopify websites, people mostly use a carousel theme to add Instagram feed to shopify websites.
Since you can add about 10 images or videos in one carousel, you can highlight different product specifications and promote your products or services even more on your website.
Add Instagram Feed On Website
Enrich your website with engaging examples of Instagram feed
Try For Free
5. Mention Feeds
Mention feed refers to the content in which the audiences have mentioned your brand in their Instagram posts or it can be the content in which you have mentioned a brand while promoting their product.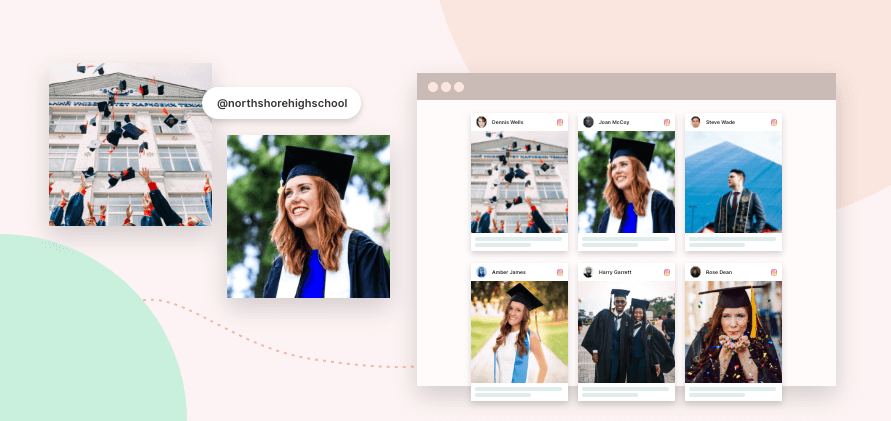 Try Tagembed – Create Your Free Account Now
To simply put it across, if you own a clothing brand and have a decent number of customers and if your customers are wearing your clothes while posting it on their Instagram by mentioning you, then it is a great source of collecting User-Generated Content to build a social proof of your brand. 
Your potential customers will be sure about the quality of your clothes and are much likely to make a purchase since the potential customers are more likely to trust your existing customers much more than the content you promote and display in front of them.
6. Gallery Theme
Instagram is a platform mainly dominated by visuals. Since it is a photo-sharing platform, it is extremely vibrant and colorful. You can utilize the overall vibe of Instagram into your website to further enhance your website's look by using the Gallery feeds.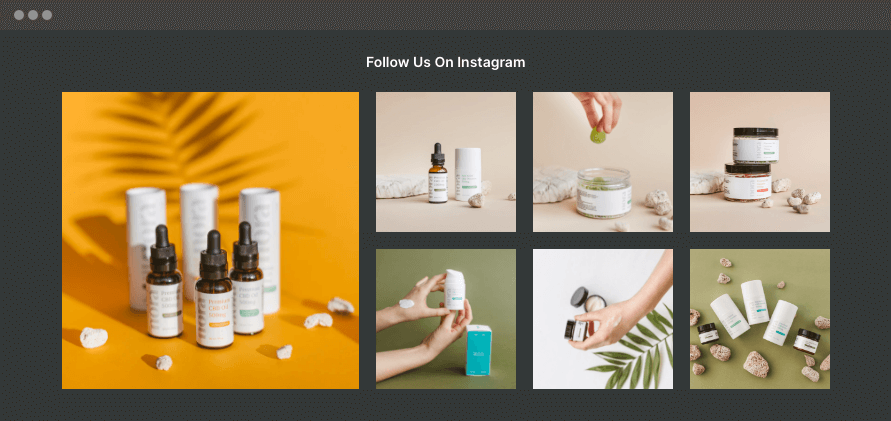 Try Tagembed – Create Your Free Account Now
Using the gallery theme of Instagram widget, you can highlight the stunning visuals by increasing their size and width and create a look as per your preference. You can change the size of the posts and come up with a spectacular feed and embed it on your website..
Since visuals are more engaging than written texts, the gallery feeds will surely capture more attention from your website visitors and they may be compelled to explore your website and products even more leading to increased engagement.
7. Sidebar Feeds
Another efficient and beneficial example of Instagram feed for WordPress website or any other website is by displaying the feed in the form of a sidebar on either side of your website.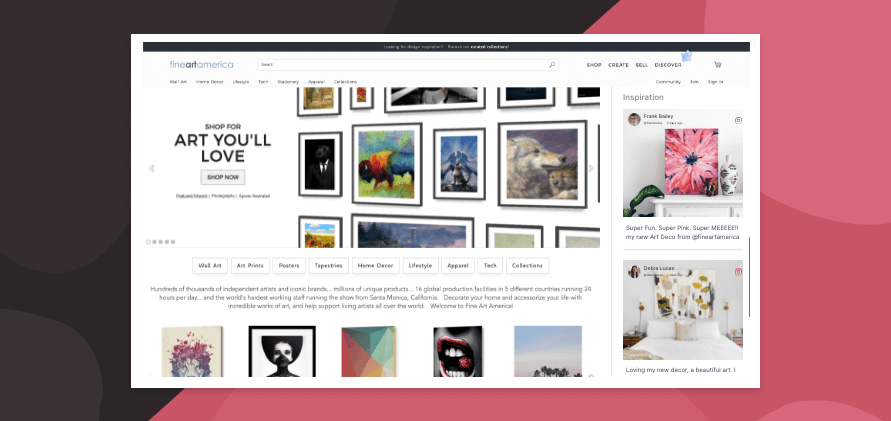 Try Tagembed – Create Your Free Account Now
This will enable you to add your feed on every page of your website and is comparatively less time-consuming and much more impactful.
Since the feed will be displayed on every page of your website, it will reach out to a wider audience and garner more engagement from visitors.
You can utilize the sidebar feeds to add any ongoing sale or a special discount on your website or any promotional content to tap into the interest of your visitors and raise the urge within them to buy your products.
Also Check: RSS Feed Examples
Summing It Up
Instagram is the platform where your users are actively speaking about your brand in various ways. Utilizing the content on your website is a great way to increase user engagement, improve your brand presence and visibility, and eventually invite more revenues!
All you need is a responsive Social Media Aggregator like Tagembed and you are good to go! 
Now that you are aware of the significance of the Instagram feed ideas and are clear about the 7 best examples of Instagram feed for your website, what are you waiting for?
Free Social Media Aggregator
Embed social feed from Facebook, YouTube, Instagram, Twitter on your website, like a PRO
No Credit Card Required