Top Exciting Instagram Marketing Trends To Watch Out In 2023 
2022-11-10==================================2022-11-10========================November 10, 2022
'If content is fire, then social media is gasoline.'
We are in 2023 and just like other things, Instagram has evolved massively over the past few years. Over millions of businesses have an active presence on the platform, and use Instagram as a major revenue generator, due to its wide user base.
However, nothing is possible without an effective marketing strategy and it can happen only when brands leverage the right trends.
Make your way to the end of this post as we have compiled a few trends that brands need to be aware of for growing their business on Instagram.
Without any further ado, let's delve into the trends right away!
Embed Instagram Feed on Website
Collect, Moderate, Customize and Add Instagram Feed on website
Try For Free
Trends You Need To Watch Out For In 2023
Increased Live Streaming On The Platform
Instagram's famous live feature has opened doors for brands to widen out their reach more effectively. It helps them to create a personal connection with their audience.
Looking at the response received, there is a positive chance that the frequency of live streaming may increase manifolds. Times have changed and irrespective of the size of brands, creating a personal connection with the audience has become a crucial part of marketing.
Live streaming has picked up pace over the last two years since lockdown and social distancing had become a necessity, and brands adopted live streaming as an alternative to interacting with their audience.
This feature allows them to take the queries of their audience, narrate their brand story, promote an upcoming product, or explain the USPs of their products! Moreover, brands can collaborate with celebrities for the live session to increase their views.
More Promising Engagement Features
People use social media as a medium to engage with their followers, stay updated, and for socializing with their potential customers.
Even though Instagram offers a plethora of options to brands to create engaging content, the social media giant may soon come up with various other features to take their engagement to a whole new level.
Moreover, having an engaged audience is the key to more conversions and Instagram never disappoints. Right from quirky filters, Instagram polls to fun countdowns, brands already have enough options to access, and it will keep getting better!
Influencer Marketing Will Get Bigger
When we think of Influencer marketing, the first platform that comes to mind is undoubtedly Instagram. This vibrant platform is home to a large number of users, who hold the power to influence others.
Instagram is flooded with influencers who collaborate with brands to promote their products and services and charge a certain amount in return. Over the last few years, Influencer marketing has garnered much more attention due to its results and it is bound to get bigger this year.
However, the catch here is that brands need to be aware of the influencer they collaborate with. The influencer must have a good following and must cater to the niche of the brand to reap maximum results. Fortunately, you can use a robust influencer analytics tool to select the best ones for your campaigns.
Brands Will Embed Instagram Feeds On Their Website
Brands and businesses often adopt various marketing strategies to upscale their profits and showcasing social media content on their website have exploded in popularity due to its amazing results.
Instagram is a hub of dynamic content and showing it on the brand website can help brands engage and convert seamlessly. Using a social media aggregation platform like Tagembed, the users can easily aggregate and embed Instagram feed on their website.
Tagembed works effectively to help brands create an Instagram widget of their preference. They can leverage the features of the tool to make the widget more impactful. Tagembed comes with power packed features like customization options, a content moderation panel, advanced analytics, and a robust team for anytime assistance.
Embed Instagram Feed on Website
Collect, Moderate, Customize and Add Instagram Feed on website
Try For Free
More Relevance To Analytics
Apart from simply posting content on Instagram, it is important to monitor and track its performance to achieve desired results.
To host a successful marketing campaign in the year 2023, it is crucial to leverage advanced analytics to measure your performance and keep your competitors' performance in check.
Analyzing the performance helps brands to perform better and also helps in rectifying the areas of improvement.
Increased Use Of Instagram Stories
Instagram stories rolled out in 2016 and have become quite a sensation since then. Instagram stories are widely used by over 500 million active users per day! Out of which 25% of Gen Z and Millennials use the feature to discover new products and brands!
This feature is already extremely popular and it will continue to rise exponentially this year as well since brands massively use them as a medium to connect more effectively with their potential customers.
Also Read: Embed Instagram Stories on Website
Brand Centric AR Filters
Instagram is highly used by brands that are looking for ways to market their products more appropriately.
Smart marketers and businesses have started getting innovative with their approach and this is why they began using augmented reality in their business. Using it, the potential customers will get more confident about their choices and be satisfied with the products received.
Already a large majority of businesses like the cosmetic industry are using AR filters to help their customers determine which product would suit them best, and it will surely explode in popularity in the coming years.
Also Read: How To Embed An Instagram Wall On Website
Instagram Shopping Experience For Users
Those days are long gone when Instagram was solely used as a social media platform. It has become a window-shopping medium for its users, who take shopping inspiration from the platform.
From custom clothing and jewelry to gadgets, brands have marked their active presence on the platform. The Shoppable Instagram posts have picked up the pace and allow the users to complete their shopping transactions without having to leave the platform.
The users can get insights into the specifications of the product and get details like product price, material, etc and purchase the product without having to change their mind. Noticing it is successful, there is a chance that Instagram might introduce a few more customer-friendly features on the platform to make their shopping experience seamless, quick, and better.
Also Read: How To Embed IGTV On Website
Video Memes Will Become The New Thing!
Memes have evolved to become a secret sauce for most brands and their success, and are set to go a notch higher by using the video format.
Videos are over 10 times more effective than texts and regular visuals. They tap into the emotional quotient of the followers with much more impact. Since short videos seem to be a favorite amongst the platform, there is a strong chance that brands may blend memes and videos to stand out.
We can already see video memes becoming an instant hit and a feature to garner more attention from potential customers of a brand.
Also Read: How To Embed Instagram Reels On Website
Instagram Carousels For More Engagement
Lastly, Instagram carousels are highly used by brands to include an increased number of pictures and videos in one go. This helps their followers to get better details on the content posted by a brand.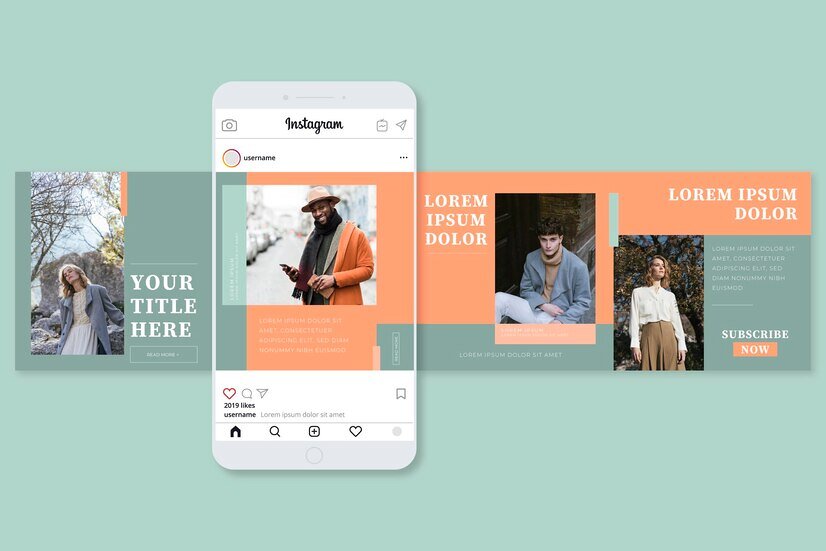 Moreover, there has been a significant increase noticed by brands, which justifies how brilliantly this feature works to grab more attention from their followers, and also pushes them to explore more, leading to more engagement.
Also Read: Top 7 Instagram Feed Examples On Website
Key Takeaways
If you are a brand that is looking forward to creating a much stronger social media presence on Instagram, then here are all the trends you need to know and follow for creating a much more effective impact on your potential customers.
The platform offers a large number of features to its users, which makes it a much sought-after marketing touchpoint for most brands.
We have reached the end of this insightful post and are hopeful that you must be willing to make the most of these trends for maximum benefit. Go on now, start your Instagram marketing game and we would love to know your results too!
Adios!
Free Social Media Aggregator
Embed social feed from Facebook, YouTube, Instagram, Twitter on your website, like a PRO
No Credit Card Required
Free Social Media Aggregator
Embed social feed from Facebook, YouTube, Instagram, Twitter on your website, like a PRO
No Credit Card Required