Manual vs. Plugin: Different Methods Of YouTube Aggregation For Website
2023-11-10==================================2023-11-10========================November 10, 2023
As per the statistics by Simplilearn, after viewing a brand on YouTube, 84% of viewers made a purchase. This is one of the reasons why brands are aggregating YouTube videos on the website.
Aggregating YouTube videos into a WordPress website is a powerful way to enhance content and engage your audience. However, there are two primary approaches to achieve this: the manual method and the use of plugins.
This exploration will delve deeper into the merits and limitations of both approaches, helping you make an informed decision on the best methods of YouTube aggregation for your website.
Different Methods of YouTube Video Aggregation For Website
To aggregate & embed YouTube videos on a website, there are two primary methods:
(i). The manual method
(ii). Plugin method
The manual method of Youtube aggregation involves simple steps such as copying and pasting the embed code.
On the other hand, the plugin method involves using a plugin like Tagembed to easily aggregate and embed YouTube videos on WordPress website without the need for coding. Let's skim through each method closely.
(i). Manual Method
The manual method of YouTube video aggregation on website is easy and simple. The manual method involves directly embedding YouTube videos into your wordpress website. Just follow the given instructions.
Go To YouTube in a web browser. Search the video you want to integrate on the WordPress website.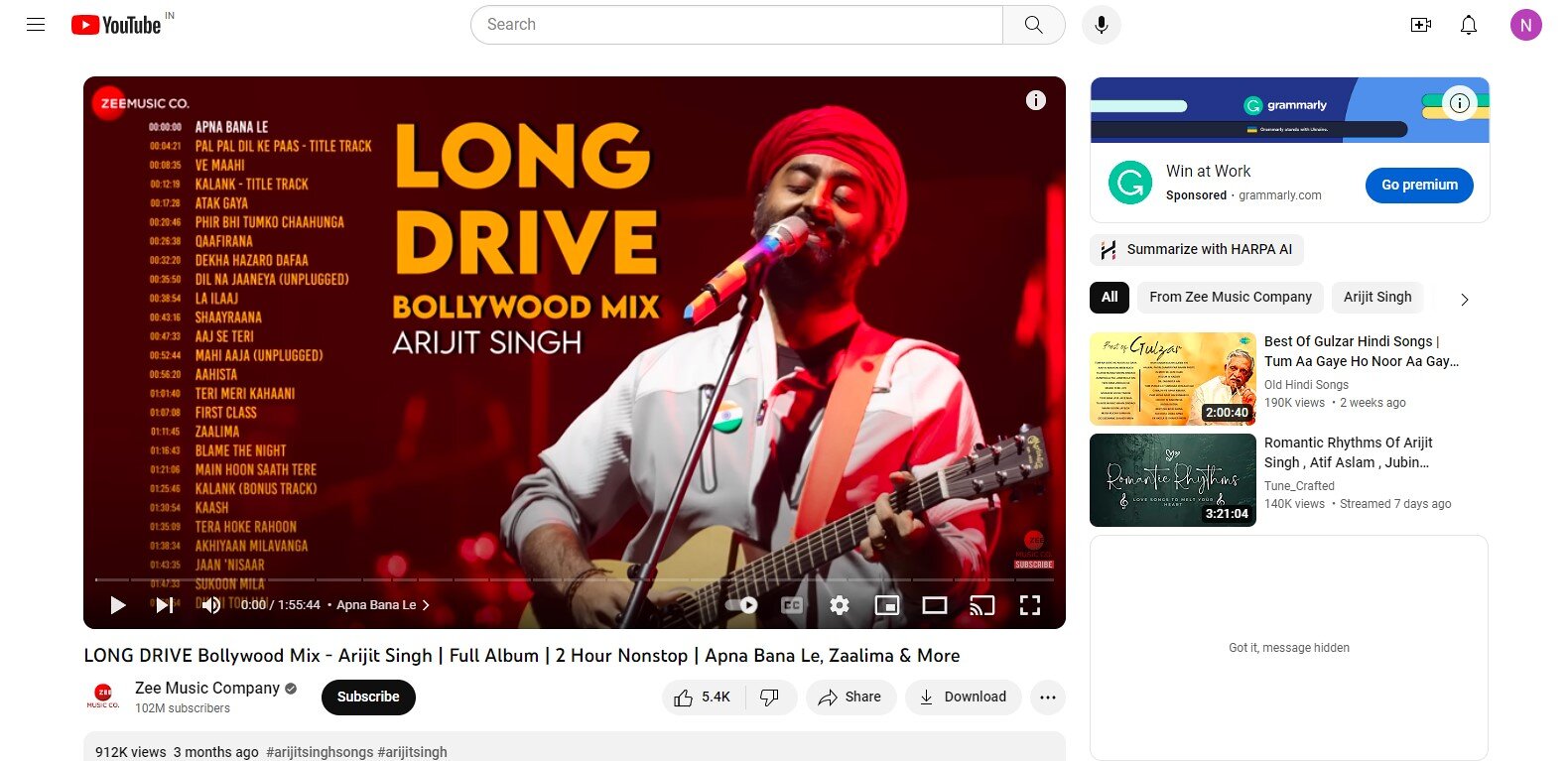 Next up, click on the share button. There you will see the embed icon (<>). Click on the icon.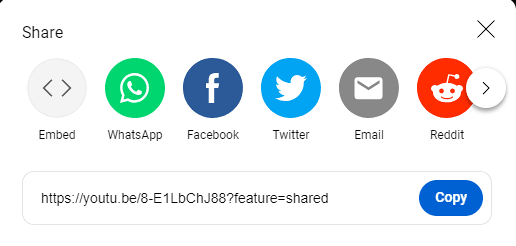 Copy the embed code and paste it at the backend of your WordPress website.

Congratulations, your Aggregated YouTube video is ready to display on your WordPress website.
Pros And Cons Of Using Manual Method
Manual methods are usually simple and require less training or expertise. Read along to know more about it.
Pros
Manual aggregation often leads to faster loading times, reducing the number of external requests and resources needed to display the video.
Manual aggregation allows you to embed only one YouTube video at a time.
Cons
While integrating YouTube videos on the WordPress website may seem like an easy task, the manual method only allows you to show one YouTube video at a time. This means you have limited content to showcase on the website.
The manual method provides little scope to customize the widget. For example, you can only customize the beginning time of the video on the widget.

(ii). Plugin Method(Using Tagembed Plugin)
Using the plugin method is a more user-friendly approach to integrating YouTube videos on a WordPress website. Let us take an example of the Tagembed YouTube plugin to see how you can embed it.
1. Log in to the WordPress admin panel & Search for "Tagembed" in the 'Add New Plugin' search directory. Click 'Install' and then activate the plugin.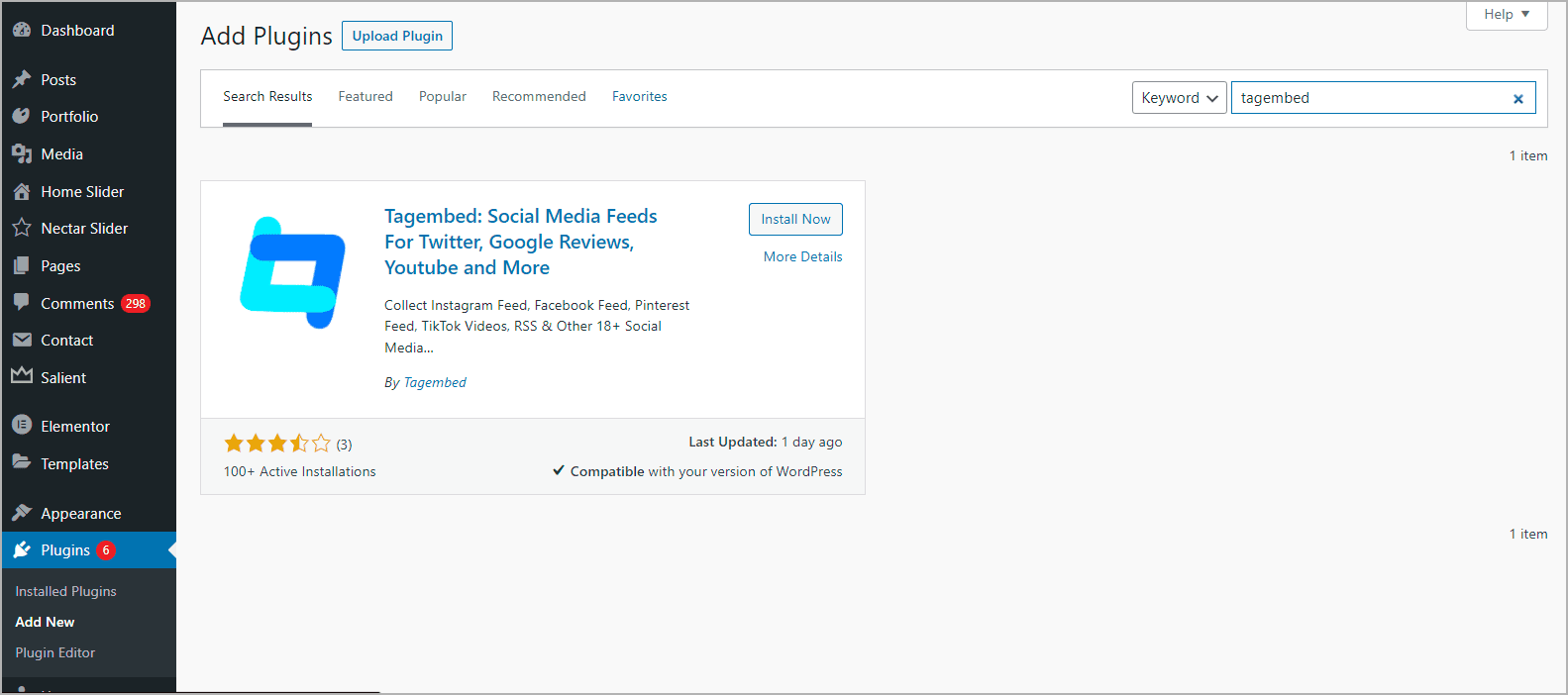 2. Click 'Install' and then activate the plugin.
Step – 2. Aggregating and Embedding YouTube Videos:
1. In the WordPress menu, go to Tagembed widget plugin. Then Register or log in to your account.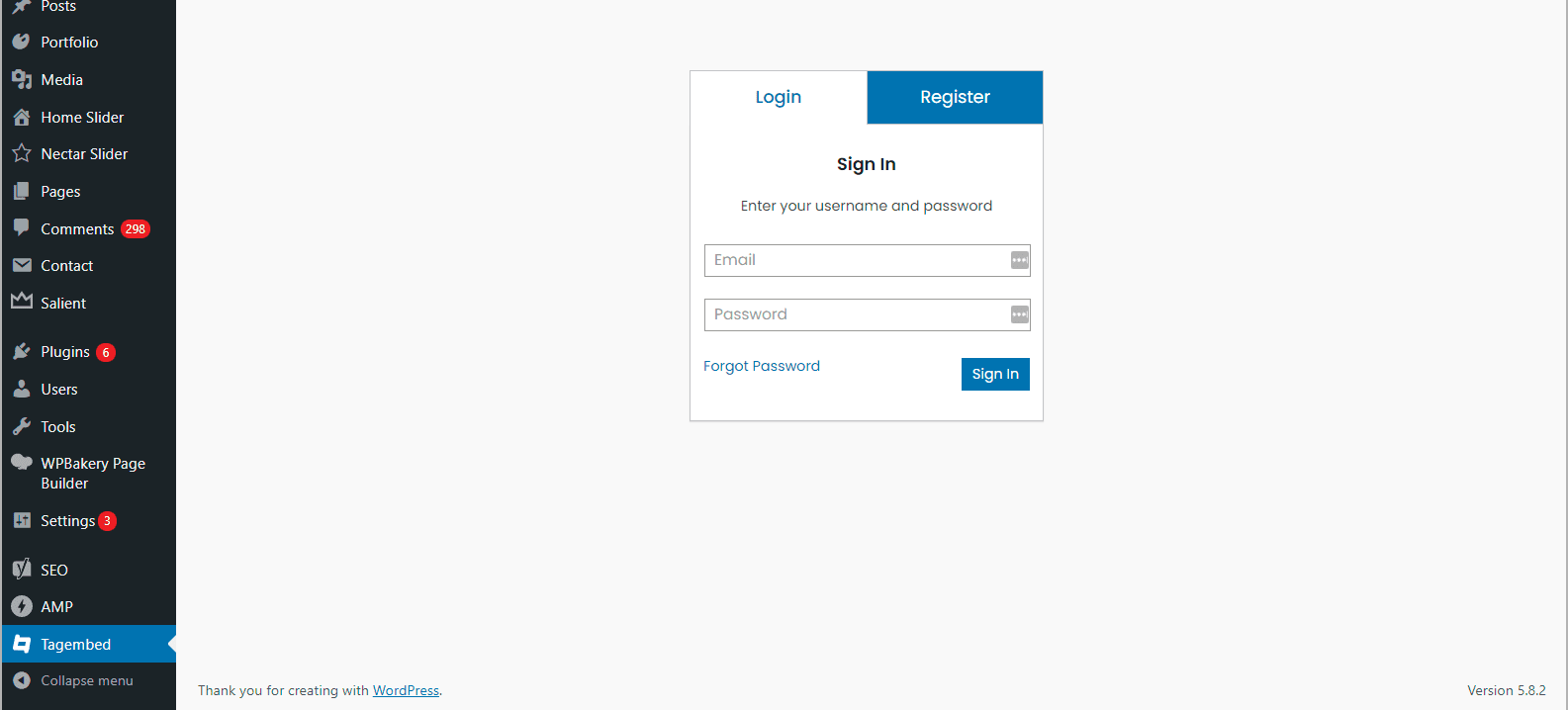 2. Add a feed: Select YouTube as the network.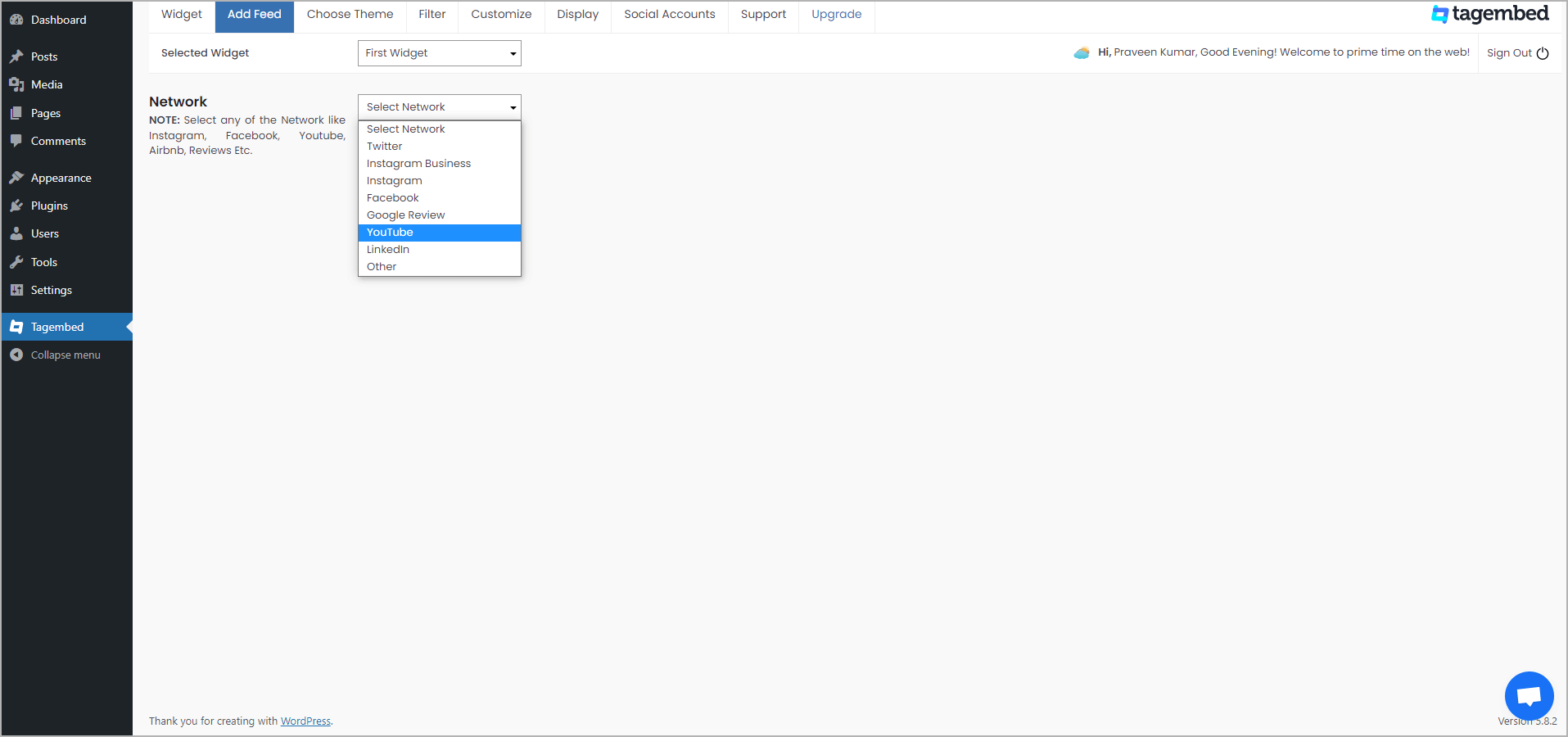 3. Choose Channel as feed filter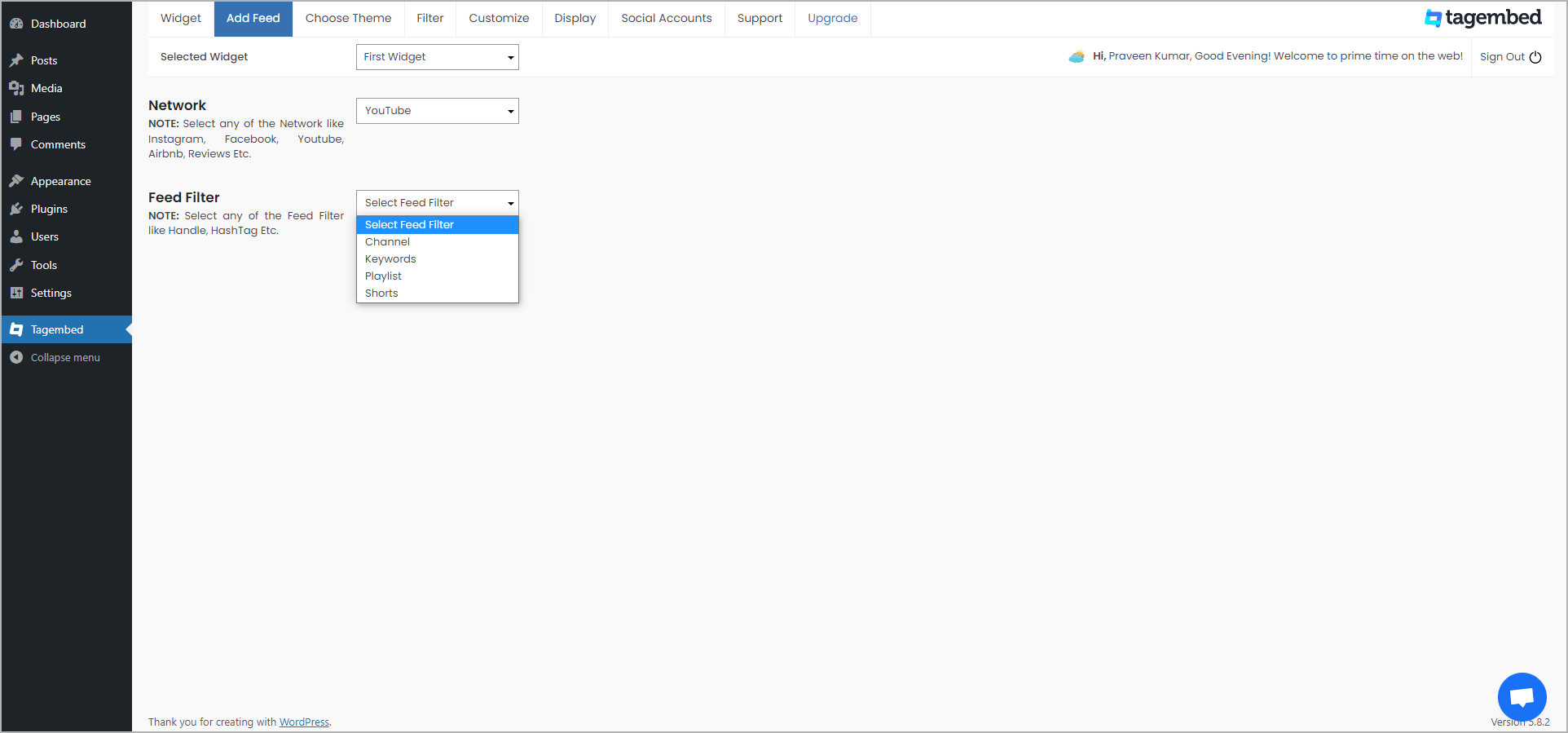 4. Paste the channel URL.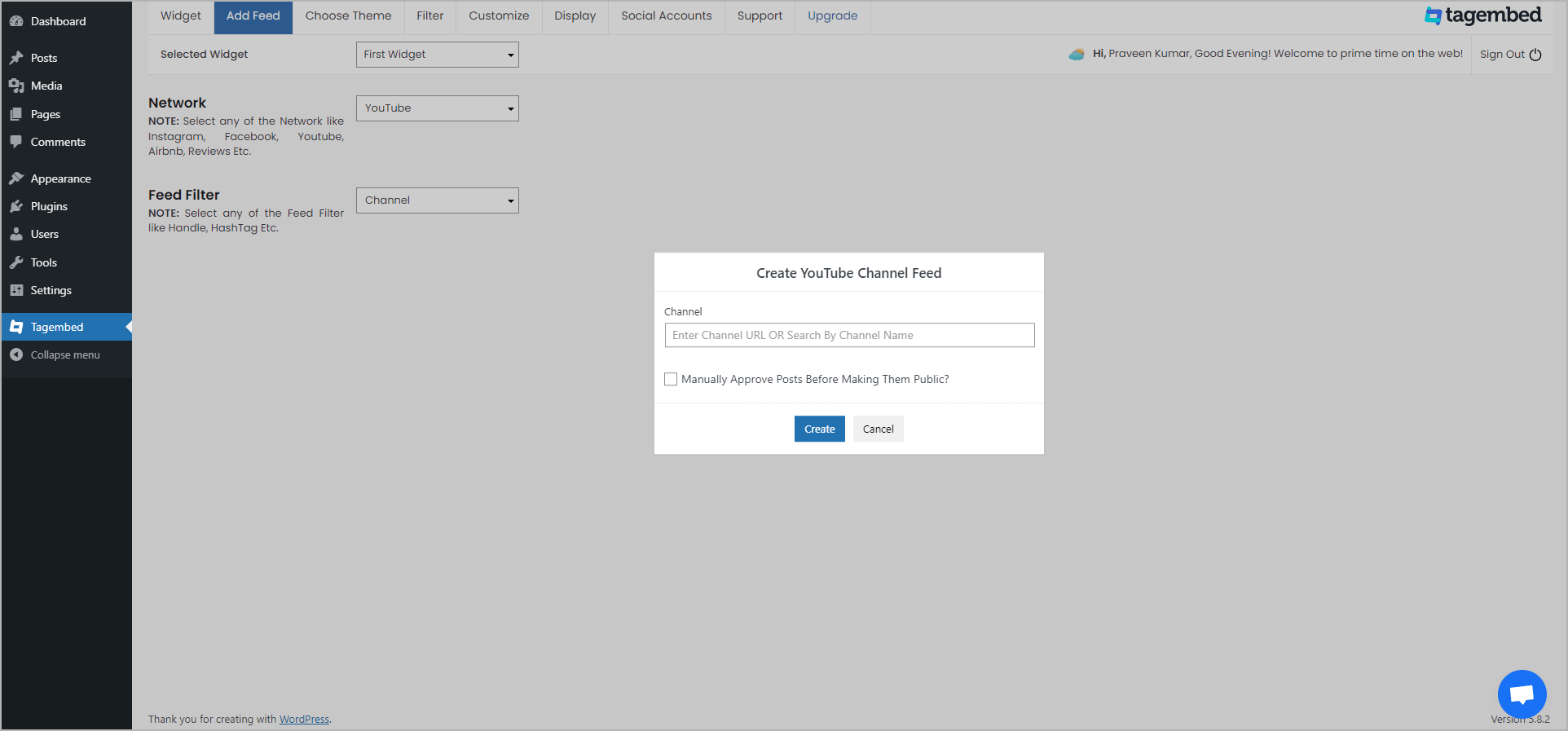 5. Customize the feed theme in the 'Choose Theme' tab.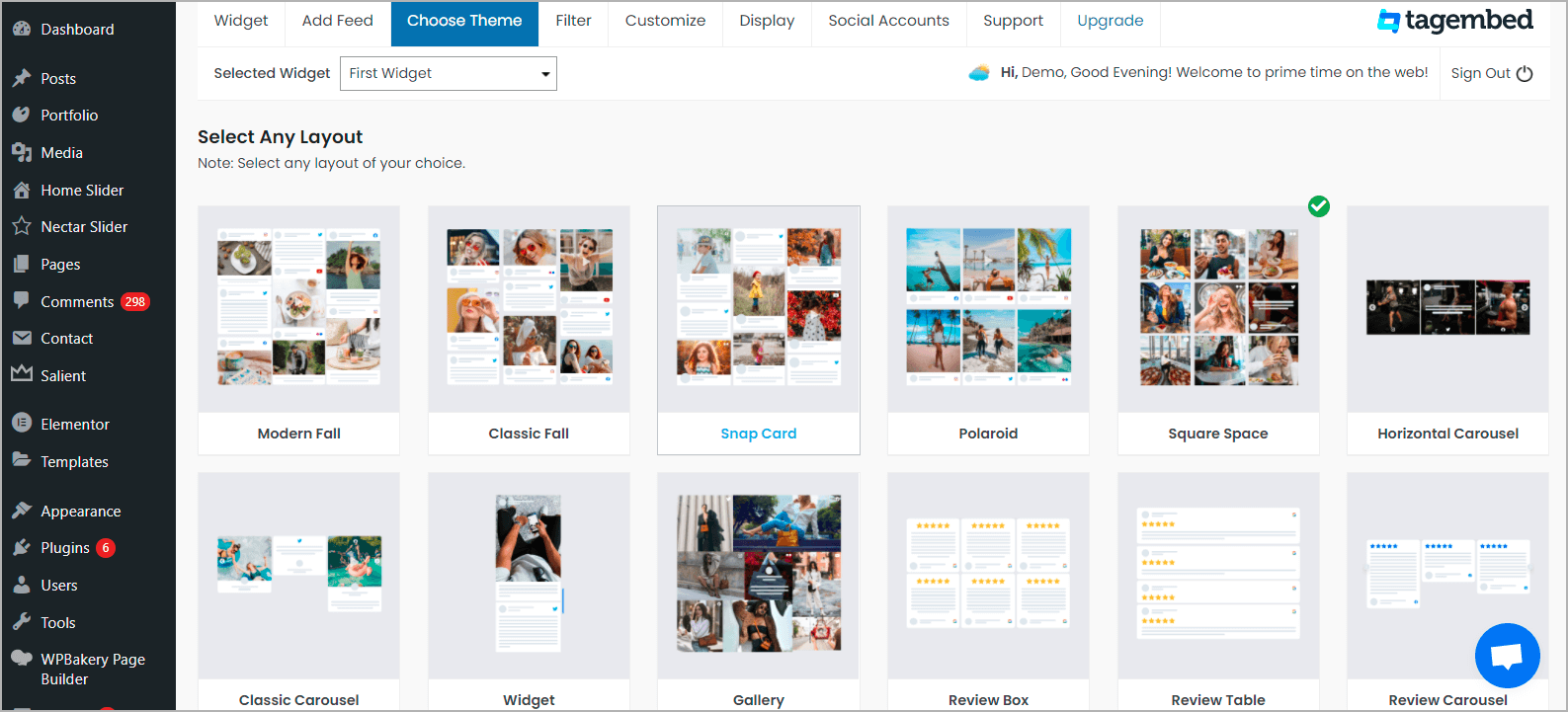 6. In the 'Display' tab, copy the shortcode.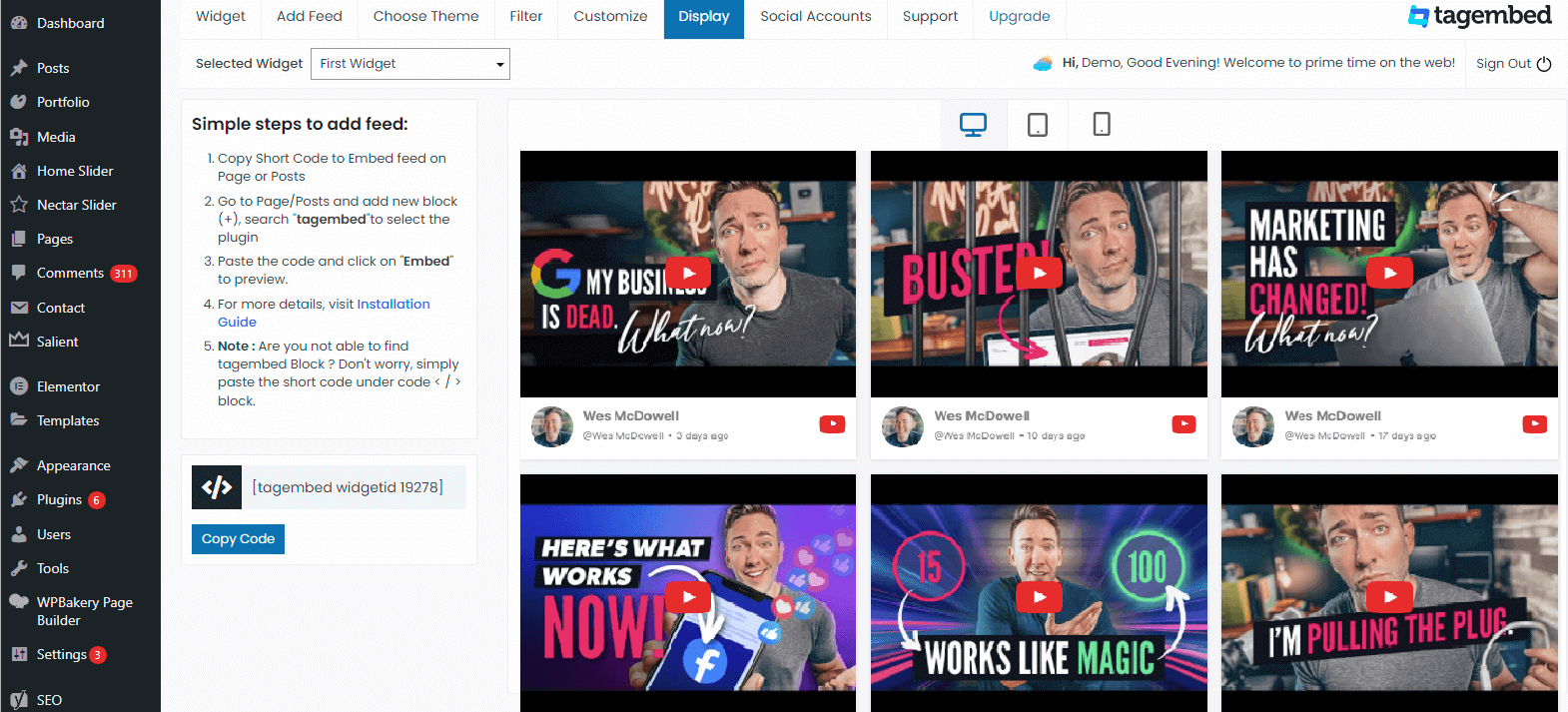 Step 3 : Embedding on WordPress:
1. Choose the page or blog where you want to embed the video. Click the (+) 'Add Block' button and select Shortcode or Tagembed Widget.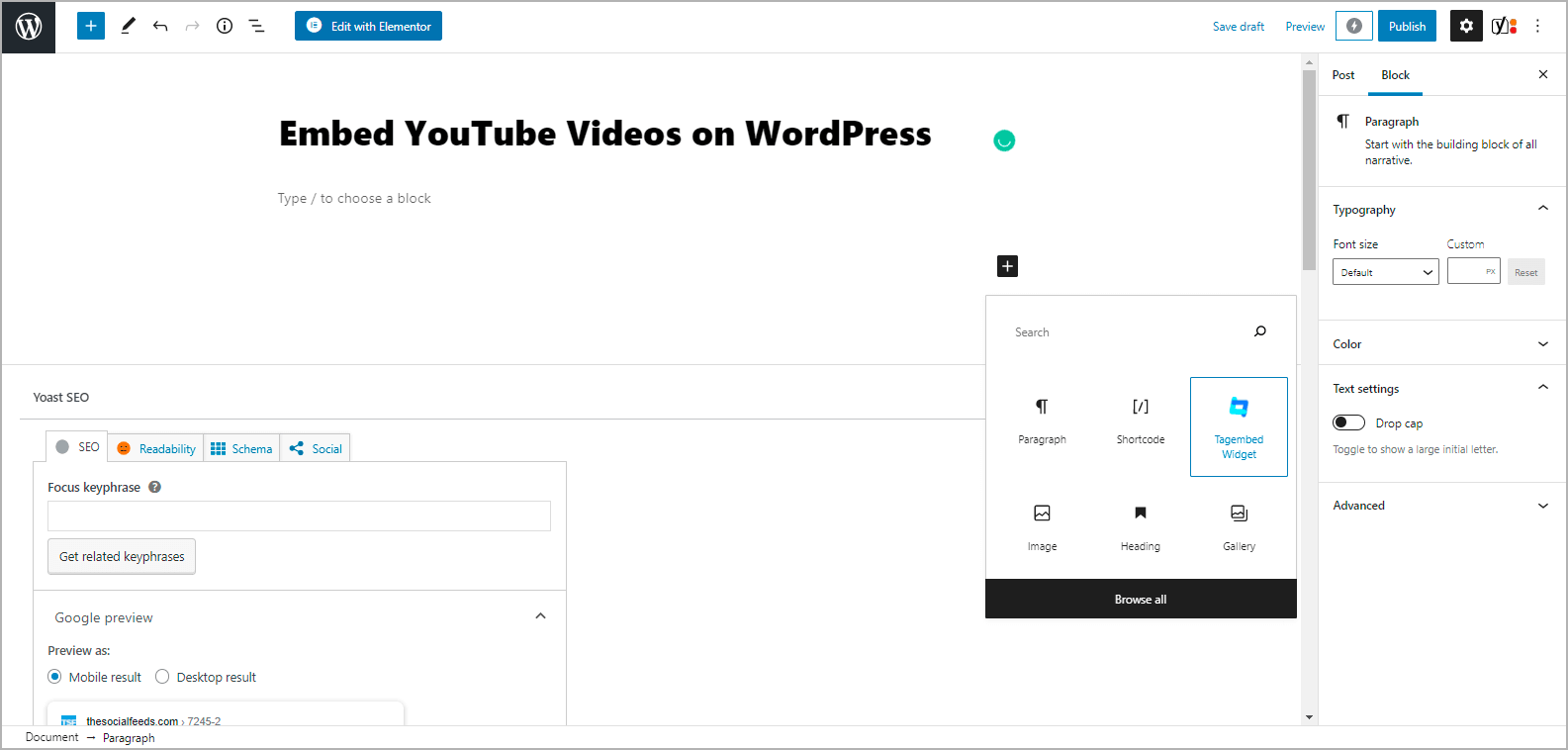 2. Paste the short code and click Publish or Update.
That's it! Your WordPress website will now display responsive YouTube videos.
Pros and Cons Of Using the Plugin Method
There are many pros and cons of the plugin method. Take a close look at it.
Pros
Plugins typically come with intuitive interfaces, making it easy for non-technical users to integrate YouTube content seamlessly.
Plugins often offer a range of features such as video galleries, playlists, and advanced customization options, enhancing the overall user experience.
When you embed videos through YouTube video plugin, you do not have to involve any coding.
With the plugins, you can easily customize the overall look of the YouTube widget. For example, you can change the themes and layouts of the widget. This helps the widget to look similar to the website and maintain the brand image.
A lot of plugins also provide the moderation panel in the feature. This aids in removing the YouTube videos that resonate with the campaign you are running.
You can read more about the benefits of YouTube aggregators on this blog.
Cons
Some plugins may introduce additional scripts or resources, potentially affecting page load times.
While plugins offer a range of features, they may provide a different level of customization than manual aggregation.
List of Plugins To Try For YouTube Videos Aggregation On Your WordPress Website
When deciding between manual and plugin aggregation, consider factors like technical expertise, specific requirements, website performance, and desired features. For instance, manual aggregation may be preferred for highly customized websites, while plugins may be suitable for those seeking a user-friendly approach.
1. Tagembed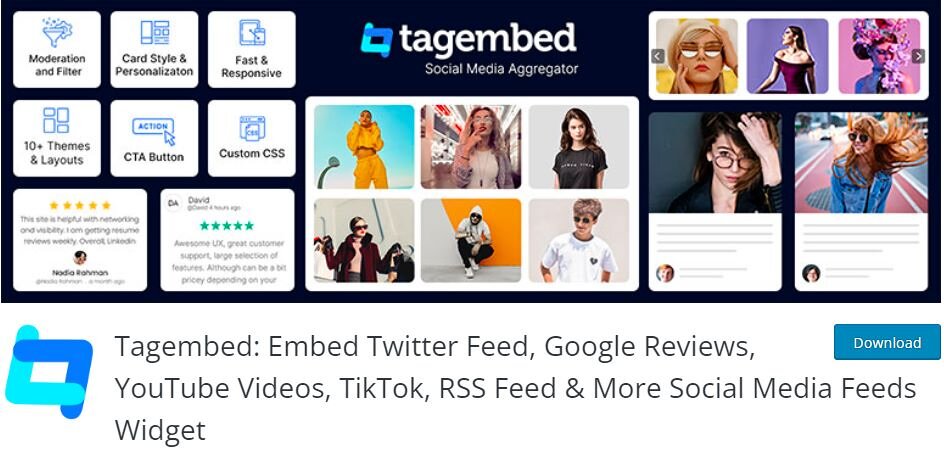 One of the best plugins that we can tell you is Tagembed. This plugin is code-free, which means that you can easily embed YouTube videos on website, without having to code. One of the best features of Tagembed plugin is that it helps you to customize the overall look of the YouTube widget. Renowned for its intuitive interface and robust functionalities, Tagembed has gained popularity among individuals, businesses, and organizations looking to curate and exhibit their YouTube content effectively.
One of the main standout features of Tagembed is to collect all types of content from YouTube. For example, Tagembed supports you in embedding YouTube shorts as well as integrating YouTube videos. With Tagembed, users are empowered with an extensive amount of customization options, affording them the ability to refine the appearance of their YouTube widget to harmonize with their branding or design preferences.
They can select layouts, themes, and color palettes, while also exercising control over font styles, sizing, and other visual elements. This adaptability guarantees a seamless aggregation of content into websites, digital displays, event screens, or any other platform, enabling a cohesive and tailored presentation.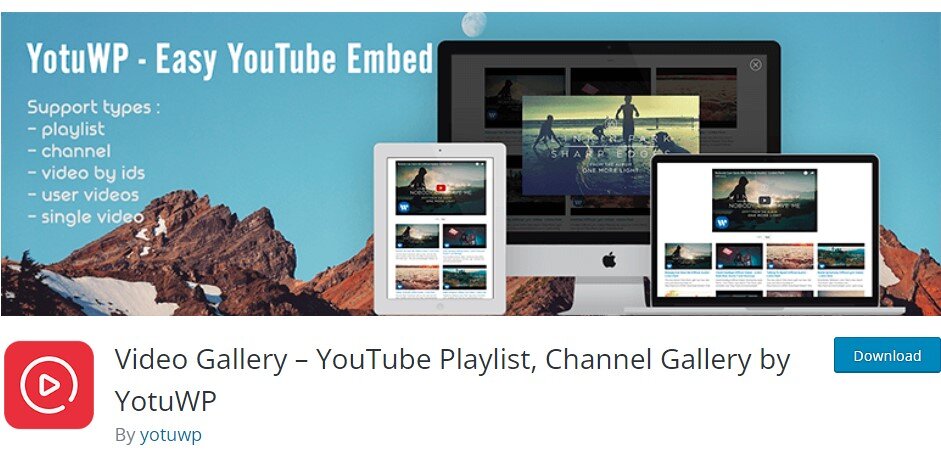 YotuWP is a WordPress plugin that allows users to embed YouTube videos seamlessly into their website or blog. It provides a user-friendly interface, enabling easy customization of video parameters like autoplay, loop, and video controls.
YotuWP also supports various layouts and styles to ensure seamless aggregation with the website's design. With responsive design features, the videos adjust dynamically to different screen sizes, enhancing the user experience across devices. This plugin is a valuable tool for content creators and website owners looking to enrich their content with engaging video material.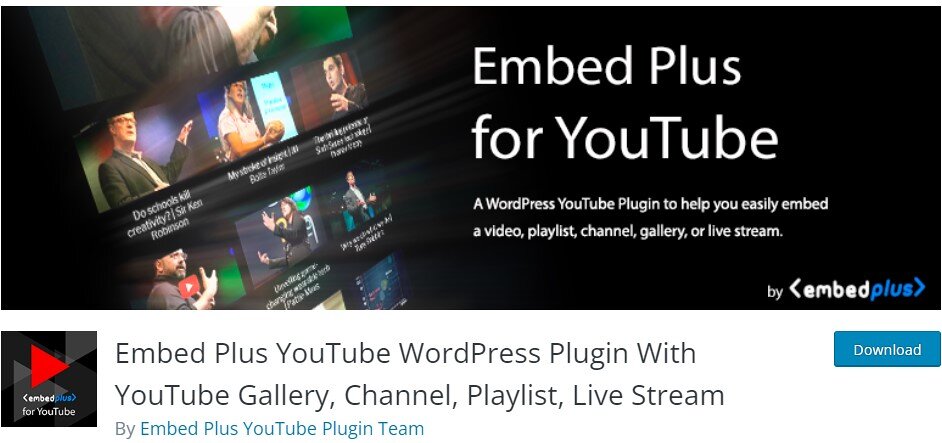 EmbedPlus is a versatile WordPress plugin that enhances the functionality of embedded media, including YouTube videos, on a website. It offers a range of features such as real-time analytics, video reactions, and timed annotations.
Users can also customize the player with options like video chapters, GIF thumbnails, and playback speed controls. EmbedPlus facilitates interactive video experiences by allowing viewers to explore related content without leaving the page.
This plugin is an excellent choice for those seeking to provide a richer, more interactive video-watching experience for their audience.
4. Feed Them Social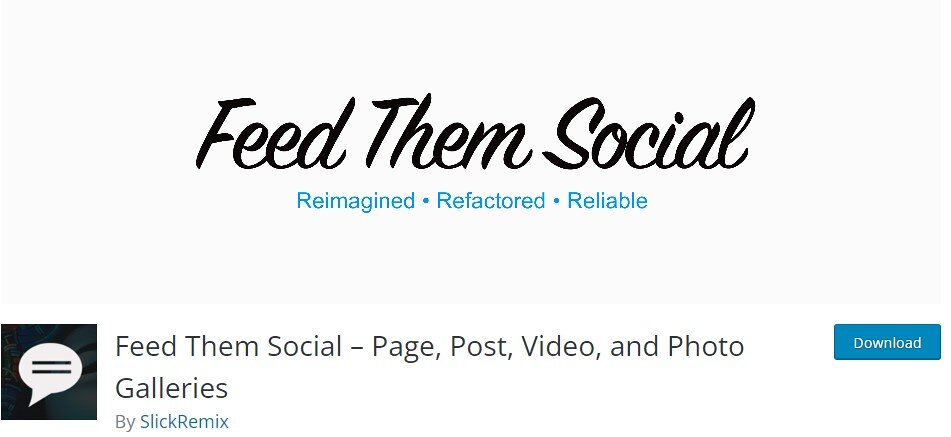 Feed Them Social is a comprehensive WordPress plugin that enables seamless aggregation of social media feeds into a website.
It supports various platforms like Facebook, Instagram, Twitter, and YouTube, allowing users to display posts, photos, and videos directly on their site. The plugin offers customization options for layout, feed type, and style to ensure a cohesive look with the website's design.
Additionally, Feed Them Social provides features like caching and moderation to optimize performance and content control. This plugin is a valuable tool for businesses, bloggers, and influencers looking to showcase their social media presence on their website.
5. Simple YouTube Embed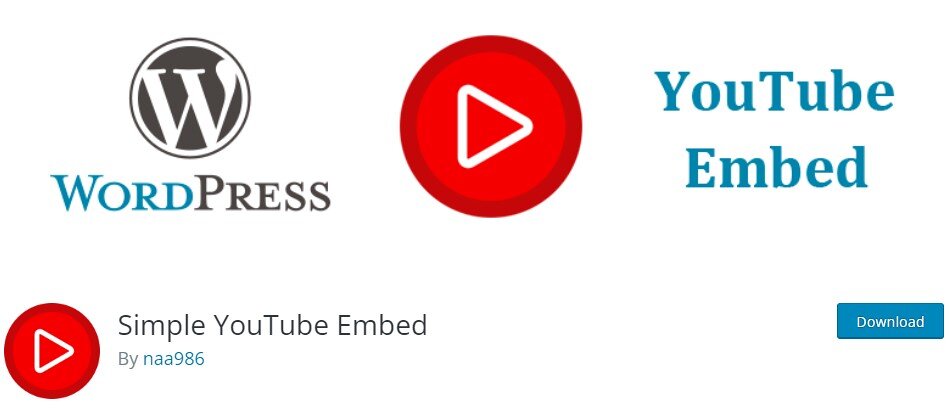 Simple YouTube Embed is a responsive WordPress theme designed specifically for video-centric websites. It provides a clean and intuitive interface with features like automatic video thumbnails, video embedding, and support for various video formats.
Simple YouTube Embed also offers customization options for colors, fonts, and layout to match the website's branding. The theme is optimized for fast loading times, ensuring a smooth video viewing experience for visitors. With compatibility with popular video platforms like YouTube and Vimeo, Simple YouTube Embed is an excellent choice for bloggers, vloggers, and content creators looking to highlight their video content in an appealing and user-friendly manner.
If you want to know more about YouTube plugins, you can read this blog.
The Final Thought
Integrating YouTube videos on a WordPress website is a powerful way to enhance content and engage your audience. However, the choice between manual and plugin aggregation methods depends on factors such as technical expertise, specific requirements, website performance, and desired features.
While the manual method is simple and fast, it offers limited customization and the ability to display only one video at a time.
On the other hand, the plugin method offers advanced customization, and features, and is user-friendly. It is crucial to consider these factors before deciding on the best method for seamlessly integrating YouTube videos into your website.
Free Social Media Aggregator
Embed social feed from Facebook, YouTube, Instagram, Twitter on your website, like a PRO
No Credit Card Required