How To Embed Trustpilot Reviews On Website For Free
We all can agree that competition in the market is getting fierce day by day. Consumers are now spoilt for choice as they now have ample brands in front of them as different options and comfort to purchase while being at their home. And to generate trust in the brand, they refer to online reviews. As per the statistics provided by Trustpilot, around 89% of consumers say they make an effort to read reviews before buying products online.
With online reviews, customers can easily make buying decisions and generate trust in any particular brand. And this is where Trustpilot jumps in. Trustpilot is one of the most trusted review platforms for customers. And due to its relevance, businesses are using the Trustpilot reviews and actively opting to embed Trustpilot reviews on websites.
In this blog, you will learn about Trustpilot, simple ways to add them to any website, and what benefits you can enjoy by displaying Trustpilot reviews. So, read till the end because this blog has a lot to offer.
Embed Trustpilot Reviews On Website
Collect, moderate, and Add Trustpilot Reviews On Your Website
Try for free
What Is Trustpilot?
Trustpilot is an online review platform that allows consumers of a brand to provide feedback, share their opinion, and write reviews about that particular brand or about their product or service. Users often use the platform to communicate their experiences with the brand as well. Brands with a Trustpilot profile receive a numerical trust score from 1 to 5, based on how past customers have rated the business. Customers can also write a review detailing their overall experience with the company.
Trustpilot has over 111 million reviews and is a well-known & trusted review platform. Brands flaunt their positive reviews and score in front of their website visitors and maintain trustworthiness in the market.
You can join this bandwagon and add Trustpilot reviews to your website with comfort. Tagembed eases your whole embedding process and offers additional features that add significant value to this tool and makes your embedding strategy more effective. So, follow the steps mentioned below to embed Trustpilot reviews on the website with Tagembed.
How To Embed Trustpilot Reviews On Website Using Tagembed
Tagembed is one of the leading and well-renowned social media aggregator tools. It allows you to collect, curate, customize and display social media feeds from 20+ platforms. A user-friendly interface, useful features, and affordable pricing plans can be termed an ideal marketing tool for businesses.
With the help of Tagembed, you can embed Trustpilot reviews on any website within a few minutes. And for that, all you have to do is the steps written below.
PART-A. Create Trustpilot Reviews
1. Create your new Tagembed account for free or if you are an existing user, log in to your existing account.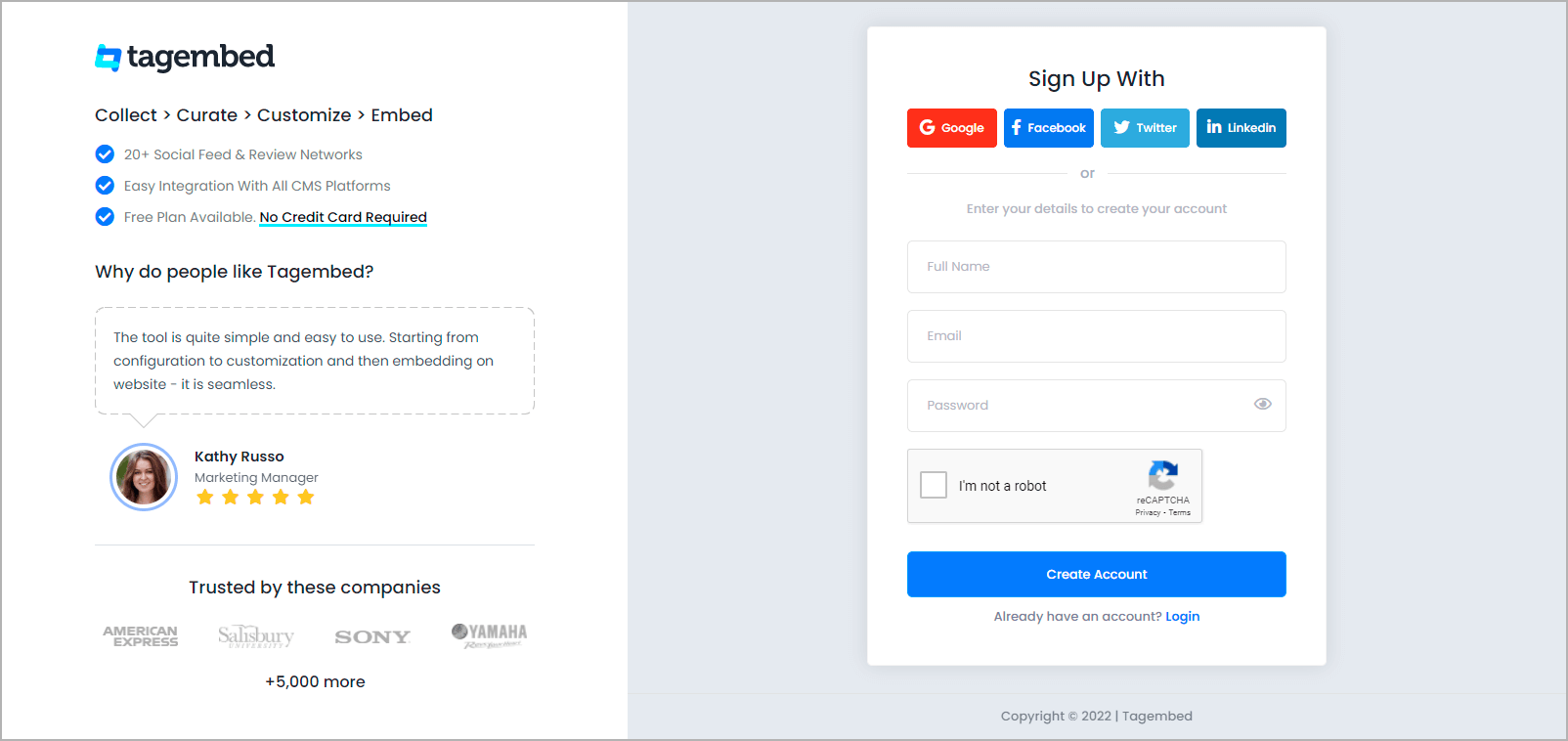 2. If you are a new user, then your first widget will be created by default; just click on the Open button to proceed. And if you are an existing user, then click on the Create Widget button, and provide the desired name to the widget.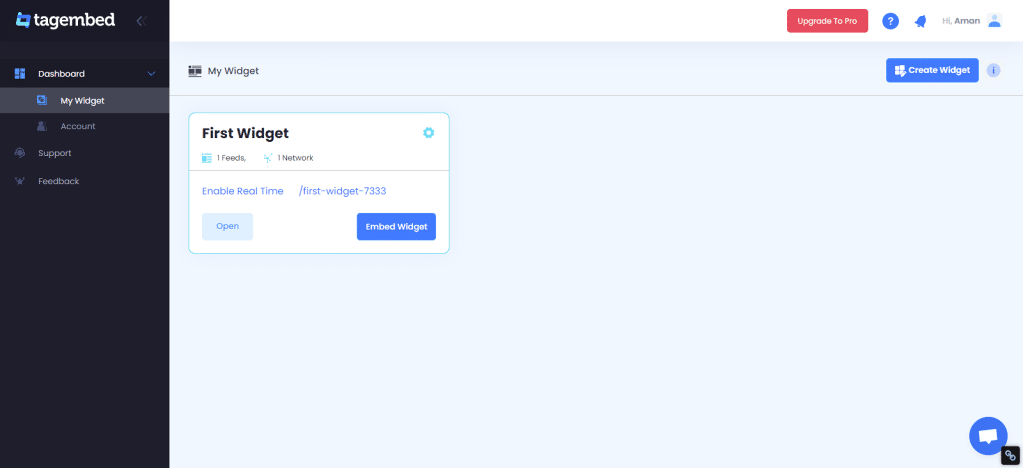 3. Pick a Source pop-up window that will appear on your screen, click on the Review tab, and choose Trustpilot reviews as your source.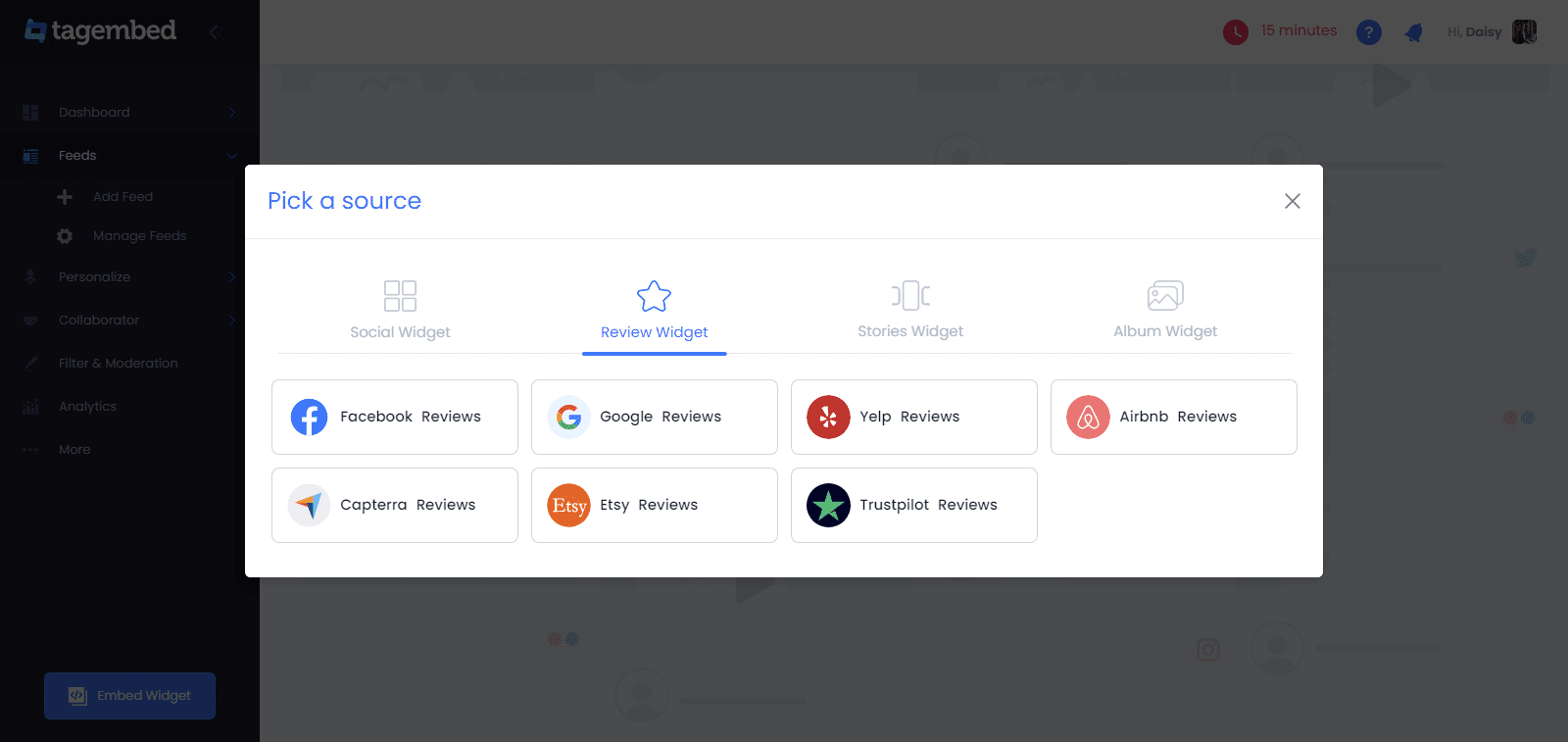 4. Paste the URL of your Trustpilot reviews profile. And click on the Create Feed button.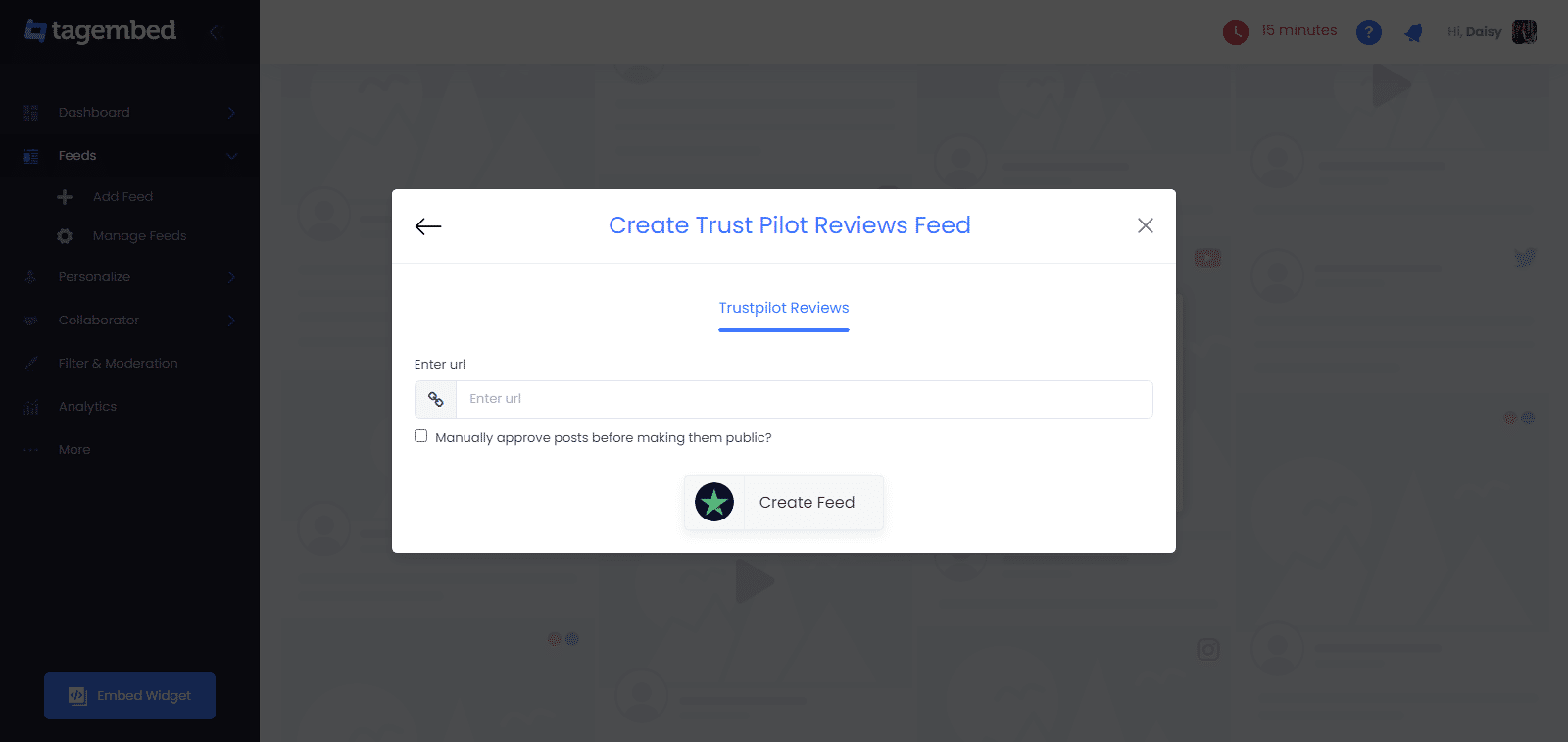 5. All your Trustpilot reviews will be then collected and into a unified feed.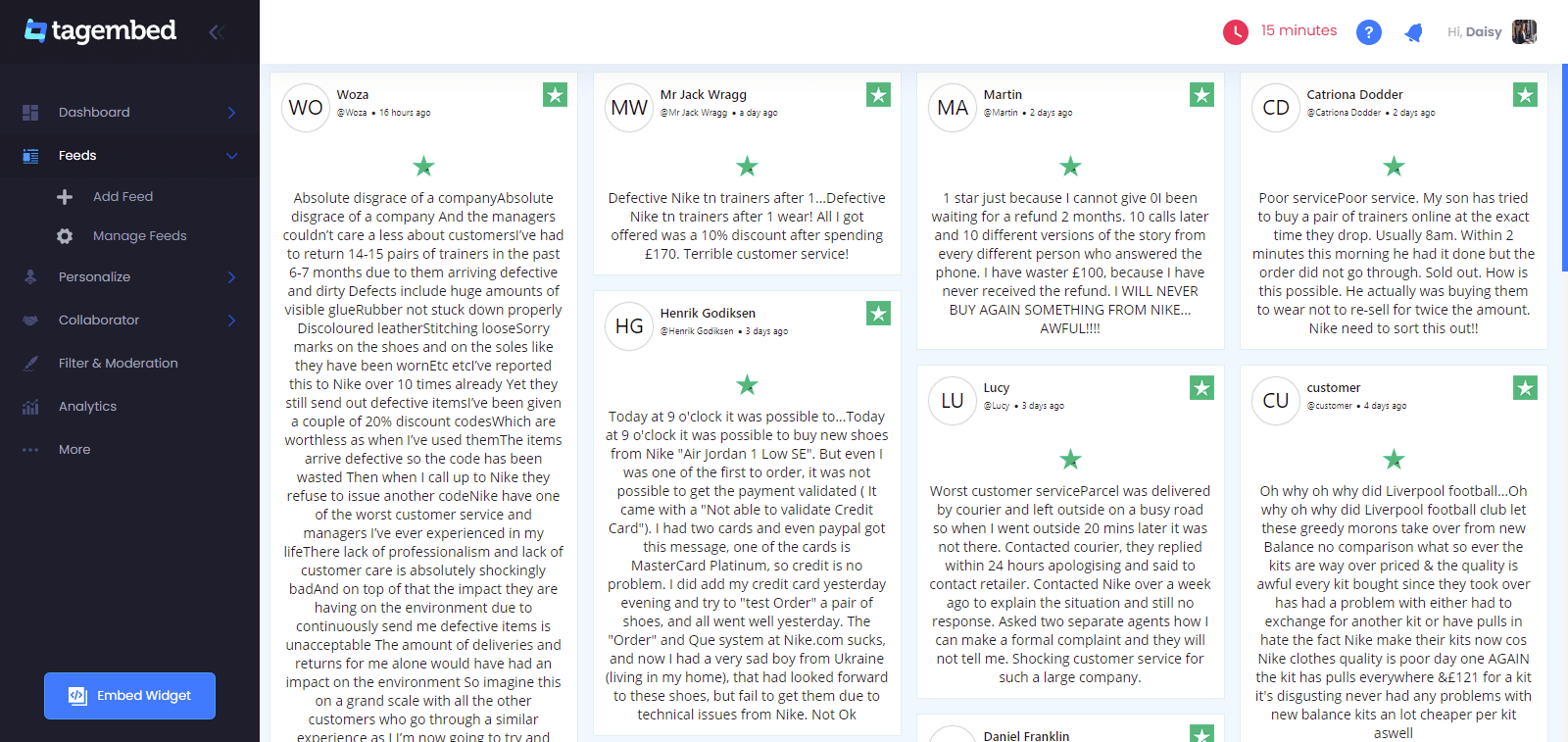 You'll be now redirected to the widget editor page, where your feed will be visible to you. Also, you will be able to access many options like:
Customization– the feature allows you to personalize your widget as per your need. You can pick the desired theme, choose the appropriate card style, and play with the settings, to add a charm to your widget and website.
Moderation– You can even hide reviews that are irrelevant or might mislead your website visitors.
Insightful Analytics– With web analytics you can get insights into your audience's behaviors, sentiments, etc. You can even monitor & evaluate the total impressions, click-through rate, users, sentiment analysis, and other details. And eventually, make your future strategy based on these data sets.
More– Tagembed also allows you to add elements to the widget like- hashtag highlighter, ticker, filters, custom CSS, etc to make your feeds look more attractive & engaging.
PART-B. Display Trustpilot Reviews On Any Website
6. Now it's time to generate the embedding code for your widget. Click on the Embed Widget button, present on the bottom left corner of your screen.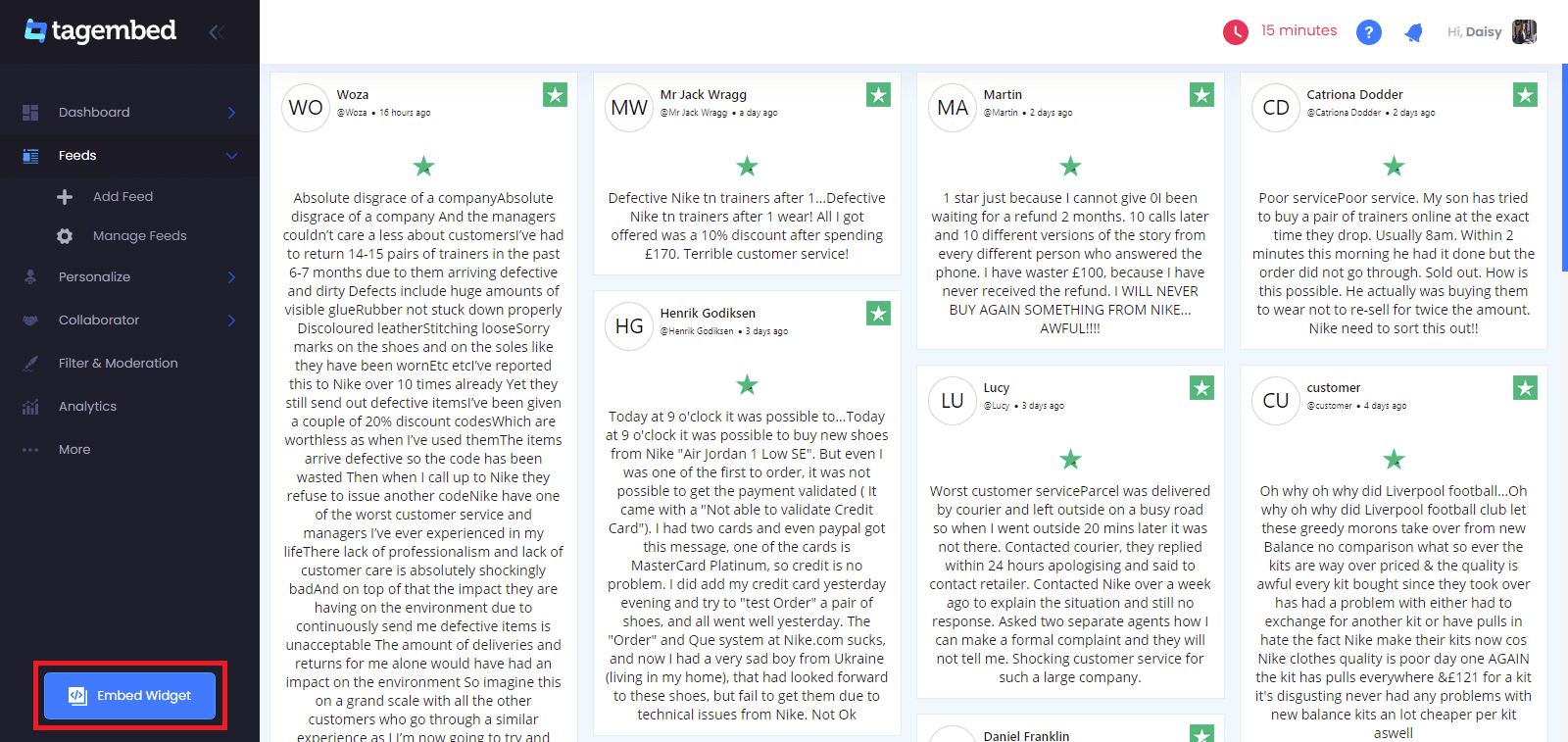 7. A pop-up will appear on your screen showcasing various website-building platforms like HTML, WordPress, Wix, Squarespace, Weebly, Webflow, BigCommerce, etc. Choose any of your desired platforms from the provided options.
8. Now, according to the section of the webpage, adjust the height & width of your widget. And then click on the Copy Code button and copy the code on the clipboard.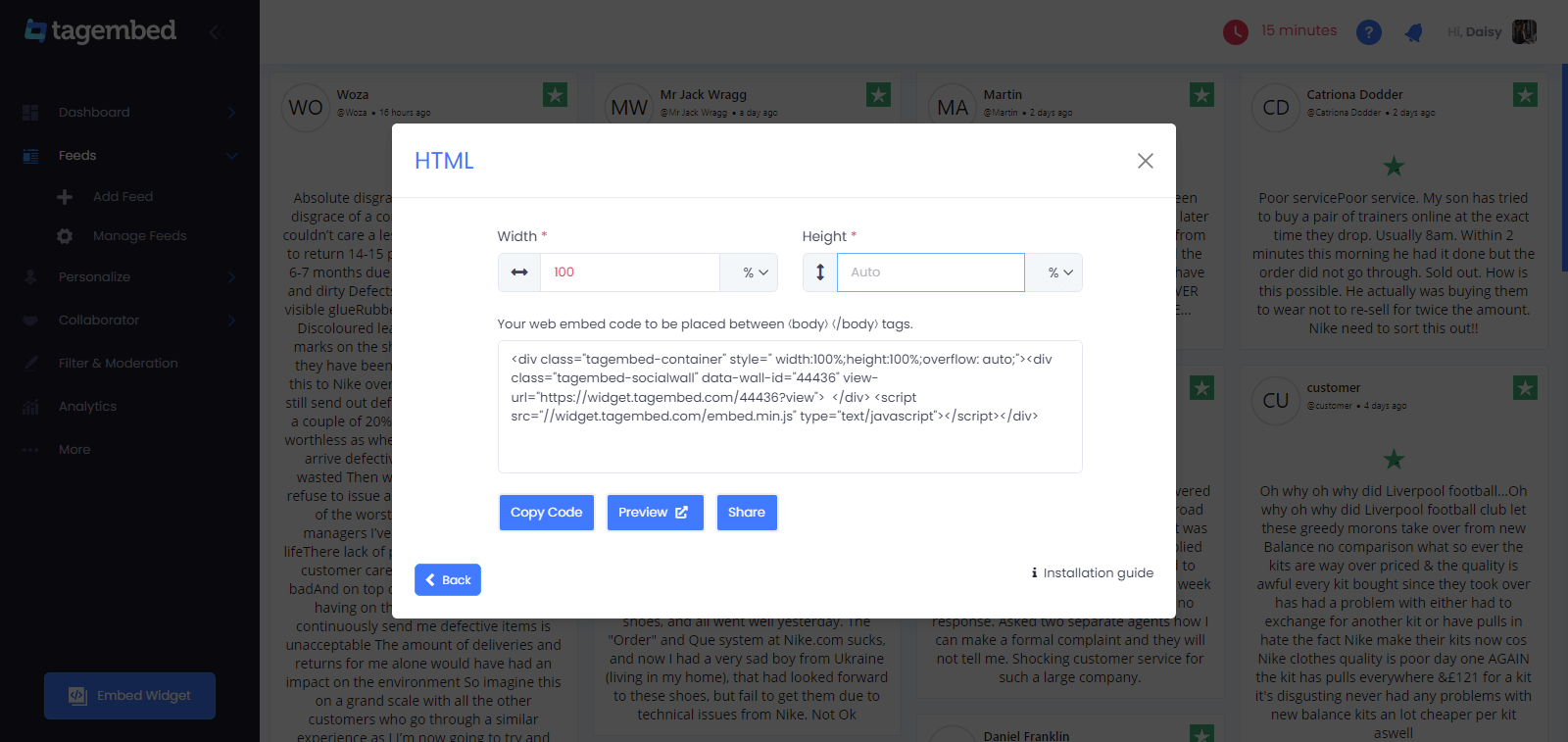 10. Finally, paste it onto the backend of your website. And there you have it, you have successfully added Trustpilot reviews to your website.
How To Add Trustpilot Reviews On Different Website Building Platforms:
As mentioned before, Tagembed is compatible with various CMS platforms, And here is a detailed step-by-step guide to how you can add Trustpilot reviews on different CMS platforms.
1. Add Trustpilot Reviews To WordPress Website

2. Display Trustpilot Reviews On Shopify Website

3. Embed Trustpilot Reviews On Wix Website

4. Add Trustpilot Reviews On Squarespace Website
5. Display Trustpilot Reviews On Weebly Website

6. Embed Trustpilot Reviews On HTML Website

7. Add Trustpilot Reviews On Webflow Website

And this is, your Trustpilot reviews will now be visible on your desired website. To display them and enjoy the benefits it offers. What benefits did you ask? Here are some of the handpicked from various.
Add Trustpilot Reviews On Website
Collect, moderate, and Display Trustpilot Reviews On Your Website
Try for free
Benefits of Adding Trustpilot Review On Any Website
1. Builds brand's credibility in the market
Trust is the foundation for any relationship, even for brand and customer relations. As customers have ample choices in the market, it is vital to build credibility in the market. By flaunting the reviews related to your brand, you can win the trust of your potential customers and have reliability in the market.
2. Makes the website engaging
We all know that customers look to collect as much information as they can before making their purchase. The reviews on your website will keep them engaged on your website, as they get to read as many reviews as possible.
3. Reduces bounce rate of the website
Reviews have the potential to hold the reader for long periods. And as you have reviews on your website, your visitors will be more likely to stay on your website, which results in a reduced bounce rate of your website.
4. Builds a review cycle
Consumers feel respected when a brand displays its respective feedback and reviews on the platform. It also inspires other consumers to write reviews for your brand and enjoy the limelight on the website. It eventually builds a review cycle helping you in gathering more reviews.
5. Amplify conversion rate & sales
Last but not least, all the factors mentioned above help you achieve a higher conversion rate and sales. It is not rocket science to understand that reviews have the potential to convert your potential customers to your customers and help in achieving your business goals.
All in All
The strategy to embed Trustpilot reviews on the website has the potential to take your business to new heights. With Tagembed, you add reviews to your website in a few minutes and even eye-catching reviews.
So what are you waiting for?
Follow the steps mentioned above, embed Trustpilot reviews on your website, enjoy its benefits, and take your business to new heights.
Frequently Asked Questions
Free Social Media Aggregator
Embed social feed from Facebook, YouTube, Instagram, Twitter on your website, like a PRO
No Credit Card Required