Best Social Media Feed Plugins For WordPress Websites – 2023
In Today's Digital Age, Social Media has become an essential tool for businesses & individuals to promote their brand and connect with their audience. Nowadays social media feed WordPress Plugin are used to boost website sales with social media integration. WordPress social media feed plugins allows users to display social media feeds directly on website & making it easier to engage with your content & stay updated with your latest posts.
Out of all the website-building platforms, WordPress has emerged as the most favorite website-building platform due to its smooth integrations and functionality.
Showcasing social media feeds into the WordPress website has become a much sought-after strategy for every budding brand and marketer as it enables them to potentially grow their business and maximize their profits.
The WordPress directory has thousands of plugins designed for the embedding process, however, shortlisting the one that deems fit can be quite a prolonged and daunting task.
In this post, we are going to tell you about the best social media feed plugin for WordPress that can help you showcase your social media content seamlessly on your website. 
Keep reading as we shall be telling you about the benefits of adopting this strategy as well.
Best Social Media Feed Plugin For WordPress Website
Collect, moderate, and Embed Social Media Feeds on WordPress Website
Try For Free
Top 8 Most Powerful Social Media Feed WordPress Plugin Websites – 2023
1. Tagembed Social Media Feeds Plugin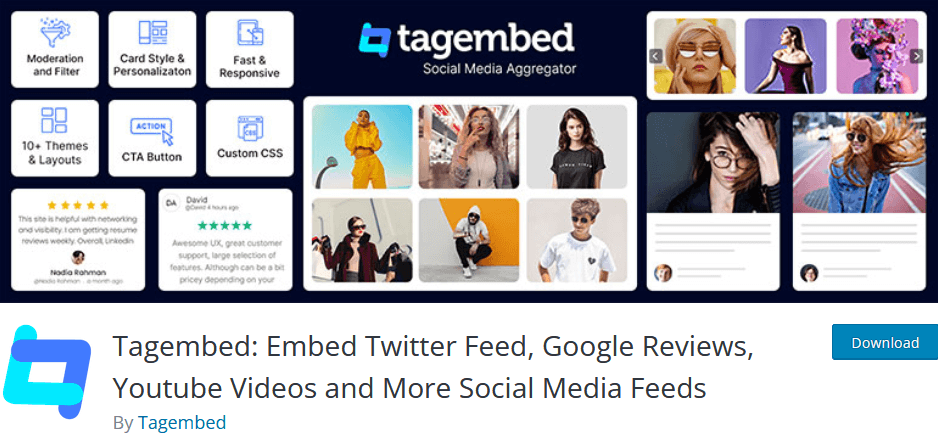 First up on the list is the best social media feed WordPress plugin by Tagembed, a highly responsive and promising social media aggregation platform designed to aggregate, curate, and embed social feeds from over 18+ social media platforms including leading platforms like Instagram, Facebook, Twitter, Google Reviews, LinkedIn, Pinterest, RSS, Airbnb, Yelp, TikTok, Trustpilot Reviews, Etsy, Capterra, Yammer Feed, etc. 
The advanced features of the platform are what make it one of the most efficient and easy-to-use wordpress social media plugins. Users can leverage the customization panel of the plugin to increase the visual appeal of the social feeds. They can choose from a wide range of themes, layouts, themes, fonts, etc. Content plays a big role in keeping website visitors hooked for a longer period and it is crucial to monitor it.
Hence, the users can use the content moderation panel of the platform to remove any objectionable and inappropriate content from the feeds and maintain the topmost quality of content. Users can use advanced analytics and get insights into the performance of the social feeds.
The users can take any time for assistance from the back support team of the platform if they ever come across any technical glitch or issue while using the platform.
Best Social Media Feeds
WordPress Plugin
Download
2. WP Social Ninja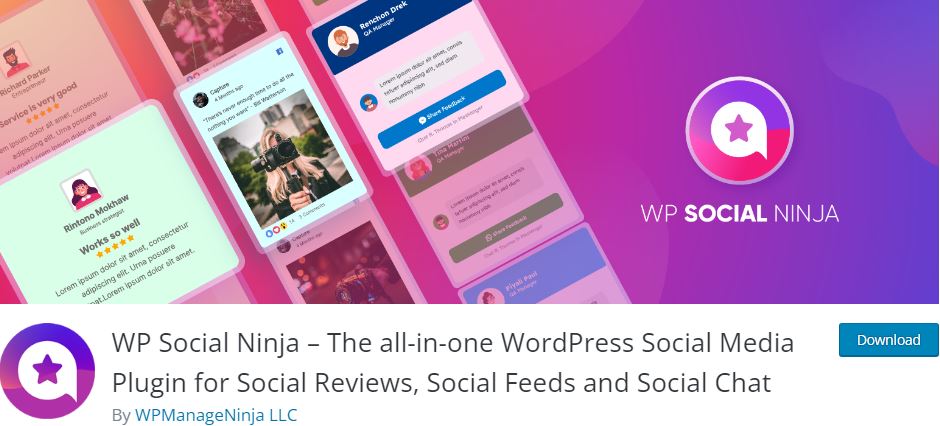 WP Social Ninja is a WordPress social media plugin with 29+ platforms allowing small businesses to manage and display all their social media content. This dynamic plugin helps to fetch 4+ social feeds, 9+ social review platforms, and 15+ chat widgets. Moreover, WP Social Ninja has Notification Popups, Testimonials, a Shoppable Instagram feed, and many more market demand features.
WP Social Ninja is a customizable and lightweight social media plugin for wordpress to support you in achieving even more growth by showing your social media content and customer reviews. Keeping chat support with multiple chat widgets is another core feature of WP Social Ninja.
This feature-rich plugin has different layouts and styling options with full customization opportunities. These benefits make it effortless to create designs without fearing the custom code. Above all, your social media marketing will be quicker than before with WP Social Ninja.
3. Taggbox Widget Plugin

The Taggbox widget plugin is yet another powerful and responsive social media aggregator plugin that allows users to easily collect and embed content from various social media networks.
The users of this plugin enjoy multiple features to make the social media widget for WordPress more impactful. It allows its users to customize their feeds exactly how they want. The plugin offers various other features like a profanity filter to moderate the content, advanced content analytics, and a robust back support team.
4. Flow-Flow Social Feed Stream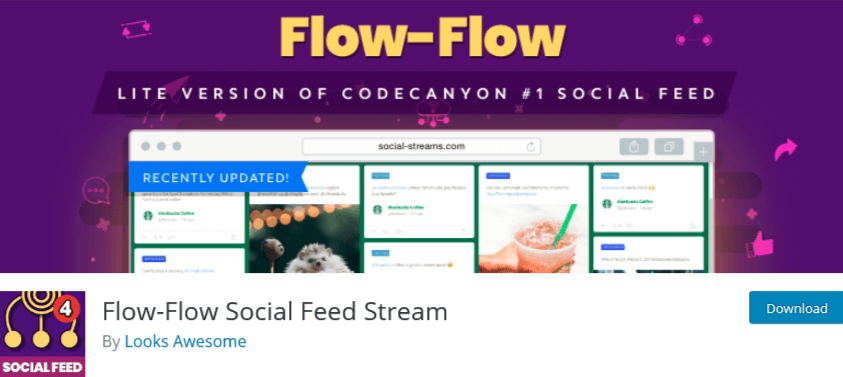 This plugin is extremely user-friendly and lets users integrate content from social media networks like Instagram, Twitter, Facebook & Pinterest. The plugin is compatible with devices of all screen sizes like laptops, smartphones, and desktops, and with third-party plugins.
Speaking of features, the plugin offers a limited number of options to its users. However, to make the most of the plugin, the users can upgrade to its pro version.
5. Easy Social Feed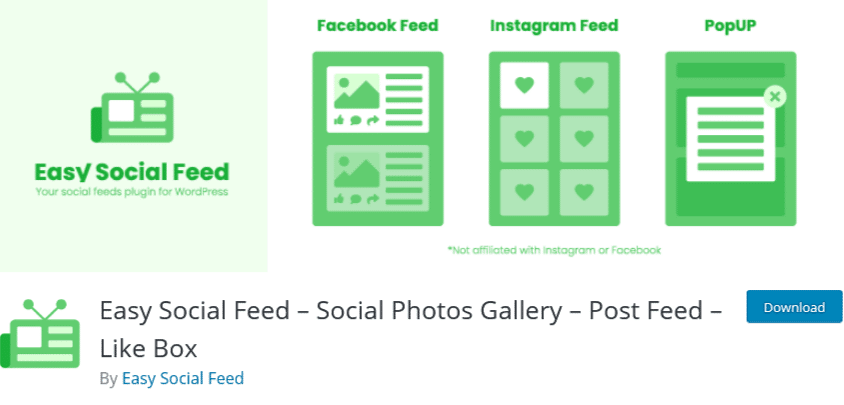 Another wordpress social feed plugin that is super easy to use and set up is the Easy social feed. The users can customize the social feed by choosing their preferred choice of layout.
Using Easy social feed, you can display unlimited social feeds on your WordPress website.
The best part about the plugin is that the plugin is mobile-friendly and can be set up in a minute.
6. 10 Web Social Post Feed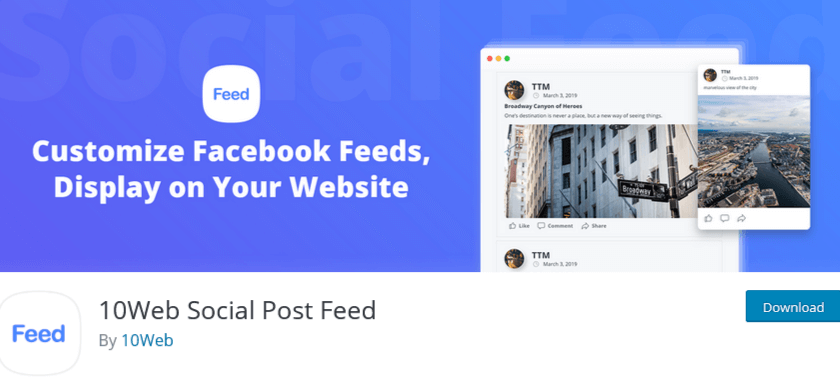 This plugin works best if you are looking for an option to display only Facebook feeds on your website since it is designed only for Facebook.
Using this plugin, the users can seamlessly integrate unlimited Facebook feeds on their website choosing their preferred source like a specific Facebook page, a user account, mentions, etc.
The users also get to customize their Facebook feed by choosing from a variety of options like effects, themes, layouts, etc.
7. Spotlight Social Media Feeds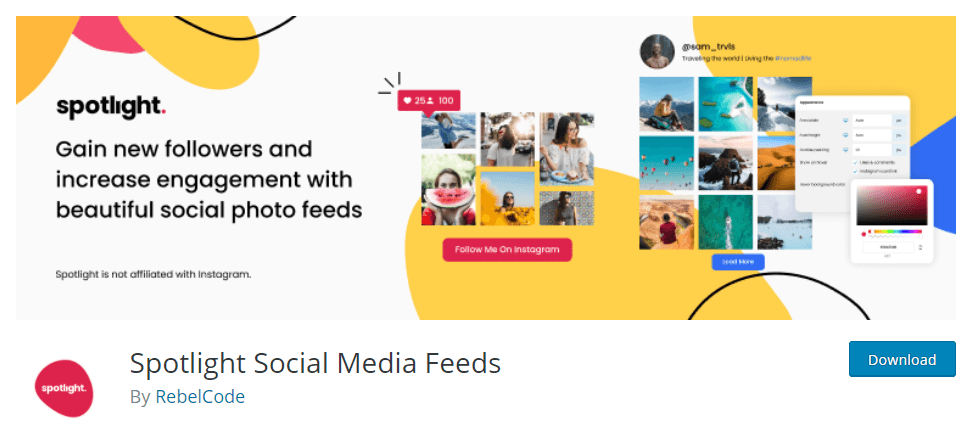 If you are looking to integrate feeds only from Instagram, then this can be your perfect choice. Spotlight is a lightweight and easy-to-use plugin that allows you to display Instagram feeds to your website.
Speaking of customization, the users can enjoy various options like adjusting height and width, colors, layouts, backgrounds, etc.
However, to leverage more advanced features of the plugin, the users would need to upgrade to the advanced version of the plugin – Spotlight Pro.
8. Enjoy Social Feed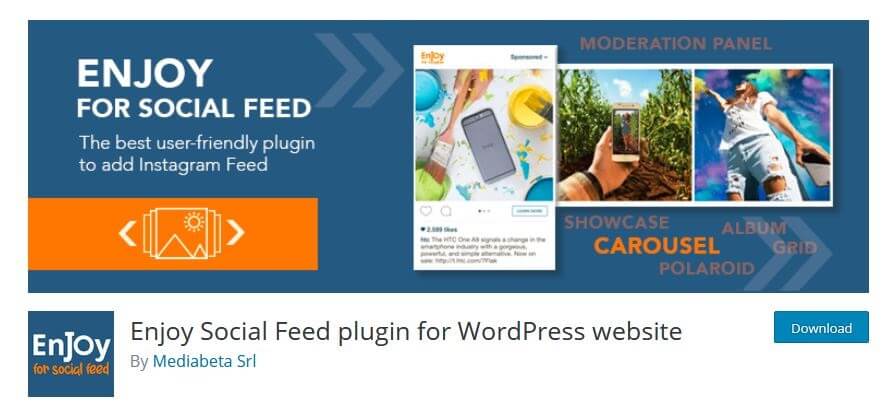 Another great plugin for integrating content from Instagram is the Enjoy social feed plugin. Enjoy can be set up in a couple of minutes and enables the users to fetch content from sources like hashtags, or a public hashtag feed.
The users can display the Instagram feed either in the form of a grid or a carousel while displaying it on the website. Additionally, the moderation panel of the plugin allows users to remove any unwanted posts.
Overall, the plugin is extremely responsive and can be optimized for mobile devices.
Best Social Media Feed Plugins For WordPress
Collect, moderate, and Add Social Feeds on WordPress Website
Try For Free
The Key Benefits Of Integrating Social Media Feed Plugins On WordPress Websites:
If you are wondering about the benefits of showcasing social feeds on your website, then make your way to the end of this section.
Embedding social media feeds can –
Considerably boost the engagement of your website visitors
Offers a chance to showcase User-Generated Content
Widens out your reach on social media
Builds a social proof of the brand
Instill trust and confidence in the potential customers
Escalate sales & conversions
The Ending Note
The massive user base of more than 3.9 billion displays how interested and capable the platform is to attract and engage its users. Further embedding the power of social media feeds on the website is an excellent way to reap the mentioned benefits and much more.
This brings us to the end of this post and we highly recommend you leverage an effective and responsive best social media plugin for wordpress like Tagembed into your marketing efforts to upscale your business.
Go on now, Create your free account now!
Free Social Media Aggregator
Embed social feed from Facebook, YouTube, Instagram, Twitter on your website, like a PRO
No Credit Card Required
Free Social Media Aggregator
Embed social feed from Facebook, YouTube, Instagram, Twitter on your website, like a PRO
No Credit Card Required