Best Elfsight Alternative To Embed Social Media Feeds On Website
Humanity forms the foundation of our global culture as a species. And as humans, one of the great strengths that we have is to adapt and welcome new changes. Kakuzo Okakaura, the famous Japanese scholar and art critic, once famously quoted, "The art of life is a constant readjustment to our surroundings." Summarizes that surroundings and events bring changes.
As humans, we adapted and accepted social media in our lives, bidding farewell to various traditional communication mediums and mediums to express. Social media has been a game-changer not only for individuals but also for businesses. Therefore many businesses rely heavily on social media for their marketing and even for their online presence.
We are witnessing a trend where many brands are actively opting to embed social media feeds on websites. So naturally, Elfsight is one of the names that pop up in my head when talking about embedding social media feeds. But Tagembed, which is considered the best Elfsight alternative, has dethroned Elfsight as 'The Best In The Market' and is now enjoying its well-deserved popularity. The tool is known for easing the process, providing incredible features and affordable pricing plans; with such positives, it is now- Trending In The Market, and you might have heard about it.
Tagembed has made a name for itself in such a short time and now stands as one of the best social media aggregator tools.
What is Tagembed? How is it compared to Elfsight, and what are the features it provides?
This blog has it all. So read till the end, as this blog has a lot of takeaways.
Best Elfsight Alternative
Boost Engagagement, Traffic & Conversion By Embedding Social Media Feeds On Your Website
Try For Free
Tagembed – The Best Elfsight Alternative
Tagembed is one of the eminent social media aggregator platforms that help users to accumulate social media feeds from over 20+ social media platforms. After collecting the feed, users have the option to curate and customize the feed as per their needs, and with the help of the tool, they can exhibit the content in a presentable manner.
The tool eases the embedding process by restricting them to a few clicks and saves time by allowing users to embed social media feeds on the website in under 2 minutes.
Alongside easing the embedding process, the tools also provide various features such as customization, moderation, responsive widget, and more that make it an ideal social media aggregator. More about the features and details about them are discussed later in the blog. But before that, let us learn where Tagembed stands compared to Elfsight and how it has a slight advantage over the latter.
Tagembed v/s Elfsight
As a brand or marketer, one always looks for economic plans. In simple terms, we look to get more by investing less. Tagembed provides impressive results and smoothens the embedding process, but the cherry on the cake for Tagembed is its pricing plans. Like Elfsight, Tagembed has 4 pricing plans. You will see a head-to-head comparison between the two in each paragraph below, explaining why we consider Tagembed as the best Elfsight alternative.
Lite Plan:
Lite plan of both tools is basically the free forever plan. Yes, you can avail free accounts on Tagembed as well. And as we talk about services offered, Tagembed has their nose in front. Elfsight, on the one hand, provides 200 views on the widget; Tagembed allows 2000 views per month. Moreover, Tagembed allows you to embed posts from 5 social media platforms in this plan, with 12 hours of update time, email support, manual moderation, and web themes. All of this you get free of cost.
Basic Plan:
Basic plan of Elfsight costs $5 per month with limited services like 5000 views, logo removal, and free installation. On the other hand, spending $9 per month on Tagembed for the basic plan can get you 2 feeds, 10000 views per month, integration with 20+ social media platforms, 2 hours of update time, logo removal, etc. and manual moderation.
Pro Plan:
Pro plan is the best seller for both tools. Elfsight provides 50000 views, installation service, and logo removal in the Pro plan. In comparison, Tagembed provides users with 4 feeds, 100000 views per month, 20+ social media platforms, 30 mins update time, manual LinkedIn feed, custom CSS, and logo removal. So Tagembed certainly has a slender advantage over here.
Plus Plan:
Ideal for large businesses and agencies, this plan is named Enterprise plan for Elfsight and provides 5000000 views, premium support, and free installation. While on the other hand, Tagembed offers you 16 feeds for unlimited websites, 20+ social media platforms, unlimited views, LinkedIn auto-update, dedicated service, moderation feature, API access, 15 minutes update time, LinkedIn Auto-update feature, add-free widget, API access, and more – all at $ 49 per month.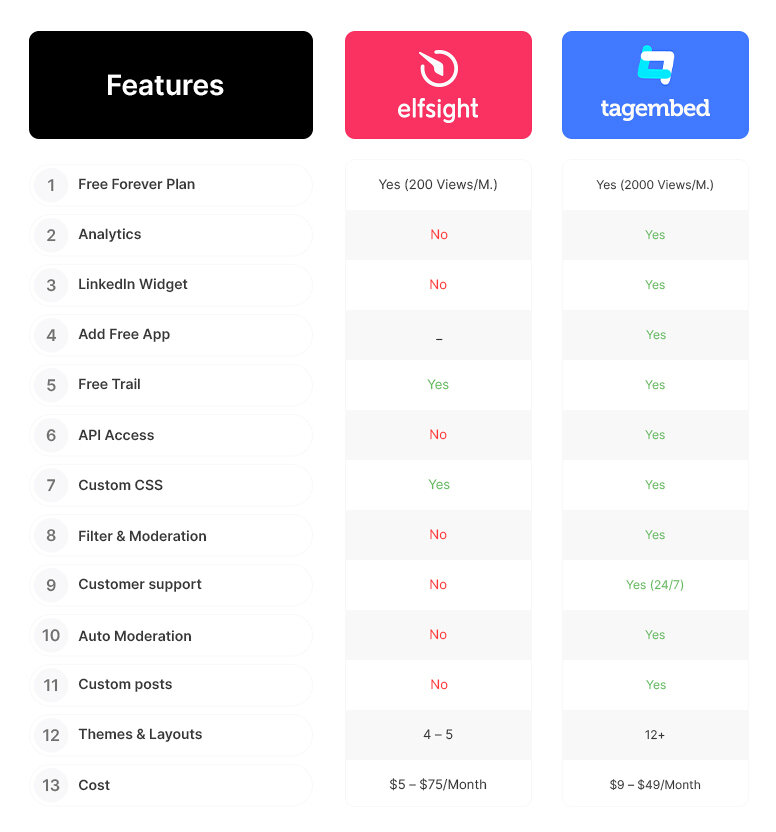 Best Elfsight Alternative
Boost Engagagement, Traffic & Conversion By Embedding Social Media Feeds On Your Website
Try For Free
Tagembed: Features That Make It An Ideal Marketing Tool
As promised earlier, here are some of the features that Tagembed provides. Please keep in mind that these are just some of many major features. These features not only help this tool stand tall as the most acceptable Elfsight alternative and great value to your strategy of embedding social media feeds to websites.
Customization: Tagembed allows you to personalize your social media widget as per your need; here, you can change the font size of the feed, font color, and more to make the feed stand out. You also have the facility to design widgets as per the look and feel of your website to add a charm to the site.
Moderation: One cannot control what someone posts on social media, but you can control the feed on your widget with the moderation feature. You can remove the content you think is inappropriate for your website with the help of this moderation feature. Then, you can either remove them manually or choose a profanity filter that automatically removes content containing provided keywords.
Responsive widget: Your social media widget adjusts itself to the screen size without hampering the website alignments.
Auto-Update – As soon as content uploads on the source, your widget displays it without any delay.
Along with these features, you also get Custom CTA, custom CSS, analytics, excellent support, and more.
Best Elfsight Alternative
Boost Engagagement, Traffic & Conversion By Embedding Social Media Feeds On Your Website
Try For Free
5+ Trending Social Media Feeds That You Should Consider While Using This Elfsight Alternative:
Tagembed eases your embedding process and helps you to add social media feeds to websites with comfort. And these are the social media feeds that can be beneficial for the growth of your website and brand. So consider this segment as a tip that you cannot afford to miss.
Instagram Feed – We all know that Instagram is the hub of visual-based content. With Tagembed, you can compile a feed using hashtags, mentions, tags, etc. Then, you can display these feeds on the website and enhance its charm.
Facebook Feed – Facebook is known for providing a wide range of content and with various. With Facebook feed on the website, you can showcase images, audio, videos, blogs, etc.
Twitter Feed – Showcasing a collection of tweets with the same hashtags, or tweets from a particular handle, or even your mentions makes the website more informative and engaging.
LinkedIn Feed – You present the news, updates, and latest happenings of your brand and industry to your visitors in style by opting to add LinkedIn feed on the website.
YouTube Videos Feeds – YouTube feeds add liveliness to the website and make it more engaging. Moreover, it holds the visitors on the site for long. These are some of the feeds you should consider while adding a social feed to your website. However, Tagembed allows you to embed various feeds like:
Other Social Media Feeds: Google reviews feed, TikTok video feed, Airbnb review feed, RSS feed, Pinterest feed, and more.
Summing It Up
Tagembed is enjoying its deserved popularity in the market. And if you are looking for the best Elfsight alternative, then this tool is the one for you. It is helping many brands in achieving their marketing goals and has been a great help to marketers.
So what are you waiting for?
Try Tagembed now and take your brand to new heights.
Free Social Media Aggregator
Embed social feed from Facebook, YouTube, Instagram, Twitter on your website, like a PRO
No Credit Card Required
Free Social Media Aggregator
Embed social feed from Facebook, YouTube, Instagram, Twitter on your website, like a PRO
No Credit Card Required